2017 AAU Junior Olympic Games
AAU Junior Olympic Games: Day 6 Recap
AAU Junior Olympic Games: Day 6 Recap
Recap of Day 6 action at the AAU Junior Olympic Games!
Aug 4, 2017
by FLO TRACK
By Bryan Deibel
There were five AAU National Championship records broken on day six of the AAU Junior Olympic Games. You can check out the
full list of records here
, but below are some of the biggest highlights from the sixth day of competition in Ypsilanti, Michigan.
FULL RESULTS
| SIGN UP TO WATCH LIVE | RACE ARCHIVES
Race Of The Day: 4x400m National Record
The guys of Ultimate Speed Academy set a new AAU Junior Olympic Games National record in the 15-16-year-old 4x400m prelims. The old record was 3:14.84 set back in 2007 by Titans Track Club. The guys from Ultimate Speed Academy took a whole two seconds off that time running 3:12.18. Watch the race below and see their
interview here
. Also get ready to watch them race again Saturday in the finals where they could lower their time even more.
Interviews Of The Day:
Reese Vannerson (Texas)
Reese Vannerson won the distance triple crown in the 12-year-old division, finishing off the sweep by winning the 1500m (4:34.20) Thursday. Earlier this week, he won the 800m in 2:11.29 and the 3K in 9:58.69. Vannerson was the only 12-year-old boy to run under ten minutes in the 3K.
Akala Garrett (North Carolina)
Akala Garrett was the 11-year-old 80mH champion at the 2016 AAU Junior Olympic Games (12.95). This year, she came back and proved herself again by winning the 12-year-old 80mH title. She's also showing that hurdling runs in the family as her dad was a 400m hurdler and her mom is her coach.
Sydney Juszczyk (Missouri)
Sydney Juszczyk from Ultimate Speed Academy in St. Louis has only been throwing the javelin for a year, but she's already become a national record holder in the 14-year-old age group. She threw 141 feet to take home the win and the national record. She will also be competing in the triple jump and 100mH at the AAU Junior Olympic Games.
Photo Of The Day: Floating Over Hurdles
Akala Garrett of Purpose Driven NC Elite floats over the hurdles on her way to her second AAU Junior Olympic Games 80mH title in a row.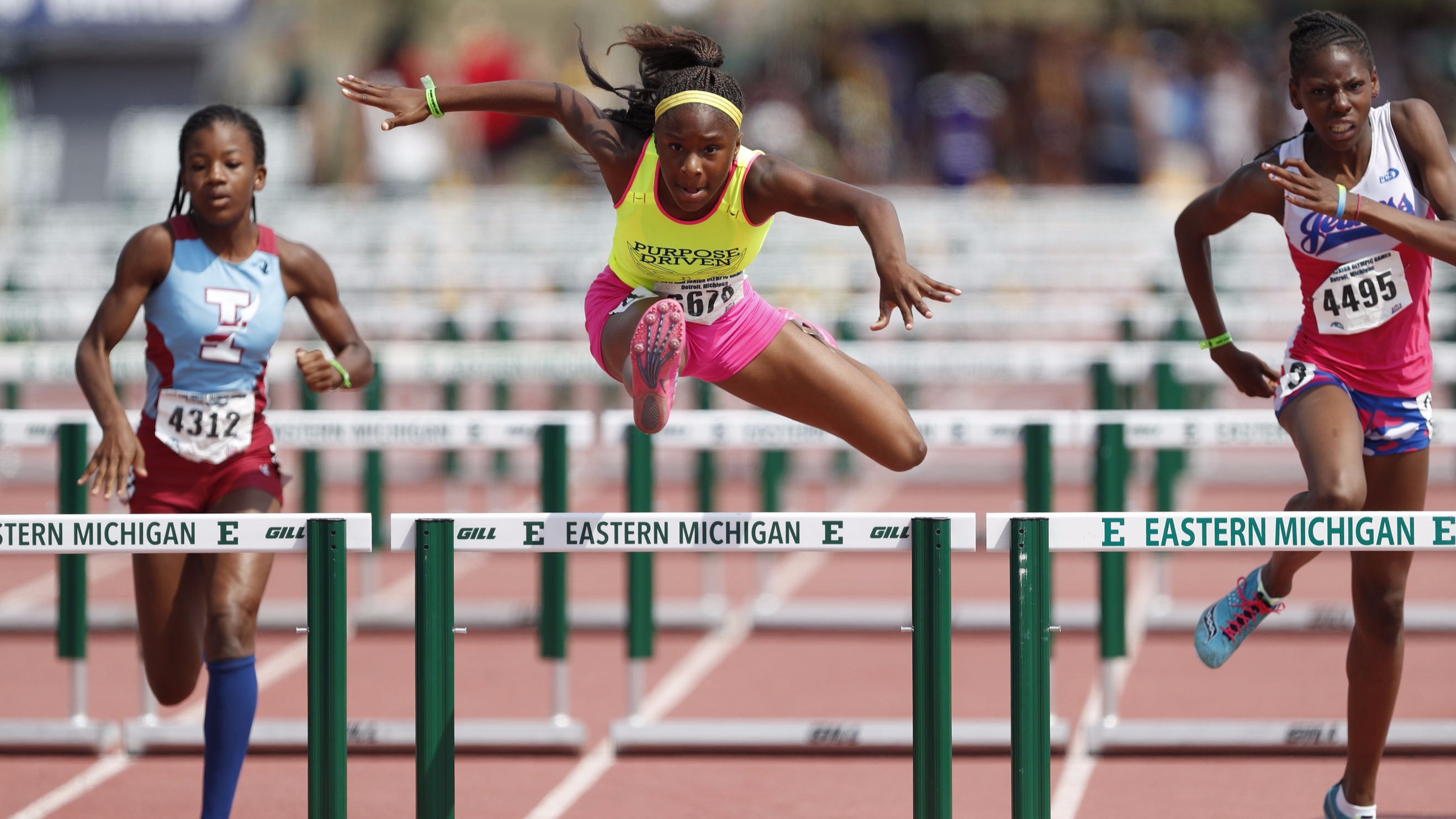 Tweets Of The Day:
Let Me Introduce You To The New National Record Holders!

@Bmillstrackstar and Ultimate Speed Academy break the 15-16 boys 4x400m relay record running 3:12.18! #AAUJROGames pic.twitter.com/EmAGjyi9yO

— MileSplit US (@milesplit) August 3, 2017
Cha'iel Johnson Drops A DIRTY Kick!
Cha'iel Johnson (@BabyChaiel_85) has JETS https://t.co/8UxclhlJzP.
How bout that speed? @ochocinco pic.twitter.com/1MfdoyeK4y

— FloTrack (@FloTrack) August 3, 2017
More from the AAU Junior Olympic Games Day 6: