The 2017 IAAF World Championships are finally upon us, and we'll be updating you LIVE from this article starting with the women's 1500m heats at 2:35pm ET, followed by the men's 100m heats at 3:20pm ET and then the men's 10K final at 4:20pm ET. Refresh the page for updates!
Women's 1500m Heat 1

Top six each heat, plus next six fastest qualify. Stars in this heat include Grace, Dibaba, and Semenya. Semenya even starting this heat is news, as some thought she'd opt to skip the 1500m in favor of her primary event, the 800m.
Out in 64 for 400m, not messing around! Field already starting to string out.
A 66 second lap makes for 2:11 through the 8. Semenya hanging off the back, Dibaba sitting tucked behind the leader.
Dibaba and Semenya cruise it in for 4:02! Very fast time in the prelims. Kate Grace 7th, but her time of 4:04.76 should secure her a time qualifier.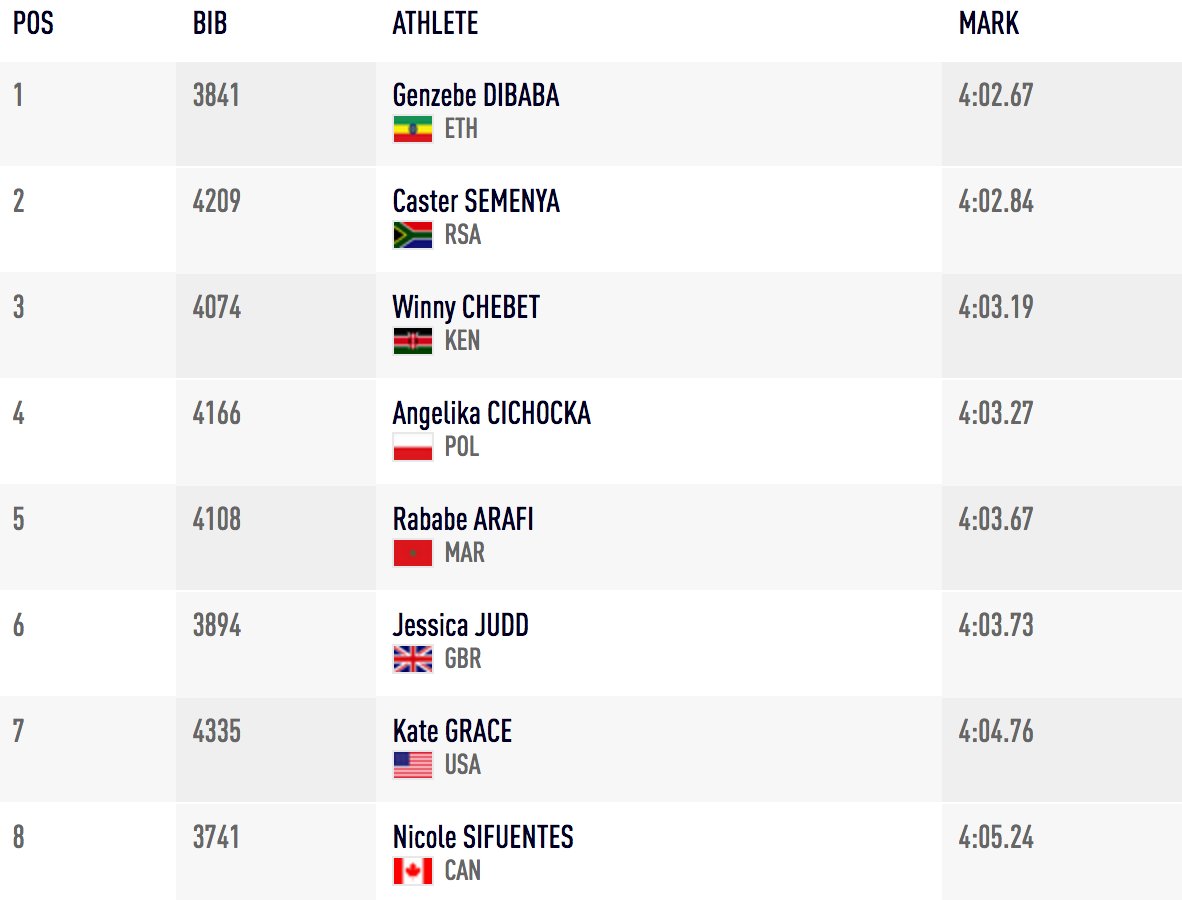 Women's 1500m Heat 2

Simpson, Muir, and Hassan highlight this heat, and unless they really go for it it looks like only the auto-Qs will advance after heat 1's blistering pace.
Through in 68, former NCAA 1500 champ Marta Freitas (representing Portugal) leads.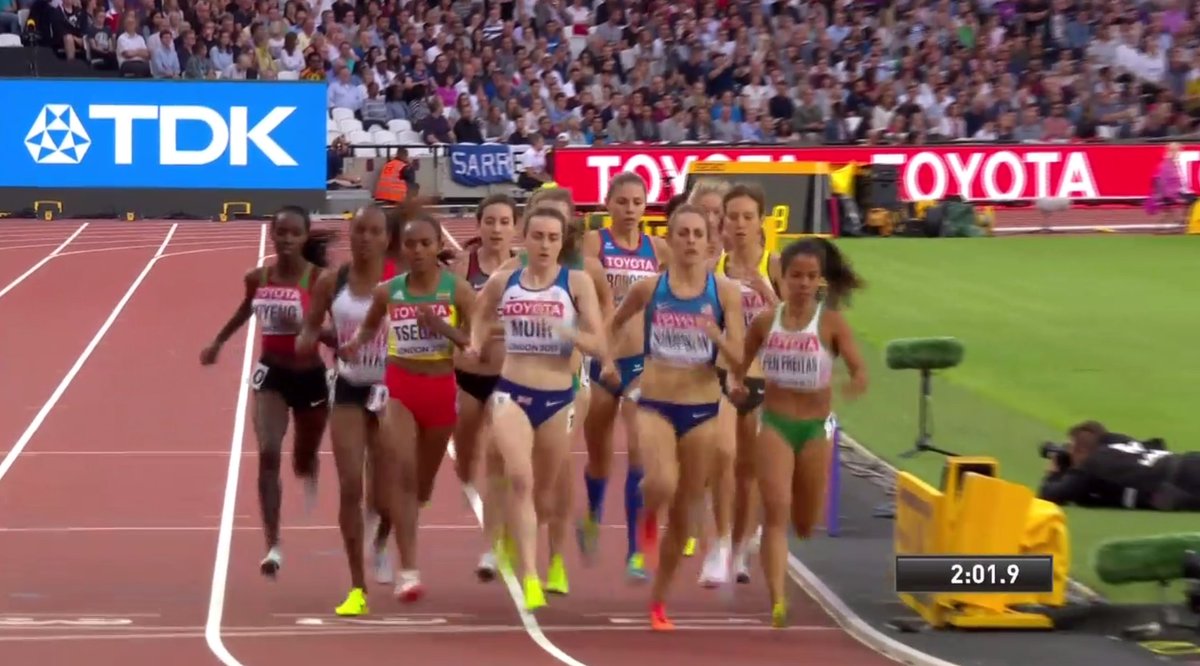 Muir takes the lead with 300 to go! A lot of women still in it, but Muir, Hassan, and Simpson all safe with auto-Qs.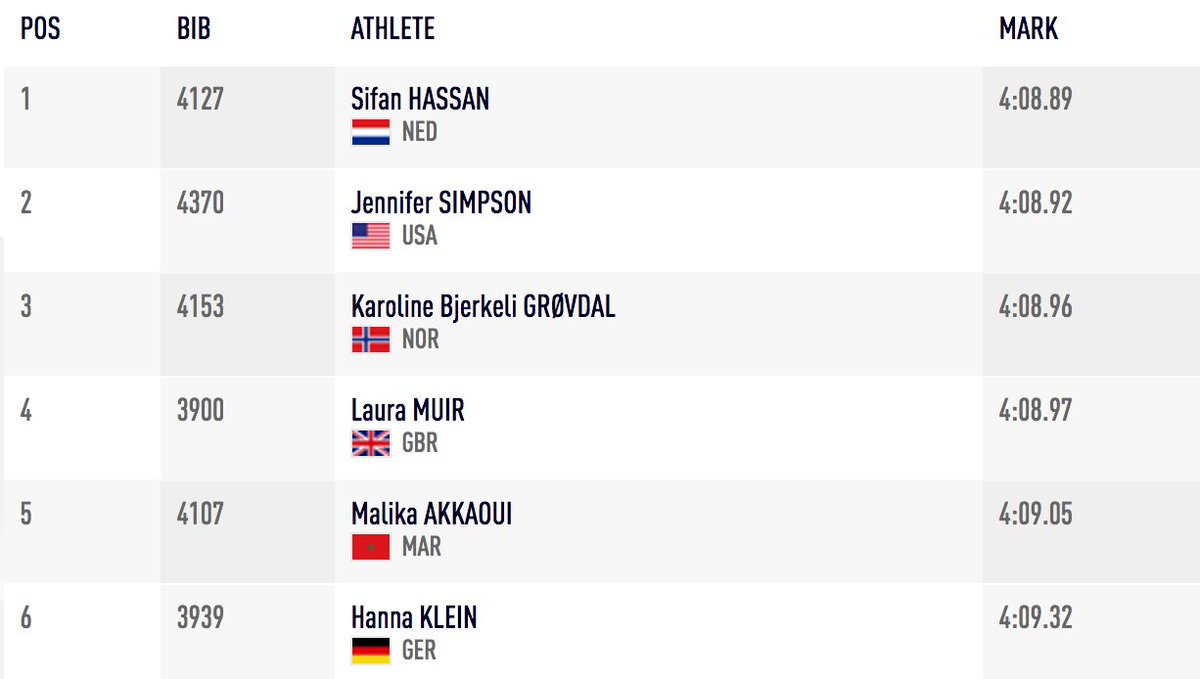 Women's 1500m Heat 3
Kipyegon, Klosterhalfen, and final U.S. team member Sara Vaughn highlight the final women's 1500m heat. Time to beat is 4:08.55 to get a time qualifier.
Out in 66 through 400, so a time qualifier is possible. Klosterhalfen seizes the lead, 3:00 at 1100.
Sarah Vaughn gets in on time! Kipyegon and Klosterhlafen both in safely with auto-Qs.
All the Americans are in, as well as the favorites!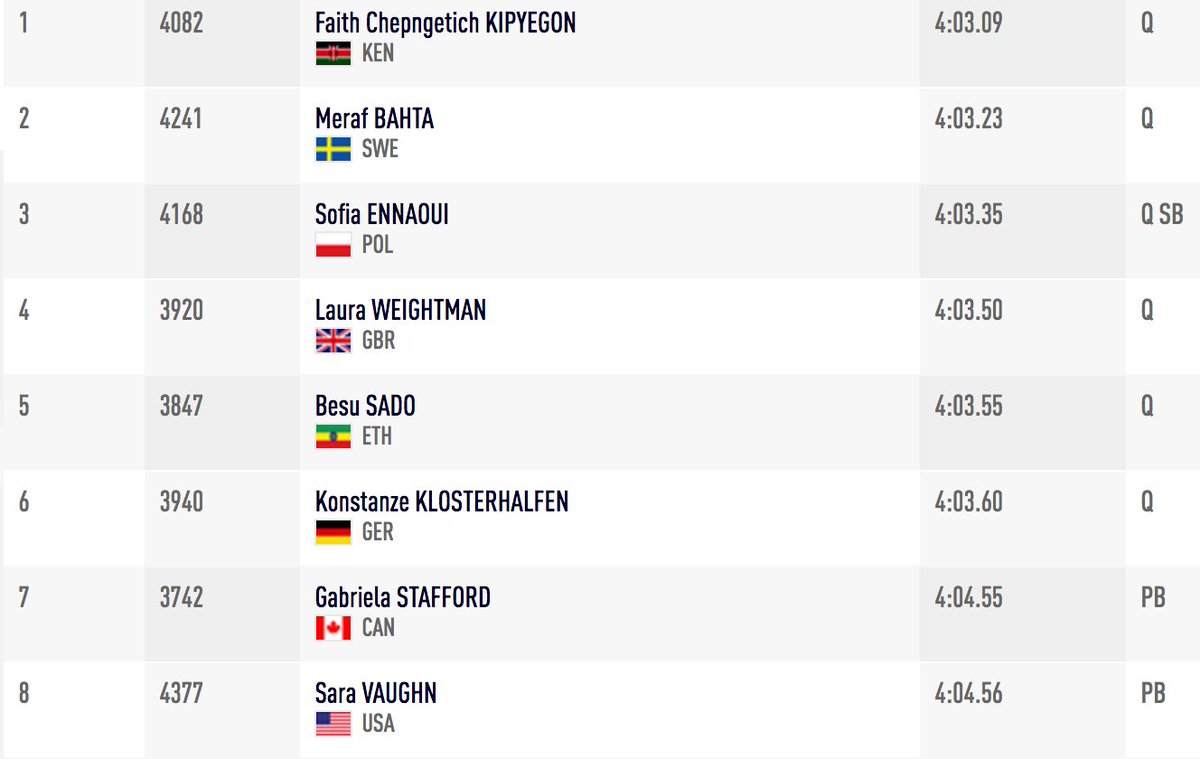 That's a PB for Vaughn!
Biggest names not to make it through to the semis would be NCAA champ Marta Freitas and Canada's Sheila Reid.
Now, onto the 100m heats. There are six heats, and the first three in each heat plus the next six fastest overall will make it to the semifinals.
100m heats #London2017
H1: @__coleman
H2: @YohanBlake
H3: @AkaniSimbine
H4: @Chris_Belcher24
H5: @justingatlin
H6: @usainbolt

— FloTrack (@FloTrack) August 4, 2017
Men's 100m Heat 1

Christian Coleman highlights this one. This will be Coleman's first individual race in Europe in his life!
Coleman easily auto-Qs from lane 9 with a 10.01 win, looking comfortable.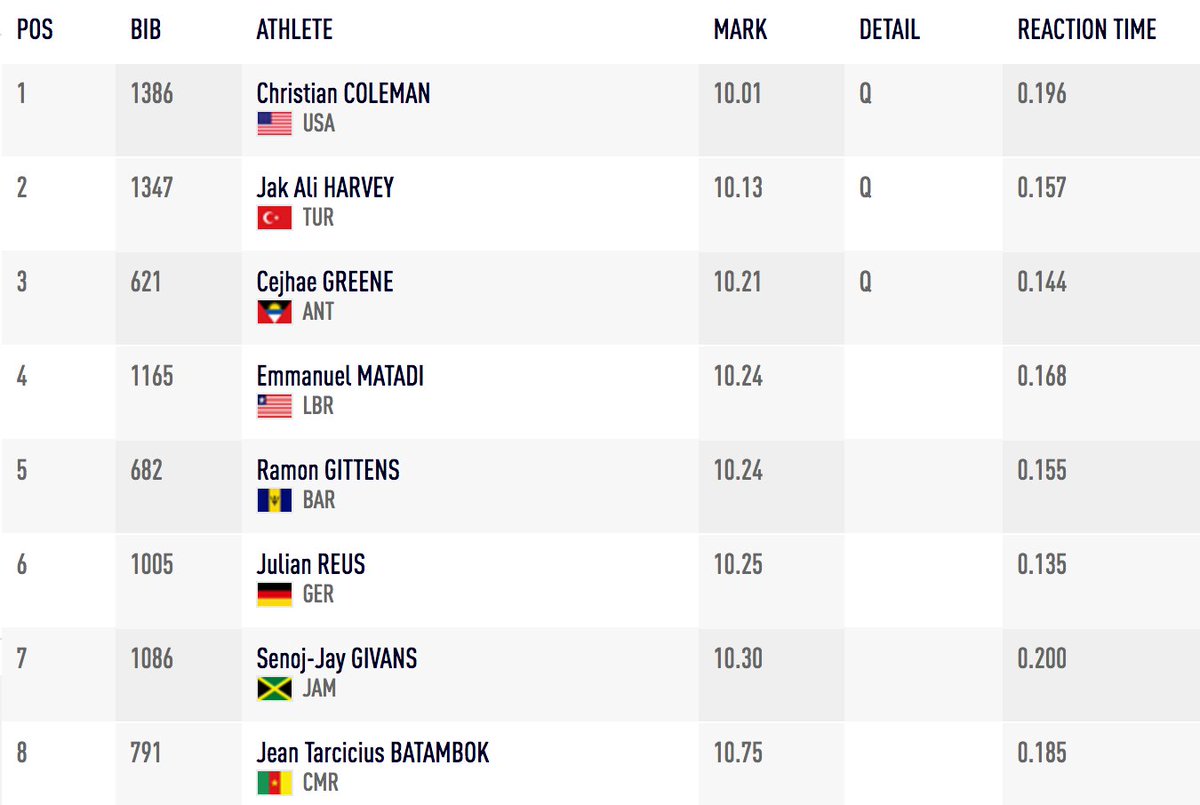 Men's 100m Heat 2

Yohan Blake is the star of this heat, and he gets a bad start! Manages to pull through for 2nd place, but just barely. Not a fantastic run from a potential medalist.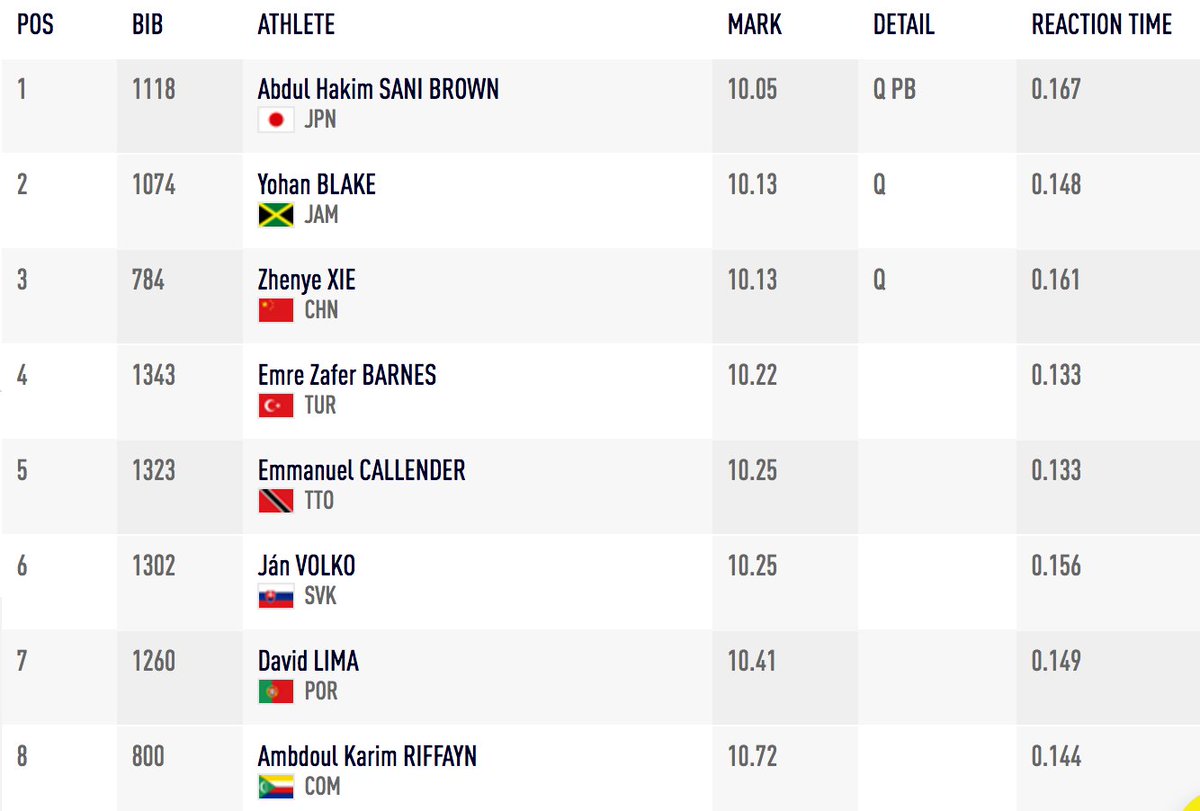 Men's 100m Heat 3

Two solid runners in Meite and Simbine in this heat -- they'll both be looking for auto-Qs.
Jamaica's Julian Forte takes it in 9.99! The first sub-10 of the World Champs. Meite comes in 2nd with 10.02. Simbine is the first surprise to not auto-Q in 4th. We'll have to wait and see if his 10.15 makes it on time.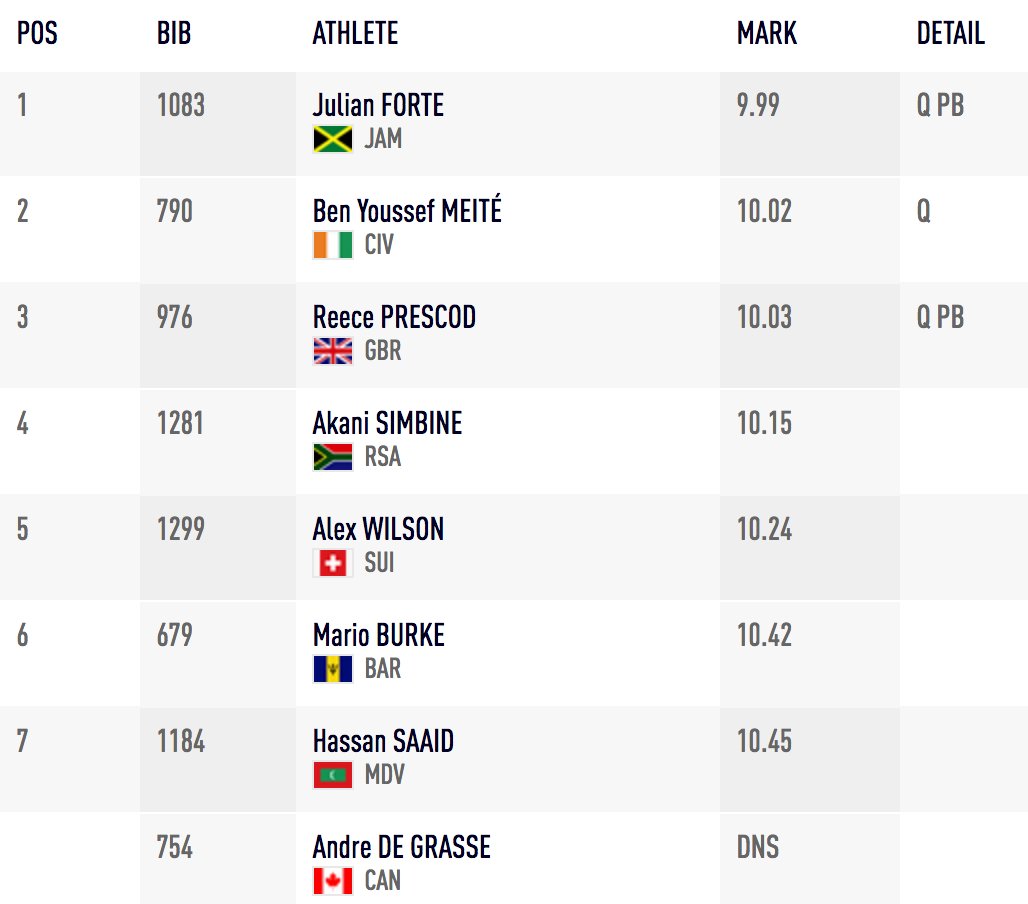 Men's 100m Heat 4

Chris Belcher, Chijindu Ujah, and Bingtian Su headline the fourth heat. Belcher popped a quick 9.93 in those NCAA prelims and, along with Coleman, he'll be looking to validate that mark at these champs.
First false start of today as Mosito Lesatha gets the red card, so we'll reset the race.
Clean start the second time around, and it's a 1-2-3 for Su, Ujah, and Belcher! All three big dogs in this heat will advance.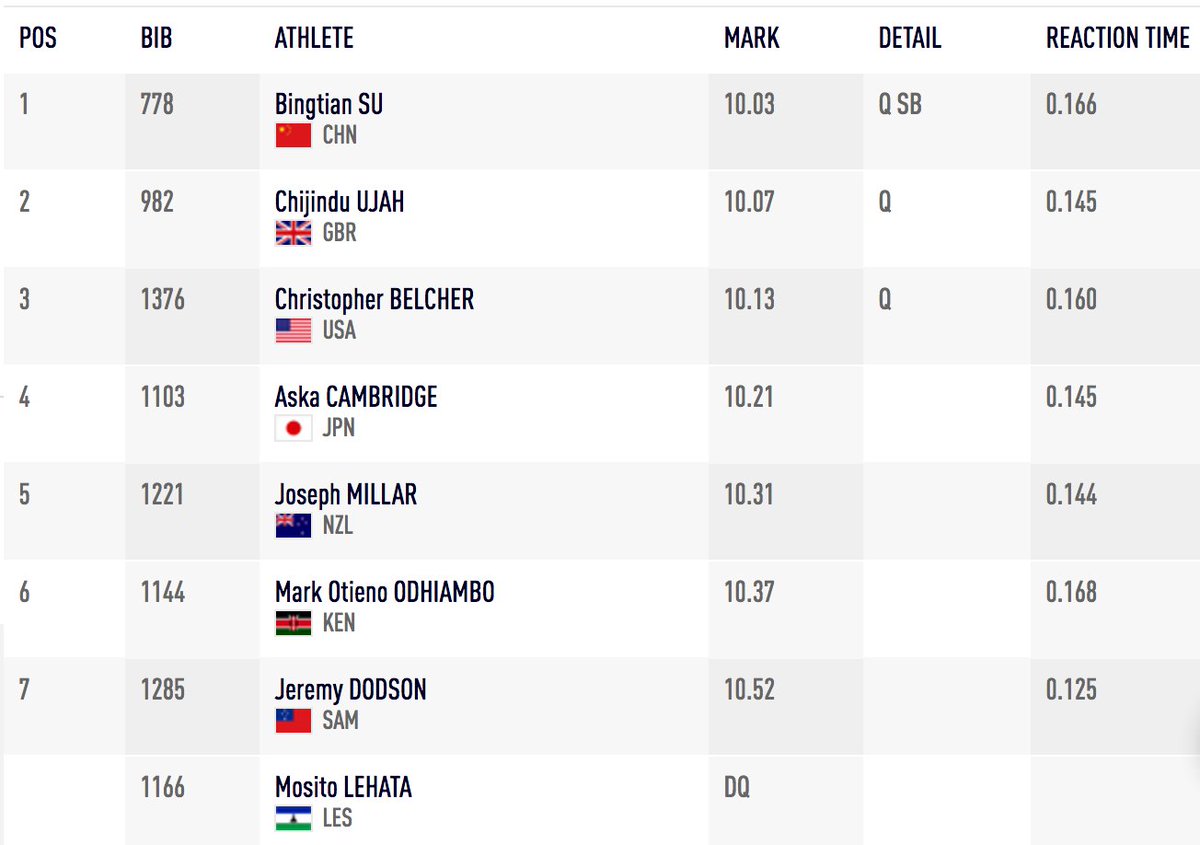 Men's 100m Heat 5

Gatlin is the only big name in this heat, and he'll be hoping to make a statement with a win and auto-Q.
Gatlin is booed by the crowd during his intro...
Green card as one athlete requests a reset of the start.
False start and it looks like Thomas Roto of South Africa with the sub-0.1s reaction time. Take 3 on this heat.
It's a clean start as Gatlin cruises to a 10.05 win, booed again by the British crowd as he walks off the track.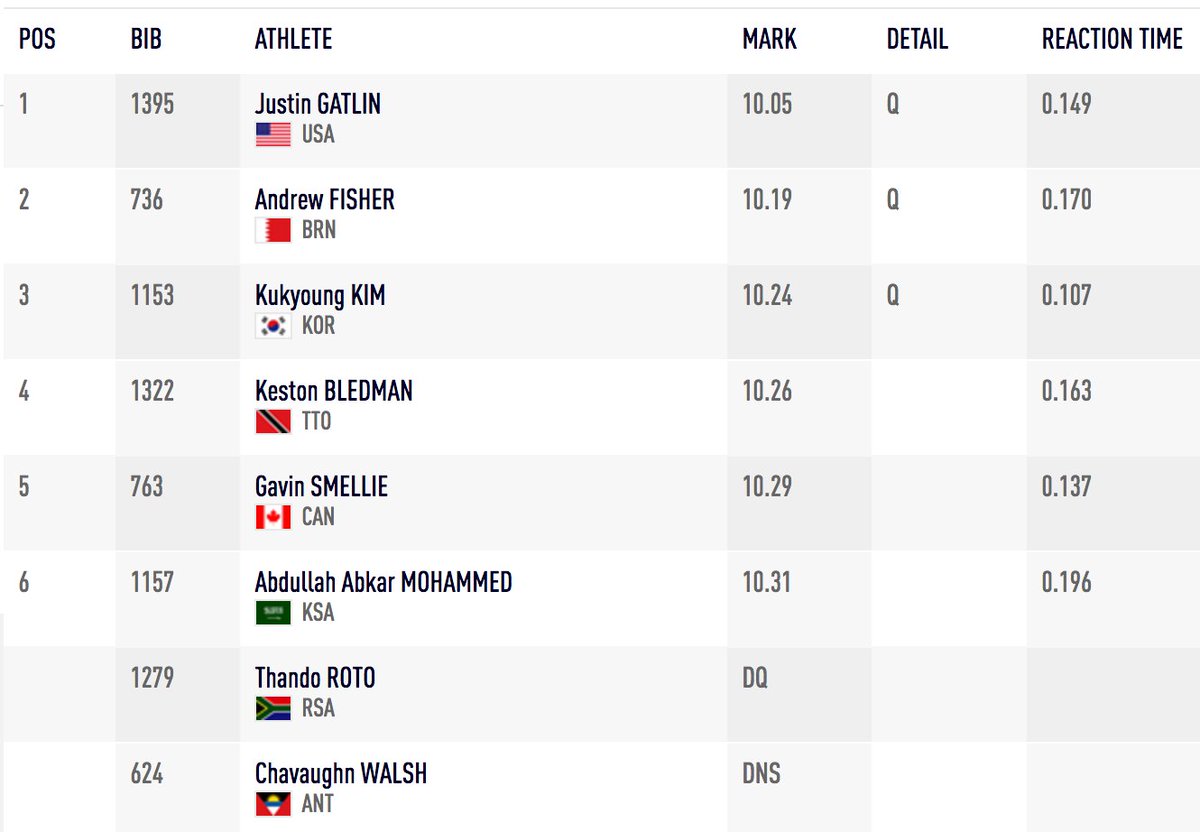 Simbine looks safe at this point, as he still has the first fastest time qualifier.
Men's 100m Heat 6

It's the man we've all been waiting for, Usain Bolt! Brit James Dasaolu gets loud cheers from his home crowd, as does Bolt. Jimmy Vicaut of France also highlights this heat -- those three will be looking to auto-Q, and Bolt will be looking for a big win.
Bolt has a bad start, but wins in 10.07! Unfortunately, it's the slowest winning time of all the heats. Simbine makes it as a time qualifier.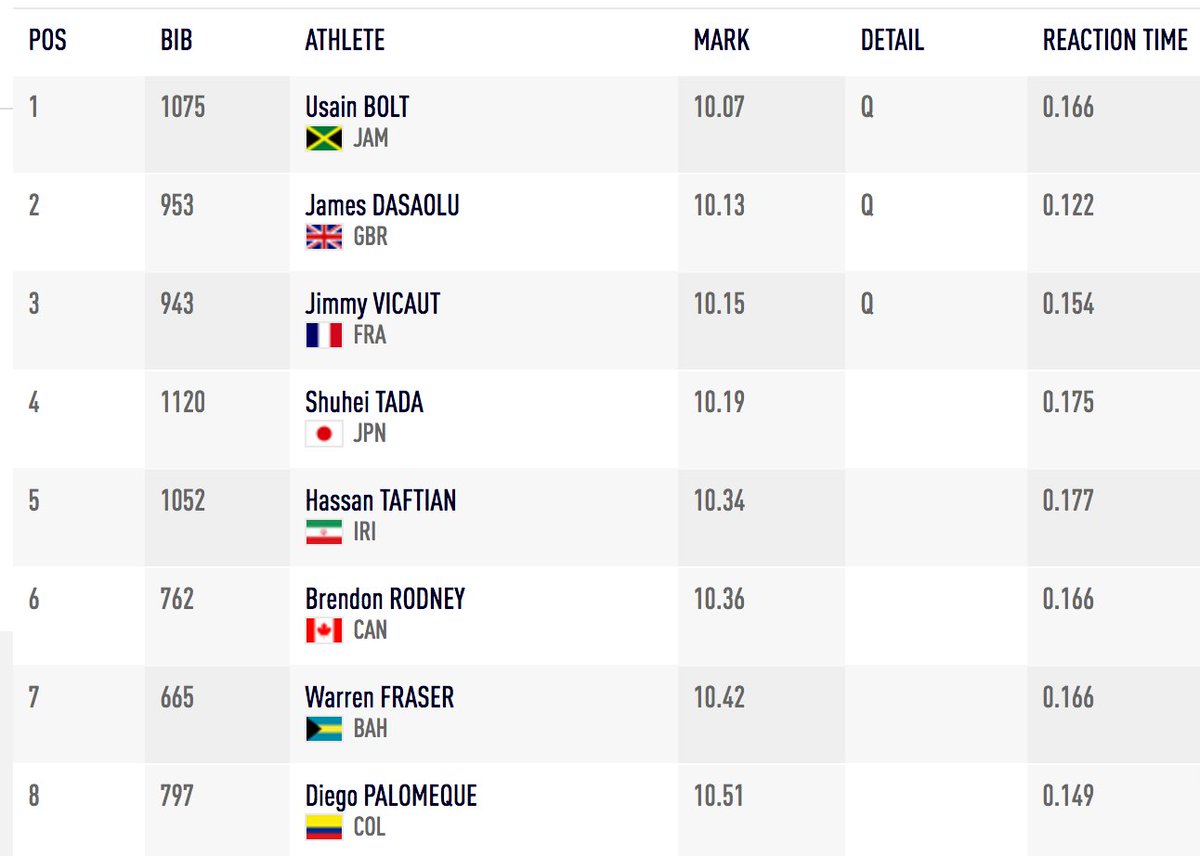 Meanwhile in the men's long jump, both Marquis Dendy and Jeff Henderson do not advance, but Mason Finley does advance in the discus.
Men's 10,000m

The first final of WCs is here! Mo Farah bounces along to the track looking ready to bring home his fifth consecutive 10K title.
Off to a clean start as Farah lays back off the HOT early pace -- 61 seconds through 400m. 2:05 through 800, 2:39 1K, still blazing on about 26:30 pace. Led by Cheptegei of Uganda.
4:20 1600m, the field catches up but Kamworor takes the lead for the first time!
6:30.64 through 2400m -- they've slowed considerably to closer to a 27:00 pace. Cheptegei re-takes the lead.
8:41 through 3200m, starting to descend to a more consistent pace now. Cheptegei still leads, Kamworor and Tanui not far behind followed by Ahmed. Field is finally strung out as Farah still sits way back.
Looks like I may have spoken too soon, as the field starts to bunch up again, Farah waves to the crows as he at last moves up to share the lead.
10:53 through 4K -- that's 27:12 pace. Farah is sitting in 3rd right now, behind Kamworor and Muchiri (Karoki).
The first real break of the race happens as Bedan Muchiri takes the field through 4800m in 13:03, begging to create some separation from Farah!
13:33 through 5K. This could be something special.
Muchiri split a 61 trying to break away there! He pulls back with visible purpose to let Kamworor take the lead. Farah moves back to ~15th.
It's 15:10 through 5600m. Kamworor will need to work a little bit harder than this to break Farah. Cheptegei still in it as well.
16:17 is your 6K split, back to 27:08 pace. Two Americans, Korir and Kipchirchir, are still in the lead pack!
14 in the lead pack have really separated themselves now from Hassan Mead, way back in 15th. 19:02 through 7K (27:11 pace).
Cheptegei makes another push as we come up to the 8K -- it's 21:40. The lead pack is now down to 9, with Kipchirchir being the only American left. 4:17 last mile, picking it up!
22:44.51 with 1600m to go. World Leader Hadis starts his kick early, making a clear gap on the field.
Hadis still leads! 24:20 through 9K, just one more K to go as the crowd is going wild!
800 to go. Mo Farah shares the lead. Tiernan gets lapped and looks way out of it.
Farah has the lead, Tanui makes his push at the bell lap! Some contact there but Farah keeps the lead.
Farah does his trademark kick with 100m to and makes it five global titles in a row! HE DOES IT! 55 second last lap, with a very hot 26:49 final time.
Full results below: