2017 IAAF World Championships
Phyllis Francis Shocks Shaunae Miller-Uibo, Allyson Felix In World 400 Win
Phyllis Francis Shocks Shaunae Miller-Uibo, Allyson Felix In World 400 Win
Phyllis Francis is the surprise 400m champion at the 2017 IAAF World Championships.
Aug 9, 2017
by Johanna Gretschel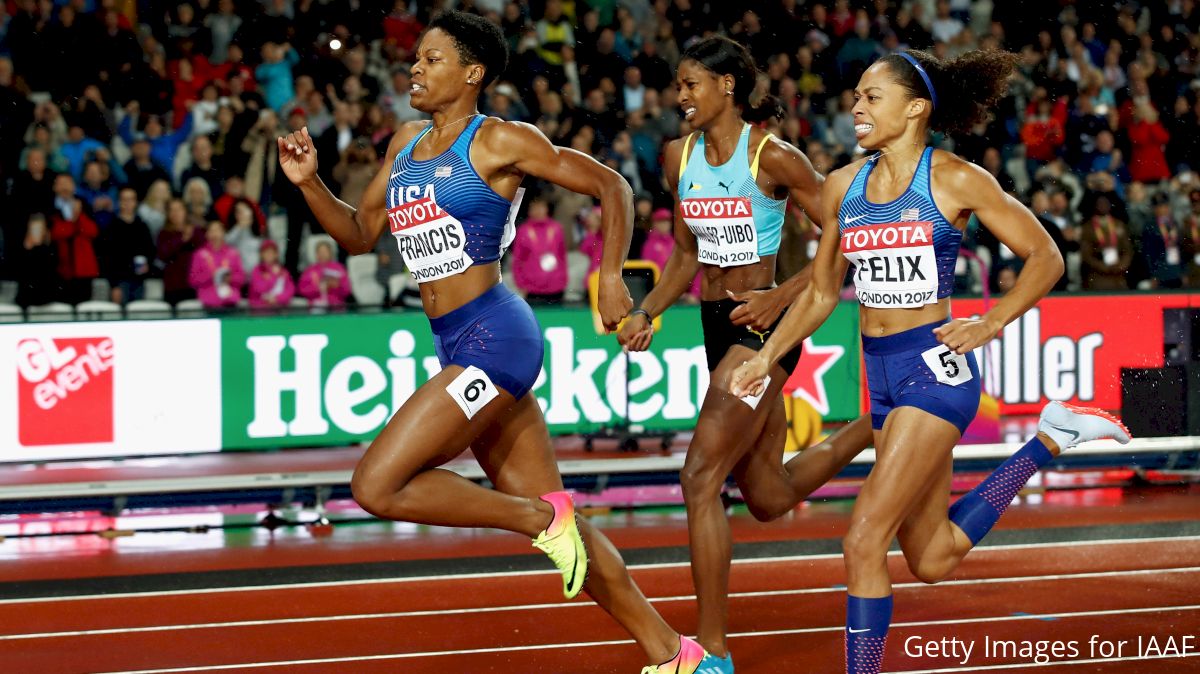 An American woman won the IAAF World Championships 400m, but it wasn't the athlete the world expected.
Phyllis Francis -- not Allyson Felix -- won gold in the closing event of day six in London.
It's for @usatf's Phyllis Francis in the women's 400m.

What a race to end the night on! #IAAFworlds pic.twitter.com/Ghm1GfIUN2

— IAAF (@iaaforg) August 9, 2017
Track fans were set for a rematch between Rio Olympic gold and silver medalists Shaunae Miller-Uibo of the Bahamas and Felix, and for the first half of the race, that's what they got. Miller-Uibo got the best start out of lane seven and led the field down the backstretch as Felix, in lane five, quickly ran down her countrywoman Francis, who was in lane six.
As the women bolted off the curve to the final straightaway, Miller-Uibo led the field with Felix and Francis, and upstart teenager Salwa Eid Nasser of Bahrain followed in close pursuit. The 6-foot-1 Miller-Uibo seemed to hold a significant advantage on her competitors, but with 50 meters remaining her gait changed and she appeared to have a hitch in her stride, perhaps brought on by a pulled muscle.
She would finish just fourth in the race, missing the medals entirely, while Francis was the surprise victor in 49.92, a personal best, as Eid Nasser set a national record of 50.06 for silver and Felix held on for bronze in 50.08.
Felix's medal is her 14th career World Championships medal. She now equals Merlene Ottey of Jamaica as the most decorated female athlete in IAAF World Championships history. She will likely surpass Ottey later this week as Team USA is favored to win in the 4x400m relay.
Francis, a former NCAA champion at the University of Oregon who now trains at Texas A&M with Vince Anderson, has never before won a global championship individual medal. The 25-year-old has helped the Team USA 4x400m relay win gold in the 2016 Rio Olympic Games and silver at the 2015 IAAF World Championships. She is expected to race on the mile relay this Sunday.