We're coming at you LIVE with the action from day 7 of the IAAF World Championships. Refresh the page for updates!
Women's 5000m Heat 1
Being that there's only two heats, of course there's a lot of big names in this one: Kenya's Hellen Obiri, Ethiopia's Teferi and the favorite Ayana, Turkey's Yasemin Can, British hometown fave Laura Muir, and lastly the American, Shannon Rowbury.
Goes out in 3:04 for the first K, somewhat conservatively with New Zealand's Camille Buscomb leading. Everyone still in it in a huge pack.
Japan's Ayuko Suzuki leads through 2K (6:08). Still tactical pace, which will be tough considering there's only five auto qualifiers.
Obiri finally takes the lead to control the race by 3K in 9:13. This pace has slowed some if any, and it still shouldn't be a knock on any of the competitors' shoulders.
Obiri still leads 12:12 through 4K, with the other big international names in Ayana, Can, and Teferi easing up behind. This last K could be quick!
They're closing fast with a fit Ayana, fresh off her 10K domination, looking set to auto-Q and possibly win.
After mixing it up in the middle so long, Muir might not have enough to auto. Can Rowbury slide up to get a spot despite not showing great form this year?
And leading your autos are Obiri, Ayana, and Teferi. The two big performances though were that of the Netherland's Susan Krumins and Robury snagging those last two big Qs on the home stretch. That's a 2:42 last K for Hellen Obiri!
Murit and Can will have to wait and see if their 14:59 and 15:08 marks for seventh and eighth will be fast enough to time qualify.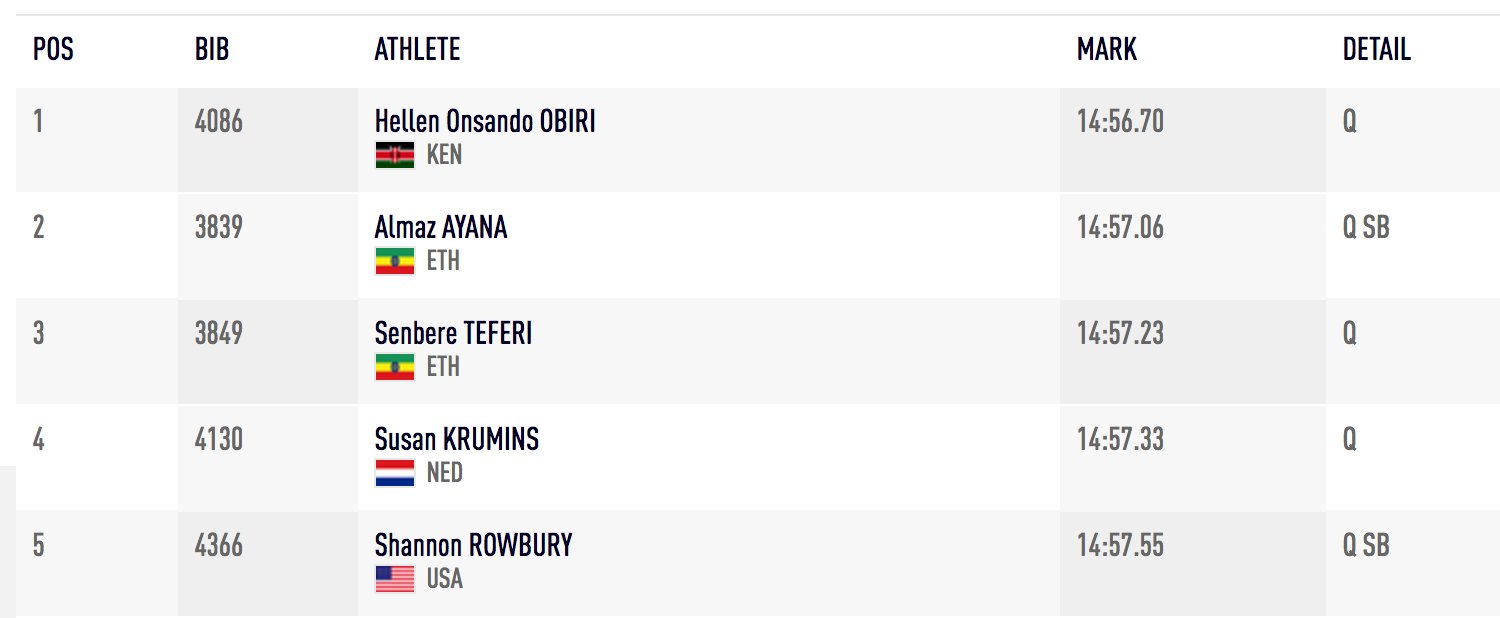 Women's 5000m Heat 2

Two of our three Americans in Shelby Houlihan and Molly Huddle will be fighting for the autos in this heat, along with two Brits in Eilish McColgan and Steph Twell. To do that, they'll have to take down the international talents Sifan Hassan of the Netherlands (doubling back from the 1500m) and Margaret Chelimo Kipkemboi of Kenya along with Ethiopia's Letsenbet Gidey.
The race gets out very conservatively, but the marathoner in Molly Huddle knows that to qualify, she'll do better by pushing the pace. She takes the lead before the 1K and hits it in 3:06 -- it'll be a very tough sell for this group to beat the last heat's time at this pace, but it's possible.
Huddle takes it hard these next few circuits, hitting consecutive low-70s laps to drift away from the field. Now she has a huge lead on everyone else -- six seconds at 2K which she hits at 6:05!
Huddle only continues to stretch it out with Kipkemboi leading the chase pack. Her lead is now 8 seconds at 3K, which she splits in 9:07 -- everyone else splits a 9:15ish at 3K, though Houlihan is hanging off the back of that pack.
With three laps to go, this race is Huddles to lose with a gigantic lead. Kipkemboi and both Brits lead the chasers now, beginning to speed up. Houlihan moves up but she'll need to maintain contact with the chase pack.
With 400m to go the pack is closing the gap, but it doesn't look like it will be enough. Huddle cruises with a 30-meter lead into the last 300m, but Huddle might be caught!
The chase pack engulfs Huddle with 100m to go! Huddle ties up hard, but it's a good thing she pushed the pace as she just needed to run faster than 15:14 to qualify.
She does it! Houlihan actually shows a good kick in the last 100m to take 3rd, a nice auto-Q. All three Americans are in!
Your autos are Gidey, Hassan, Houlihan, McColgan, and Kipkemboi. Huddle is the second-to-last time qualifier, but Turkey's Yasemin Can won't advance.
That was a nice PB for Houlihan, especially in a tactical race.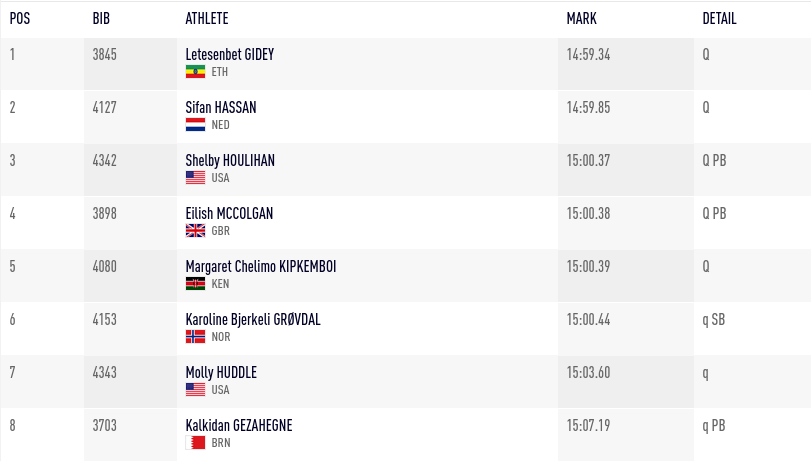 Women's 800m Heat 1

On the one hand, only the top three in each heat will auto-qualify. But on the other, there are six heats so the talent is fairly spread out and there are six time qualifiers... American medal hope Ajee Wilson highlights this one and tries to control it from the front early.
She comes through with the W in 2:00.52, super easy. The Netherlands' Sanne Verstegen, despite dominating the TrackTown summer series in the US this season, is just out of the autos in fourth, behind Noélie Yarigo of Benin and Elge Balciunaite of Lithuania.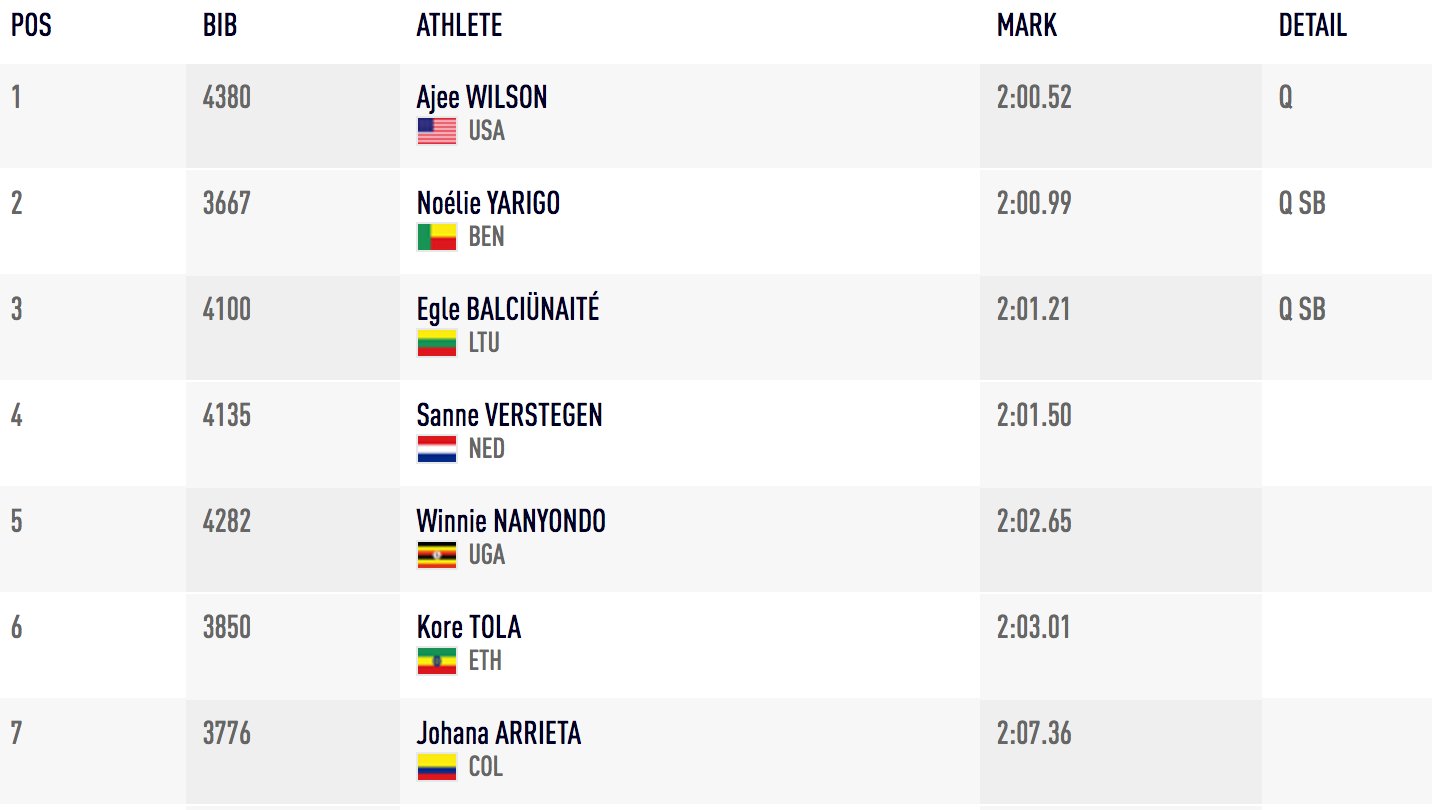 Women's 800m Heat 2

Heat 2 lacks a medal favorite, but there are still a number of stars, including Canada's Melissa Bishop and America's Brenda Martinez. Britain's Shelayna Oskan-Clarke would do well also with the very real possibility of auto-Qing in this heat.
Bishop is on the rail but gets tripped up several times as they come through the 400m in 61 seconds. Martinez looks good with 200m to go!
Martinez takes the lead and she and Bishop trade it again, but with 100m to go a surprise winner in Angelika Cichocka of Poland takes over, and Oskan-Clarke squeaks in for third passing a dying Martinez.
Martinez is out of the autos, and her 2:01.53 might not be enough to time qualify... We'll have to wait and see.

Women's 800m Heat 3
Reigning Olympic champ Caster Semenya is definitely the big dog of this heat, but Rose Mary Almanza plus former NCAA stars Natoya Goule of Jamaica and Annie LeBlanc of Canada will also be looking for the spots behind her.
Semenya is content to let someone else lead as Goule leads the field through 400m in 60 seconds, Almanza 2nd.
Semenya glides to a win at the end winning in 2:01.34, Almanza second, Joanna Jozwick of Poland third. Goule's front-running proved to work against her as she finished fifth and will likely not time qualify.

Women's 800m Heat 4
One of the 'big three' Olympic medalists from last year, Margaret Wambui, is favored for the win in this race, but unlike last year she hasn't been perfect in every one of her showings this time around.
Great Britain's Lynsey Sharp gets in great position at the start, they go through 400m in 60.6. Wambui hasn't made her move yet but she makes it at around 500m. Sharp gets overtaken by a few but she isn't letting herself lose that third-place spot. Wambui and Sharp go 1-2 to both auto, ahead of Halima Nakaayi of Uganda who surprises for the third spot.

Women's 800m Heat 5

Notably, Eunice Sum of Kenya is a DNS, meaning this heat is Charlene Lipsey's to lose. Sum was the queen of the 800 back in 2015 before Semenya took over, but this year she's been arguably outmatched by the new competition.
She takes it out and controls the race the entire way, doing just enough to win safely ahead of Hedda Hynne and Docus Ajok.

Women's 800m Heat 6

The final member of the Big Three, Francine Niyonsaba, headlines the final heat and will be going for a solid auto.
Niyonsaba takes the W, ahead of Alemu and Selina Buchel. The times weren't crazy so Martinez is IN to the semis!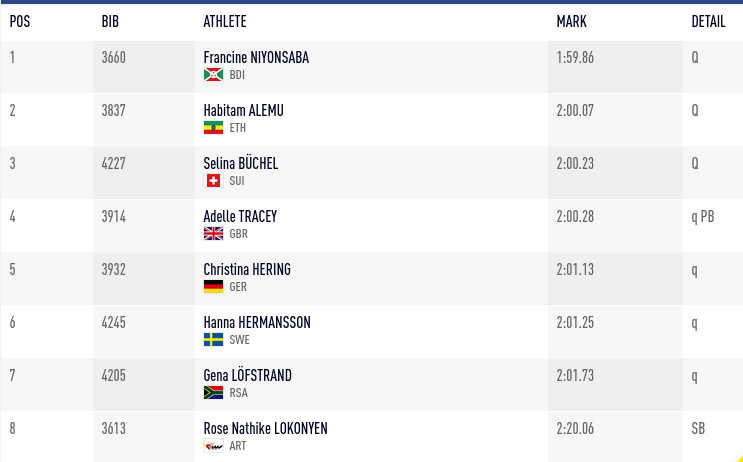 Men's 1500m Heat 1

This heat looks like the toughest one by a fair bit, but Centro's tactical brilliance should come through to net him an auto.
Centro is boxed with 200m to go, and Centro is in huge trouble! He's all the way at the back and he is OUT!
Manangoi, Kiprop, Timo Benitz of Germany, Iguider, Lewandowski, and former NCAA star Jordy Williamsz are your auto-Qs.
Torrence, Souleiman, and Kerr look unlikely to advance with the tactical nature of this heat.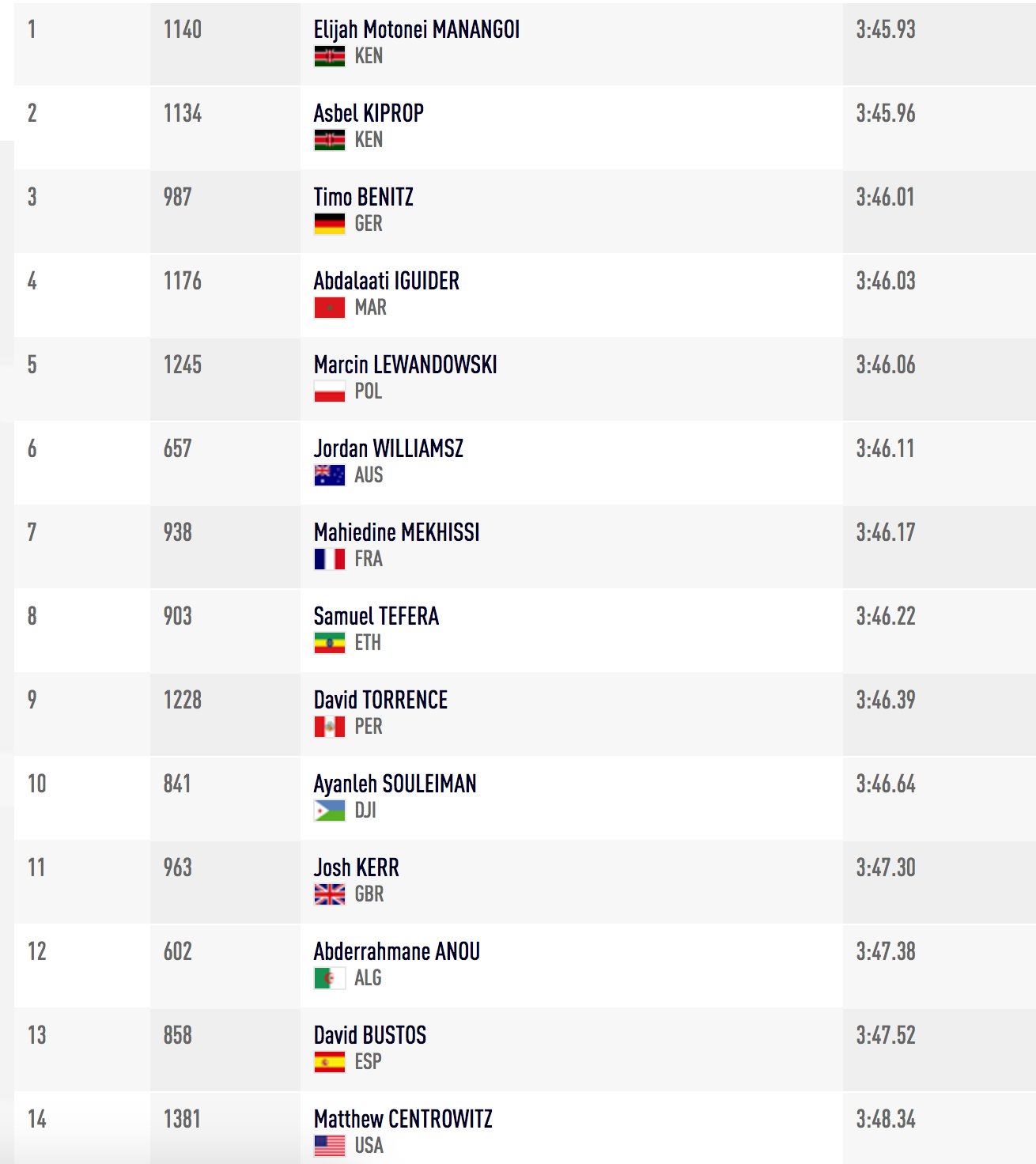 Men's 1500m Heat 2

Robby Andrews will face a big challenge in advancing here, facing top international contenders Kwemoi and Willis.
Robby is in really bad position at the bell, he'll need to remain patient and come around the outside. This doesn't look great but he goes for it and gets it in sixth!
Your autos were Mikhou of Bahrain, Jakub Holusa, hometown fave Chris O'Hare, Ronald Musagala of Uganda, and Nick Willis of New Zealand along with Robby in sixth.
Kwemoi will have to wait and see if his 3:43 for seventh qualifies.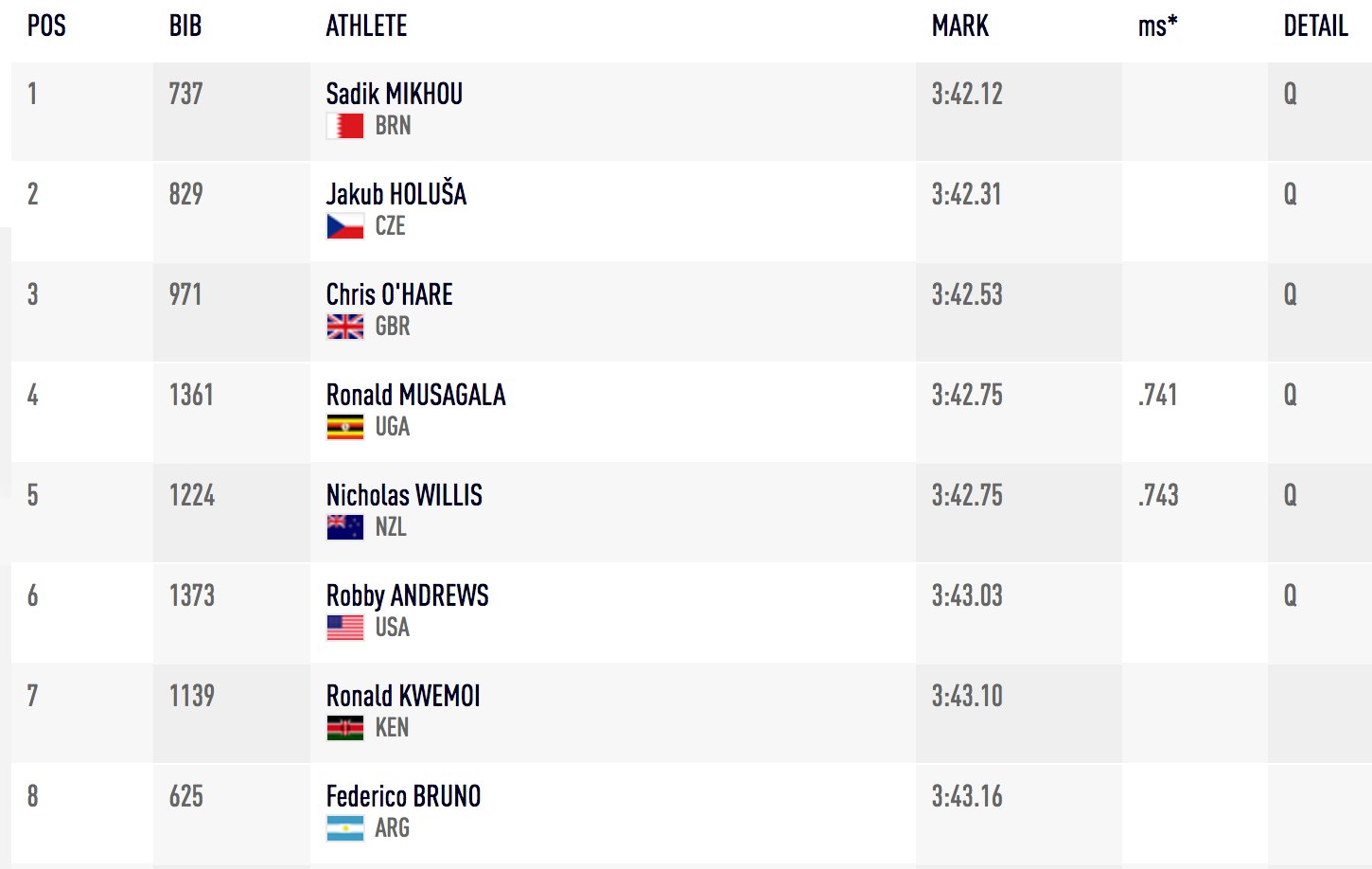 Men's 1500m Heat 3

Our final American in John Gregorek will be running his first ever global championship 1500m tonight, and he gets out well in the middle of the pack.
The race goes out in 58, the fastest of all the 1500m heats -- that's got to be a good thing for Gregorek.
Gregorek moves well in the home stretch and will advance on time! He finishes behind place qualifiers Luke Mathews, Timothy Cheruiyot, Filip Ingebrigtsen, GB's Jake Wightman, Tesfaye, and Mechaal.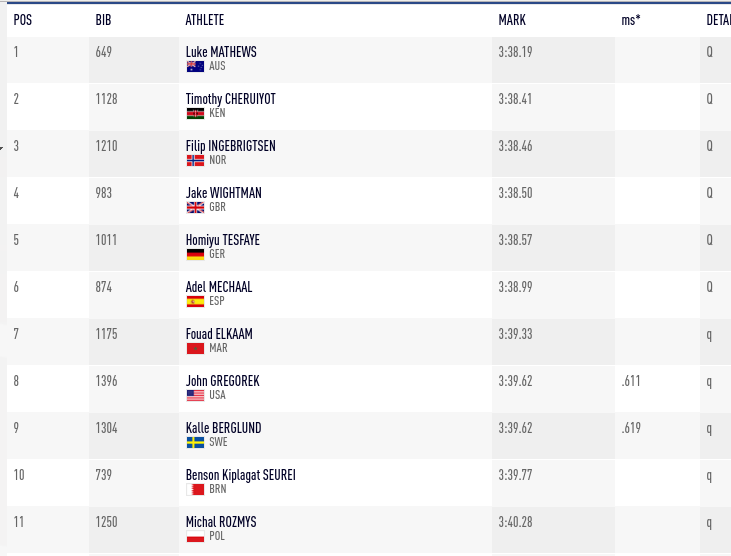 Women's 200m Semifinal 1

Schippers, coming off her bronze medal in the 100m, leads this heat to a huge victory, but the good news behind her is that Deajah Stevens nabbed the second and final auto-Q as the 'best of the rest'.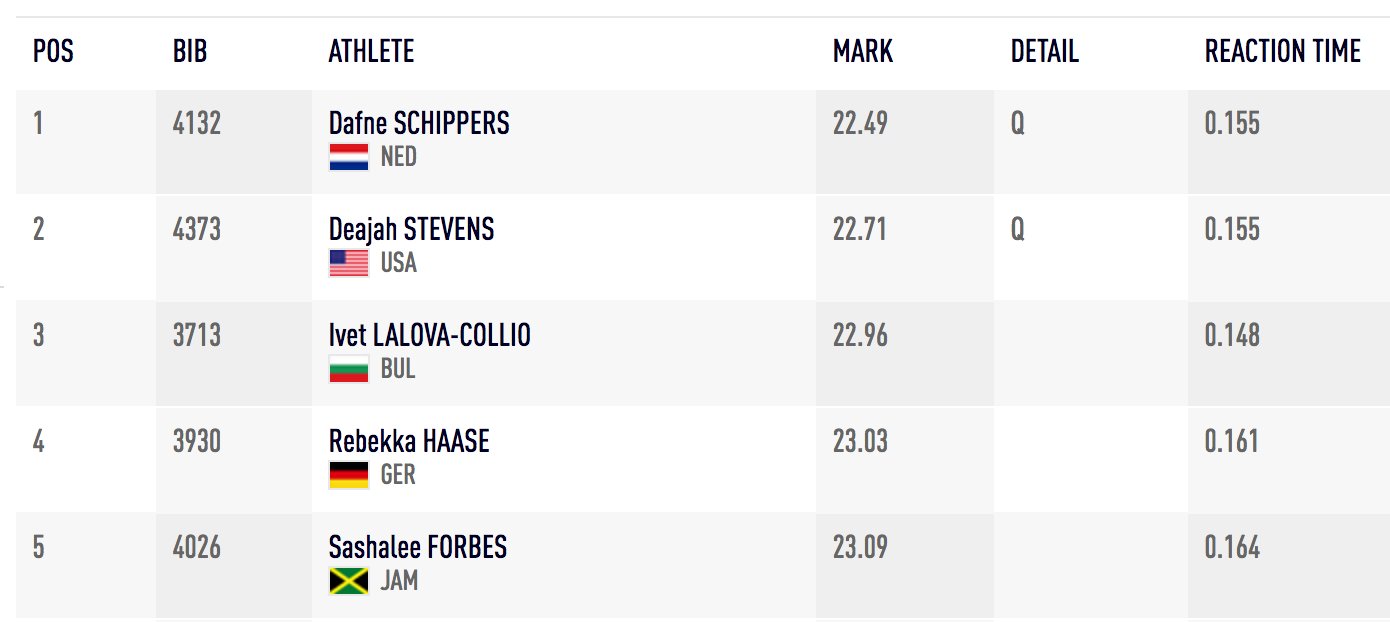 Women's 200m Semifinal 2

Coming off a devastating fourth place in the 400m last night, Shaunae Miller-Uibo will be looking to make up for it with a 200m medal, but she'll need to qualify here to do that along with USA's Kimberlyn Duncan.
We have our first false start of today, as Santos of Brazil on the outside looks like she guessed the gun and is eliminated.
Miller-Uibo and Kimberlyn Duncan go 1-2 to net the two autos! We'll have two Americans in the 200m final now.

Women's 200m Semifinal 3

Great Britain's Dina Asher-Smith will hope to advance in this heat along with Ta Lou, who was 2nd in the 100m earlier in these champs.
No surprise, Ta Lou takes it! She has the freedom to take her foot off the gas once she had it won, as Dina Asher Smith takes the second Q to the delight of the British crowd.

Women's 400m Hurdles

With Shamier Little out, the chances of an American sweep decrease, but it's still a definite possibility if Dalilah Muhammad, Kori Carter, and Cassandra Tate all pull through with their best selves. Zuzana Hejnova, the two-time defending World champion, will likely be the first woman in the way of that sweep, and also in the way of Muhammad's path to gold.
Muhummad took the lead at the beginning, but Kori Carter, all the way from lane 9, pulls through at the end TO BECOME YOUR WORLD CHAMPION! Muhammad 2nd, and Ristananna Tracey of Jamaica pulling up to out-kick Hejnova for 3rd!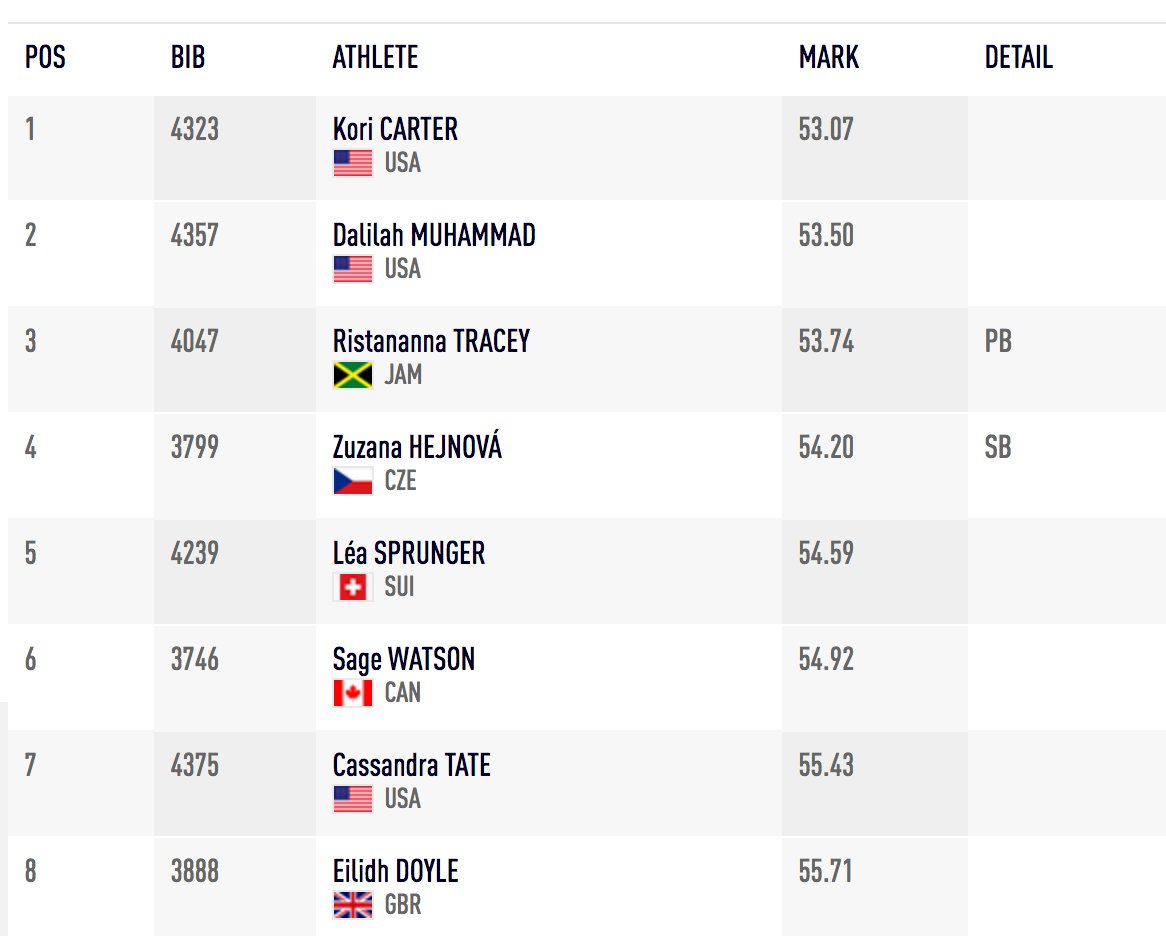 Men's 200m

With all the #FreeMakwala controversy, this could be one of the top races of the entire meet. Can Wayde van Niekerk of South Africa back up his 400m win from earlier in the meet with a second gold medal? Or will Makwala, the world leader, be the one to spoil? And what of the Americans, Isiah Young and Ameer Webb, both of which looked great in the prelims? Or Jareem Richards who won both his races so far? We'll find out pretty soon!
It's a HUGE upset as Turkey's Ramil Guliyev takes it at the line! Wow! What a complete turnaround! van Niekerk gets 2nd, Young 3rd! Makwala fades in the home stretch to sixth.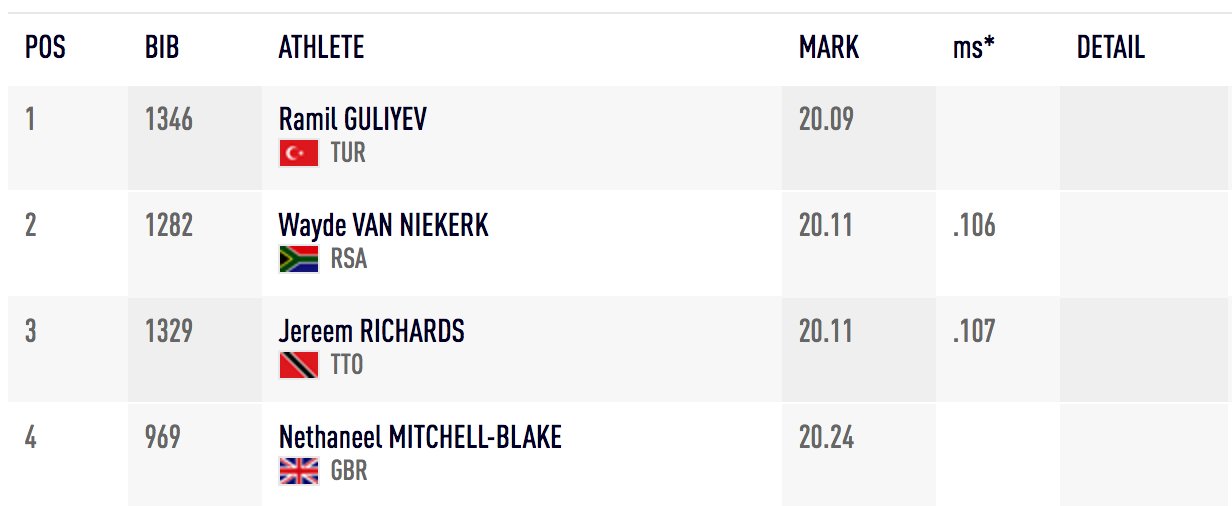 Guliyev held two flags at the end -- one of the country he represents, Turkey, and one of Azerbaijan.