2017 IAAF World Championships
Maria Lasitskene Is First Authorized Neutral Athlete To Win Gold At Worlds
Maria Lasitskene Is First Authorized Neutral Athlete To Win Gold At Worlds
Women's high jump champion Maria Lasitskene is the first authorized neutral athlete to win an event at the 2017 IAAF World Championships.
Aug 12, 2017
by Johanna Gretschel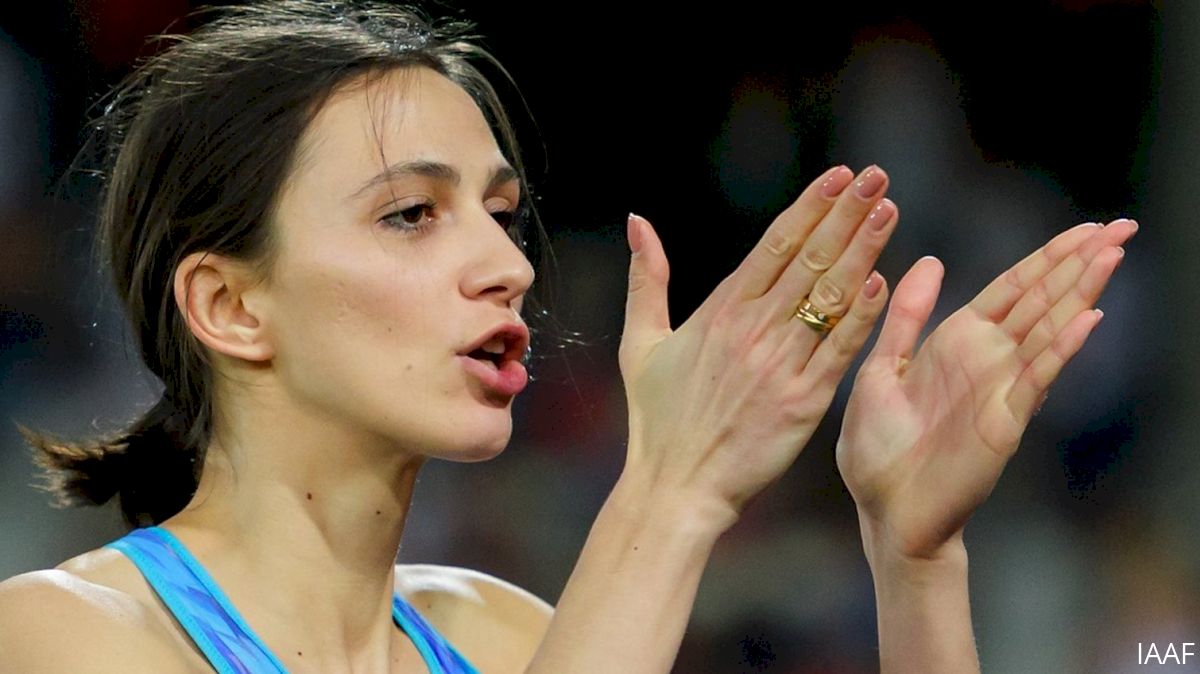 Defending world champion Maria Lasitskene (formerly Kuchina) became the first authorized neutral athlete to win gold at the 2017 IAAF World Championships in London with a 2.03m best today in the high jump. The Russian-born athlete missed a chance to compete at the Olympic Games last year as the
nation was banned from Rio and by the IAAF for state-sponsored doping
.
Lasitskene was clean through her first five jumps, faltering just once at 1.99m before moving straight up to 2.01m, which was successful.
Only Yuliya Levchenko of Ukraine had a better record early on, as the 19-year-old equaled her PB of 1.97m on the first attempt, made 1.99m on her first attempt and faltered once at 2.01m before clearing her next attempt. But 2.03m seemed to be too much of a challenge for the teen who was just recently crowned European U23 champion and it was at that height that she gave up the gold to the 24-year-old Lasitskene, herself a European junior champion in 2011.
The event won, Lasitskene moved the bar to 2.08m in an attempt to break the long-standing Russian national record of 2.07m. She missed all three attempts but said later that she looks forward to chasing the 30-year-old world record of 2.09m held by Stefka Kostadinova later this season.
Many wondered what anthem would play if a neutral athlete were to win gold. The answer was the IAAF anthem.
#Congratulations to #Russian#highjump #world #champion MARIA LASITSKENE Very disrespectful from #iaaf not playing #national #athem pic.twitter.com/6PSDLpHNRU

— Tasha (PT & skipper) (@Tasha_pt) August 12, 2017
Kamila Licwinko of Poland had a shakier series, missing several attempts but ultimately clearing 1.99m which would be good for bronze. The 31-year-old has earned hardware at three different editions of the World Indoor Championships, but the bronze marks her first outdoor world medal.
The top American, U.S. champion Vashti Cunningham, did not perform according to the form chart as she entered the competition ranked No. 3 in the world with a season's best of 1.99m, yet was only able to manage 1.92m on the day for tenth overall in her lowest mark of the entire season. Yet the 2016 world indoor champion is still just 19 years old and did improve on her Olympic placement of 13th overall in the final.
USATF third-placer Inika McPherson also maxed out at 1.92m today, though she placed ninth ahead of Cunningham due to fewer misses. The 30-year-old entered the competition ranked No. 8 in the world with a season's best of 1.96m.
Women's High Jump Final Results: