2017 IAAF World Championships
'Give Yourself A Chance': Fearless Strategy Led Courtney Frerichs To Silver
'Give Yourself A Chance': Fearless Strategy Led Courtney Frerichs To Silver
Before the women's steeplechase final at the IAAF World Championships in London last Friday, coach Jerry Schumacher gave Courtney Frerichs three eerily specific instructions. "[He] told me three main things: 1. Give yourself a chance. 2. Something weird
Aug 17, 2017
by Taylor Dutch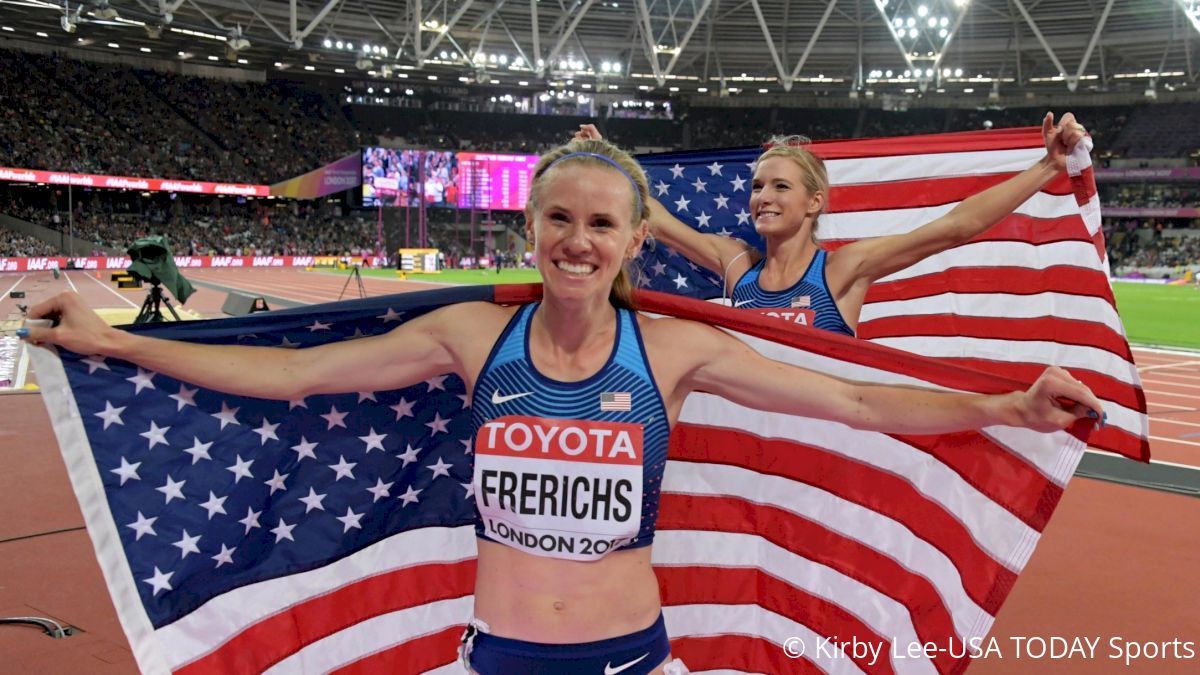 Before the women's steeplechase final at the IAAF World Championships in London last Friday, coach Jerry Schumacher gave Courtney Frerichs three eerily specific instructions.
"[He] told me three main things: 1. Give yourself a chance. 2. Something weird will probably happen since it's a championship race, and 3. You never know, you might sniff something special," Frerichs told FloTrack in a Skype interview on Wednesday.
But even with those wise words in mind, Frerichs couldn't have possibly anticipated what would happen next.
Part one: 'Give yourself a chance'

In her second-ever global final, Frerichs stood shoulder-to-shoulder among the best steeplers in history--including Ruth Jebet, who won Olympic gold last year and went on to reset the world record in 8:52.78. Frerichs, who ranked 10th in the world entering this meet, owned a PR of 9:19.07.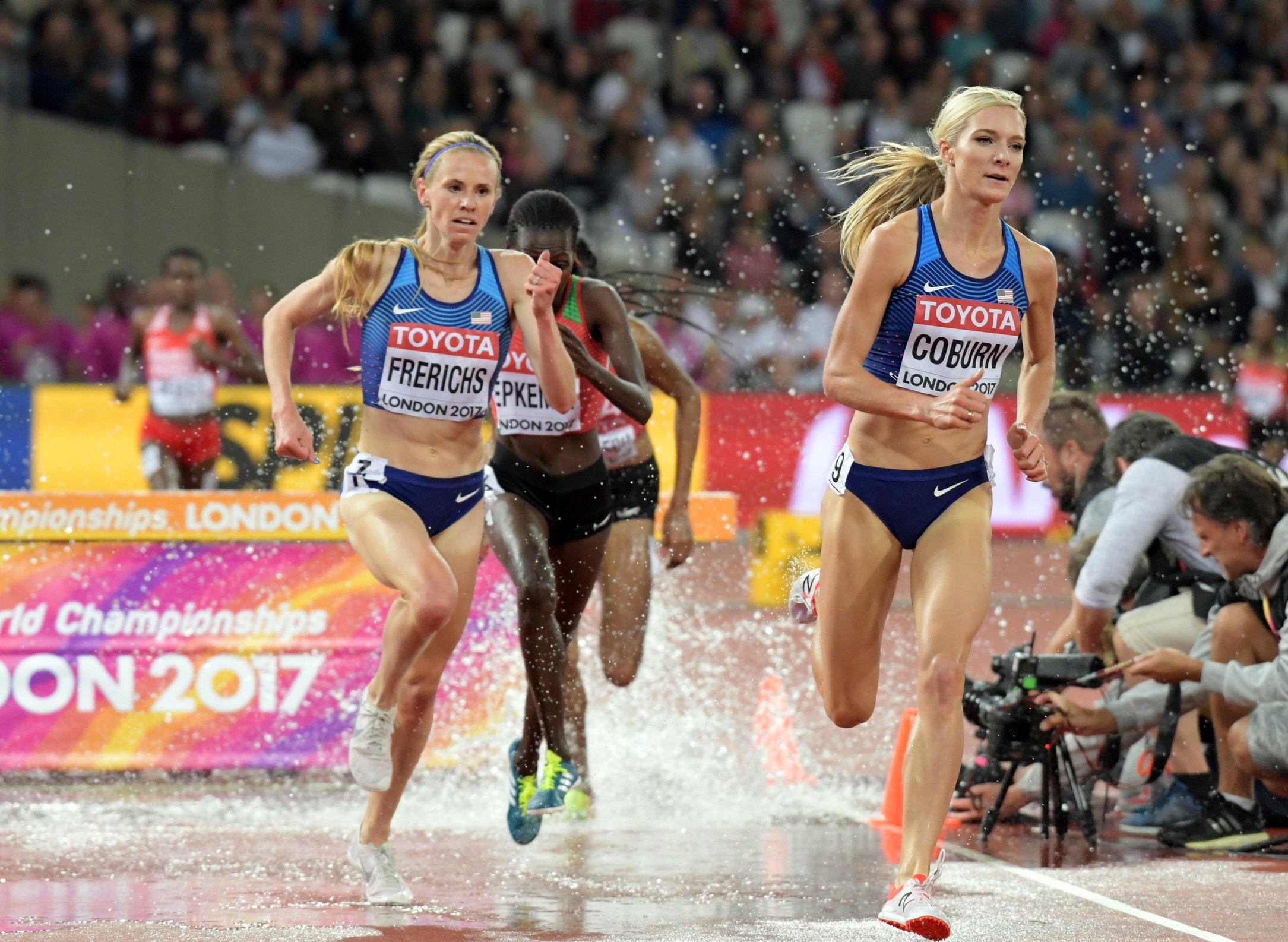 She would also have to contend with the second-fastest steepler of all time, Kenya's 18-year-old world leader Celliphine Chespol (8:58.78); 2015 world champion and 2016 Olympic runner-up Hyvin Jepkemoi (9:00.01); Olympic fourth-place finisher, Beatrice Chepkoech (9:00.70); and, of course, Emma Coburn (9:07.63), the 2016 Olympic bronze medalist and American record holder.
To give herself a chance, Schumacher and his assistant coach Pascal Dobert told Frerichs to follow Coburn from the gun.
"They told me that the most important thing was to get off the line with [Coburn]," Frerichs said. "You can't wait and try and catch up 500 meters later. You have to go right away."
Frerichs did just that, tucking in behind her American teammate from the start as the field bolted away from the line. She would quickly reach uncharted territory as the pace continued to accelerate far beyond what her PR indicated was possible.
But Frerichs had her marching orders, so she kept pouring it on while staying within range of the leaders.
Part two: 'Something weird'

Her coaches' advice proved vital once again as "something weird" unexpectedly unfolded at the first water jump. The early race leader, Chepkoech, swung wide and completely missed it, then doubled back to cross the jump and avoid disqualification. Later, a fall near the 800-meter mark caused a collision within the middle of the pack. If Frerichs hadn't given herself a chance as a contender within the top group, she would have been caught in the chaos.
By the 2K mark, Frerichs remembered seeing the clock at 6:03--well under the pace of her then-9:19 personal best--but she felt strong and wanted to keep the momentum going as the front pack dwindled to six women. She pushed her way toward the leaders despite their breakneck cadence.
In doing so, she did more than give herself a chance--she was now in the medal hunt.
Part three: 'Something special'

Between a mile and 800 meters remaining in the race, Frerichs said she could feel her body begin to lag back and forth between the pace, but she forced herself to stick with the leaders until just two laps remained. She knew she could be tough for one more lap and kick with every ounce of energy she had left at the bell.
"With 400 meters to go, I knew this was 'the special' that Jerry was talking about," Frerichs said.
The moment had come. Frerichs had to go for broke.
Over the final water jump, Coburn was two steps ahead of Frerichs and Jepkemoi. With the entire stadium crowd roaring, Frerichs kicked with all of her might, unaware that the top group was down to those three.
A stride behind Frerichs after the water jump, Jepkemoi attempted to charge her down heading into the final barrier, and again in the final steps to the finish line, but couldn't catch up. Frerichs had already done the impossible.
"I got over the last barrier, looked up at the scoreboard, and I couldn't help myself. I just started smiling. I was just so happy," she said.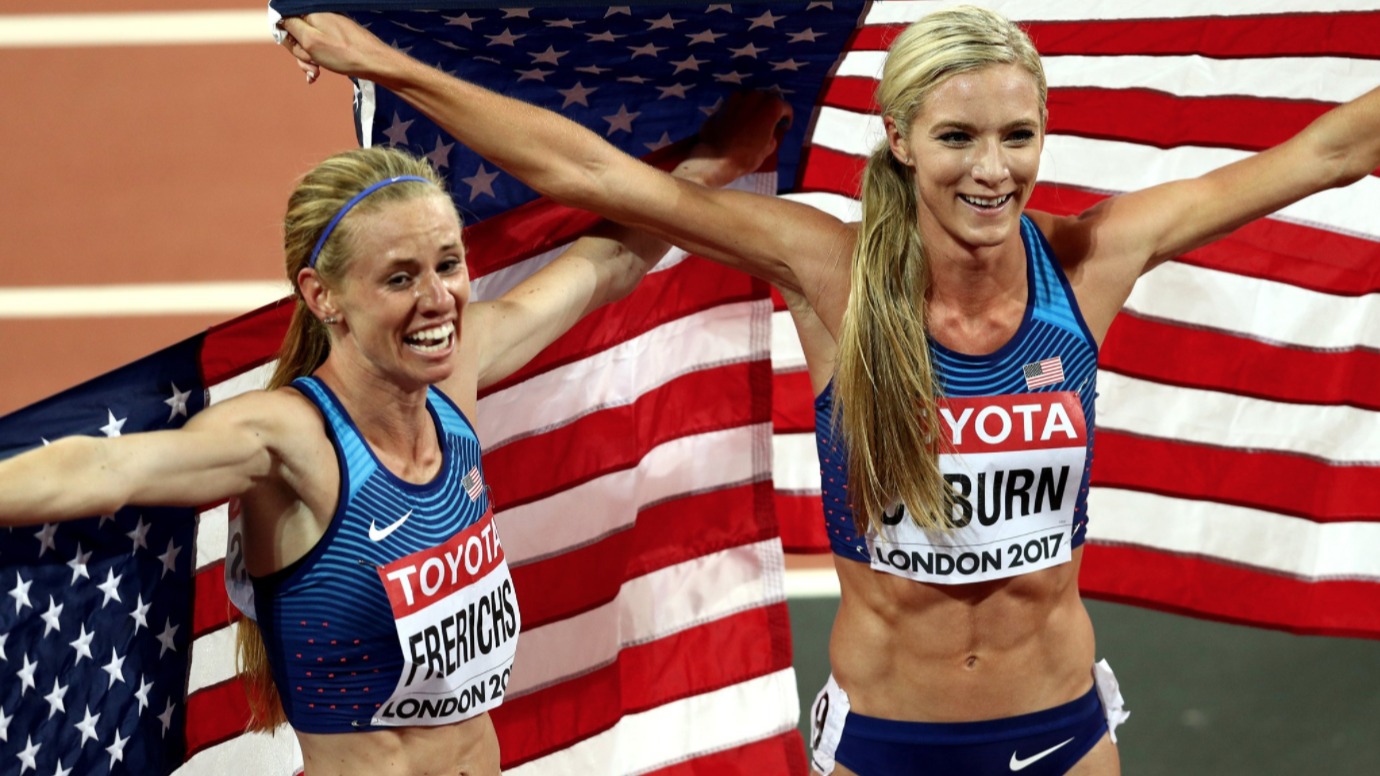 Coburn crossed the finish line first in a new championship record of 9:02.58, and Frerichs followed for second in 9:03.77, both shattering Coburn's previous U.S. record of 9:07 and becoming the first Americans in history to finish 1-2 in the steeplechase at a global championship.
"I actually got this idea in my head the night before that I was going to run the American record and told (my husband) Griffin, and he said, 'Go with it,'" Frerichs said.
Coburn and Frerichs, who entered the meet ranked No. 6 and No. 10 in the world, respectively, both beat history's top steeplers in Jepkemoi, Jebet, Chespol and Chepkoech.
"We weren't two individuals out there," Frerichs said. "We were a bigger force in the front pack. That's how I think we were able to accomplish what we did. I think that's a big reason why the Kenyans and Bahrainis have been successful. There are many of them, and it can be daunting, but having two of us up there brought it to a whole new level."
The performance was something special, but thanks to her workouts and the inspiration from her teammates, it was also the culmination of a well-earned breakthrough.
'Fearless'

Prior to the world championships, Frerichs and her Bowerman Track Club teammates trained at altitude in St. Moritz, Switzerland, where she said her workouts showed some remarkable improvements. She recalled not only hitting 72- to 74-second 400m splits for 800-meter, 1000-meter, and 1200-meter repeats on the track, but also looking comfortable while running the pace.
Frerichs credited her coaches with helping improve her speed work, a system she didn't focus on much as a collegiate athlete, and teaching her to rely more on instinct rather than looking at her watch every 100 meters (she admits to being "too calculated" at times).
Learning how to work out with training partners also helped. But with talented teammates such as four-time Olympian Shalane Flanagan, world bronze medalist Amy Cragg, national 5K champion Shelby Houlihan, Olympic finalist Colleen Quigley, and world bronze medalist Emily Infeld, it's not just the training that pushes Frerichs forward; it's also the daily inspiration her team provides.
Days before the steeplechase final, Frerichs cheered for Cragg as she earned a bronze medal in the marathon on the streets of London. Evan Jager also earned bronze in the men's steeplechase--his second consecutive medal after earning silver at the Olympics last summer. And Infeld finished sixth in the women's 10K, setting a new personal best in the process.
But the world championships weren't without adversity for the Bowerman Track Club. Frerichs' steeple training partner, Quigley, was disqualified after stepping on the inside line during her semifinal heat. The news was a shock to the team as well as the track community, which reacted with outrage on social media.
Frerichs found out while she was walking through the mixed zone for post-race interviews.
"It was a total shock. We train every day together, so to not have her there, it wasn't the same," Frerichs said. "If Colleen would have been out there, she would have been competitive. But I have the utmost respect for how she handled that situation. It was such a bizarre thing that seemed not right, but she handled it very well. I couldn't imagine being in her shoes.
"She prepared like there was a chance, and she held all of the tough emotions in, and she still came to the race and watched us, which meant a lot. I'm excited for the future and think this will be extra motivation for her. She has some unfinished business out there after not getting that opportunity. I was motivated to show off more for the both of us since I know she's been working so hard too."
Whether surrounded by teammates amid challenges or relishing in moments of success, it's clear Frerichs has found her tribe. She also finds inspiration in those outside of the Bowerman Track Club, such as Coburn.
"Emma has been my idol since I started running so the idea of going with her was scary," Frerichs said. "But I'm excited for the future with racing because I think the best version of you gets brought out when you're having to rise to the occasion of racing the best."
Experience of a lifetime shared with someone I have looked up to since I began the sport. Thank you London! #london2017 #teamusa pic.twitter.com/UNS4nFF6r9

— Courtney Frerichs (@courtfrerichs8) August 14, 2017
Frerichs' performance at the world championships can be best described by the temporary tattoo she placed on her wrist prior to the steeplechase final. During the team's first altitude training stint in Park City, Utah, Infeld and Frerichs purchased temporary tattoos, and one of the designs featured the word "fearless."
Frerichs saved it for the final as a subtle reminder of what she could accomplish with a little inspiration from her coaches, her team, and her competition.
The outcome was truly something special.


Get all the hype!
Sign up for the FloTrack newsletter for instant access to: Breaking News, Results, Rankings, Archived Race Footage, Live Broadcasts and more!