2017 FloXC Countdown
2017 FloXC Countdown: #23 UCLA Men
2017 FloXC Countdown: #23 UCLA Men
2017 FloXC Countdown: #23 UCLA Men
Aug 23, 2017
by Gordon Mack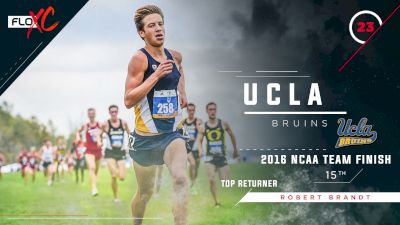 Follow our
2017 FloXC Countdown
, where we rank the pre-season top 25 cross country teams and individuals heading into the NCAA season which will be
LIVE on FloTrack
. The No. 23 men's spot goes to
UCLA
, and here's why:
Probable Top Four:
JR Robert Brandt (7:58 3K; 13:45 5K; 28:48 10K; 109th at '16 NCAA XC)
SR Daniel De La Torre (8:05 3K; 13:46 5K; 14th at '17 NCAA 5K; 143rd at '16 NCAA XC)
SO Garrett Reynolds (3:45 1500; 13:57 5K; 126th at '16 NCAA XC)
SO Colin Burke (14:03 5K; 141st at '16 NCAA XC)
Fifth Man Battle:
SR Myles Smith (29:36 10K; 163rd at '16 NCAA XC)
FR John Carter Blunt (4:02 Mile; 8:08 3K; 14:19 5K; 1st at '15 TX State XC)
FR Tyler Janes (4:05 Mile; 8:23 3K; 3rd at '16 CA State 1600)
Impact Freshmen/Transfers:
Robert Brandt via Cal (7:58 3K; 13:45 5K; 28:48 10K; 109th at '16 NCAA XC)
Analysis:
This year's UCLA squad will look very different from last year's 15th-place team. The Bruins are led by the newly minted assistant coach Devin Elizondo who returns to his alma mater after coaching at UC Davis for the past three years. The Bruins also graduate three seniors Ferdinand Edman, Jonah Diaz, and Austin O'Neil who had a strong impact on the grass and track during their tenure at UCLA. Despite all of these changes, there still is a lot to be optimistic about for the 2017 season.
Joining the program this year will be Cal transfer Robert Brandt who should make an immediate impact. Brandt had a breakout season on the track this past year running 7:58 3K, 13:45 5K, and 28:48 10K. Also having a breakout season on the track was rising senior Daniel De La Torre. De La Torre finished 14th at the 2017 NCAA Outdoor 5K and improved his 5K PB to 13:46. Look for these two guys to be the solid 1-2 punch for the Bruins this season.
Rounding out the top five will be upcoming talent: sophomores Garrett Reynolds and Colin Burke and redshirt freshmen John Carter Blunt and Tyler Janes. If these four runners can have formidable seasons the UCLA men should improve on their 23rd pre-season ranking come November.
FULL MEN'S RANKINGS HERE