If you want to set a world record in the marathon, the flat streets of Germany's capitol are the place to do it. The Berlin Marathon has played host to the past six men's world marathon records, and with a
star-studded line-up of Eliud Kipchoge, Kenenisa Bekele, and Wilson Kipsang set for the 2017 edition
, Dennis Kimetto's 2014
world standard of 2:02:57
is in significant danger. Read on for pros and cons on each of the top athletes as well as highlights to watch for in the women's race. Remember to tune in this Sunday to watch the action live on FloTrack
if you live in one of these countries
!
​Editor's Note: The article has been edited to reflect late scratches from former men's world record holder Patrick Makau and defending women's champion Aberu Kebede.
WATCH THE 2017 BERLIN MARATHON LIVE ON FLOTRACK
Men's Marathon: World Record Watch For Eliud Kipchoge, Kenenisa Bekele, Wilson Kipsang

Start Time:
3:15 AM ET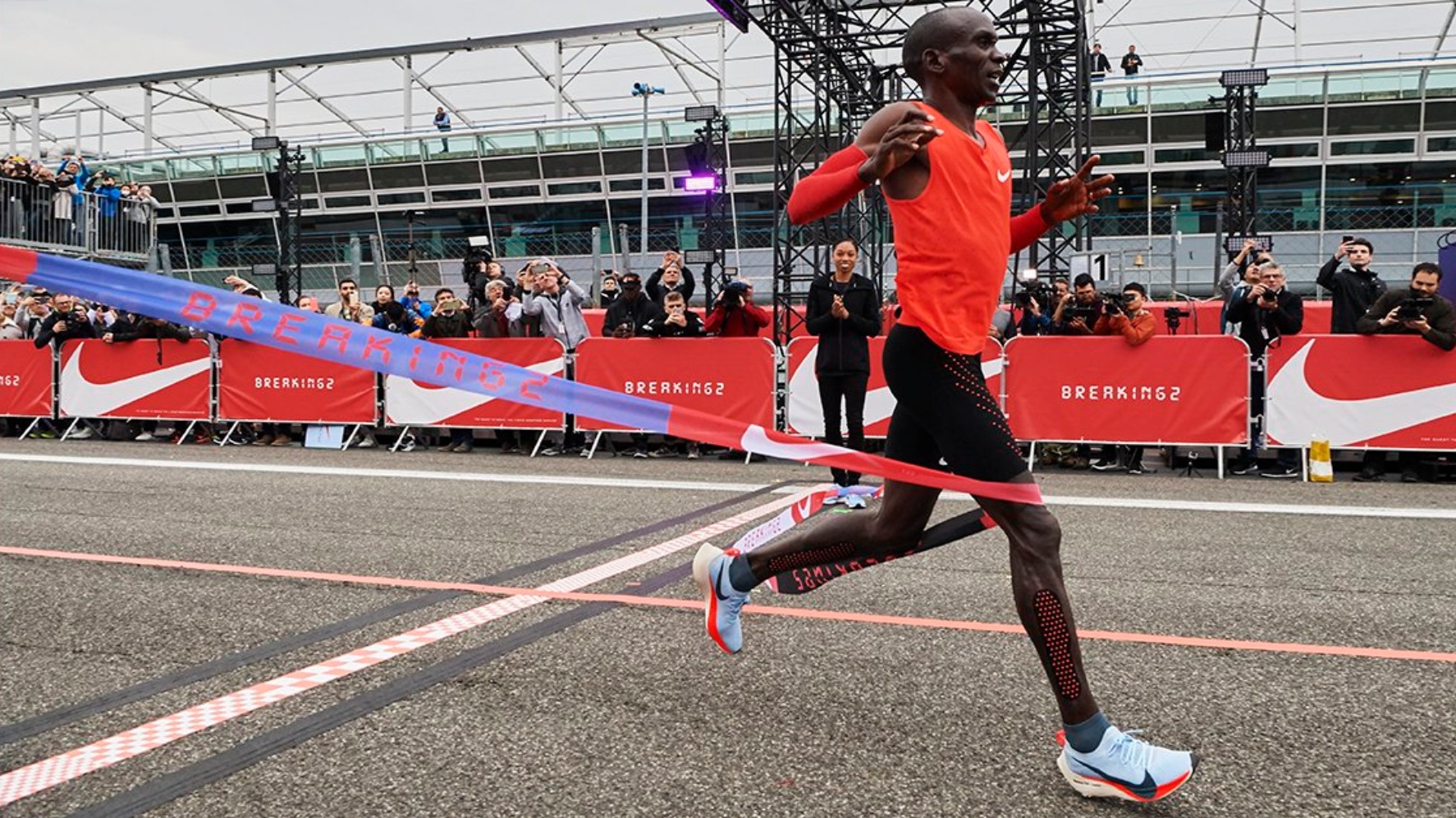 ATHLETE:
Eliud Kipchoge
AGE:
32
REPRESENTING:
Kenya, Nike, NN Running Team
MARATHON PB:
2:03:05 (2016)
HALF MARATHON PB:
59:25 (2012)
TRACK PBS:
3:33 1500 (2004); 7:27 3K (2011); 12:46 5K (2004); 26:49 10K (2007)
MAJOR COMPETITION RECORD:
2016 Olympic marathon champion; 2016 London Marathon champion; 2015 London Marathon champion; 2015 Berlin Marathon champion; 2014 Chicago Marathon champion; 2013 Berlin Marathon runner-up; 2008 Olympic 5K silver medalist; 2007 IAAF World 5K silver medalist; 2004 Olympic 5K bronze medalist; 2003 IAAF World 5K champion.
PROS:
Kipchoge is the fastest man to ever run 26.2 miles. Even though his 2:00:25 from the Nike Breaking2 event does not count for record-keeping purposes due to prolonged use of pacers and aid stations throughout the race, he did the dang thing. Also, his "legal" PB of 2:03:05 is the third-fastest time ever recorded, behind only Kimetto and Bekele.
He has an impeccable competition record in the marathon. In his nine career marathons (including Breaking2), Kipchoge has won eight and finished second once -- and that was at Berlin in 2013, when Kipsang set the world record at 2:03:23. Four of those wins were Abbott World Marathon Majors.
Kipchoge has run under 2:06 seven times (eight including Breaking2).
He has a teammate in the mix: both he and Bekele are representing the NN Running Team and may have some sort of pacing plan worked out.
There's something to be said for a man who believes in himself.
CONS:
Kipsang, the only athlete to defeat Kipchoge in a marathon, is in this race.
Kipchoge has the slowest winning time of the four men competing in Berlin this year who have won the event before. He won the race in 2:04:00 in 2015; Bekele, Kipsang and the overlooked Patrick Makau, a former world record holder also competing here, have all broken 2:04 in Berlin.
The man ran 2:00:25 in May, about 20 weeks ago. He might still be tired.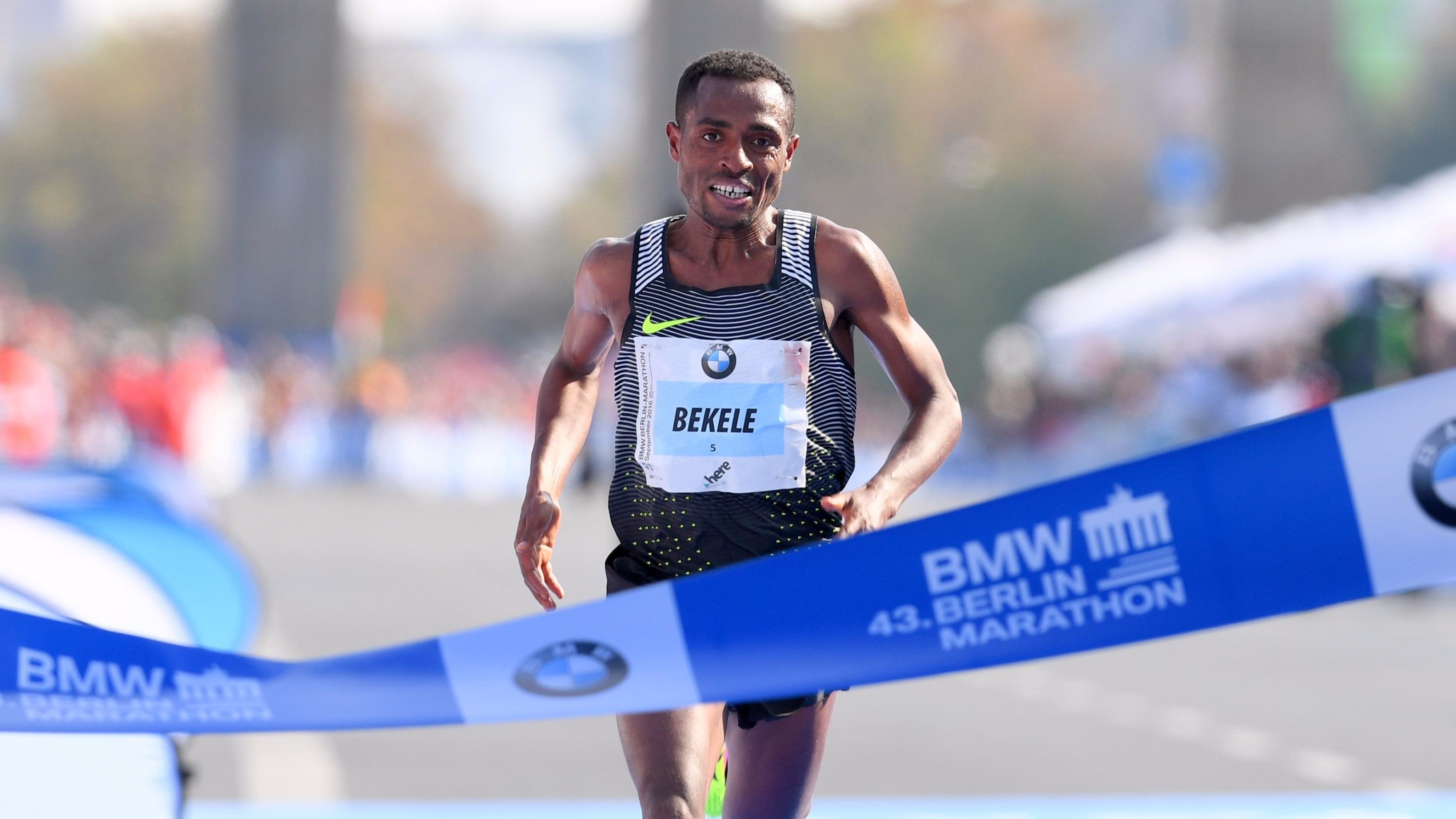 ATHLETE:
Kenenisa Bekele
AGE:
35
REPRESENTING:
Ethiopia, Nike, NN Running Team
MARATHON PB:
2:03:03 (2016)
HALF MARATHON PB:
60:09 (2013)
TRACK PBS:
3:32 1500 (2007); 7:25 3K (2007); 12:37 WR 5K (2004); 26:17 WR 10K (2005)
MAJOR COMPETITION RECORD:
11x IAAF World XC champion; 2003 IAAF World 10K champion; 2005 IAAF World 10K champion; 2007 IAAF World 10K champion; 2009 IAAF World 5K, 10K champion; 2004 Olympic 10K champion; 2008 Olympic 5K, 10K champion; 2014 Paris Marathon champion; 4th at 2014 Chicago Marathon; third at 2016 London Marathon; 2016 Berlin Marathon champion; 2017 London Marathon runner-up.
PROS:
Many hail Bekele as the great distance runner of all time on the track due to his world records in the 5K and 10K and impressive resume of 16 world titles and three Olympic gold medals. A world record in the marathon would go nicely with his other accolades.
He is the defending champion in Berlin.
His winning time at the 2016 Berlin Marathon was 2:03:03, the second-fastest legal time in history.
He beat Wilson Kipsang, a former world record holder in the marathon and one of Bekele's top competitors again in 2017.
In his only completed race of 2017, he was a close runner-up to Daniel Wanjiru at the London Marathon, 2:05:48 to 2:05:57.
CONS:
Bekele is not nearly as consistent in the marathon as he was in his prime on the track. He followed up his runner-up finish at the London Marathon by removing himself from consideration for the IAAF World Championships, citing "lack of fitness." How much fitness can the Ethiopian legend gain in two months? For any other runner, the turnaround would seem too soon.
He has a history of dropping out of marathon races; he's dropped out of the Dubai Marathon twice, including this year after tripping at the sound of the start gun (though that was hopefully a freak incident).
Even when he finishes marathons, Bekele doesn't usually win. His Berlin win last year marked his first victory at an Abbott World Marathon Major. His only other notable win was at the 2014 Paris Marathon, where the field was not as noteworthy as a major.
He's competing for the NN Running Team with Kipchoge, and may secretly be tasked with pace-setting.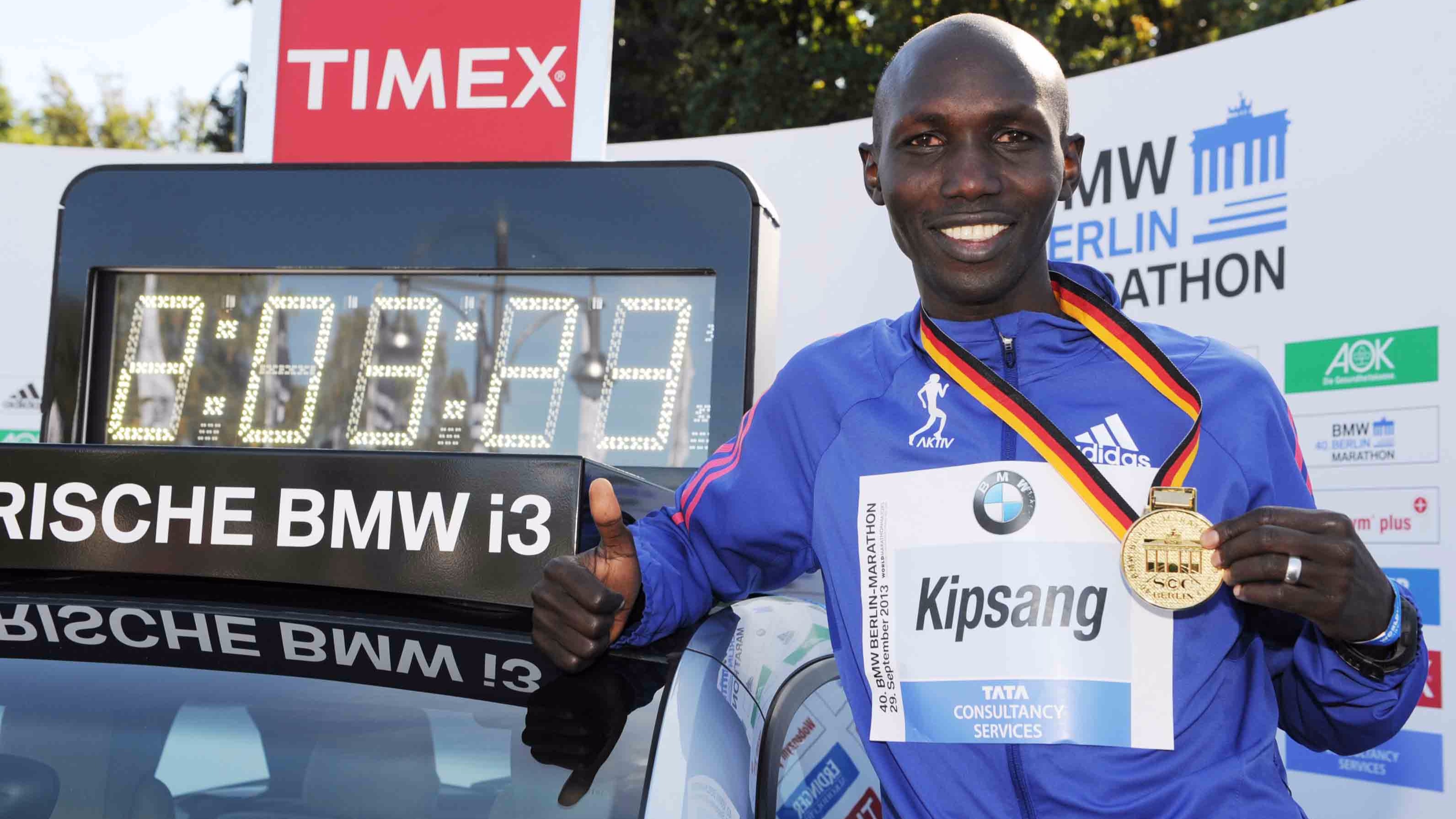 ATHLETE:
Wilson Kipsang
AGE:
35
REPRESENTING:
Kenya, adidas
MARATHON PB:
2:03:13 (2016)
HALF MARATHON PB:
58:59 (2009)
TRACK PBS:
13:55 5K (2009); 28:37 10K (2007)
MAJOR COMPETITION RECORD:
2017 Tokyo Marathon champion; 2016 Berlin Marathon runner-up; fifth at 2016 London Marathon; 2015 London Marathon runner-up; fourth at 2015 NYC Marathon; 2014 London Marathon champion; 2014 NYC Marathon champion; 2013 Berlin Marathon champion; fifth at 2013 London Marathon; 2012 London Marathon champion; 2012 Olympic marathon bronze medalist; 4th at 2009 World Half Marathon Championship.
PROS:
Kipsang's 2:03:58 victory at the Tokyo Marathon in February is the fastest time in the world this year and he won by almost two minutes over runner-up Gideon Kipketer, who clocked 2:05:51.
Kipsang is the only man in world history to crack 2:04 four times. Think about that for a second. Only eight men EVER have broken 2:04 in their lives and Kipsang has done it four times. Kimetto is the only other guy to break 2:04 multiple times, and he's still just done it twice.
He has broken the world record before, shaving 15 seconds off Makau's standard in 2013 for 2:03:23. But he showed last year in Berlin that he's still in his prime by lowering his PB to 2:03:13 behind Bekele.
Of 17 career marathons, he has won eight titles including five Abbott World Marathon Majors.
CONS:
Kipsang does not have a consistent 'W' record over his foes here. He has never defeated Bekele in a marathon after two matchups in Berlin and London last year; and in three head-to-head marathons vs. Kipchoge, he won just once with his world record run in 2013. Their most recent battle at the 2016 London Marathon saw Kipchoge defeat Kipsang by nearly five minutes.
8/17 isn't even a 50 percent win rate. Does Kipsang still have what it takes to be a champion?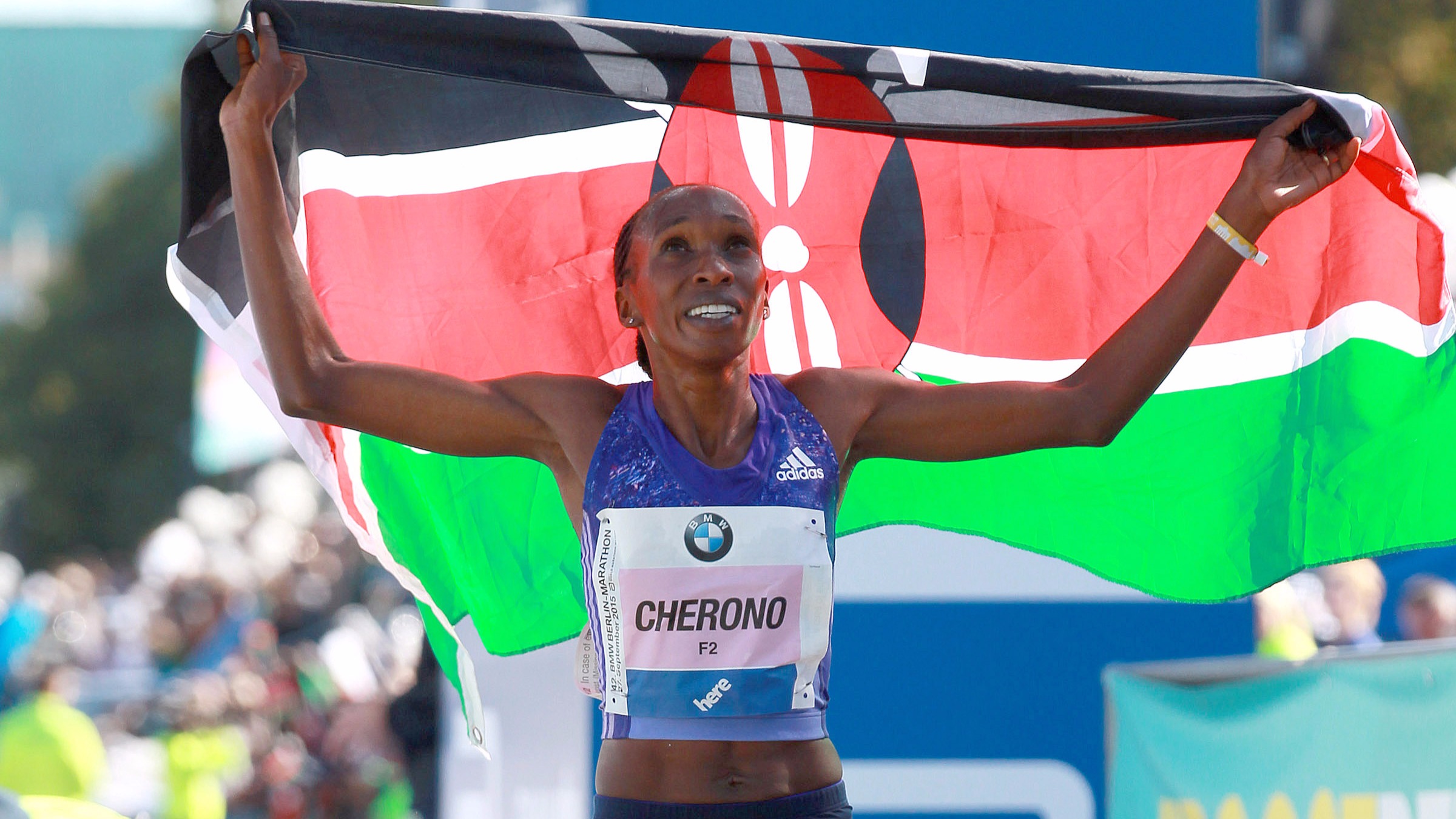 Women's Marathon: 2015 Champion Gladys Cherono Takes On Fast-Rising Valary Aiyabei

Start Time:
3:15 AM ET
Athletes to Watch:
Valary Aiyabei, Gladys Cherono, Amane Beriso, Meseret Mengistu, Gullume Tollesa, Ruti Aga
Analysis:
With defending women's champion Aberu Kebede a late scratch, the easy money is on Gladys Cherono of Kenya. Two years ago, Cherono won the Berlin Marathon in 2:19:25, then the fastest time in the world since 2012, making her the No. 6 (now No. 8) performer of all-time, and just 13 seconds off the course record set by Mizuki Noguchi in 2005.
She's easily the most accomplished woman in the field, having won silver at the 2013 IAAF World Championships 10K and gold at the 2014 Half Marathon World Championship. Cherono's track PBs are 14:47 for 5K and 30:29 for 10K.
Berlin 2015 was only the second marathon of Cherono's career and she has added only one more race at the distance to her resume since then due to injury -- a fifth-place, 2:27:20 performance at the Boston Marathon this spring.
So despite Cherono's accomplishments, the woman with the most momentum heading into Sunday's race may actually be Valary Aiyabei of Kenya.
She chopped three minutes off her PB with a 2:21:57 course record win in Prague
this April, a time that makes her the 11th-fastest woman in the world this year. The 26-year-old has improved rapidly since taking up the marathon in 2013; check out the chart below to see her progression.
Valary Aiyabei's Yearly Marathon Progression
| YEAR | SEASON BEST | LOCALE | PLACE |
| --- | --- | --- | --- |
| 2013 | 2:39:47. | Mainz | 1st |
| 2014 | 2:30.19 | Rennes | 2nd |
| 2015 | 2:31.57 | Marrakech | 2nd |
| 2016 | 2:24.48 | Valencia | 1st |
| 2017 | 2:21.57 | Prague | 1st |
Aiyabei's Prague PB came off the heels of an aggressive start, as she ran through 5K in 16:12, 10K in 32:18, and half marathon in 68:24 -- not much slower then her 13.1 mile PB of 67:50 and enough to scare off runner-up Amane Beriso by 18 seconds, a 25-year-old Ethiopian who has 2:20:48 and will be one of her main competitors in Berlin. So Aiyabei's not scared to get out hard (maintaining that pace would have net her about a 2:16 finish time). But one should note that Berlin is her first step up into the big leagues, as it's her first Abbott World Marathon Major.
Watch Valary Aiyabei set the Prague Marathon course record in 2:21:57:
Other women to watch include Ethiopians Amane Beriso (2:20:48 PB), Gulume Tollesa (2:32:12 PB) and Ruti Aga (2:24:41 PB).
How to Watch
On TV:
Available on Roku and Apple TV 4 -- download the FloSports app now.
Streaming:
On FloTrack with a PRO subscription if you are in
one of these countries
. A yearly PRO subscription provides access to ALL FloSports sites.
JOIN NOW
Get all the hype!
Sign up for the FloTrack newsletter for instant access to: Breaking News, Results, Rankings, Archived Race Footage, Live Broadcasts and more!