Originally published by Cory Mull for MileSplit
Mark Popp had a plan on Monday.
The head coach of the Wayzata High boys cross country team, ranked fourth overall in MileSplit's most recent national rankings, knew that he needed make sure his team was focused for the Roy Griak Invitational on Saturday on the Les Bolstad Golf Course in Falcon Heights, Minnesota.
WATCH THE ROY GRIAK INVITATIONAL LIVE ON FLOTRACK
But he also wanted to test the squad through one of its hardest workouts of the season, just five days away from the event.
It was a statement. He wanted to toughen them up.
"It was probably one of our most demanding (workouts) of the year," said Popp, whose team is based out of Plymouth, Minnesota. "You wouldn't do that if you were coming up to a truly important meet. It's because we train through with our eyes on November and December."
While winning the Roy Griak Invitational for the fourth time in five years would be an impressive accomplishment for the Trojans, Popp said, the team's goals are far greater and firmly entrenched in gaining state and national hardware in November and December.
More than anything, Griak will be an early indicator of just where his team sits over its training block. But it just so happens the Trojans will also face off against the second-ranked team in the country, Great Oak (California), along with in-state rivals Edina and out-of-state contenders Middleton (Wisconsin), Lakeland Union (Wisconsin), and Dowling Catholic (Iowa).
"Griak is a stepping stone along the way," he added. "We want to figure out how good we are. You can use Griak as a jumping-off point to go compete down the road and set some goals."
However, Wayzata is still going for the win.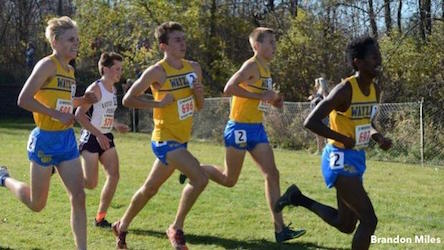 "We're not pulling back too much," Popp said of his team's training. "Griak is a high-level competition and we want to be in the frame of mind that we can compete when we're at those important meets, but we also want to make sure when we move on to the later months it's not the first time they felt that pressure."
So far, the Wayzata boys have shown glimpses of being a podium team at NXN in December. In early September, the team flew through the Columbus Catholic Invitational course in Wisconsin, posting the top two times and 25 points over a 15-team field.
It was the first big outing for the Trojans, who averaged 15:56 over its scoring five and saw junior Grant Price -- who was 19th at state in 2016 -- post the win in 15:45.50. Last year's 2A runner-up in Minnesota, Khalid Hussein, was second in 15:49.40. He's still rebounding from a knee injury during the spring track season.
"They were doing that on strength more than anything else," he said of his top two runners. "The best is still to come."
Popp said Price's performance impressed quite a few people, though not just him.
"Khalid was excited, because he knew it give us better 1-2," Popp said. "You need that when you go up against top level teams in the country."
Beyond those two, Wayzata was buoyed by senior Mitchell Tolander (16:00.90), senior Blake Buysse(16:01.90), and junior Andrew Brandt (16:04.60).
And depth is ultimately one of Wayzata's biggest strengths. They returned four of the team's top seven finishers at states a year ago, and saw a huge development from the back of their lineup.
Buysse, for example, is relatively fresh as a runner, having only joined cross country as a freshman. Senior Grant Matthews, meanwhile, is the team's resident jokester and almost got kicked off the team four years ago for "being a screwball," Popp said.
Both "have good upside," and could ultimately make big jumps later in the season. The team had eight runners in the meet's top 13 places at Columbus.
"That told me that we're pretty legit," Popp said. "I was hoping that's where we would be. Now, we're still in September and it's still pretty early, but in terms of a checkpoint, that was it."
Wayzata's experience will be one of its biggest assets, too. Not only have the Trojans won Minnesota's 2A team title in three of the last four years, and six out of the last 10, but they've qualified for NXN four straight times over that span -- including a top finish of second in 2014 -- and look to add their fifth straight nod this year.
"Experience is a good word to use for this group," Popp said. "You can throw them in any sort of situation and know they are going to react well. They're going to execute their race plan."
Heading into September, Popp said, the team will begin to use races as VO2 efforts and will start to hit the track more frequently for speed workouts.
"On the national level, it would be really cool to live up to our ranking," Popp said. "To be in the conversation as one of the better teams in the country, it's really cool, but also really rare. We need to enjoy the ride and keep doing what we're doing. Hopefully we can be in that mix."
Get all the hype!
Sign up for the FloTrack newsletter for instant access to: Breaking News, Results, Rankings, Archived Race Footage, Live Broadcasts and more!