The 2017 Roy Griak Invitational at the University of Minnesota's Les Bolstad Golf Course concluded today as one of the first big tests for NCAA cross country programs and top high school teams from across the nation. Check out the full results here, read the high school recap here, and watch replays of the race videos here. Analysis of the action is below.


Women's DI Gold Race: Weronika Pyzik Over Teammate Charlotte Taylor, Dons Dominate
Weronika Pyzik takes down Charlotte Taylor at Roy Griak! #RoyGriak

@DonsXCTF go 1-4 pic.twitter.com/ITHAW8R0hK

— FloTrack (@FloTrack) September 23, 2017
Reigning NCAA 10K champion
Charlotte Taylor revealed on FloTrack's On The Run Podcast
this week that she intended to use Griak as an opportunity to race with her
No. 9-ranked San Francisco team
this year, especially given the lack of top individual competition up front. (The individual women's battles have been a little more exciting in recent years with the likes of pre-season ranked runners like Brenna Peloquin, Erin Finn, Bethan Knights, and Allie Ostrander.) The No. 16-ranked Taylor did just that, setting the pace up front for the entire 6K with teammates Weronika Pyzik and Isabelle Brauer close by, passing through the opening mile in 5:34 and 3K in 10:31.
How many @DonsXCTF women can you spot at the one mile? pic.twitter.com/l40fKLb2hS

— FloTrack (@FloTrack) September 23, 2017
Taylor and Pyzik pulled away from Brauer over the final 1K. Taylor, who represented Great Britain this summer at the IAAF World Championships in the 10K, appeared to be making a move to claim the race as her own but as they crested the last hill and ran down the final straightaway to the finish, it was Pyzik (a 15:59 5K performer on the track this spring) who took advantage and crossed the line first, 21:09 to 21:11.
Brauer held on for third in 21:28 and fellow Don Marie Bouchard placed fourth in 21:30; Tatjana Schulte wrapped up the team title for San Francisco with a 12th-place, 21:53 finish. San Francisco thus proved their superior ranking with an impressive 22-point total as No. 17 Iowa State took second with 72 points, unranked Minnesota was third with 85 points, and No. 19 Michigan State was fourth with 91 points.
Iowa State's Cailie Logue was the top freshman finisher, placing fifth in 21:39 behind San Francisco's top four.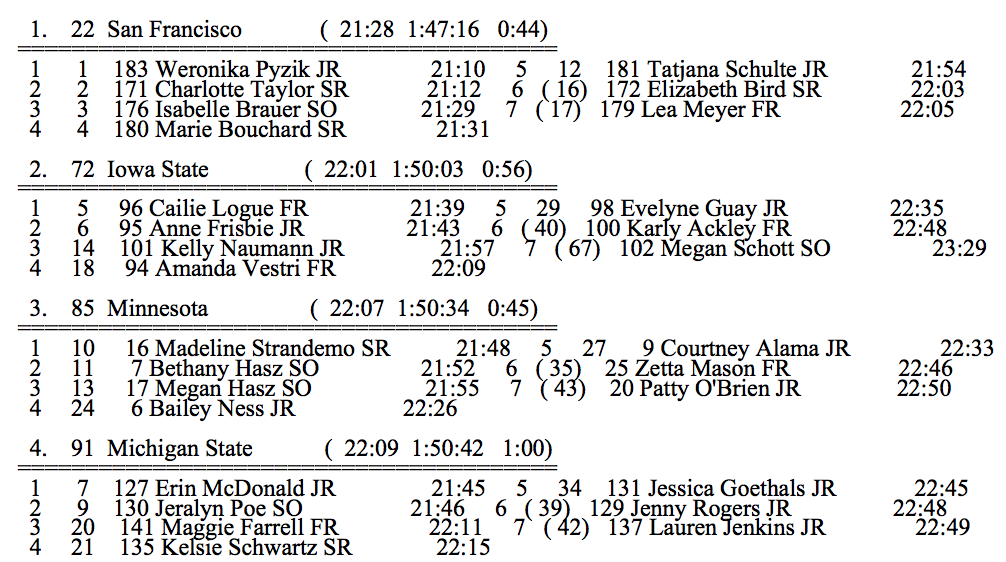 Men's DI Gold Race: Jerrell Mock Leads Colorado State To Victory
#Griak2017 champions.

#StalwartRams pic.twitter.com/YxdDyP4Px8

— CSU Rams T&F/XC (@CSURAMSTRACK) September 23, 2017
The men's race went as projected with
No. 13-ranked Jerrell Mock
of Colorado State defending his individual title and leading the
No. 15-ranked Rams
to the team victory over unranked Michigan State, 47 to 55 points, as No. 23 ranked UCLA placed third with 63 points. The race was originally slated to include
No. 10 Iowa State
, whose new transfer,
No. 21-ranked Festus Lagat
, would have provided an interesting test for Mock. Alas, we'll have to wait for that one as the Cyclone men pulled out of the event at the last minute due to illness.
Even still, Mock had some early competition from UCLA's Robert Brandt, who is in his first season for the Bruins after transferring from Pac-12 rival Cal. The duo ran the first 6K together, passing through the mile in 4:58, 3K in 9:22, and 5K in 15:33. By 7K, Mock took off on his own which he would hold to the win in 24:52, while UCLA sophomore Garrett Reynolds would pass Brandt for second place, 25:03 to 25:04.
CSU Rams #wantabegreat pic.twitter.com/eBnNisy6Xh

— Art Siemers (@coachsiemers) September 23, 2017
Michigan State had an impressive trio up front, with Clark Ruiz, Max Benoit, and Morgan Beadlescomb taking the No. 4, No. 5, and No. 6 overall spots, which gave the Spartans enough firepower to take down ranked foe UCLA.

​Editor's Note: This article originally reported that UCLA defeated Michigan State, as timing issues left the Spartans' No. 4, Ryan Robinson, out of the initial results. The current article, including the screenshot above, reflects the corrected results made available to FloTrack on Monday.
Notes From DII/DIII Action
The DII women's race saw Alexis Zeis of U-Mary win the individual title by more than a minute in 21:41. Runner-up Julia Howley ran 22:42, which was enough to lead Simon Fraser to the team title by just two points over Pittsburgh State, 73 to 75.
In the DIII women's race, Cheyenne Moore of Wisconsin-Oshkosh and Emily Kaegi of Carleton battled to the top two spots in 22:54 and 22:56. Kaegi's Carleton team won the team title with a dominant 26 points ahead of St. Thomas (Minnesota), which scored 67 points.
The DII men's race saw Sioux Falls sophomore duo Mason Phillips and Steven Brown sweep the top two spots by finishing in 25:30 and 25:59. But the Augustana men placed three runners in the top 10 (Alec Kray, Aaron Runge, Nick Larsen) to win the team title by a staggering 99 points over UC San Diego, 49 to 148.
In the DIII men's race, North Iowa Area CC freshman Brian Jacques ran to a dominating individual victory in 27:07 as his team finished second in the overall standings to Wisconsin-Oshkosh, 35 to 80 points. Wisconsin-Oshkosh placed four men in the top 10 (Lucas Weber, Michael Juarez, Brian McKnight, Cody Chadwick) while No. 5 man Spencer Muffler placed 11th in the field.