The 2017 Roy Griak Invitational at the University of Minnesota's Les Bolstad Golf Course concluded today as one of the first big tests for NCAA cross country programs and top high school teams from across the nation. Check out the
full results here
, read the
college recap here
, and watch replays of the
race videos here
. Analysis of the action is below.
High School Girls Gold Race: Emily Covert Upsets Grace Ping; Illinois' Naperville North Wins Team Title
Emily Covert is your winner in the girl's gold race at #RoyGriak in 18:11.20! @MNTrackXC pic.twitter.com/cBNjmXMbv7

— MileSplit US (@milesplit) September 23, 2017
The high school girls race was the story of one former middle phenom vs. another, as Roy Griak's first-ever 7th grade champion in Emily Covert took on Grace Ping, who won the race as a 7th grader in 2015 and has gone on to set
multiple age group world records
and took sixth at NXN as an eighth grader last fall.
Covert and Ping, as well as fellow Minnesota freshman Anna Fenske and Great Oak High's top duo of Tori Gaitan and Fatima Cortes, set out about 10 seconds faster in the first mile than the college women, passing the split at about 5:25. The top group was down to Covert, Ping, and Fenske (22nd at NXN last year) by 3K, which they passed in 10:35. Covert pulled away shortly thereafter and stopped the clock in 18:13; Ping was second in 18:20 and Fenske placed third in 18:31. Ping's younger sister, Lauren (another seventh-grader), placed fifth in 18:49.
Griak Champions! Way to go!!!! @NorthGirlsXC pic.twitter.com/pEAwbsy2aM

— Dan Iverson (@IversonDan) September 23, 2017
Naperville North senior Sarah Schmitt may have run the smartest race of the anyone in the field; she ran just 6:00 for the opening mile and was back in 38th place but steadily moved up to finish fourth overall in 18:47. Her perfectly measured effort helped lead her Illinois high school to the team title with 150 points, just three points ahead of California powerhouse Great Oak. Key to Naperville's victory was getting a second runner, Alex Morris, into the top 10 overall. GO's Gaitan placed sixth, but Cortes faded back to 17th after starting with a sub-5:30 mile.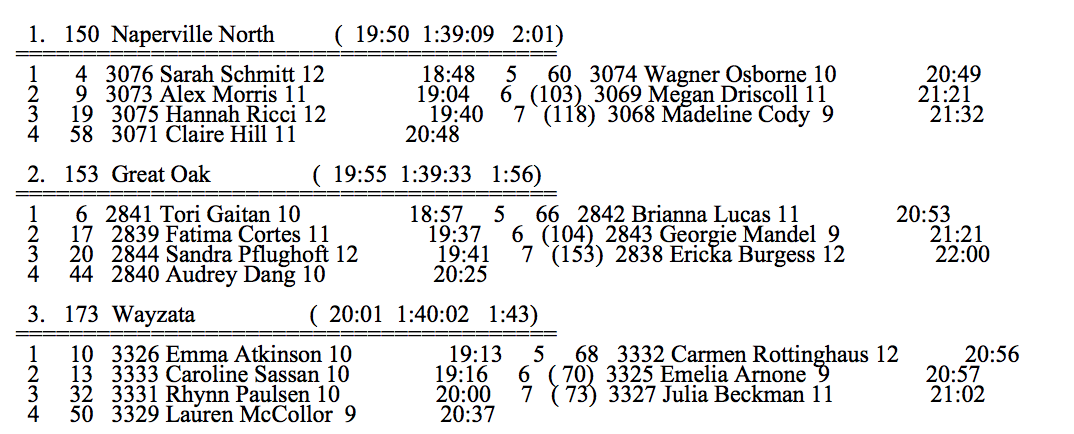 High School Boys Gold Race: Derick Peters Rises To The Top; No. 2 Great Oak Defeats No. 4 Wayzata
Great Oak XC boys bringing back that title to California #RoyGriak pic.twitter.com/zsnQIfKNLj

— MileSplit US (@milesplit) September 23, 2017
The high school boys championship race saw
No. 2-ranked Great Oak
of California soundly defeat home turf favorites
Wayzata, the No. 4-ranked team in the nation
, with 46 points to Wayzata's 166 points. The Californians benefited from placing three runners in the top 10 overall, led by Carlos Carjaval (3rd), Gabe Abbes (5th), and Jacob Korgan (7th).
South Dakota STAND UP! Derick Peters takes the win in 15:48.36 #RoyGriak pic.twitter.com/KVkUiqeQBQ

— MileSplit US (@milesplit) September 23, 2017
Derick Peters of West Central High in South Dakota ran to a dominant victory, which perhaps should not be a surprise given his new status on the
MileSplit Flo50 XC Rankings
at No. 25. A large group of runners split sub-5:00 on the opening mile, though by 3K the top field had whittled down to just Peters and Matthew Carmody of Dowling Catholic (Iowa). Peters surged ahead and won in 15:49.43, while the unranked Carmody placed second in 16:11. Both finished well ahead of Wayzata's top man, No. 21-ranked Khalid Hussein, who placed 10th today.