Create a free account to unlock this article!
Get Started
Already a subscriber? Log In
The stage is set for a thrilling TCS New York City Marathon which will feature a showdown between some of the best marathoners in the world and a farewell to a legend in the sport. Catch up on the storylines for Sunday's race in the preview below.
Watch the TCS New York City Marathon
in select countries LIVE on FloTrack
!
Men's Race

Who:
Abdi Abdirahman, Tadesse Abraham, Lemi Berhanu, Shadrack Biwott, Lelisa Desisa, Ghirmay Ghebreslassie, Geoffrey Kamworor, Meb Keflezighi, Wilson Kipsang, Jared Ward
When:
9:50 AM ET
Why:
There are so many storylines in the men's race at the New York City Marathon, but let's start with the fact that this Sunday's competition will mark Meb Keflezighi's final race as a professional.
NYC will mark the end of what has been a monumental professional career for Keflezighi. New York will not only be his 26th career marathon, but it is also the place where he made his debut in the distance 15 years ago, a poetic finish to an inspiring run. The four-time Olympian is probably best known for his heroic victory at the 2014 Boston Marathon which took place one year after the finish line bombings. Since Boston, Keflezighi made his fourth Olympic team when he finished runner-up at the 2016 Olympic Marathon Trials and has earned four top 13 finishes at Abbott World Marathon Major races. His most recent marathon took place in Boston last April when he finished 13th in 2:17:00.
At 42 years old, Keflezighi is still training well and says that he is healthy heading into New York, which will not just be a victory lap.
"I want my last one to be a good one. Many people think it's going to just be a show, but I would regret if I didn't give it everything I had," Keflezighi said in a pre-race conference call.
Rewatch the series on Meb, one of the finest marathoners in U.S. history:


New York will also feature the return of former world record-holder Wilson Kipsang, who competed at the Berlin Marathon in September but dropped out because of muscle cramping. According to the
Daily Mail
, Kipsang chose to run New York after dropping out of Berlin because he was in "top form."
"After taking water before the 30K mark, I felt bad in my stomach and I had to discontinue the race. There was no any other problem and that is why I decided to participate in the New York Marathon where I have been before and even won," Kipsang said.
The Olympic bronze medalist won the 2014 New York City Marathon and finished fourth in 2015. Kipsang even mentioned the possibility of a course record, which would have to be faster than current record-holder Geoffrey Mutai's time of 2:05:06 from 2011.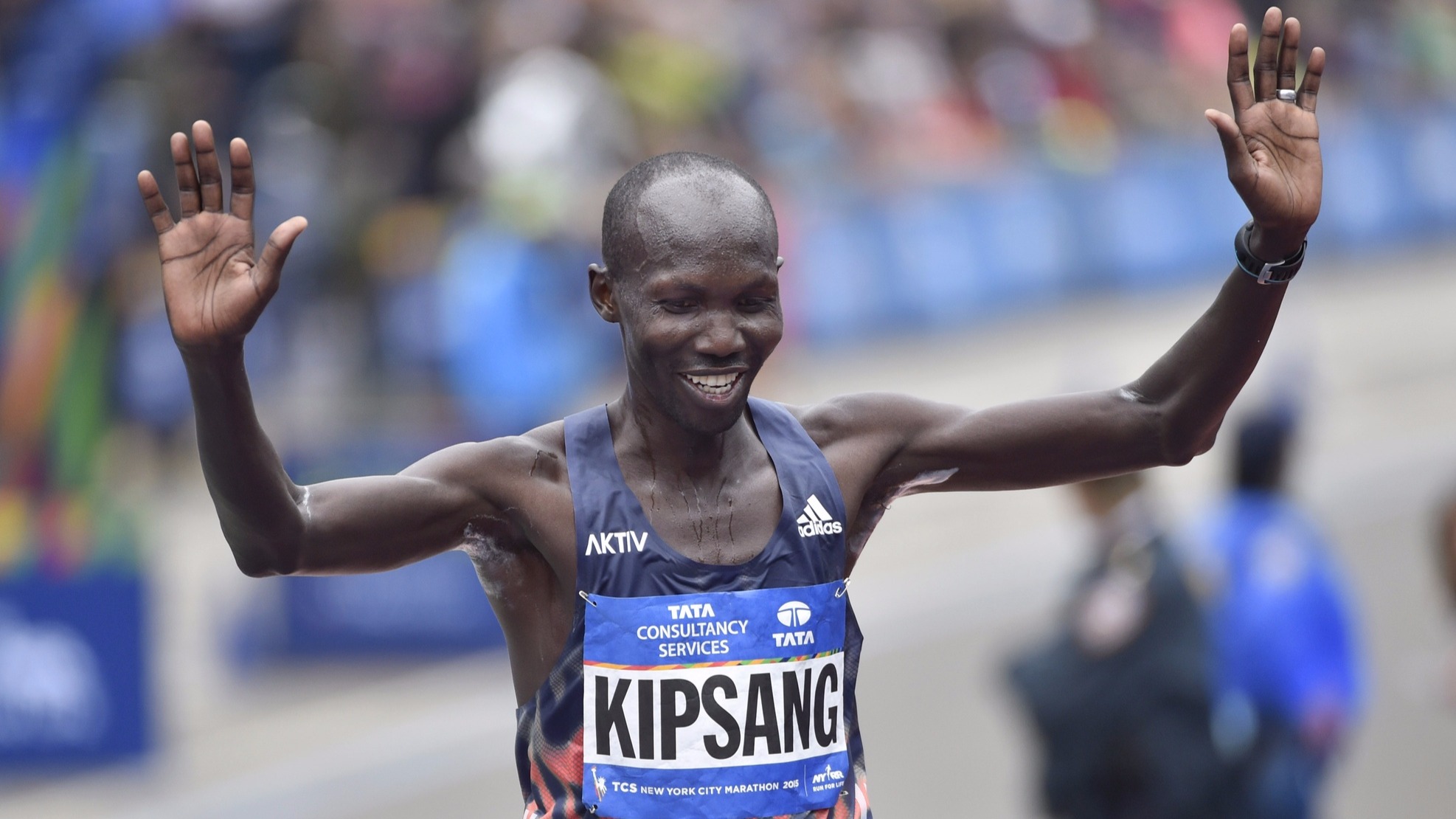 "I have been to New York and I know the course very well. A course record might be possible but not a world record," Kipsang said.
In February, Kipsang won the Tokyo Marathon in 2:03:58, which is the third-fastest time run this year.
Kipsang will face several challengers in New York, notably defending NYC Marathon champion Ghirmay Ghebreslassie. The Eritrean standout holds a 2:07:46 personal best but has clocked several top finishes at Olympic, world, and major marathons. He was fourth at the 2016 Rio Olympics, fourth at the 2016 London Marathon, and first at the 2015 IAAF World Championships. His most recent performance was a sixth-place finish at the London Marathon.
Fresh off of a gold medal in the 10K at the IAAF World Cross Country Championships, Geoffrey Kamworor will contest New York after a two-year hiatus from the distance. The Kenyan made his debut with a third-place finish in Berlin in 2012. He followed the performance with a third-place finish in Berlin in 2013 and a fourth-place finish in 2014. His most recent marathon was a runner-up finish at the 2015 New York race. In the two years since, Kamworor has earned a victory at the 2016 IAAF World Half-Marathon Championships, an 11th-place finish in the 10K at the 2016 Olympic Games, and a sixth-place finish in the 10K at the 2017 IAAF World Championships.
2016 Boston Marathon champion Lemi Berhanu has only completed one race in 2017, a 2:08 victory at the C&D Xiamen International Marathon in China, but had a breakthrough 2016. The Ethiopian boasts a personal best of 2:04:33 from the 2016 Dubai Marathon.
Lelisa Desisa will be making his 2017 world major debut after a 2016 which included a runner-up finish at the Boston Marathon. Prior to that performance, Desisa won the 2015 Boston Marathon and finished seventh at the 2015 IAAF World Championships. He also participated in the Nike Breaking2 project earlier this year where he learned valuable lessons in pacing, nutrition, and preparation that he plans to use for New York.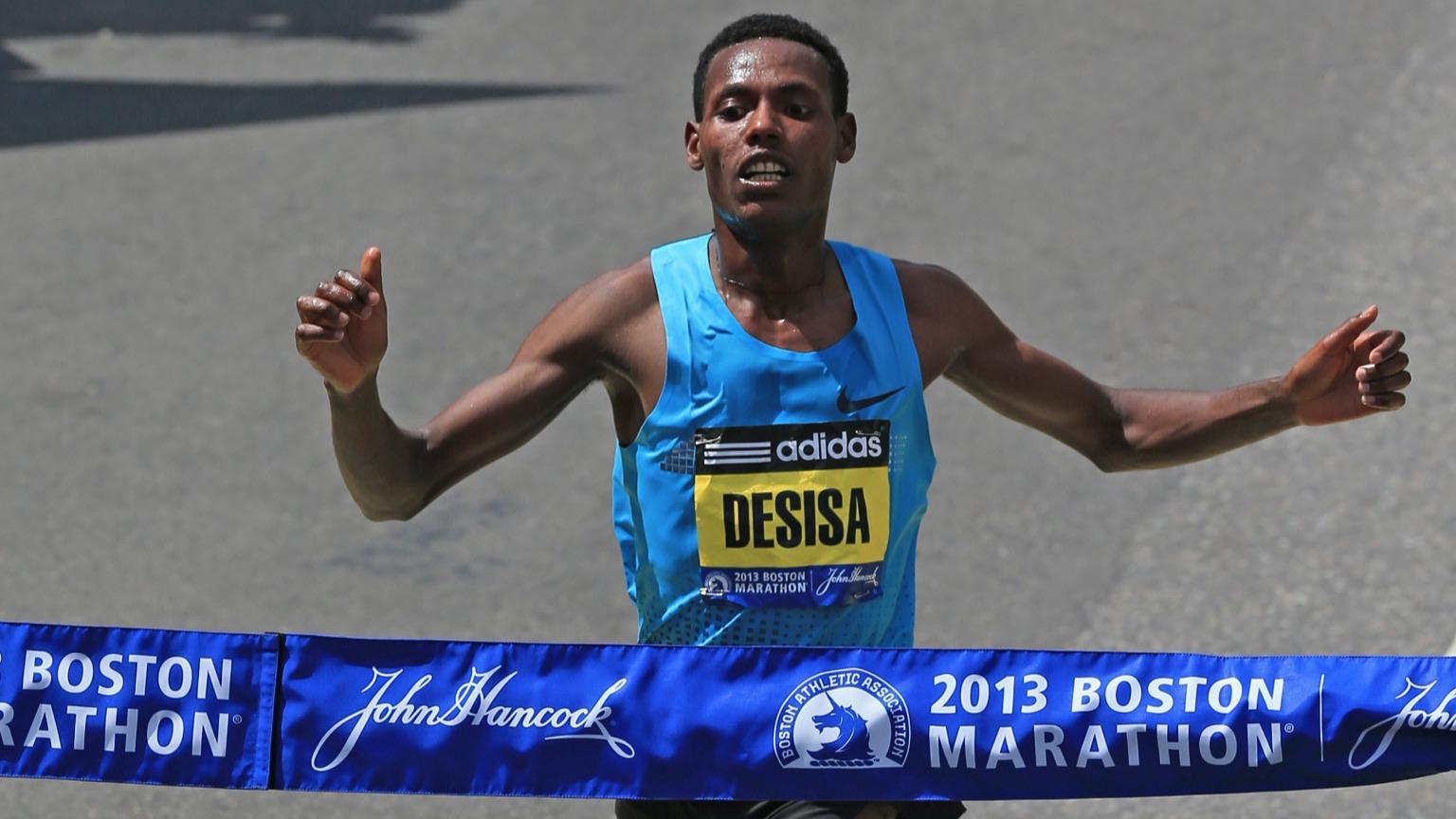 "For example, I didn't know enough about pacing; I didn't know enough about how to do pace work; I didn't know enough about how much rest I need," Desisa told
Sabrina Yohannes for RunBlogRun.
"On top of that, in terms of nutrition, about carbohydrates, protein and the like. They made facilities and running outfits and shoes available to us. As a result of all that, it's like I'm a beginner, a beginner athlete."
Shadrack Biwott is a potential podium contender after notching a fifth-place finish at the 2016 New York City Marathon and a fourth-place finish at the 2017 Boston Marathon. After being unsponsored earlier this year, Biwott threw down a breakthrough in Boston and earned a contract to run for the Hansons-Brooks Distance Project. The transition is giving him tremendous confidence for a podium finish heading into race this weekend.
Related: How Shadrack Biwott Became A Podium Contender In NYC
2016 Olympic finalist Jared Ward will be running New York for the first time. The course debut follows a series of breakthroughs at the distance over the past two years. In 2016, Ward made his first Olympic team when he finished third at the Olympic Trials. In Rio, Ward finished sixth overall in a personal best of 2:11:30. So far this year, Ward has notched a 10th-place finish in Boston and a recent fifth-place finish at the Philadelphia Half Marathon.
Abdi Abdirahman returns to New York after a breakthrough finish last year when he ran 2:11:23 to finish on the podium in third. Abdirahman has already notched a sixth-place finish in the Boston Marathon this year.
Women's Race

Who:
Mamitu Daska, Christelle Daunay, Mare Dibaba, Shalane Flanagan, Mary Keitany, Edna Kiplagat, Betsy Saina, Kellyn Taylor, Tigist Tufa, Aliphine Tuliamuk, Stephanie Bruce, Buzunesh Deba, Diane Nukuri
When:
9:20 AM ET
Why:
Mary Keitany has won the New York City Marathon for three consecutive years. When she won last year, Keitany became the first able-bodied runner since Grete Waitz to win the race three years in a row. She accomplished the feat by taking off just after the halfway point and winning with a time of 2:24:26, 3:34 faster than the runner-up.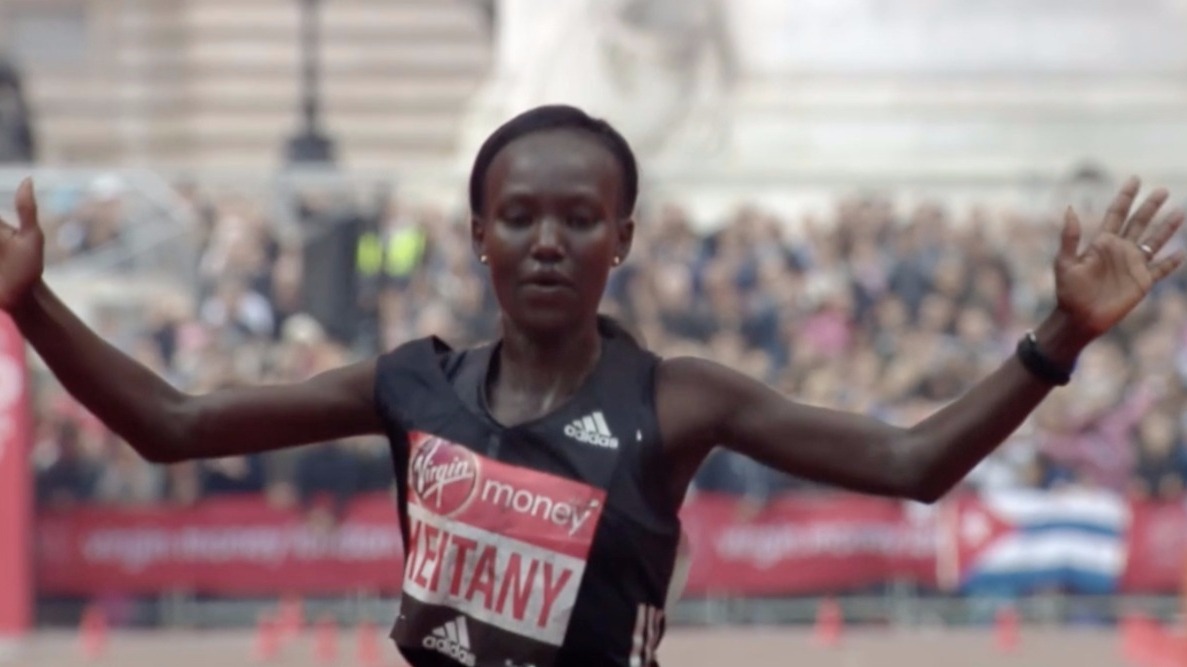 This year has already been a breakthrough for Keitany as she won her third London Marathon by breaking the women's-only marathon record with a time of 2:17:01. Her performance was 41 seconds faster than the previous record-holder Paula Radcliffe.
Watch Keitany react to winning New York last year:
Keitany is primed for another victory in New York, but she will have some stiff competition in Edna Kiplagat, Shalane Flanagan, and Mare Dibaba.
In April, Kiplagat won the Boston Marathon in a season best of 2:21:52 and returned in August to claim a silver medal in a thrilling race at the IAAF World Championships in London. Kiplagat has two world marathon titles, a silver medal, and four top-five finishes in the marathon at the IAAF World Championships.
Watch Kiplagat react to winning the 2017 Boston Marathon:
Flanagan is heading into New York with a new approach.
"I'm at the point that I'm not saving myself like I have 10 more years in the sport," the four-time Olympian told
Erin Strout of Runner's World
. "I'm completely just throwing myself all into whatever I decide to do."
At 36 years old, Flanagan and her coach Jerry Schumacher prepared her training for a shot at "something special." Her ultimate goal is to finally win a major marathon, and if she does accomplish her goal it could potentially mark an end to what has been an illustrious career: Four Olympic Games, an Olympic silver medal, a world bronze medal in cross country, several American records, and a personal best of 2:21:14 in the marathon are just a few of her career highlights.
Watch The Trials Of Shalane Flanagan (Trailer):
"There's no planning for the future, and that's so weird. It's uneasy for Jerry and uneasy for me, but it allows me to hone in and make New York the best possible race I can make it," she said. "The ultimate goal is to win a major marathon, but I may just not be in the right time and place for whatever reason to ever win one. That's the challenge of sports and athletics….I'll know after the race whether I need to keep going because I still have more to prove and give, or if it's enough for me."
Dibaba heads into New York after finishing a disappointing eighth at the 2017 IAAF World Championships, where she posted a season best of 2:28:49. But in 2016, the Ethiopian runner finished sixth at the London Marathon and third at the Olympic Games in Rio, her first Olympic medal of her career. The performance took place one year after winning the 2015 IAAF World Championships in Beijing. In the same year, she equaled her personal best of 2:19:52 in the marathon.
Another competitor to keep an eye on will be Betsy Saina, who is returning to the marathon after dropping out in her Tokyo debut because of injury. The Bowerman Track Club standout has been training in Iten, Kenya, and getting advice from fellow Kenyan running legends Kiplagat and Keitany.
"I have always admired Edna and I have been seeking advice from her on how to run a marathon race. She has been of great help because her tips have really improved my performance and I'm looking forward to a good run," Saina told the
Daily Nation
.
Aliphine Tulliamuk will contest New York for the first time after a season which included a 15th-place finish for Team USA at the IAAF World Cross Country Championships in Kampala, Uganda. The Kenyan-born American has run two marathons before, her most recent being a 2:35:35 ninth-place finish at the 2016 Houston Marathon. In 2016, Tuliamuk also claimed three national road titles (25K, 20K, and 5K) and won the USATF road running circuit crown.
In an interview with
ESPNW's Aishwarya Kumar
, Tuliamuk shared the inspiring story of her running origins in Kenya and her goal for New York, which is to win.
"Winning a world major marathon, especially New York, would mean the world to me," she said. That is how I give back to America for taking me in and making me the athlete I am today."
NAZ Elite teammates Stephanie Bruce and Kellyn Taylor are also contenders for a top finish in New York. Bruce will be contesting her first marathon since finishing second at the 2016 California International Marathon in Sacramento. This Sunday will also mark Bruce's first time competing at the New York City Marathon.
"I'll be in the women's professional field among world champions, Olympic medalists, and World Marathon Major winners. I am excited, nervous, confident, and grateful," Bruce said in a
Oiselle blog post
.
Taylor ran a season's best of 2:28:51 when she finished 13th at the London Marathon, the same race in which Keitany broke the women's-only marathon world record. Along with being professional runners, both Taylor and Bruce are also moms training and working in Flagstaff, Arizona.