Predicting NCAAs With The Butler Projections
Predicting NCAAs With The Butler Projections
Predicting NCAAs With The Butler Projections
Nov 6, 2017
by Gordon Mack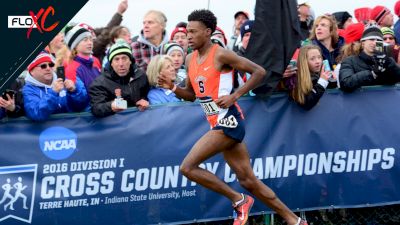 With NCAAs two weeks away and a bulk of the season in the books, New Mexico assistant coach James Butler has released his first "Butler Projections" through conference weekend.
What are the Butler Projections, you may ask? Here is Butler's brief explanation of his computer program.
This program was developed when I was a collegiate runner in the fall of 2000. It was made to objectively rank individuals through their performances and then to derive team rankings from the individual rankings. It is a derivative of the ELO rankings used to rank professional chess players.

The system compares the expected outcome of a race based on the rankings and the actual outcome of the race based on finishing time. It then adjusts the rankings to more closely match the result. All the runners start with a ranking of 1000. As the computer starts comparing performances, those that do better than expected gain points while those that underperform lose points.

Once the computer has run through the entire season, the resulting rankings are used and the season is run through several thousand more times. Eventually, the rankings converge on specific values, that is to say they no longer increase or decrease as the results are run through. These final values are what is used to rank the individuals with team scores derived from the individual rankings.

The values also have direct significance. Prior to the 2011 NCAA meet, Lawi Lalang (Arizona) had a ranking of 1057 and Chris Derrick (Stanford) had a ranking of 1046. Thus by dividing Lawi's ranking by Chris', we get a factor of 1.01052. So in a race, Chris was projected to run 1.01052 times Lawi's time. Lawi's actual time was 28:44 or 1724 seconds. Given that, Chris would have been expected to run 1742 (1724*1.01052) seconds or 29:02. Chris actually ran 28:57 or 1737 seconds and outperformed his ranking versus Lawi.

There is no outside influence on the rankings, the system is only given the results of the meets and produces the rankings given those results.
Here are the 2017 Butler Projections using the 31 projected teams from the
latest Kolas Calculator
:
| | | | | |
| --- | --- | --- | --- | --- |
| Pl | Pts | Women's Teams | Pts | Men's Teams |
| 1 | 113 | San Francisco | 71 | Northern Arizona |
| 2 | 120 | New Mexico | 121 | BYU |
| 3 | 147 | Colorado | 186 | Portland |
| 4 | 162 | Oregon | 201 | Furman |
| 5 | 198 | Stanford | 223 | Colorado |
| 6 | 227 | North Carolina State | 225 | Syracuse |
| 7 | 252 | Arkansas | 233 | Colorado State |
| 8 | 315 | Boise State | 238 | Stanford |
| 9 | 359 | Michigan | 245 | Southern Utah |
| 10 | 384 | Providence | 307 | Michigan State |
| 11 | 394 | Wisconsin | 331 | UCLA |
| 12 | 402 | Minnesota | 363 | Arkansas |
| 13 | 411 | Furman | 375 | Oregon |
| 14 | 418 | Washington | 383 | Virginia Tech |
| 15 | 428 | BYU | 403 | Alabama |
| 16 | 443 | Utah State | 412 | Michigan |
| 17 | 449 | Georgia | 450 | Air Force |
| 18 | 450 | Michigan State | 522 | Ole Miss |
| 19 | 450 | Villanova | 547 | Iona |
| 20 | 458 | Iowa State | 557 | Washington |
| 21 | 488 | Penn State | 582 | Texas |
| 22 | 531 | Utah | 586 | North Carolina State |
| 23 | 570 | Louisville | 604 | Washington State |
| 24 | 570 | Ole Miss | 627 | Oklahoma State |
| 25 | 603 | Columbia | 640 | Illinois |
| 26 | 637 | Virginia Tech | 642 | Boise State |
| 27 | 650 | Abilene Christian | 649 | Utah State |
| 28 | 652 | Northern Arizona | 696 | Minnesota |
| 29 | 657 | Eastern Kentucky | 739 | Iowa State |
| 30 | 681 | Eastern Michigan | 770 | Georgetown |
| 31 | 701 | Ohio State | 794 | Princeton |
Raw Data:
1) kurgat, ednah New Mexico 1216.77477434657
2) schweizer, karissa Missouri 1208.71727498285
3) taylor, charlotte San Francisco 1201.83112554615
4) jones, dani Colorado 1194.0201332686
5) pyzik, weronika San Francisco 1193.46753144799
6) murphy, grayson Utah 1189.99201778085
7) kelati, weini New Mexico 1188.64308710408
8) prouse, charlotte New Mexico 1187.88276267644
9) rainsberger, katie Oregon 1187.47679067672
10) wright, alice New Mexico 1186.41600178503
11) ostrander, allie Boise State 1185.81097622422
12) purrier, elinor New Hampshire 1181.14398821684
13) buchalski, allie Furman 1180.90072744021
14) knights, bethan California 1180.84578546495
15) brauer, isabelle San Francisco 1178.95604121158
16) receveur, katherine Indiana 1174.41098586059
17) burdon, lilli Oregon 1172.21917050015
18) sang, caroline Charlotte 1170.80777017325
19) stoner, paige Syracuse 1170.24344667249
20) fraser, vanessa Stanford 1169.53874221055
21) o'keeffe, fiona Stanford 1169.41958157523
22) wasike, dorcas Louisville 1168.71109831677
23) drop, jessica Georgia 1167.86678167561
24) henes, elly North Carolina St. 1167.71454486184
25) lokedi, sharon Kansas 1167.30229739284
26) snyder, alyssa Utah State 1167.0797378132
27) clairmonte, dominique North Carolina St. 1167.03334496015
28) morrissey, jamie Michigan 1166.81299201244
29) rocha, catarina Providence 1166.73761212558
30) hurta, sage Colorado 1166.36863092097
31) hull, jessica Oregon 1166.19628936567
32) strandemo, madeline Minnesota 1166.06905536226
33) neale, amy-eloise Washington 1165.8922585696
34) schmiede, frances Virginia 1165.81004094084
35) drop, samantha Georgia 1165.30654355357
36) bouchard, marie San Francisco 1165.16114038476
37) benner, kaitlyn Colorado 1165.12981701315
38) bradley, lindsey Baylor 1164.96334129421
39) oakley, brie California 1163.98475155351
40) shanahan, danielle Loyola Marymount 1163.89176690512
41) werner, taylor Arkansas 1163.28056655579
42) morley, makena Colorado 1162.73978636724
43) imer, charlotte Eastern Kentucky 1162.56208472368
44) ilarda, brianna Providence 1162.35639643974
45) hasz, megan Minnesota 1161.58223759669
46) hasz, bethany Minnesota 1160.04596971593
47) lau, jasmijn Portland 1159.90816126278
48) kunc, katy Kentucky 1159.6123872237
49) koon, rachel North Carolina St. 1159.1995245642
50) logue, cailie Iowa State 1158.05149233526
51) koech, winny UTEP 1157.48833276021
52) carnahan, savannah Furman 1156.48879965603
53) korir, vallery Washington St. 1156.14895202488
54) hawling, beth Virginia 1155.60727323638
55) cardama baez, carmela Oregon 1155.00525303127
56) young, laura BYU 1154.85043395935
57) taye, bethlehem North Carolina St. 1154.3794066274
58) poe, jeralyn Michigan State 1154.26373931207
59) frisbie, anne Iowa State 1154.06007502365
60) hukka, minttu Boise State 1153.88912470846
61) roberts, aubrey Northwestern 1153.86447434209
62) green, claire Arizona 1153.51865609572
63) mcnulty, abbie Stanford 1153.3293124788
64) hackett, michaela Abilene Christian 1152.95891566596
65) west, anna Baylor 1151.65463133218
66) burda, bella Villanova 1151.10632491001
67) hiltz, nikki Arkansas 1150.90084902406
68) viljoen, carina Arkansas 1150.48519206459
69) gregory, lauren Arkansas 1150.29877376258
70) heffernan, annie Notre Dame 1149.94180594939
71) sereno, gina Michigan 1149.87764417783
72) hackett, alexandria Abilene Christian 1149.58459927504
73) paladino, millie Providence 1149.35496533222
74) aragon, christina Stanford 1148.65157927944
75) monson, alicia Wisconsin 1148.45558565285
76) ilse, morgan North Carolina 1148.42165843057
77) gilchrist, paige Northern Arizona 1148.08057676054
78) wayment, courtney BYU 1147.64576188934
79) o'brien, emma Iona 1147.17476398857
80) tank, poppy Utah 1146.99202241121
81) davis, amy Wisconsin 1146.71657366504
82) mcdermitt, jordann Eastern Michigan 1146.67964403314
83) boreman, madison Colorado 1146.46973183699
84) hutchinson, nicole Villanova 1146.43461801704
85) maclean, heather UMass Amherst 1146.26755524683
86) hunsberger, jillian Penn State 1145.99671800369
87) farrell, maggie Michigan State 1145.24308345054
88) crosby, nell Columbia 1145.1138052872
89) adler, erika UCLA 1144.94755805767
90) jennings, gabrielle Furman 1144.05062332543
91) benner, emma Purdue 1144.01873042257
92) schulte, tatjana San Francisco 1143.83746664154
93) meyer, eden North Florida 1143.66447109245
94) venters, emily Boise State 1143.46244238564
95) bird, elizabeth San Francisco 1142.91102556656
96) cranny, elise Stanford 1142.79906531461
97) batt-doyle, isobel Washington 1142.79656512589
98) smith, jaci Air Force 1142.3874443949
99) fair, shannon Miss State 1142.0613324503
100) disanza, sarah Wisconsin 1141.80246767618
101) masterson, andrea Yale 1141.73183159828
102) scholl, tabor Colorado 1141.11721319886
103) borchers, claire Michigan 1140.64244662815
104) malone, shannon Syracuse 1140.57079894247
105) nelson, karisa Samford 1140.49507051383
106) haiss, therese Arkansas 1140.48016737566
107) malaspina, mikayla Northern Arizona 1140.21756034452
108) martin, emily Creighton 1139.82680276618
109) steelman , hannah Wofford 1139.69355076109
110) endsley, ashton Arkansas 1139.49451415239
111) warren, kelsie Texas A&M 1138.82570463202
112) lynch, susannah North Texas 1138.78476892529
113) abrahamson, emma Oregon 1138.65284544972
114) alcorta, caroline North Carolina 1138.52955238676
115) christensen, hanne Western Michigan 1138.48522796416
116) mcdonald, erin Michigan State 1138.11239319034
117) munks, kathryn Penn State 1137.763856683
118) walny, rachel Bowling Green 1137.69395212319
119) bogdanova, alsu Eastern Michigan 1137.14677240061
120) zerrenner, addi Arizona 1136.96973981978
121) long, anna Samford 1136.72074770222
122) neal, kaitlyn Washington 1136.48585632499
123) manning, kassidy Louisville 1136.22424922949
124) kennedy, katie Virginia Tech 1135.54283221091
125) willingmyre, alison Penn State 1135.31562770264
126) rawlings, taryn Portland 1134.48038226461
127) ejore, susan Oregon 1134.45437349519
128) meyer, lea San Francisco 1134.40127077148
129) wheeler, abbey Providence 1134.39328735738
130) miller, hannah SMU 1134.09825028894
131) schwartz, brianna Colorado 1133.98309780574
132) kigen, brenda Auburn 1133.75289655881
133) halvorsen, samantha Wake Forest 1133.53340606068
134) o'brien, clare Boise State 1133.42132544788
135) carter, kashley Utah State 1132.75372080311
136) hoj, olivia BYU 1132.39433637564
137) sorensen, shaelyn Wisconsin 1132.04480759522
138) driscoll, ashley Texas A&M 1131.62355323939
139) parkinson, tori Utah State 1131.61700919903
140) ghazarian, sevanne Yale 1131.59871786015
141) dodge, jenica Idaho State 1131.5453342513
142) carina, gillespie Air Force 1131.21404045304
143) collins, destiny Texas 1131.12657510508
144) vestri, amanda Iowa State 1130.92677010235
145) sandoval, jenny San Jose St. 1130.80572579713
146) clark, devin Arkansas 1130.48910608051
147) negron, alondra New Mexico 1130.41415763904
148) ward, stephanie Buffalo 1130.4105788422
149) lindsley, greta Penn State 1130.22641674423
150) christen, hannah Ole Miss 1130.18253819203
151) beach, amanda Duke 1130.14525611522
152) lucki, alexandra Maryland 1130.11543705825
153) lantz, olivia Dartmouth 1129.82759691482
154) hong, abigail Penn 1129.61572593169
155) brenner, courtney Lipscomb 1129.60437021546
156) reinhart, michaela Duke 1129.56196640374
157) goertzen, brenley TCU 1129.44332367816
158) rafuse, emma IPFW 1129.37710040754
159) trevisan, madeline Michigan 1129.36333366556
160) drazba, maggie West Virginia 1129.31583724458
161) sears, sarah Davidson 1129.28230402033
162) gehrich, amanda Utah 1129.23990353899
163) ryan, lauren Villanova 1129.22244933894
164) norris, josette Georgetown 1129.21817924283
165) mcdonald, anna Boise State 1129.11280324099
166) fuller, alexis Boise State 1128.99949155639
167) koech, lilian UTEP 1128.81712838687
168) shine, andrea Iowa 1128.79650776222
169) ciluffo, kaley Villanova 1128.75901318906
170) naumann, kelly Iowa State 1128.70927061124
171) rush, kristi BYU 1128.59769586449
172) ozanne-jaques, clio Ole Miss 1128.55981187883
173) brewis, lindsey Loyola (Ill.) 1128.39313869592
174) morenaite, egle Iona 1127.99925114602
175) newman, tylee Utah State 1127.59769573736
176) weisner, kennedy Georgetown 1127.52514532175
177) leonard, emily Dayton 1127.50241504508
178) gillespie, carina Air Force 1127.48877926716
179) brown, shelby Ole Miss 1127.36924889218
180) ratcliffe, megan Brown 1126.89336186664
181) bean, emily Ole Miss 1126.64963909844
182) forrest, gabrielle Princeton 1126.55826213211
183) mircheva, militsa Florida State 1126.45947959118
184) orie, danielle Penn 1126.41151489819
185) bendzinski, christine Bucknell 1126.32064096291
186) bortfeld, devon Washington St. 1126.14091628565
187) frazier, ryen North Carolina St. 1126.08064207116
188) hinkle, jenna UC Santa Barbara 1125.93594555124
189) mulhern, emily Virginia 1125.93454313106
190) cullen, margie Georgetown 1125.65057667338
191) evenson, avery Michigan 1125.52637341931
192) albertson, chelsey Arizona State 1125.36998245497
193) hamlin, emily Washington 1125.31773862891
194) oed, lisa Miss State 1125.10816989757
195) norris, mahala Air Force 1125.02295070825
196) keller, annasophia Notre Dame 1124.92833277049
197) baragar-petrash, jennie Arizona 1124.79798308203
198) murray, megan Tennessee 1124.62690265657
199) niggemann, alissa Wisconsin 1124.58524114147
200) nicholson, sarah Northwestern 1124.22652165521
201) bussjager, avery Kentucky 1123.82367703431
202) buck, alex New Mexico 1123.64265799148
203) casey, kieran New Mexico 1123.59048528579
204) cunningham, megan Missouri 1123.47672627858
205) gram, lynsie Michigan State 1123.45923379451
206) calder, brenna Indiana 1123.21328761277
207) frederick, christine Ohio State 1123.06450821522
208) cashin, amy West Virginia 1122.86861123711
209) ross, mia Louisville 1122.41218106797
210) allen, margaret Indiana 1122.41019630957
211) melly, erin Columbia 1122.32622645233
212) branch, hailey Georgia 1121.96115896775
213) heinst, famke High Point 1121.87528797127
214) gregoire, erin Columbia 1121.79117446044
215) richardson, mikayla Virginia Tech 1121.77488007101
216) murphy, sophie Iona 1121.73249308626
217) sullivan, grace East Carolina 1121.66903874408
218) maxwell, anna Washington 1121.19988468398
219) mount , juliana Oregon State 1121.16406717792
220) vernot, taylor Dayton 1121.05800818428
221) tavani, grace Georgia 1121.04317456477
222) donaghu, ella Stanford 1120.95905773113
223) welsh, athena Toledo 1120.77338310456
224) schroeder, alaina Kansas 1120.64158976109
225) bishop, bianca North Carolina St. 1120.58808101245
226) judd, jodie Florida State 1120.53357564074
227) bissah, martha Norfolk State 1120.4461356861
228) quinn, siobhan Canisius 1120.13830737928
229) lopez, kyra Boise State 1120.12449426489
230) simmons, cierra Utah State 1119.8655759943
231) stoodley, emily Ohio State 1119.64991205143
232) warner, ashleigh BYU 1119.5925275299
233) hurley, emma grace Furman 1119.47851093238
234) schriever, gillian Pittsburgh 1119.44889552074
235) dobbs, hiley Nevada 1119.25288737799
236) kimeli, joyce Auburn 1118.9942381765
237) eastman, autumn Georgetown 1118.94765616323
238) daschian, miranda Cal Poly 1118.93573609284
239) schneider, maggie Oakland 1118.89404932549
240) cleirigh buttner, siofra Villanova 1118.63103171676
241) barton, laurie Virginia Tech 1118.59542465431
242) edwards, sarah Virginia Tech 1118.47919052952
243) prouty, mary Georgia Tech 1118.23706053139
244) ness, bailey Minnesota 1117.75800155428
245) sughroue, molly Oklahoma State 1117.5424821008
246) studebaker, lainey Ohio State 1117.31866357121
247) orie, gabrielle Cornell 1117.28867806095
248) britton, madeline Xavier (Ohio) 1116.83931559132
249) delay, kayley Yale 1116.80389450162
250) boschan, luisa Eastern Kentucky 1116.80175226353
251) o'neil, megan Central Michigan 1116.7476694318
252) thestrup, josephine Butler 1116.68608005029
253) billington, megan South Dakota 1116.52861060972
254) lawson, jessica Stanford 1116.38706628271
255) hardie, sarah Columbia 1116.21931683582
256) keitany, faith Hampton 1116.18595363323
257) braswell, anna Ole Miss 1116.15170419397
258) curham, megan Princeton 1116.07403173569
259) macdonald, martha Georgetown 1115.65922354045
260) mcarthur, rachel Villanova 1115.52860580478
261) moore, grace Temple 1115.46346273543
262) ketchum, ella Dartmouth 1115.44766620037
263) musselman, sara BYU 1114.93526531135
264) rudawsky, alyssa North Carolina St. 1114.47580672226
265) mckenna, molly William and Mary 1114.45627772453
266) dadamio, rachel Notre Dame 1114.32511811137
267) garcia-munoz, diana Abilene Christian 1114.08992148095
268) adams, lindsey Nevada 1113.78487009071
269) guidry, abby Texas 1113.72980098531
270) beitia, alexandra Loyola Marymount 1113.65569295539
271) woelfl, katja McNeese State 1113.50868263916
272) stevenson, julia Dartmouth 1113.47484018245
273) schwartz, kelsie Michigan State 1113.46051606076
274) levy, rachel Oakland 1112.73717223965
275) patel, khayla Rice 1112.60409059499
276) hutchison, presli Utah State 1112.32060950147
277) raher, nora James Madison 1112.14070260436
278) goldstein, abbe Harvard 1111.984287041
279) cizmas, natalie Eastern Michigan 1111.91822698554
280) fajardo, lisa Manhattan 1111.86556736664
281) myers, miranda Northern Arizona 1111.73595526232
282) criscione, maddie Vanderbilt 1111.49002695618
283) kiborus, lilian Eastern Kentucky 1111.44625756517
284) durgy, cassandra UCLA 1111.41954511372
285) kanney, sarah Ohio State 1111.37440225951
286) allen, jessica Missouri State 1111.27142681555
287) scavuzzo, maria Miami (Ohio) 1111.25279801842
288) zambrano, jeanette San Jose St. 1111.23569234788
289) jeffers, carleen Brown 1111.19377523554
290) flora, chloe Dayton 1110.93836300379
291) ortega, samantha Arizona State 1110.6637581265
292) lasota, kelsi Montana State 1110.51014847805
293) davison, madeleine Syracuse 1110.44435449299
294) brookover, hannah Wake Forest 1110.36120131521
295) davis, carly Miami (Ohio) 1110.34999342314
296) wallace, belle Oklahoma 1110.26045621225
297) murphy, charlotte tara SMU 1110.18246463148
298) katzman, jackie Cornell 1110.05388648524
299) danieu, fiona Columbia 1109.81013308399
300) buckley, colleen Bucknell 1109.7705179623
301) scott, sarah Oklahoma 1109.64184345943
302) dlamini, nokuthula Texas Tech 1109.23203588939
303) hamilton, lauren Wyoming 1109.12033326725
304) halbrook, abby Army West Point 1109.11408540003
305) thurston, jordan Gonzaga 1108.88178973139
306) okeago, janet Hampton 1108.64923091545
307) schadler, allie Washington 1108.53389022928
308) ruiz, amy Georgia Tech 1108.45793377483
309) rudden, lindsey Michigan State 1108.40212710333
310) goethals, jessica Michigan State 1108.37311059895
311) peterson, stephanie Miss State 1108.3447625966
312) hugard, shannon Cornell 1108.25075044932
313) williams, marissa California 1108.04386315697
314) lippitt, addy Georgia 1107.80286179063
315) fischer, kaitlyn Missouri 1107.55850620049
316) moffett, leigh Dartmouth 1107.52862389413
317) huebner, megan Vanderbilt 1107.35986191157
318) davidson, libby Virginia 1107.28465412574
319) schumacher, niamh Tennessee 1107.27323222234
320) mazzei, adrena Tulsa 1107.19150296863
321) freix, sara Virginia Tech 1107.12177642865
322) scott, ciara Eastern Kentucky 1107.10920261909
323) king, rachel South Dakota St. 1107.05963499546
324) mckinney, michelle Kentucky 1106.98257240835
325) call, emma Virginia 1106.94188469719
326) kempfer, jamie Missouri 1106.92672179089
327) moran, hannah Virginia 1106.781270894
328) wolff, emily Quinnipiac 1106.44511279052
329) colter, jordyn California 1106.42213884754
330) zielinski, nicole Washington 1106.29561766858
331) parvizi-wayne, sophia Duke 1106.27151692698
332) richardson, aoibhe Portland 1105.99857858161
333) carney, colleen Richmond 1105.87603633664
334) perez, madeline Georgetown 1105.70125068376
335) bonner, rachel Syracuse 1105.6623945265
336) loughnane, kathryn UMass Lowell 1105.66028200654
337) nichols, abby Ohio State 1105.61625929146
338) parker, jessica Marquette 1105.60271179884
339) rivers, danae Penn State 1105.54954392126
340) lachmund, grace Purdue 1105.43322418578
341) burr, riley Furman 1105.11546646757
342) meier, haley Michigan 1105.10806143558
343) fisher, katie Villanova 1105.05103965567
344) strock, carol James Madison 1105.04243353289
345) austin, taylor Indiana State 1104.91046565766
346) harris, haley Indiana 1104.84204782243
347) guevara, tiana Stony Brook 1104.84134969889
348) callahan, mackenzie Northern Illinois 1104.7028001941
349) gelderblom, sherilene FIU 1104.66463674159
350) yarbrough, caroline Davidson 1104.65826410787
351) kallner, ali Colorado St. 1104.45377405172
352) nelson, kearan BYU 1104.38360711954
353) bett, faith Auburn 1104.14043468361
354) strozier, mary grace Samford 1103.80452198797
355) gwinn, ashbrook Boston College 1103.80044511319
356) bohannon, kai San Jose St. 1103.52975969477
357) story, krista Idaho 1103.35932001221
358) bracher, emily Maryland 1103.31813189413
359) ortega, alexandria Stony Brook 1103.28058609473
360) wagner, erin Wisconsin 1103.20890484913
361) spillar, mckenna Colorado St. 1103.136588901
362) isaac, ellen Ohio 1103.07792357033
363) sisson, annika Stony Brook 1102.96769292286
364) yanek, mckenzie Alabama 1102.7402138795
365) zieve, sarah Michigan 1102.73884666888
366) fegans, nicole Georgia Tech 1102.72461993765
367) aldapa, adilene San Jose St. 1102.55666186915
368) bartels, lauren Tulane 1102.47525068497
369) cruz, alex Texas 1102.47215977141
370) craddock, rebecca Illinois 1102.36620259343
371) barrott, lexa Indiana 1102.21381601316
372) donaghu, piper Georgetown 1102.15832369241
373) rice, nicole Ole Miss 1102.10150862982
374) brennan, brigid Elon 1101.91263281637
375) jerotich, gladys McNeese State 1101.83407599618
376) davis, bailey Louisville 1101.75807990397
377) camarena, katie UC Santa Barbara 1101.65364642443
378) mcgroarty, elizabeth Delaware 1101.45189919147
379) sanga, purity Tennessee Tech 1101.38406375646
380) barnes, ashley Tulsa 1101.25257899094
381) salvo, miranda Pittsburgh 1101.23306629191
382) swanson, caitlin James Madison 1101.17674352247
383) nahom, mia Connecticut 1101.07724854892
384) mason, zetta Minnesota 1101.02094340806
385) kohut-jackson, abby Minnesota 1100.87405560194
386) amberg, cristina New Mexico St. 1100.86270852057
387) alonzo, bianca Columbia 1100.81848269689
388) gilbert, claire Western Michigan 1100.74688573519
389) klein, dana Yale 1100.74208560886
390) gallop, cora Nevada 1100.70222195129
391) pendergast, judy Oregon 1100.53664975994
392) klimkiewicz, allie Princeton 1100.20776938666
393) makau, faith UC Riverside 1100.12406188391
394) gomez-islinger, marlene SMU 1099.91963082215
395) dutson, tavia Utah State 1099.88941940814
396) yost, haley Eastern Kentucky 1098.90253268817
397) joyce, lindsay South Dakota 1098.82269757559
398) cavalluzzo , holly Oregon State 1098.51310157871
399) kemper, kacey Lipscomb 1098.33098386909
400) guay, evelyne Iowa State 1098.20711224102
401) regan, kylie Richmond 1098.19113989735
402) jerman, mia UMKC 1098.13585177566
403) ward, haley Samford 1097.96529092936
404) hanson, mary Marquette 1097.92670221158
405) carreon, chandler UMKC 1097.87876989805
406) larson, kaytlyn Oklahoma State 1097.51075737836
407) waymire, madison Iowa 1097.50456352271
408) satterlee, gabrielle Baylor 1097.48591922012
409) millican, caroline Ohio State 1097.45579666921
410) hasty, haley Connecticut 1097.40046672654
411) o'brien, brianna Connecticut 1097.34320088409
412) drouin, emily UAB 1097.20664517471
413) delsignore, jenny Duquesne 1097.10702987135
414) louw, michaela Campbell 1097.0905595135
415) markey, claire UCLA 1097.04850099043
416) misgen, tess SMU 1096.9393622434
417) chittenden, melia Princeton 1096.87998689922
418) borchers, emily Dayton 1096.77625807026
419) leisher, katie Temple 1096.77411225438
420) labuschaigne, laura South Alabama 1096.67639411843
421) ward, dominique Colorado St. 1096.64688179449
422) brill, sierra Cal Poly 1096.56994537504
423) mcgovern, peyton Richmond 1096.45303396228
424) franke, mary Colorado St. 1096.44227336548
425) ackley, karly Iowa State 1096.3667297983
426) story, kara Idaho 1096.15278940679
427) cantine, sophie Princeton 1095.91565828943
428) mclaughlin, erin Cornell 1095.8663488874
429) tutt, ashley Northern Illinois 1095.86273583527
430) alama, courtney Minnesota 1095.77048755696
431) applegate, molly William and Mary 1095.76335790526
432) kreutz, macy Colorado St. 1095.51214380662
433) berry, savannah Utah Valley 1095.49871901832
434) bakas, kaitlin Quinnipiac 1095.40040484196
435) wilson, aurilla Louisville 1095.36168903168
436) truniger, hannah Northern Iowa 1095.25461507153
437) reinert, jana Jacksonville 1095.21934826551
438) buteau, rebecca Alabama 1095.21575984568
439) van onselen, lisha Coastal Carolina 1095.1451803258
440) donohue, ciara George Mason 1094.9572952455
441) christoffer, alyssa Purdue 1094.86936927485
442) lukens-day, eliza Wake Forest 1094.75626963856
443) clayworth, jenna Xavier (Ohio) 1094.72786764393
444) garn, rachel Iona 1094.71406495114
445) lewis, courtney Arizona State 1094.47983770955
446) murdock, shannon New Hampshire 1094.45179584676
447) mcdonald, grace Dayton 1094.41613923952
448) doll, kayla Kansas State 1094.36092812742
449) zitting, arnica Memphis 1094.28459725667
450) offstein, madison Princeton 1094.24350766849
451) ortega, stefanie Nevada 1094.15481773245
452) parker, jennifer Marquette 1094.13030177453
453) anderson, sarah Western Michigan 1094.09043269179
454) henderson, maura Lehigh 1094.07029853547
455) hayes, kelly Pittsburgh 1094.06711142455
456) mclaughlin, erin Clemson 1093.88094049709
457) huerta, samantha Cal St. Fullerton 1093.82548873926
458) murphy, emily James Madison 1093.82190556864
459) fogarty, sarah UMKC 1093.78999016244
460) hooks, adriana American 1093.5468913107
461) flynt, lauren Lipscomb 1093.38385220916
462) vorgitch, madelyn Loyola Marymount 1093.37830855282
463) jalon, claudia North Florida 1093.37451660477
464) perry, lauren Florida 1093.33725764975
465) sams, jessica Utah 1093.32662973367
466) chavez, evelyn Lamar 1093.20269265383
467) boos, annie California 1093.14569771427
468) smith , meredith Wake Forest 1093.10905962246
469) morgan, mckayla Utah Valley 1093.05051340303
470) jackson, haley West Virginia 1093.01758248454
471) zenkeviciute, gintare Oklahoma State 1092.94857223855
472) valdez, angel Cal St. Bakersfield 1092.78529426675
473) stallworth, lindsey East Tenn. St. 1092.75189941151
474) wise, louiza Northeastern 1092.69472774311
475) coonfield, morgin Nevada 1092.66385940891
476) barlow, stephanie Toledo 1092.62655986371
477) valenti, ali Navy 1092.59083151568
478) gear, kristlin Furman 1092.48855561726
479) brumfield, hailey Wright State 1092.44861830313
480) nelson, laura South Dakota 1092.42491612518
481) lichter, jennifer Toledo 1092.35012380852
482) anderson, sarah UC Davis 1092.3358141542
483) girard, allyson Texas A&M-CC 1092.26071798801
484) raphael, kate Yale 1092.25467605614
485) walden, cheyenne Oklahoma State 1092.2308128653
486) champagne, margaret New Hampshire 1092.20586249381
487) nunnery, bethany Army West Point 1092.18992565558
488) harper, summer Weber State 1092.13403493806
489) goo, kylie Northern Arizona 1092.12079360573
490) correy, brette Northern Iowa 1092.0954402842
491) aguillon, taylor Central Michigan 1092.06321231448
492) huglen, madeline South Dakota 1091.81730554802
493) akerley, courtney Connecticut 1091.74857838251
494) mercer, louise Utah 1091.63921509514
495) mignanelli, angela Duquesne 1091.55013929966
496) anderson, kelby North Dakota State 1091.54541676839
497) pearce, weslie UC Riverside 1091.45318309724
498) gollnick, hailey Georgia Tech 1091.43508233946
499) corbosiero, amanda Richmond 1091.41689990693
500) eitel, pipi Northern Arizona 1091.2941293107
501) young, kayla Arizona 1091.1999850695
502) persyn, kelsey Texas A&M 1091.16518004328
503) jackson , hayley West Virginia 1091.14434945466
504) yerke, madison George Washington 1091.13168608002
505) cheruiyot, linda UTEP 1091.12565464504
506) sinning, allison Xavier (Ohio) 1091.05191690442
507) burant, natalie Bradley 1090.98234336153
508) klopfer, caitlin Tulsa 1090.9234883384
509) reinhardt, hannah Albany 1090.61640631405
510) mancini, grace La Salle 1090.61409355887
511) roberts, kaleigh Quinnipiac 1090.39771576423
512) jeter, hannah Holy Cross 1090.34806802814
513) pittis, emily Montana 1090.18173619246
514) piller, sara Bradley 1090.17453743937
515) vovk, alesha Miami (Ohio) 1090.14455173162
516) coggins, addison Florida State 1090.13915387641
517) kauffman, maddy Southern Utah 1090.08349294947
518) mahoney, morgan Buffalo 1089.9977509972
519) forman, sarah Siena 1089.95228809021
520) fruchey, madison Southern Utah 1089.75134275642
521) meyers, sydney Eastern Michigan 1089.69452004825
522) gilmore, brooke Baylor 1089.56828406633
523) sands, colleen UMass Amherst 1089.39545328044
524) coffin, maria Providence 1089.29233844292
525) gardner, nicole Alabama 1089.24807171418
526) evans, rebecca UAB 1089.17995796496
527) o'neill, bridget Dartmouth 1089.11227420883
528) billings, lindsay Duke 1089.07343669534
529) carlson, patricia Montana State 1089.02631814177
530) white, kerry Wyoming 1088.99657304422
531) burr, ashley Oakland 1088.83135419103
532) passwater, jessica Ohio State 1088.76709312782
533) rice, christina UCLA 1088.6243755084
534) barry, mackenzie Providence 1088.58886576494
535) sheffield, laurel Davidson 1088.48823943841
536) hardin, caroline Montana State 1088.39658525287
537) rutkowski, christiana Seton Hall 1088.25250327001
538) innis, brittany Stephen F. Austin 1088.24749576506
539) brumley, briar Cornell 1088.16935284756
540) dunlap, maddie Kent State 1088.1451033636
541) graham, carnley Abilene Christian 1088.03626631349
542) anderson, lillian Dartmouth 1088.02527042091
543) pocratsky, rachel Virginia Tech 1087.99879866179
544) dobry, marissa California 1087.97852503814
545) branch, hannah Utah Valley 1087.88260518631
546) eng, kathryn William and Mary 1087.87958543114
547) yescas, julia New Mexico St. 1087.7230536564
548) noe, janelle Toledo 1087.6881372975
549) racasan, elsa Rice 1087.66320539981
550) danis, lizzy Alabama 1087.65556681546
551) lloyd, meghan Texas 1087.56409347436
552) berman, lauren Virginia Tech 1087.50101716853
553) sloan, emma Brown 1087.38851735672
554) gomez, yanely Georgia 1087.23922127987
555) finikiotis, lauren William and Mary 1086.92017657407
556) krolak, megan Southern Illinois 1086.86733136309
557) newton, emma Tulane 1086.79755529198
558) svensen, kate Sacred Heart 1086.67162192332
559) simiuc, petronela Toledo 1086.63105610523
560) quinones, amy Sacramento St. 1086.59454430994
561) masselink, tess Col. of Charleston 1086.59198842811
562) murphy, glendora Dartmouth 1086.57726297092
563) smith, bonnie Nebraska 1086.45859209044
564) jepkirui, joan Toledo 1086.44048563659
565) shepard, caitlin Kentucky 1086.38555252725
566) derry, kendall Vanderbilt 1086.2701380121
567) wetzstein, erin South Dakota 1086.24930326006
568) gilfillan, darby Colorado St. 1085.89505201267
569) smith, abigail Tennessee 1085.85020051832
570) hatch, emma Loyola (Ill.) 1085.84874825818
571) carberry, maria Duquesne 1085.78748504847
572) shelton, tori UT-Arlington 1085.68674605229
573) koskei, winny Wichita State 1085.57023041715
574) sharp, candace Weber State 1085.44638572935
575) rose, isabella Oklahoma 1085.43697334603
576) kelderman, samantha Montana State 1085.32671849484
577) leach, brighie Princeton 1085.31403673874
578) bennatan, lisa Penn State 1085.12714596777
579) frei, kaitlin Notre Dame 1085.0921160387
580) marcanikova, marketa Clemson 1084.91230684795
581) french, anna Montana State 1084.8904057629
582) johnson, sinclaire Oklahoma State 1084.85520047906
583) cole, mckayla Northern Iowa 1084.84630062455
584) garner, jackie UCLA 1084.73847240279
585) martino, dani Iona 1084.54274154605
586) cheruiyot, andonet Auburn 1084.52494639388
587) crow, jacquelyn Furman 1084.48585566447
588) altmayer, mckenzie Bradley 1084.38723582209
589) condie, andrea Idaho 1084.00988408006
590) gosser, caroline Louisville 1083.94511419282
591) mattox, kate Southern Miss. 1083.90924146357
592) blanks, lindsey Air Force 1083.86283354799
593) grosenheider, ave Richmond 1083.80781305295
594) lembo, katie Providence 1083.51163879678
595) smith, maria Marist 1083.33735517016
596) russell, sylvia Buffalo 1083.26400136798
597) stein, olivia Seattle U. 1083.24153473073
598) walther, grace Indiana 1083.12077009108
599) magnani, michelle Oklahoma State 1083.10346252381
600) vivas di lorenzi, lourdes Rice 1082.8055004868
601) mortimer, gillian Vanderbilt 1082.80509889033
602) schott, megan Iowa State 1082.775160081
603) barlow, caroline Alabama 1082.76727299856
604) vasquez, julia Cal Poly 1082.71481838238
605) hunter, maddie Davidson 1082.57919507453
606) leff, laura Boston College 1082.57904609998
607) hansel, chloe California 1082.51179870644
608) o'connor, niamh Iona 1082.21634069303
609) watson, shanieke Arkansas-Little Rock 1082.08330056517
610) stanley, brittany Charlotte 1082.03798634632
611) shea, kaitlyn SE Missouri 1082.03322735461
612) stewart, kianna South Dakota 1081.99668569497
613) morris, allie UMass Lowell 1081.88517546673
614) kozak, bethany South Dakota 1081.83449032843
615) cain, shelby Richmond 1081.65269784039
616) cheruiyot, gladys Eastern Kentucky 1081.56669634579
617) gillespie, kathryn Harvard 1081.54316260549
618) witczak, hannah Bradley 1081.47619239743
619) murphy, katelyn IUPUI 1081.44368985558
620) scheriff, jessica Iona 1081.24873702996
621) brown, halley George Washington 1081.2459675915
622) geraniotis, coralea Elon 1081.23914186792
623) christensen, tiffany Northern Iowa 1081.20469279122
624) albers, haley Northwestern 1081.18787107454
625) grebe, angelina Fordham 1081.17403722579
626) villaba, madeline Penn 1081.16578841752
627) hollingsworth, sammy Utah Valley 1081.12979613421
628) moreno, trina Utah 1081.12769843128
629) meyberg, lotte Georgia State 1081.1271076309
630) brewer, maizy Idaho 1081.0135598999
631) martin, lorena Northern Illinois 1080.77988970807
632) terp, kristy Miss State 1080.72140585822
633) mooney, megan Florida State 1080.67832202879
634) livett, sarah UAB 1080.64577141265
635) sienski, julia Columbia 1080.50225548948
636) foreman, kathryn Samford 1080.49299995769
637) macneal, kat Ole Miss 1080.46840820635
638) schardt, kortney Belmont 1080.42358139826
639) pascoe, jessica Florida 1080.33999021845
640) keefe, kaili Eastern Washington 1080.32146937231
641) nichols, alexis Arizona State 1080.27847920597
642) link, courtney Saint Louis 1080.22194113716
643) baldwin, maria Eastern Illinois 1080.19408869919
644) magnussen, claudia Notre Dame 1080.19276588057
645) kostarellis, anna Xavier (Ohio) 1080.0242715594
646) hamilton, kari Eastern Washington 1079.91310768768
647) fetherolf, sydnie Detroit Mercy 1079.90010142665
648) cox, courtney Portland 1079.82272322348
649) jones, candace West Virginia 1079.58483681213
650) wren, emma Kansas State 1079.56506551273
651) musgrove, courtney UL-Lafayette 1079.55319403015
652) andrews, mackenzie Akron 1079.4332893474
653) bustamante, reagan Vanderbilt 1079.42171498985
654) jones, lucy Temple 1079.36945318658
655) farmer, jenna Bucknell 1079.27735804592
656) wills, sarah West Virginia 1079.23994882803
657) solomon, mary claire Georgia Tech 1079.15037304017
658) knoll, allie Eastern Michigan 1079.13996835997
659) dugan, courtney Marquette 1079.08430631835
660) brower, cheyenne Weber State 1079.06638532326
661) beattie, grace Illinois State 1079.06325071359
662) aarden, shelby Rhode Island 1079.00012469974
663) roughan, emily Northern Arizona 1078.90737228649
664) hausmann, reagan Tulsa 1078.84028102675
665) king, jessica Belmont 1078.70673546245
666) allen, catherine Wake Forest 1078.67893298087
667) edwards, emily Florida State 1078.61314105661
668) knibb, taylor Cornell 1078.60034885314
669) farrow, ersula LSU 1078.55070381077
670) hellman, julia High Point 1078.54715636225
671) lutzow, jenna Missouri 1078.48052966753
672) harris, kelsey Indiana 1078.41808229474
673) ellis, angelina Butler 1078.35625078712
674) morris, lizzie Duquesne 1078.30436001614
675) visconto, karli Penn 1078.17441501625
676) pinson, catherine Temple 1078.12513965314
677) mcgee, regen Southern Miss. 1078.12496705838
678) oakley, kirstin Bradley 1078.0273676465
679) cate, susannah Davidson 1077.90375799004
680) geis, zoe High Point 1077.75750022248
681) tyndall, ashley Southern Utah 1077.74047323932
682) johnston, samantha Idaho State 1077.71622332784
683) steinbicker, nicole Dayton 1077.6443344169
684) clahane, mady North Carolina 1077.51949080337
685) srour, lucy Brown 1077.51525806062
686) hutcherson, ashton Texas A&M 1077.48828885793
687) kammerer, adriana Creighton 1077.39246743826
688) wyns, jenna Eastern Michigan 1077.20241031246
689) montoya, mariah Grand Canyon 1077.11019716727
690) stoddard, anna South Carolina 1077.01923067792
691) peabody, clare Brown 1076.86077152434
692) jelagat, julia Mid. Tenn. State 1076.83863580623
693) marino, caitlin Jacksonville 1076.80991199317
694) norem, ashley Northern Iowa 1076.55598524358
695) dunlap, madison Cincinnati 1076.50287189872
696) grossman, dakota Utah 1076.48221239423
697) ballner, ariane Oklahoma State 1076.46671216849
698) leos, wendi Cal St. Fullerton 1076.34494102197
699) lowry, maryn Montana 1076.31155687637
700) davis, hannah Central Michigan 1075.89290563601
701) vessa, giulianna Air Force 1075.88782144341
702) kigen, rachel Mid. Tenn. State 1075.6306474508
703) williams-mcelroy, emily East Tenn. St. 1075.58318873292
704) erickson, johanna Seattle U. 1075.30292070258
705) armstrong, sarah Duke 1075.29353844407
706) martin, kara Tennessee-Martin 1075.19901735572
707) breiten, grace Missouri State 1075.11003012611
708) grisbaum, devon Vanderbilt 1075.06231951458
709) lee, nicole Tulsa 1074.95403603318
710) breidenbaugh, molly William and Mary 1074.34592842286
711) atkinson, ellyn Missouri 1074.3332479443
712) jawid, maryam Miami 1074.3088554852
713) anderson, katie Saint Louis 1074.18157055579
714) tomasi, katie Charlotte 1074.16639050965
715) danforth, kyla Loyola Marymount 1073.84922732224
716) dominguez, jessica New Mexico St. 1073.70720682627
717) whiteoak, katy Lamar 1073.58792014343
718) lang, brit Maryland 1073.50755102546
719) bartolotta, alexandra Marist 1073.41577983922
720) sanchez, emily UC Riverside 1073.3718390348
721) fuqua, lauren Marquette 1073.30574755437
722) hill, olivia West Virginia 1073.20621033158
723) atkinson, alyssa Ohio 1072.99488063358
724) halderman, jenna Purdue 1072.809041257
725) jordan, danielle Connecticut 1072.7837463976
726) treanor, katherine Brown 1072.71451222656
727) carpenter, audrey North Florida 1072.65878383421
728) bellows, allison Brown 1072.53031387077
729) aldrich, anna Eastern Michigan 1072.45784830896
730) kiplagat, emmax Florida A&M 1072.41639381343
731) hawkins, amber George Mason 1072.40058420651
732) bolliger, alyssa Tulsa 1072.20734800131
733) west, grace Navy 1072.19621958735
734) dimmick, hannah Kansas 1072.15651750572
735) roman, dakota Illinois State 1072.07855900424
736) hirst, abigail Texas 1071.93582867724
737) pruter, anna Arizona State 1071.93249253015
738) szekely, morgan La Salle 1071.91381403871
739) vick, rachel Connecticut 1071.88603324005
740) tedeschi, gianna Marist 1071.76773951452
741) stratz, amber Monmouth 1071.67225889586
742) ponthier, sierra Davidson 1071.54828033035
743) catania, julianna Penn 1071.37843290203
744) mueller , allison South Carolina 1071.35329598899
745) gore, amber USC 1071.33200115325
746) wood, alli UMass Lowell 1071.28219553251
747) dawson, elizabeth Clemson 1071.24263778791
748) young, forever Florida State 1071.01525109558
749) surratt, taryn Stephen F. Austin 1070.95924639052
750) shields, sam Pittsburgh 1070.93483946405
751) howell, michelle Jacksonville 1070.79434230705
752) bote gonzalez, marta Iowa 1070.72559682544
753) seynaeve, lily San Diego St. 1070.65430294012
754) davis, allison Binghamton 1070.57704233686
755) lopez, emily UC Santa Barbara 1070.48755037271
756) colyer, reagan Montana 1070.44694414691
757) brown, claire Richmond 1070.2389525799
758) barrientos, rakel SMU 1070.19985199383
759) abramson, mary Purdue 1070.13254707154
760) tuckfield, georgia Lamar 1070.0720957863
761) hewitt, althea Florida State 1069.99953689978
762) workman, alli Indiana State 1069.97568644365
763) contreras , carmen San Jose St. 1069.70180900425
764) nadel, stacie Lehigh 1069.66241991796
765) schiffhauer, mara Marist 1069.63218295528
766) lodge, melissa Bryant 1069.5742488492
767) kaplan, anna Vermont 1069.53490431663
768) schunk, hattie Texas Tech 1069.42143519132
769) bendolph, jeanette Delaware 1069.3822222389
770) sherman, cara Albany 1069.36545317534
771) mallory, shian Samford 1069.2239252441
772) lutzow , carley Florida Gulf Coast 1069.20318405048
773) thompson, lexie Weber State 1069.19558729688
774) campos, valentina Texas A&M-CC 1069.12189707171
775) mccaffrey, jenna Northern Arizona 1069.07341077329
776) bock, ashley Wyoming 1068.97922684474
777) abu, agnes Mid. Tenn. State 1068.96696037528
778) sandwell, paige Memphis 1068.88586676031
779) bonaguidi, hannah Lehigh 1068.83866050679
780) gray, jessica Alabama 1068.82549744703
781) doty, megan Indiana State 1068.7054538838
782) mcmillon, savannah Southern Miss. 1068.6042204372
783) rosenleaf, joby Montana State 1068.44038673665
784) racette, sophia Missouri 1068.41797841841
785) banda, felicia Hofstra 1068.40216445387
786) starrett, sarah Miami (Ohio) 1068.33504998649
787) mcumber, nora Jacksonville 1068.33232386562
788) wilbur, sheridan Duke 1068.25434559195
789) sury, madison Ohio 1068.11306918713
790) dingle, maddie Xavier (Ohio) 1068.09410872092
791) campbell, anna Wake Forest 1067.97405768587
792) edmundson, erin North Carolina 1067.97326652359
793) crawford, sarah Kentucky 1067.9344484142
794) gibson, kaila Portland State 1067.90753768574
795) molnar, zita Toledo 1067.90303194383
796) struck, mailin Vanderbilt 1067.89370898222
797) weimer, cassidy St. Joseph's (Pa.) 1067.86489923895
798) sperry, katie Lipscomb 1067.85080760389
799) craig, emily Navy 1067.80074113544
800) brown, josie Washington St. 1067.73440436222
801) gilmore, riley New Hampshire 1067.65381428021
802) smith, meagan Murray State 1067.58344170586
803) connelly, tara Sacred Heart 1067.57690931707
804) mcdonald, maddie Cal Poly 1067.53483884995
805) guevara, talia Stony Brook 1067.4592274005
806) meyer, pauline Arkansas State 1067.44571508992
807) schmitz, anna Saint Louis 1067.39061591382
808) ferron, kayla Arizona 1067.33836774124
809) messina, alyson New Hampshire 1067.29501601081
810) akins, nia Penn 1067.29359234566
811) zeh, makenzie Pittsburgh 1067.28651819712
812) dearborn, maddie Alabama 1067.21788773693
813) van calcar, greta Oregon State 1067.20790303291
814) freyhof, erika Nebraska 1067.16748349565
815) fedders, emily Appalachian State 1067.11520653884
816) keevey, carrie Radford 1067.08126646104
817) dilmore, paige Weber State 1067.01330214198
818) peters, rebecca Pittsburgh 1066.9245957222
819) wilson, celeste UC Santa Barbara 1066.71502289478
820) guerra, julia Penn State 1066.63589760099
821) hamilton, mary beth Texas 1066.45519918832
822) burns, shanna Air Force 1066.40184150711
823) atkinson, ellie Yale 1066.3889664243
824) hart, kelly Notre Dame 1066.2960730927
825) swanson, kelsey Connecticut 1066.23530802675
826) hicks, nicole TCU 1066.20847348833
827) baudinet, caroline High Point 1066.14748658164
828) villegas, marissa UCLA 1066.13248907684
829) bolt, abby St. Mary's (Cal.) 1066.0729205021
830) kroepfl, lauren William and Mary 1066.01124994786
831) badger, reagan Idaho State 1065.92058753921
832) berzonsky, emily South Dakota St. 1065.89678162553
833) melgares, cara Kansas State 1065.76262566455
834) pray, alison Southern Utah 1065.60500385109
835) goecke , nicole Oregon State 1065.59911522731
836) collins, hayley Marist 1065.57614068933
837) weiss, corey Elon 1065.31599079624
838) wojeski, brooke Northeastern 1065.3149660877
839) kusch dahle, emma North Dakota State 1065.29823706368
840) kurtz, kammi Liberty 1065.28104004922
841) miller, abby Ohio 1065.28052736377
842) nusser, brooke Bradley 1065.19713240713
843) sanchez, nikki Texas State 1065.19198736874
844) grams, meggan Eastern Kentucky 1065.14999819749
845) mckinnon , sam Oregon State 1065.13648696601
846) grogan, anneke SMU 1065.07667226518
847) anderson, haley Georgia Tech 1065.07350148013
848) white, kate Colorado St. 1065.06593497221
849) snyder, rachel William and Mary 1065.04499239345
850) collins, sydney Kansas State 1064.92431861519
851) miller, haley SIU Edwardsville 1064.86682240158
852) salis, leya Cornell 1064.78124081313
853) turner, aurora Wright State 1064.75433912065
854) meeks, gillian Harvard 1064.63136043571
855) bloch, cassie Loyola (Ill.) 1064.54929665325
856) campbell, hannah Texas A&M 1064.52184687213
857) oremus, lindsey St. Joseph's (Pa.) 1064.42568153104
858) lancioni, elena Bowling Green 1064.31433870045
859) mondo, madeline Central Connecticut 1064.29088809542
860) rodriguez, keila Incarnate Word 1064.28495052163
861) coffey, sara Northwestern 1064.21945663616
862) adel, haley UC Davis 1064.21877382273
863) dipentino, angela Cal Poly 1064.21877382273
864) amberg, cassandra New Mexico St. 1064.20002967175
865) salas, sydney New Mexico St. 1064.20002967175
866) ambrose, cate Col. of Charleston 1064.17440659706
867) tucker, emma Miss State 1064.09085566494
868) thomson, margaret Bucknell 1063.97235853261
869) klonne, allison Miami (Ohio) 1063.96083515778
870) jockisch, abby Bradley 1063.94929256449
871) stoudt, mikayla East Carolina 1063.93213117006
872) isel, rea North Texas 1063.8650697312
873) fleddermann, rachel Wisconsin 1063.86081746806
874) florez, mikayla Long Beach St. 1063.760314632
875) snow, sydney Fordham 1063.72609290765
876) mcginn, cordelia Loyola (Md.) 1063.71920021289
877) donnay, anna South Dakota St. 1063.64171938729
878) east, katy Northern Colorado 1063.59366906939
879) holm gottlieb, helene Temple 1063.58903043633
880) charles, anaelle Arkansas State 1063.53922368862
881) barrientos, lauryn Texas A&M 1063.41375059283
882) martinez, danielle Incarnate Word 1063.38092527249
883) laurie, christine Maryland 1063.22068545538
884) harrell, lauren Kansas 1063.17526102881
885) mandel, evelyn TCU 1063.06418913217
886) huntsman, alexandra Penn 1062.93835727304
887) schneider, devina Texas State 1062.90740137354
888) reimers, mimi Loyola (Ill.) 1062.89185350778
889) anastasakis, melissa Elon 1062.86671888068
890) fairchild, melissa Yale 1062.80627807068
891) ames, shevaun Utah Valley 1062.78314168222
892) reed, lexi Oregon State 1062.70842685781
893) lindstrom, jessi Bowling Green 1062.64667181521
894) hausman, halle Belmont 1062.62949093407
895) porcaro, morgan Southern Utah 1062.42402554019
896) scott, eva Syracuse 1062.31081848435
897) overbeck, vivian Northern Illinois 1062.27102086614
898) champion, gabby Northern Iowa 1062.26531113707
899) nolan, katie Vermont 1062.16875923399
900) ostenso, andrea Northwestern 1062.14397680049
901) berge, christy Buffalo 1062.0758165515
902) dytrt, billie jo Arizona State 1062.04250130473
903) legois, jacie Lipscomb 1061.89716066631
904) hansen, allison Illinois-Chicago 1061.89120739787
905) bothwell, kiera Virginia 1061.88212169414
906) conner, lacey Portland 1061.74130066199
907) maurais, rita Loyola (Ill.) 1061.65133531663
908) lookner, audrey Oregon State 1061.58959638329
909) chynoweth, paityn Utah Valley 1061.58186896581
910) jerop, sharon Maryland-Eastern Shore 1061.4703018283
911) weems, kiera Belmont 1061.41806395028
912) lagarde, lindsay UL-Lafayette 1061.40891451266
913) wuss, shelbi American 1061.4038582772
914) millenaar, carolien South Alabama 1061.37339736089
915) carroll, meghan Marquette 1061.34512083044
916) haven, daan Arizona State 1061.33884911703
917) mcquilkin-bell, caitlin Florida 1061.16534464016
918) albrecht, autumn Vermont 1061.07215114947
919) ramirez, roxanne Delaware 1061.07065311965
920) kelly, amy Pittsburgh 1061.00376499222
921) paule, megan Creighton 1060.70321761873
922) heavern, ansley Georgia 1060.65873771046
923) lay, kaitlyn East Tenn. St. 1060.65647931134
924) amundsen, emma Southern Utah 1060.64699829829
925) stratton, nadia American 1060.55440753459
926) buckley, katie Lamar 1060.45013234153
927) trumble, lauren Vermont 1060.36459186025
928) harmon, lucy St. Joseph's (Pa.) 1060.35210544287
929) chiodo-ortiz, anna Bucknell 1060.19481754341
930) maheshwari, kajol Army West Point 1060.19481754341
931) krzyzanowski, katarzyna Fordham 1060.18846360645
932) melius, mckenzie Tulane 1060.1481560594
933) suan, marissa Nevada 1060.04941254771
934) bailey, jessica Montana 1059.99966006258
935) hibser, ericka Northern Illinois 1059.99351218376
936) johnson, anna Clemson 1059.97707425016
937) hess, haley Akron 1059.95316692387
938) tobin, hannah Northwestern 1059.92018870531
939) petit, hannah Georgia Tech 1059.91692067635
940) andrews, mika Army West Point 1059.86087847378
941) crawford, ashleigh Lehigh 1059.85536433898
942) bohan, shea Marist 1059.74227285217
943) locastro, daniela UCLA 1059.71297260773
944) moore, spencer UNLV 1059.55196327696
945) kemei , scolasticah Mississippi Valley 1059.493969491
946) tanner, kaitlin Texas A&M 1059.47846325066
947) israel, erica Towson 1059.38734269876
948) fisk, abigail Cal Poly 1059.28291755262
949) sorensen, meredith Houston 1059.26517663307
950) torres, jasmine Texas Tech 1059.15387554011
951) prial, jennie Xavier (Ohio) 1059.10028670479
952) wagner, ramsey Army West Point 1059.05290279838
953) dannheim, suzanne George Washington 1058.94335137305
954) rotvold, annika North Dakota State 1058.9265766268
955) brown, erica Illinois State 1058.87190531528
956) van der merwe, nicole South Alabama 1058.80706561577
957) maestas, jordan Wichita State 1058.80316166315
958) quiroga, cynthia Texas A&M-CC 1058.69684139938
959) gillette, elizabeth Arkansas State 1058.6885843504
960) dekleva-hall, natalya Southern Miss. 1058.65811063111
961) dicicco, jody Sacred Heart 1058.64515320517
962) scannell, megan Appalachian State 1058.59488875208
963) jakobs, franziska High Point 1058.54544425396
964) lewis, lindsey Illinois State 1058.53688105382
965) koenig, willa Nebraska-Omaha 1058.45694818274
966) hollensbe, juliann Iowa 1058.44344963845
967) balsan, elizabeth Grand Canyon 1058.37154772011
968) young, lucy Northeastern 1058.35708430858
969) stone , heather South Carolina 1058.31382884333
970) mimmack, grace Creighton 1058.21317430077
971) grandys, alexis Central Michigan 1058.07146664534
972) broschard, gabrielle Purdue 1058.02630015826
973) palmer, noel Liberty 1057.73729152636
974) brainard, sammy Arkansas State 1057.72333793304
975) hruska, melissa Washington St. 1057.67809837261
976) mendelson, brittany Central Connecticut 1057.67543381887
977) king, mckynzie Texas State 1057.56498852794
978) cummings, hannah Ball State 1057.4104704875
979) davis, fiona Harvard 1057.34094002676
980) dunlap, jennifer Houston 1057.3058860502
981) jackson, erica James Madison 1057.28738815022
982) matherne, zoe Holy Cross 1057.27822319733
983) hull, morgan Florida 1057.24113503845
984) cofer, bailee Drake 1057.06541445917
985) meske, peighton Tennessee 1057.04384428448
986) duca, paige Boston College 1056.882637431
987) shwayder, elianna Harvard 1056.75640777496
988) dorian, hannah Saint Francis (Pa.) 1056.73416699224
989) lucas, lindsey Sacred Heart 1056.73061542007
990) wessel, kaylee South Carolina 1056.69480103037
991) speiker, sierra Idaho 1056.68748337665
992) hayes, delia Boston College 1056.5689091437
993) barich, rachel Buffalo 1056.28016413368
994) dunn, taylor Central Arkansas 1056.27500846255
995) leonard, kiah Wyoming 1056.26299670129
996) pake, shelby IUPUI 1056.20391901973
997) modde, clarissa Boston College 1056.04214272305
998) otto, taryn Texas Tech 1055.97204377046
999) libruk, laura Buffalo 1055.95688975531
1000) russell, georgina Charleston Southern 1055.84058431751
1001) fairbanks, rachel Navy 1055.81118228652
1002) deering, emily Ohio 1055.78270113607
1003) warner, chiara Montana State 1055.73707754338
1004) sargent, cammy Northern Colorado 1055.67967937946
1005) murphy, maegan Miami (Ohio) 1055.66840994693
1006) ferri, caroline Manhattan 1055.6589804705
1007) welborn, jordan Texas 1055.57432274609
1008) myers, lilly Navy 1055.52999307083
1009) coletti, samantha Army West Point 1055.4130516825
1010) botha, lize Campbell 1055.14643359892
1011) bowes, hailey Ohio 1055.09753723387
1012) martin, amelia Tennessee-Martin 1054.99908521119
1013) rasmussen, hannah San Diego 1054.90439587843
1014) rea, miranda DePaul 1054.845140581
1015) rosvall, astrid UT-Arlington 1054.70887664785
1016) williams, isabella Weber State 1054.6500025609
1017) wright, abigail Louisville 1054.62677382993
1018) knott, carli SE Missouri 1054.60212991343
1019) sumner, angie SE Missouri 1054.37301577731
1020) powlette, allana La Salle 1054.31058765898
1021) rodriguez, maritza Ball State 1054.26881379781
1022) mcgrath, allison Illinois 1054.24828813824
1023) reyna, gabriela Wichita State 1054.17027342953
1024) beatty, kiyena Washington St. 1054.08843071661
1025) dufner, jen North Dakota State 1053.73728942215
1026) winter, bailey Weber State 1053.73616263524
1027) kandie, nelly Tennessee-Martin 1053.67667891301
1028) hallowes, kim Duke 1053.54832885709
1029) spadaccini, erin Manhattan 1053.26307228985
1030) bourque, hannah LSU 1053.23184953537
1031) reavis, evie Lamar 1053.23092541843
1032) carrier, macy East Tenn. St. 1053.19252287698
1033) mikula, samantha Cincinnati 1053.1302555281
1034) sanborn, kate Army West Point 1053.03856603424
1035) lewis, erika LSU 1053.03630271593
1036) martin, olympia Rutgers 1052.98567349284
1037) broermann, taylor Miami (Ohio) 1052.91463564239
1038) chepkemei, eusila Hampton 1052.83052837879
1039) juul, anna Harvard 1052.47264320574
1040) cole, sydney Texas A&M-CC 1052.38289988239
1041) sondag, ashley Idaho State 1052.22781860764
1042) klim, michelle Youngstown St. 1052.16033649847
1043) sayer, samantha Vermont 1052.14920666255
1044) white, ali Belmont 1052.05575605953
1045) churchill, victoria Col. of Charleston 1052.03561920846
1046) pfanstiel, courtney Saint Louis 1051.99232411508
1047) meeder, annie Cal Poly 1051.96998852096
1048) butler, kate Appalachian State 1051.94025433345
1049) koepf, alana Oakland 1051.66833443891
1050) thompson, miranda Boston College 1051.62993621713
1051) moralez, christina North Texas 1051.47735826753
1052) abundis, yulisa UTSA 1051.46293874574
1053) long, kendra Texas State 1051.28811458029
1054) triskett, allison Dayton 1051.16340054583
1055) gugel, abigail Boston U. 1051.12417928001
1056) abbatiello, bridget Charlotte 1051.041031221
1057) howard, millie Temple 1051.01723936817
1058) davis, natalie Saint Louis 1050.97910046223
1059) hildebrandt, paige Grand Canyon 1050.93777128193
1060) poiesz, kaitlin La Salle 1050.92953584716
1061) capes-davis, payton Bucknell 1050.67362103665
1062) garner, emma Samford 1050.65225462248
1063) clark, caroline UMass Amherst 1050.53193951836
1064) durbin, rachel Bowling Green 1050.5117790293
1065) conley, carolyn George Mason 1050.49114433803
1066) richards, marissa UMass Lowell 1050.45190624394
1067) ratcliffe, hana Appalachian State 1050.44558952286
1068) lambros, madison San Diego 1050.30680766843
1069) hayes, stephanie Lehigh 1050.2865693072
1070) greenwalt, casey North Carolina 1050.27997378228
1071) feringa, ellen Col. of Charleston 1050.25680859713
1072) kiebler, morgan Saint Francis (Pa.) 1050.2164397774
1073) gonzalez, jasmine Pacific 1050.14888189868
1074) white, lauren Boston College 1050.07183644563
1075) masters, angelyn New Hampshire 1050.04928350085
1076) gillman, stella Portland 1050.04671611734
1077) leonard, kerry Appalachian State 1049.86069864199
1078) farrell, caitlyn Kennesaw State 1049.79127896743
1079) casey, jordan Marist 1049.69833281075
1080) mondry, sammy Oakland 1049.66766102832
1081) tomaini, lindsey TCU 1049.51991645058
1082) fox, mikayla Wis.-Milwaukee 1049.47889304295
1083) kile, natalie Appalachian State 1049.4525727408
1084) hines, camille Butler 1049.43942624546
1085) mills, sophia Davidson 1049.3986235963
1086) lombardo, elizabeth Holy Cross 1049.39130538456
1087) santiago, katrina Nebraska 1049.32980034377
1088) choquette, nicole Illinois 1049.28979453259
1089) leo, stephanie Fordham 1049.12937294466
1090) nolan, shelby Wright State 1049.11174096216
1091) breiner, courtney Boston U. 1049.09348424346
1092) kipaglat, emmaculate Austin Peay 1048.92601625922
1093) noto, sophia Portland 1048.88859757988
1094) yuska, rachel Purdue 1048.87506290634
1095) cueva-scarpelli, jessica Binghamton 1048.8357861967
1096) molloy, charlotte Buffalo 1048.82976956483
1097) mosier, elizabeth Akron 1048.80246845781
1098) tobler, hannah Northern Kentucky 1048.74356760632
1099) belo, brianna American 1048.70893000392
1100) de la rosa, gabrielle Cal St. Fullerton 1048.65991791831
1101) wright, yazmine Wichita State 1048.48747322774
1102) wilson, allie Monmouth 1048.35365983195
1103) angelopoulos, victoria Wright State 1048.34091962384
1104) darnell, claire Southern Illinois 1048.2546670917
1105) doucet, bridgette Lipscomb 1048.18106226051
1106) noch, alexia Charlotte 1048.10804995763
1107) hamon, sarah East Carolina 1048.10493740385
1108) brown, ashley VCU 1048.00158917821
1109) coleman, kelly UNC-Asheville 1047.99362226028
1110) nelson, erin Charlotte 1047.60241096646
1111) bebout, cassie Auburn 1047.53235121957
1112) marshall, isa UC Santa Barbara 1047.47860436022
1113) greeley, phylissa Appalachian State 1047.42251253707
1114) wohlenberg, hannah Loyola Marymount 1047.37604748016
1115) forsberg, elsa Nebraska 1047.37139181084
1116) mu�oz marqu�s, �gueda Albany 1047.34744748617
1117) nunan, erin Arkansas State 1047.22050754203
1118) esparza, alison SMU 1046.99668279027
1119) freeland, reilly George Mason 1046.97986132457
1120) hartzell, hannah Butler 1046.95428927781
1121) gronbeck, lauren Bucknell 1046.94764333983
1122) flores, sandra Cal St. Fullerton 1046.9240898496
1123) alissa, lander McNeese State 1046.91825578653
1124) poole, emily Chattanooga 1046.8817293455
1125) gebarzewska, monika Southern Miss. 1046.79123038344
1126) manning, holly Stony Brook 1046.73104392
1127) priddy, rebekah Murray State 1046.54951962373
1128) hill, tiffany Ohio 1046.49029710242
1129) honiotes, audrey Miss State 1046.48560113182
1130) seidel, isabel Northwestern 1046.42725011828
1131) parks, allison Navy 1046.42698250116
1132) amershek, kaylee Texas Tech 1046.3132347657
1133) franchi, tessa Duquesne 1046.28949304352
1134) jacklin, brianna Cal St. Fullerton 1046.25962420382
1135) markusch, lillian Nebraska 1046.24419029264
1136) peeples, madisyn Kentucky 1046.19887530347
1137) ruffo, kerri Northeastern 1046.06083304909
1138) weaver, miah Utah Valley 1046.05438161186
1139) decarmo, kamyrn UNC-Asheville 1046.01879413527
1140) goff, nicole James Madison 1045.99572250839
1141) estes, elaine St. Joseph's (Pa.) 1045.79077468618
1142) person, emily Wyoming 1045.76293599229
1143) grzeszczak, ania Mercer 1045.56874912141
1144) murray, katherine UMass Lowell 1045.56741176407
1145) oscarson, hannah North Dakota 1045.41926032834
1146) kantonen, lydia North Dakota 1045.41926032834
1147) rennick, micayla Tennessee Tech 1045.39656565603
1148) astrike-davis, emma North Carolina 1045.29957666592
1149) kresl, elana New Mexico St. 1045.03998874809
1150) spillane, taylor Syracuse 1044.95124472207
1151) manley, claire Gonzaga 1044.95057268619
1152) kenwood, kathryn Wake Forest 1044.90523172187
1153) cast, nicki Illinois 1044.87440542728
1154) owen, taylor Long Beach St. 1044.83186361971
1155) kibiwott, sharon Mid. Tenn. State 1044.78480996566
1156) kuerschner, melina North Dakota State 1044.68658110135
1157) turner, brooke Liberty 1044.59232896941
1158) graves, elizabeth Holy Cross 1044.37920408846
1159) openshaw, colleen South Carolina 1044.10766669767
1160) destefano, quinn Wyoming 1044.04678349549
1161) meyer, grace North Florida 1044.01873511363
1162) hutchcraft, rachel SE Missouri 1043.94455385003
1163) marry, miranda Illinois 1043.91938007298
1164) keller, nora Marquette 1043.87349523555
1165) mendoza, karla Navy 1043.74229592812
1166) byrd, rachel Coastal Carolina 1043.70084129425
1167) watson, brittany FIU 1043.64012364056
1168) joyce, michelle Temple 1043.54618797119
1169) martinez, vicky Colgate 1043.41719847502
1170) forrester, kalleigh UCF 1043.31052165373
1171) peters, danae Saint Francis (Pa.) 1043.25402267618
1172) hernandez, christina Stephen F. Austin 1043.20626849724
1173) briley, megan Memphis 1043.11219089387
1174) reid, cori Quinnipiac 1043.00951702839
1175) salazar, leah New Mexico St. 1042.83586962663
1176) cruz, rosalie Loyola Marymount 1042.68788080634
1177) o'leary, colette UMass Amherst 1042.62363814645
1178) rogers, jenna Gonzaga 1042.60193204844
1179) mohrmann, danielle SE Missouri 1042.54979851487
1180) moore, emily Lafayette 1042.5292001834
1181) hammerstone, diana Lehigh 1042.5222144132
1182) saulter, kaitlyn Maine 1042.43179676317
1183) tillo-prats, nuria East Carolina 1042.33307605973
1184) ware, rachel Tennessee 1042.32133911928
1185) mcclaughlin, hope San Diego 1042.30121788595
1186) hansel, brook UMass Amherst 1042.2863673673
1187) england, ashley Illinois State 1041.99542126982
1188) tarrant, hannah Sam Houston St. 1041.87308238266
1189) sessa, emily UMass Lowell 1041.83231978595
1190) gallagher, therese St. John's 1041.67428403871
1191) aller, megan Duquesne 1041.63983593162
1192) high, courtney Stephen F. Austin 1041.52028148147
1193) cardi, isabel Vermont 1041.46863305007
1194) sullivan, anne Holy Cross 1041.41712132437
1195) pletz, taylor Duquesne 1041.3555926916
1196) ramsey, blair North Carolina 1041.32305239752
1197) evans, mckenna Nevada 1041.31836674368
1198) galletta, gabi Lafayette 1041.30167526346
1199) opatrny, lauren Iowa 1041.28515998998
1200) bracken, emily St. Joseph's (Pa.) 1041.23752300769
1201) ward, michaela Indiana State 1041.19261540773
1202) corpus, carli Eastern Washington 1041.15680643495
1203) ramsey, thea Arizona 1040.89726422612
1204) lander, alissa McNeese State 1040.87111614713
1205) schneider, phoebe UNC-Asheville 1040.86458448483
1206) brehler, alyssa Rhode Island 1040.53614245
1207) machabee, holly Albany 1040.50112311355
1208) paolucci, emily Delaware 1040.33994002529
1209) bushue, kate Eastern Illinois 1040.33401206984
1210) alonso, angela Georgia State 1040.29471297717
1211) hubert, emily Loyola Marymount 1040.26390652115
1212) sullivan, erin Notre Dame 1040.25224097389
1213) lax, sierra Belmont 1040.19806830641
1214) nikolaou, christina Western Carolina 1040.15352487614
1215) antrich, sarah Baylor 1040.047630464
1216) gasparrini, jenna Holy Cross 1040.04285944878
1217) case, keaton High Point 1040.02830288861
1218) ruelas, trinity Cal St. Fullerton 1039.95606968619
1219) gauthier, abby Towson 1039.80306682527
1220) potts, kelsey Syracuse 1039.78843050597
1221) tyler, ifetayo La Salle 1039.68040781816
1222) hodges, claire UL-Lafayette 1039.67301741298
1223) schulz, morgan Illinois 1039.59747100731
1224) dunne, kathleen Fresno State 1039.56822397272
1225) bazan, stephanie Delaware 1039.49149514365
1226) sweatt, allie SIU Edwardsville 1039.44368141828
1227) albano, carmela Sacramento St. 1039.39521361896
1228) king, bethany VMI 1039.37546837343
1229) figueroa, anna Rice 1039.27291318527
1230) juzwiak, alexandra Rutgers 1039.23312545903
1231) schuyler, kailey Lipscomb 1039.11086021677
1232) maire, noelle Northern Illinois 1039.02133317986
1233) hallahan, maggie Vermont 1039.01035485411
1234) atkins, sara Northern Illinois 1038.82060834455
1235) romo, liz Texas A&M-CC 1038.44868807855
1236) hines, brooke Xavier (Ohio) 1038.37932943235
1237) murgor, nancy Florida A&M 1038.15645487579
1238) rivera, vanessa Akron 1038.10026226551
1239) lawrence, haley Maine 1038.06215151002
1240) huhnerkoch, kayla North Dakota State 1037.99084635456
1241) sorman, juliane Western Michigan 1037.9709426276
1242) selfors, bridgid Tulane 1037.88006670582
1243) alvarado, elizabeth Incarnate Word 1037.73803022969
1244) den otter, anne Miami 1037.58830012587
1245) wollmering, erica Missouri State 1037.49052465377
1246) madden, colleen Indiana State 1037.47689963512
1247) capra, jordyn Missouri State 1037.35868475125
1248) fisher, emme UNC-Wilmington 1037.32685627542
1249) gutt, alexandria Eastern Illinois 1037.26702090453
1250) ruiz, jessica Cal St. Fullerton 1037.26701025231
1251) saunders, erin James Madison 1037.24451614671
1252) long, morgan Oklahoma 1037.19879260359
1253) mclaughlin, hope San Diego 1037.16612758839
1254) wilson, emily Incarnate Word 1037.13762912038
1255) richards, kaley UMass Lowell 1037.13032777984
1256) fortner, katie Clemson 1037.07132107696
1257) scholle, maggie San Diego 1037.03963447745
1258) meck, abbey Pepperdine 1037.03694470456
1259) dykstra, renae South Dakota St. 1036.95242300068
1260) rotich, mercy Florida A&M 1036.94379682716
1261) kearns, molly Wright State 1036.92349114658
1262) garcia, morgan Drake 1036.80765112488
1263) kiprop, mercy Auburn 1036.78938215746
1264) giannini, julie San Diego 1036.46268348883
1265) smith, chelsea Elon 1036.42640178449
1266) kiminski, kailee South Alabama 1036.40444476787
1267) stamey, alicia LSU 1036.35978503462
1268) mccormack, kate Fordham 1036.15649267633
1269) conley, jessi Indiana State 1036.12977279244
1270) ferrucci, paige Boston U. 1036.05247188563
1271) delaney, taylor UNC-Greensboro 1036.00097092343
1272) hanners, katherine UMKC 1035.9766156405
1273) higgins, candice Norfolk State 1035.85874064268
1274) chamblin, hannah Sacred Heart 1035.84725055502
1275) johnston, kirsten TCU 1035.79065856746
1276) kiefer, amanda Gonzaga 1035.62535479897
1277) medrano, tessa Harvard 1035.61691376509
1278) shigemasa, maile Creighton 1035.4011251212
1279) eckenroth, cayla Ball State 1035.39885096107
1280) kastama, rachel Seattle U. 1035.38884216379
1281) cunningham, caitlin Morehead State 1035.13008299719
1282) kelly, isobel New Hampshire 1034.83667526107
1283) peterson, rachel Rice 1034.76049269318
1284) wolker, elin Boston U. 1034.69044372778
1285) luckett, logan VMI 1034.60807448431
1286) richart, sarah George Mason 1034.52177870917
1287) spitler, kathryn Holy Cross 1034.41236656352
1288) talhelm, brooke Ball State 1034.3053048728
1289) boyd, amber UTSA 1034.24828117693
1290) pudner, susanna South Alabama 1034.15087898189
1291) barton, alexys Kansas 1034.12692508476
1292) bagus, sydney High Point 1034.0693276914
1293) myland, michelle La Salle 1033.95638662795
1294) grogan, caroline Murray State 1033.80764786951
1295) jones, judi Nebraska 1033.77070000083
1296) engebretsen, samantha Montana 1033.56535377217
1297) kieliszewski, amy Saint Louis 1033.55338418966
1298) piercy, aimee Gonzaga 1033.31821082788
1299) rovere, elisa UNLV 1033.29357803927
1300) offerman, lauren Texas Tech 1033.23063074419
1301) leclaire, alyssa Coastal Carolina 1033.19543361771
1302) cooke, victoria East Carolina 1033.09516971843
1303) parker, rebecca Georgia Southern 1033.07789544224
1304) ward, tessa Cincinnati 1033.03705295806
1305) mackay, emily Binghamton 1033.02101509044
1306) kaufman, kacie Louisiana Tech 1033.01233826836
1307) peterson, cailee South Dakota St. 1033.00232083717
1308) knoblock, kennidi Illinois State 1032.9408406345
1309) richter, abigail Western Illinois 1032.76979471305
1310) bergman, emma Rutgers 1032.70000919455
1311) brawner, megan Central Connecticut 1032.64149017363
1312) reynolds, claire Bowling Green 1032.55915155843
1313) allmacher, samantha Central Michigan 1032.53074871253
1314) smith, kaitlyn Manhattan 1032.41994852394
1315) stone, kaylee Binghamton 1032.38548077139
1316) beazley, macey UT-Arlington 1032.38299087283
1317) zodl, lauren Delaware 1032.3415952103
1318) iocca, kelly Rhode Island 1032.27713250565
1319) chapman, denae Texas Tech 1032.26921797622
1320) hubbell, dawn Central Connecticut 1032.22535614491
1321) mead, katelyn Incarnate Word 1032.20747563832
1322) opp, amber Citadel 1032.14465137243
1323) wilson , mary Wofford 1032.12788270287
1324) eykelbosch, alex McNeese State 1032.08975960893
1325) hull, imogen McNeese State 1032.05143428986
1326) mills, emily Auburn 1032.04926675431
1327) o'shea, kelly Southern Illinois 1032.03705155456
1328) doyle, aileen Canisius 1031.99496579813
1329) watson, ruby Rice 1031.95242406021
1330) schinkel, lyndsie Northern Iowa 1031.8997048852
1331) nolke, elizabeth UMKC 1031.79425945597
1332) dilmore, faith Idaho 1031.66422847553
1333) filliben, courtney Southern Miss. 1031.58938023695
1334) macgregor, megan UC Davis 1031.38503248168
1335) poliakon, samantha UC Riverside 1031.19931735235
1336) buehrle, nicole Chattanooga 1031.11726736726
1337) janik, audrey Illinois State 1031.1133761919
1338) forbes, maddie Rice 1031.05348912208
1339) cooney, riley Kansas 1031.05094168662
1340) rowan, grace Eastern Illinois 1031.04596560771
1341) jackson, roshae Campbell 1030.81186265792
1342) scarton, lindsey Akron 1030.52629361461
1343) quinonero, neus Maryland-Eastern Shore 1030.52135796195
1344) izydorcak, emily St. Bonaventure 1030.48462728967
1345) gerland, stephanie St. John's 1030.48445932836
1346) badham, katherine Miss State 1030.45648685713
1347) gorman, kelly Manhattan 1030.4378563388
1348) wright, madison Saint Francis (Pa.) 1030.35375267322
1349) bergen, kaylee Fairfield 1030.23073220195
1350) weaver, bethany East Carolina 1030.15171731191
1351) thorne, jacqueline Sacred Heart 1030.07754697354
1352) lewandowski , alexis IUPUI 1030.04172990048
1353) samhouri, rania South Florida 1029.9700242128
1354) brush, rachel Nebraska 1029.85570584587
1355) swietlik, meg Wis.-Milwaukee 1029.76006032863
1356) hogan, keeley Manhattan 1029.7352479545
1357) saponara, nadia Rutgers 1029.67462684979
1358) cary, emma Sacred Heart 1029.57954822964
1359) evans, bethan UAB 1029.52799171067
1360) cortina, camila Northeastern 1029.47053374724
1361) sjogren, alice Stetson 1029.42161282278
1362) kaisho, ai Illinois-Chicago 1029.40304303399
1363) mcgovern, rachel Idaho State 1029.35821837245
1364) barber, angela Saint Francis (Pa.) 1029.35109887483
1365) wahlenmaier, emma UNLV 1029.28276247939
1366) pass, caroline Creighton 1029.10160677786
1367) stoner, caitlin San Diego 1028.96666842842
1368) evans, ashley Rhode Island 1028.80434091364
1369) pavicic, peri Rider 1028.71342508241
1370) vasquez, jasmine Cal St. Northridge 1028.64136223673
1371) schoen, taryn Wofford 1028.62036584778
1372) stanford, destiny Howard 1028.59106859148
1373) gonzales, britani Houston 1028.56917312894
1374) jebet, edith UL-Monroe 1028.46907915204
1375) fleming, nicole Kent State 1028.35570869022
1376) span, arion Alabama State 1028.09648297719
1377) heard, amanda Tulsa 1028.07761776704
1378) markel, hannah Cincinnati 1028.04953459036
1379) vandepol, regan Wyoming 1027.92491018634
1380) tomeo, hannah Portland State 1027.92279832852
1381) novak, paige Maryland 1027.87825284011
1382) ledwith, gracie Eastern Washington 1027.76543281721
1383) ajimoko, vickie Maryland 1027.76254843485
1384) karle, alyssa Liberty 1027.69338575385
1385) johnson, emily Seton Hall 1027.65168999073
1386) hohn, nicole Wis.-Milwaukee 1027.54941082665
1387) cella, sarah Tulane 1027.54866662247
1388) jaskowak, catherine Saint Francis (Pa.) 1027.54202313631
1389) holleran, courtney VCU 1027.49649618019
1390) crone, claire Stephen F. Austin 1027.45948561076
1391) ceballos, alexis Long Beach St. 1027.43791337973
1392) covington, brynnan North Dakota State 1027.43722060833
1393) king, madilyn Texas State 1027.28513141834
1394) sanchez, vianney Arkansas-Little Rock 1027.25603456189
1395) mccutchen, morgan Texas A&M-CC 1027.24261394762
1396) olsen, molly Idaho State 1027.18624717207
1397) corrigan, kaelah Eastern Washington 1027.1829006936
1398) harris, mikie Clemson 1027.15441457028
1399) stapleton, katie Illinois 1027.1082693431
1400) wallace, erika Grand Canyon 1027.08099376822
1401) lash, morgan Washington St. 1027.06754869142
1402) sarage, serena UMass Amherst 1026.97038038577
1403) george, andrea SE Missouri 1026.95626537562
1404) mickens, jennifer Lehigh 1026.90963636743
1405) karp, meggie Portland State 1026.87766775163
1406) elliott, sadie Eastern Illinois 1026.69850742639
1407) demko, julia Loyola (Ill.) 1026.61744801012
1408) clarke, jess SIU Edwardsville 1026.58786398943
1409) wiseman, tangy Wichita State 1026.41565314282
1410) coughlin, sydney St. Joseph's (Pa.) 1026.36959611311
1411) gaudin, marie Washington St. 1026.19737797102
1412) barrick, molly Maryland 1026.1936053615
1413) cook, adriana Marshall 1025.92790386923
1414) coulter, kara Troy 1025.91679006297
1415) bayliss, christine UC Davis 1025.78219595567
1416) alvarenga, katie Cal St. Northridge 1025.70800507649
1417) cortese, gabby Gardner-Webb 1025.70264938178
1418) denemark, lauren Belmont 1025.6997236497
1419) vargas, julie Long Beach St. 1025.61662688607
1420) gagliardi, britton St. Joseph's (Pa.) 1025.51155093489
1421) fox, jessica McNeese State 1025.36684577059
1422) pineault, hannah Akron 1025.33274201424
1423) delorey , megan Seattle U. 1025.266441228
1424) caggiano, kayleigh Loyola (Md.) 1025.06617579603
1425) harris, jessica DePaul 1025.01921259496
1426) yamazaki, erika Binghamton 1024.94541554841
1427) johnston, madelaine Baylor 1024.93242402345
1428) johnson, emily Nebraska-Omaha 1024.91632645564
1429) burdette, victoria Winthrop 1024.91272402756
1430) shaw, sara Central Arkansas 1024.82295653451
1431) adams, jaimie Kent State 1024.59465844585
1432) weir, susanna Delaware 1024.51120759895
1433) sullivan, jacklyn Bryant 1024.47814799224
1434) peterson, ellyssa North Dakota 1024.47683455651
1435) lopez, arianna American 1024.45766212923
1436) pettis, emily Charlotte 1024.34178805953
1437) dunn, anna Wright State 1024.26791328563
1438) lee, lydia Tennessee-Martin 1024.1252007252
1439) white, judith VCU 1024.01678744298
1440) vlattas, gabby George Washington 1023.9865906842
1441) adams, cassidy North Texas 1023.86574427717
1442) stuntz, tara SE Louisiana 1023.84057715377
1443) czarnecki, heather Oakland 1023.72112542747
1444) johnson, emily Towson 1023.65852653937
1445) welch , haley IUPUI 1023.62994335517
1446) hawkins, courtney Rhode Island 1023.60528498426
1447) mans, celie Idaho 1023.58478170033
1448) godlock, india UNC-Greensboro 1023.56434043089
1449) connell, megan La Salle 1023.56290055617
1450) jaramillo, natalie Illinois-Chicago 1023.5051066977
1451) meade, maddie UC Santa Barbara 1023.478194789
1452) flairty, jennah Northern Kentucky 1023.47178497299
1453) underwood, soren Abilene Christian 1023.46571522802
1454) fernald, sophia Oklahoma 1023.44229290245
1455) holdbrooks, emma kate Southern Miss. 1023.09948921256
1456) cronin, bailey Oakland 1023.0917933828
1457) mcelhaney, stephanie Ball State 1023.02310732543
1458) stone, kaitlyn UNC-Greensboro 1022.91488670416
1459) dupree, meghan Lamar 1022.81010455311
1460) tyrrell, lily Eastern Washington 1022.70479226216
1461) morgado, emely Houston 1022.62256588563
1462) perez, savanna Sacramento St. 1022.38110327878
1463) shelby, hannah Arkansas State 1022.30546198974
1464) bunao, anya Wofford 1022.12298573631
1465) ballman, alexis UC Davis 1022.12293040255
1466) zeller, skye North Florida 1021.97257674948
1467) marcone, danielle Quinnipiac 1021.93532621252
1468) minkler, mary Memphis 1021.76053220979
1469) kopplin, natalie SE Missouri 1021.68902282961
1470) wendling, whitney Akron 1021.65335556136
1471) daniels, christina Loyola (Md.) 1021.65158981818
1472) laushey, morgan Georgia State 1021.6154993978
1473) anez, andrea UC Santa Barbara 1021.46743026841
1474) grant, saidah Kennesaw State 1021.36562050648
1475) small-towns, marissa Col. of Charleston 1021.20807463784
1476) gilbert, kelly Gonzaga 1021.19403252148
1477) lavery, mary UMass Amherst 1020.98183527462
1478) parkinson, laura Boston U. 1020.75337904325
1479) mcmahon, riley Murray State 1020.70978721466
1480) daigle, sophie SE Louisiana 1020.69558241052
1481) jepchirchir, angela UL-Monroe 1020.54386709508
1482) chamberlain, rosie UCF 1020.5430897294
1483) redwine, hayley Oklahoma 1020.46596453774
1484) paintin, mckenna Wichita State 1020.42753241764
1485) hamilton, madeline Montana 1020.42154834005
1486) winkler, emma Pacific 1020.39706161218
1487) mauer, stephanie Rutgers 1020.37618348283
1488) hernandez, olivia Seton Hall 1020.3242924612
1489) garcia, ariana UNC-Greensboro 1020.28330566987
1490) wittrock, morgan Clemson 1020.02362375481
1491) guerra, elizabeth Stephen F. Austin 1019.96178872308
1492) nealon, kiera Rutgers 1019.90584569554
1493) kibii, judith Florida A&M 1019.90542205304
1494) mcgrath , sarah-sims South Carolina 1019.77745707168
1495) tyler , kelsey IUPUI 1019.765465587
1496) espinosa, ashley Iowa 1019.72963447974
1497) fatica, lesley George Washington 1019.71195137948
1498) pellegrini, carolyn Siena 1019.55465584304
1499) kneadler, peyton Ball State 1019.45833450674
1500) bowen, ali Campbell 1019.34174206832
1501) henson, harper Winthrop 1019.30156710413
1502) foreman, abbey Central Arkansas 1019.18672300954
1503) schell, mackenzie South Dakota St. 1019.18155711787
1504) mccullough, bevin Santa Clara 1018.80161226739
1505) bugara, grace Northeastern 1018.74190558734
1506) martinez, krysta UT-Rio Grande Valley 1018.57422114427
1507) chinn, alison Morehead State 1018.56766563656
1508) purhar, saira Pacific 1018.44648215786
1509) reyes, jenessa UC Irvine 1018.36726198504
1510) barber, grace Oklahoma 1018.27847851793
1511) schlosser, allyson Boston U. 1018.26705565067
1512) tran, alyssa UC Riverside 1018.16696777387
1513) lewis, marielle UAB 1018.112539685
1514) veron, kathryn Quinnipiac 1018.06353045782
1515) volk, kaitlyn Grand Canyon 1018.04015217808
1516) worrell, nicolette Jacksonville 1017.98630325398
1517) butkus, grace Butler 1017.93214138655
1518) mechels, halie South Dakota St. 1017.83121275308
1519) trotter, lindsey Western Carolina 1017.82681646178
1520) navarrete-lamas, julieta Southern Utah 1017.80228255291
1521) siemens, kyla Jacksonville 1017.72350581974
1522) rowley, ashleigh Youngstown St. 1017.72037124464
1523) chapman, emily Florida 1017.57158413413
1524) nabholz, janie Santa Clara 1017.48040822384
1525) hinds, jenna UAB 1017.43851086776
1526) walton, lindsay Baylor 1017.27604832293
1527) montgomery, ellunde Georgia Southern 1017.14204719227
1528) ogundeko, tatiana Coppin State 1017.12965946068
1529) maloney, colleen Albany 1017.11758686923
1530) meyer , katie Kennesaw State 1017.11681652057
1531) givehand, mahlah Hofstra 1017.0986753138
1532) chinery, katie Rider 1016.98941810944
1533) black, elyse Northern Kentucky 1016.89894075779
1534) salvatore, jennifer Lafayette 1016.86173066547
1535) taylor, abigail Fordham 1016.84501350735
1536) reis, denise Sacramento St. 1016.55486312582
1537) adler, sarah Northeastern 1016.5234088127
1538) kipchumba, gladys Mid. Tenn. State 1016.52136123962
1539) bryzek, jessica Ball State 1016.23260013219
1540) hirneisen, lauren Liberty 1016.22647739407
1541) morris, haley Chattanooga 1016.11356821839
1542) martin, shawnda Western Carolina 1015.89186525567
1543) ames, savannah Western Kentucky 1015.82553532357
1544) price, arielle Houston Baptist 1015.6414729263
1545) songer, ellie Quinnipiac 1015.41345588917
1546) nero, elia Louisiana Tech 1015.35885190818
1547) batsu, corrine Boston U. 1015.35488385796
1548) velock, kyra Monmouth 1015.32290834705
1549) leasure, amy Creighton 1015.31659259392
1550) breaux, alexa UL-Lafayette 1015.17508101871
1551) atwood, kiley UC Riverside 1015.16259013167
1552) woodward, erin Central Arkansas 1015.13002093891
1553) mialhe, lou Rutgers 1015.08172208037
1554) luthringer, taylor Tennessee 1014.98843077694
1555) duncan, cagnei Sacramento St. 1014.87727135855
1556) fitzsimmons, mauren Long Beach St. 1014.84440033278
1557) wilkinson, justyna Canisius 1014.74897829724
1558) tuite, kari Canisius 1014.7318452985
1559) willett, bailey Georgia Southern 1014.71980094895
1560) pierson, hannah Saint Louis 1014.63785580029
1561) shaw, makayla East Tenn. St. 1014.59963687772
1562) girard, danielle Hawaii 1014.53026679149
1563) harmon, caroline Lafayette 1014.50093116589
1564) sabotin, kayla Nebraska-Omaha 1014.44147037175
1565) borycki, michelle Illinois-Chicago 1014.4038289659
1566) sanchez, marisa Santa Clara 1014.2759526853
1567) schiazza, margaret Lafayette 1014.12202878703
1568) beebe, nicole Western Illinois 1014.08764895865
1569) dorantes, brenda UC Irvine 1014.03764858413
1570) t'kint , lauren George Washington 1013.91509023347
1571) jacobson, lindy Grand Canyon 1013.90238688558
1572) michaelson, audrey Loyola (Ill.) 1013.89464803977
1573) delgado, kristin LSU 1013.88434155585
1574) luma, dayna Monmouth 1013.85367450816
1575) neeley, brittany Indiana State 1013.806475675
1576) wilson, brooke South Carolina 1013.806475675
1577) rowe, infinnatie Morgan State 1013.72867435043
1578) diaz, stephanie Incarnate Word 1013.65691865006
1579) shealy, lindsay Georgia State 1013.56505031486
1580) pickering, courtney DePaul 1013.44109205591
1581) hirzel, sophia IPFW 1013.43024477086
1582) heiny, kim Valparaiso 1013.26101267847
1583) gallivan, rachel George Washington 1013.17249073241
1584) weedn, katie Idaho State 1013.15393138769
1585) bertholon, camille Rhode Island 1013.0580302212
1586) allen, dominique Incarnate Word 1013.02363566474
1587) lingard, kaitlyn Western Carolina 1013.00436686725
1588) foster, robin Kent State 1012.93328498226
1589) davis, harrison Kent State 1012.93328498226
1590) baker, elizabeth TCU 1012.92036693857
1591) tanui, naomi Florida A&M 1012.87830964628
1592) czerniak, courtney Mercer 1012.83275973496
1593) kimutai, alice Mississippi Valley 1012.71645237699
1594) mabone, judy American 1012.63121910101
1595) scott, lydia Fresno State 1012.59149504874
1596) legard, ally Gonzaga 1012.28236010006
1597) sippel, rebecca IPFW 1012.15125147701
1598) kiprop, naomi Grambling 1012.08433984681
1599) swartz, jessica Wright State 1011.93591393237
1600) cole, mykaela Drake 1011.91282764919
1601) bradshaw, marcy USC Upstate 1011.86060564248
1602) orvis, janine IUPUI 1011.84182362284
1603) bell, nicole Wagner 1011.81902783415
1604) free, skyler UNLV 1011.74099284854
1605) kidwell, ashley IUPUI 1011.65691607208
1606) rivera, leslie UC Riverside 1011.63514833042
1607) manzari, mary Canisius 1011.55032059718
1608) nelson, brianna Chattanooga 1011.54061127678
1609) feuchtenberger, heather East Tenn. St. 1011.45343888402
1610) snell, sholonda Georgia Southern 1011.23981112091
1611) selva, rachel Drake 1011.04764533262
1612) o'reilly, clodagh Stony Brook 1011.00394594431
1613) karnaze, anastasia UC Irvine 1010.90368507607
1614) thomas, erin Northern Colorado 1010.83311826226
1615) mccabe, clare Butler 1010.73917333162
1616) koziol , suzanne Youngstown St. 1010.69278005757
1617) schultz, christina Florida Atlantic 1010.68983536142
1618) hunsley, sarah Bowling Green 1010.65325772236
1619) langlois, emma Miami 1010.53827168617
1620) thompson, mae Fairleigh Dickinson 1010.20798861575
1621) westerheide, meg Cincinnati 1010.12886045374
1622) aho, elizabeth Drake 1010.10016293638
1623) mcandrew, shannon Wofford 1009.95192761278
1624) carney, sara Wagner 1009.90258386539
1625) golliher, ciara North Florida 1009.893089652
1626) blair, charlotte Central Arkansas 1009.86730742926
1627) caruana, christie Troy 1009.83261664466
1628) sharp, gillianne South Alabama 1009.77603614243
1629) hurst, kimberly Wis.-Green Bay 1009.52805821812
1630) gonzales, maria Houston 1009.49418875585
1631) white, ebony Houston 1009.48506186504
1632) hanson, camilla San Jose St. 1009.32868076798
1633) hernandez, emily Seton Hall 1009.23133453687
1634) honea, anastasia Seattle U. 1009.2296212225
1635) thompson, alicia Northern Colorado 1009.21172443964
1636) hamer, khalilah George Mason 1009.20831447372
1637) mayers, mackenzie FIU 1008.91866093936
1638) mora, mackenzie San Diego St. 1008.89910416008
1639) kozar, bridgette Texas A&M-CC 1008.7711865154
1640) stewart, kayla Canisius 1008.72365506392
1641) wolfe, kimmy Northern Kentucky 1008.70673748874
1642) caldwell, hannah Chattanooga 1008.70654038101
1643) sokolova, alexandra Lamar 1008.67875749492
1644) mitchell, abigayle St. Mary's (Cal.) 1008.44798498861
1645) mutai, ida Murray State 1008.29420349052
1646) fitzgerald, kenzie Grand Canyon 1007.75621563956
1647) paul, hunter Arkansas-Little Rock 1007.47662841406
1648) migliano, hailey Wis.-Milwaukee 1007.15648263834
1649) kaderly, ciara Wis.-Milwaukee 1007.13944276159
1650) chepkwony, halima Grambling 1007.12821252496
1651) sierra, tina Texas State 1007.03959351571
1652) weiss, olivia Bryant 1007.03216127349
1653) eskin, lindy UNLV 1006.90547861856
1654) fleming, natalie Youngstown St. 1006.50967425112
1655) johnson, camryn Siena 1006.4281404518
1656) mothersead, kelsie Bowling Green 1006.42681311287
1657) byndas, gabrielle Memphis 1006.34879126536
1658) hardcastle, bethany Florida Atlantic 1006.27350756175
1659) johnson, leah Wis.-Milwaukee 1006.14777525263
1660) samoei, caroline Norfolk State 1005.97600200339
1661) pelzer, paradise Cal St. Bakersfield 1005.85211752265
1662) wrozek, erin Northwestern St. 1005.78507375124
1663) eikelberner, emma Santa Clara 1005.73238271856
1664) kopf, ellie Santa Clara 1005.7290516594
1665) johnson, kristen Butler 1005.72282908295
1666) wellman, elizabeth Florida Atlantic 1005.40016512142
1667) merino, paula Central Michigan 1005.38148814361
1668) pear, amelia Sacramento St. 1005.23201087913
1669) farnsworth, claire South Florida 1005.15425914172
1670) timoney, elizabeth Colgate 1005.02622109443
1671) millar, katherine Lafayette 1004.77275116758
1672) strain, monica Siena 1004.72103283758
1673) barnes, kristoni N. Carolina A&T 1004.7057716231
1674) anderson, alaina Northern Colorado 1004.47855539047
1675) wylie, emily Pacific 1004.36614204912
1676) crews, sienna Evansville 1004.34346206746
1677) masquelier, lianne Cincinnati 1004.28994512049
1678) thatcher, jessica Binghamton 1004.0220355346
1679) zdrosewski, erin Central Michigan 1003.93332696057
1680) shields, sami Fresno State 1003.84694439896
1681) kwapinski, alexa Lafayette 1003.7780125532
1682) bruning, teresa UL-Lafayette 1003.70088540736
1683) voss, emily UTSA 1003.64694639385
1684) chase, livia Canisius 1003.5292339835
1685) montgomery, taylor Morehead State 1003.39359709278
1686) hartman, sarah South Florida 1003.39348244461
1687) arch, mary Iowa 1003.31123668163
1688) morgan, margaret George Mason 1003.17140264871
1689) castro, barkley Marshall 1002.94392634581
1690) hamilt, melanie Georgia State 1002.83098623312
1691) hidalgo, melissa St. John's 1002.7966882621
1692) huggard, katelyn Manhattan 1002.76447980995
1693) schnacker, rita Wichita State 1002.74445963269
1694) eckert, annsley Radford 1002.72499337638
1695) hall, brittney Western Michigan 1002.63464004133
1696) martin, camille N. Carolina A&T 1002.62266942496
1697) sanger, lindsay Pepperdine 1002.60338341372
1698) safranski, megan Wis.-Milwaukee 1002.43312355937
1699) berry, chloe USC 1002.35939513754
1700) bennett, sierra Abilene Christian 1002.23586088593
1701) britten, kiley Seton Hall 1001.88940841702
1702) miller, casey Citadel 1001.88515986984
1703) gilbert, colleen UTSA 1001.45792603546
1704) whetzel, hannah Arizona 1001.28181699822
1705) williamson, colbie East Tenn. St. 1001.08816311568
1706) muhlenkamp , jennifer Youngstown St. 1000.98547717189
1707) gardner, kathleen VCU 1000.97165884159
1708) balmer, bailey UT-Arlington 1000.93514840569
1709) fisher, laurel Fordham 1000.9224845914
1710) phillips, renee San Diego St. 1000.88027534659
1711) lee, erin Kansas State 1000.79398219381
1712) greenwell, kansas Morehead State 1000.76689974625
1713) frausto, alejandra Cal St. Bakersfield 1000.33241840228
1714) polanco, thalia UT-Rio Grande Valley 1000.27046454099
1715) auernig, megan Sacramento St. 1000.11782888389
1716) raymond, olivia Miami 1000
1717) lane, jayla Maryland-Eastern Shore 1000
1718) price , madeline Fairleigh Dickinson 1000
1719) allgood, alexis Nebraska-Omaha 1000
1720) unverfehrt, mallory Murray State 1000
1721) justison, tayler Valparaiso 1000
1722) mcguire , ashley Fairleigh Dickinson 1000
1723) szczepanik, brittany VMI 1000
1724) fuentes, michelle FIU 1000
1725) wyers , madeline Florida Gulf Coast 1000
1726) allen, ashley Longwood 1000
1727) tiernan, delaney Florida 1000
1728) ferrara, amanda Seton Hall 999.878045337266
1729) lyons, percie Radford 999.662700783166
1730) whiting, kimberly Mercer 999.293286653932
1731) northup, sarah LIU Brooklyn 999.255450568087
1732) flanagan, avani Eastern Illinois 999.152120820039
1733) stockton, lauren Houston Baptist 999.127652331478
1734) daly, jennifer USC 999.115567906815
1735) bleichert, dominica Siena 999.036917661916
1736) liggett, catherine Kansas 998.980338997697
1737) whitfield, taya Saint Francis (Pa.) 998.967072220248
1738) mcculley, alexandra UL-Lafayette 998.806470897215
1739) manning, hannah Arkansas-Little Rock 998.734726999444
1740) burnham, madison Detroit Mercy 998.593273224639
1741) villanueva, alma UT-Rio Grande Valley 998.327133407903
1742) mcpherson, maggie Eastern Illinois 998.279156338347
1743) junious, victoria North Texas 997.988799229265
1744) ruiz, alejandra Central Arkansas 997.807563263834
1745) obermeyer, noelani Santa Clara 997.772415643377
1746) ashton, claire Binghamton 997.703082050439
1747) black, lotte Rhode Island 997.610369433412
1748) munoz, anita Florida Gulf Coast 997.290747761063
1749) bryja, ashley Tennessee-Martin 996.902487639052
1750) walsh, macki Troy 996.793778395387
1751) daniels, michele Monmouth 996.719128203594
1752) howat, paityn Missouri State 996.519858685726
1753) shaffer, kelly Liberty 996.382732513177
1754) bohannon, danielle Missouri State 996.250740104357
1755) ferris, jamie Santa Clara 996.191213532182
1756) powers, lauren UC Davis 996.051851711102
1757) kiplagat, caroline Austin Peay 996.038106787094
1758) ryan, tara Loyola (Md.) 996.025129938461
1759) goff, aly SIU Edwardsville 995.934510621545
1760) seales, meaghen Sam Houston St. 995.924537388575
1761) valquier chavez, renata Nebraska-Omaha 995.808969373378
1762) riback, melissa Stony Brook 995.770452777761
1763) schuyler, carly Hartford 995.658379695291
1764) maurer, lauren USC 995.60655223437
1765) koech, ashah Norfolk State 995.524038560299
1766) bernard, breanna SE Louisiana 995.451809633344
1767) leon, neylene St. Mary's (Cal.) 995.307892503978
1768) dwyer, amanda Monmouth 995.007017385077
1769) lienhart, natalie Northern Kentucky 995.001888765361
1770) merrill, hillary Southern Illinois 994.956660268809
1771) lemak, julia UC Davis 994.583306436354
1772) king, sami Elon 994.572527482834
1773) giles, cassidy Tennessee 994.509480789138
1774) fleischer, rebecca East Carolina 994.505258687652
1775) rosati, regina Siena 994.446301175176
1776) duenes, lizzy Sam Houston St. 994.356282023762
1777) higgins, shannan Seattle U. 994.179475967944
1778) tilly, dominique TCU 993.962494275537
1779) mcternan, kaitlyn American 993.880757654046
1780) velasco, pollyanna Hampton 993.547340194468
1781) garcia, serena Cal St. Northridge 993.440637108265
1782) anton, alexis Cincinnati 993.28315072985
1783) lanning, sasha Southern Illinois 993.261395524749
1784) fish, aimee Campbell 993.217026021521
1785) manuel, morgan Kent State 993.147089989797
1786) roberts, briana UMBC 993.057777064541
1787) short, abigail Marshall 992.977750704828
1788) rocker, kaitlin Georgia Southern 992.698086345481
1789) rizzo, serena Siena 992.660611324195
1790) howard, cassandra Maine 992.509404771302
1791) sparrow, emily Winthrop 992.41297758133
1792) jonsson, mikaela Florida Atlantic 992.411696171318
1793) lamori, jennifer Tulane 992.279729884135
1794) saville, madeline Missouri State 992.065281875083
1795) gonzales, gabby UTSA 992.035387540388
1796) delbo, gabby Liberty 991.726508693254
1797) kennedy, cami Northern Colorado 991.413750078749
1798) larkin, sydney Tennessee-Martin 991.262635863678
1799) watkins, shelby Morehead State 991.230588751153
1800) martinez, serena UAB 991.223649614614
1801) mills, megan UMKC 991.19137107289
1802) jacobs, angelica Alcorn State 991.150241281845
1803) elsass, whitley Wofford 991.143882553114
1804) evans, hannah North Florida 991.041789563659
1805) rogers, olivia Drake 991.009680473546
1806) jones, laura Florida 990.976791020312
1807) herrera, jordan Northern Colorado 990.823934831413
1808) leather, ellie Fresno State 990.814900269531
1809) newton, kimberly Cal St. Northridge 990.811105756298
1810) hemb, isabella LSU 990.528159839673
1811) lovick, chinira Albany 990.11281244057
1812) craigo, taylor Marshall 990.070781697189
1813) fitch, madeline Campbell 990.067261971862
1814) lewis, autumn Western Michigan 989.696486049332
1815) bretl, millie Drake 989.669412531499
1816) liell, vivian Wagner 989.525386623888
1817) neglia, sophia Chattanooga 989.451061216044
1818) flores, cindy San Diego St. 989.181754175723
1819) rushford, jacqueline Northwestern St. 988.854612887325
1820) williams, bethany UCF 988.543596791417
1821) aschliman, hannah IPFW 988.401509013055
1822) armfield, anna VMI 988.400805227443
1823) tracy, kayla Coastal Carolina 988.258837314804
1824) frank, danielle IPFW 988.028406561986
1825) broussard, courtney UL-Lafayette 987.939789845968
1826) abreu, yaranel South Florida 987.677067381879
1827) stewart, kaylee Central Arkansas 987.636329654689
1828) fadgyas, rebeka Wofford 987.63497193552
1829) jones, hannah Gardner-Webb 987.519116975947
1830) germann, katherine Valparaiso 987.285611744713
1831) averhoff, alyssa Nebraska-Omaha 987.172189090999
1832) escobedo, karen Morgan State 987.086640433714
1833) carey, sami Fairfield 987.069439984471
1834) maali, xena Youngstown St. 986.792115617313
1835) wheeler, lauren Memphis 986.7507340817
1836) jourdain, emma Maine 986.652747297085
1837) garver, alayna Northern Kentucky 986.521395608763
1838) smithwick, haley UNC-Wilmington 986.477660567078
1839) taylor, jennifer Memphis 986.174485329736
1840) taylor, allison Abilene Christian 986.071102189309
1841) lavallias, sade Alabama State 986.012720172767
1842) chaplin, alana Portland State 985.944987279048
1843) raboin, sydney North Dakota 985.90721507801
1844) ayuen, agok Tennessee-Martin 985.736336839585
1845) chorn, hailey Sam Houston St. 985.704190877752
1846) hart, sally Presbyterian 985.438016818613
1847) young, sydney Morehead State 985.245005520767
1848) cruz , angela Florida Gulf Coast 985.230983395661
1849) little, rebecca LSU 985.130065925101
1850) rowe, madeleine UT-Arlington 985.075618351651
1851) timbrell, allie St. Mary's (Cal.) 985.01045187836
1852) rafter, angelia Central Connecticut 984.982605804845
1853) rosikon, katarzyna Delaware State 984.927060532487
1854) fraust, bianca Cal St. Northridge 984.820533871003
1855) davis, lasean Stephen F. Austin 984.685249221063
1856) hengesbach, aliza Detroit Mercy 984.57032421017
1857) kiser, kelsey UNC-Wilmington 984.559526812013
1858) romero, jessica Oral Roberts 984.529884192577
1859) garcia, karo Nebraska-Omaha 984.463097472868
1860) pacheco, melanie Stetson 984.403004956181
1861) repa, taylor UT-Arlington 984.144932142444
1862) brewer, megan UNC-Asheville 983.921377501234
1863) sanborn, jessica DePaul 983.866989604547
1864) stein , elle Seattle U. 983.835433369409
1865) pitters, derica Mississippi Valley 983.610905902713
1866) plummer, jenifer Monmouth 983.509231679197
1867) eskridge, brielle Houston Baptist 983.370743291344
1868) barnes, taylor Charleston Southern 983.066521884043
1869) murray, kaylie Kent State 982.864512240751
1870) schneider, meggie Stetson 982.75428546545
1871) tranchitella, hailey Western Illinois 982.457756693172
1872) farrell, maura Murray State 982.331105732457
1873) butler, g'jasmyne N. Carolina A&T 982.283556840065
1874) gebretsadik, rahel FIU 982.283387625177
1875) nelson, baylee North Texas 982.283387625177
1876) hodnett, tatyana Bethune-Cookman 982.125337724886
1877) dill, kassidy UNC-Greensboro 982.002159105082
1878) archer, caroline Pepperdine 981.751339195681
1879) crane, rachel Robert Morris 981.129968258679
1880) sitarz, emily Northwestern St. 981.006210948513
1881) silvestri, gabrielle Loyola (Md.) 980.829775530623
1882) mondo, olivia Central Connecticut 980.758830031824
1883) lersch, erica Florida Atlantic 980.608368585212
1884) cummiskey, annais St. Francis (N.Y.) 980.573749628134
1885) baldwin, jade Campbell 980.530203550093
1886) faris, mya Morehead State 980.170358735187
1887) schneider, jahnavi Houston 979.313253623376
1888) ponton, kelsey UMBC 979.074976751346
1889) jenkins, grace Citadel 978.73467269719
1890) burmester, keri SIU Edwardsville 978.302128440708
1891) bobbie, shelby Towson 978.127400150541
1892) kocher, ashleigh Mount St. Mary's 977.88335725659
1893) vreeland, simone Miami 977.72718488158
1894) dyer, samantha Seton Hall 977.633387162893
1895) ballou, kelsey Winthrop 977.598303930061
1896) dejoie, lizzie DePaul 977.59747909446
1897) white, kristen Rider 977.503622933599
1898) eldien, rebecca Arkansas State 977.486013402097
1899) stovall, mary catherine Tulane 977.34924819805
1900) stremler, madison Tennessee Tech 977.253178863013
1901) boyd, keely UC Irvine 977.107909154763
1902) mattson, courtney UMBC 976.956891306736
1903) aguinaga, kelly UT-Rio Grande Valley 976.912876946499
1904) egbeniyi, abike Mid. Tenn. State 976.655912847303
1905) clark, sophia Florida Atlantic 976.445547075791
1906) watson, katie St. Mary's (Cal.) 976.4217281688
1907) ritsema, haley Western Michigan 976.383570745315
1908) heard, emily Northwestern St. 976.377198868673
1909) baba, alexandria Stetson 976.198919853884
1910) poteet, reagan Kennesaw State 975.645121345171
1911) ansell, morgan Youngstown St. 975.571340253745
1912) simpini, adjovi LIU Brooklyn 975.432489722103
1913) thomson, kennedy Chattanooga 975.39103226636
1914) guyer, rachel St. Bonaventure 975.316602270095
1915) breitschwerdt, katelyn Pacific 975.297472261505
1916) limo, fridah Florida A&M 975.036805945351
1917) grier, sydne FIU 974.790417780896
1918) knake, kaya UMBC 974.653103432822
1919) kosiorek, jace Col. of Charleston 974.490284276233
1920) raia, cassandra New Jersey Institute 974.038080104827
1921) knavish, kylie UNC-Wilmington 973.966256246844
1922) goode, madison Western Carolina 973.948550517236
1923) caesar, sarah Valparaiso 973.591142177029
1924) pierie, mackenzie Albany 973.269172650836
1925) colston, danae Southern 973.179198694258
1926) hooper, clarke Mount St. Mary's 972.863631558921
1927) wesolowski, rachael Elon 972.827584353688
1928) o'neill, audrey Loyola (Md.) 972.572747418274
1929) santiago, sienna Hawaii 971.584612050555
1930) estrada, sarah UTSA 971.499302175352
1931) creagh, taylor Coastal Carolina 971.400304866536
1932) van sickle, marina Mercer 971.212514298799
1933) lowe, maddie UNC-Asheville 970.933226507751
1934) keefer, paige Towson 970.911665975973
1935) hastings, margaret DePaul 970.771423403929
1936) mitchell, kate Valparaiso 970.662908234946
1937) kettle, abigail Miami 970.343648469691
1938) tomlinson, alaina Georgia State 970.130990691128
1939) kershner, alexandra Wis.-Green Bay 970.104935606771
1940) olsen, sabrina DePaul 970.081330985974
1941) flores, olivia UTSA 970.0147038576
1942) kibet, priscilla Grambling 969.866235140304
1943) jung, victoria UCF 969.413107219853
1944) naquin, hannah Nicholls State 969.117770436717
1945) isom, kayla Illinois-Chicago 969.072086604369
1946) godfrey, allyson Texas State 968.943196127729
1947) pierstorff, krysta USC Upstate 968.940355993849
1948) smith, malea UNC-Greensboro 968.76885230531
1949) de hechavarria, ashley Colgate 968.125639444082
1950) wooten, sabria Alabama A&M 968.039683558247
1951) sellers, autezia Mississippi Valley 967.542846800947
1952) english, hanna St. Mary's (Cal.) 967.483216781799
1953) reese, omega Oral Roberts 967.051993152271
1954) quintero, mariah Radford 967.031819141658
1955) roper, jacey Western Illinois 967.002443011296
1956) stahl, amanda Pepperdine 966.953313704128
1957) mitchell, dazya Southern 966.080134566372
1958) jensen, jane Marshall 966.025316516635
1959) eligio, heidi Cal St. Northridge 965.892346151012
1960) deleon, grace St. Mary's (Cal.) 965.798464766922
1961) giovanniello, megan Florida Atlantic 965.790889452054
1962) wallace, courtney Loyola (Md.) 965.629797026238
1963) thompson, shamia USC Upstate 965.254655402271
1964) lowry, anna Evansville 965.178802874882
1965) meuleners, janessa North Dakota 964.946457882947
1966) gardner, martha Robert Morris 964.712780461237
1967) sorrell, emily Jacksonville St. 964.562788140473
1968) bowers, tina Colgate 964.430112800257
1969) frausto, alyssa LIU Brooklyn 964.38005451826
1970) fessehatzion, feven Howard 964.351597771154
1971) rios, bryana UT-Rio Grande Valley 963.575618083471
1972) silencieux, stherline Jackson State 963.233311141928
1973) santora, rae Rider 963.001907168939
1974) codispodi, marissa UCF 962.990990898165
1975) schmitt, erin Wis.-Green Bay 962.753044579426
1976) henry, samantha St. Bonaventure 962.707937804605
1977) mccall, briana Sam Houston St. 962.446808029672
1978) mcmanus, lefler UNC-Greensboro 962.427632116416
1979) bautista, ana UT-Rio Grande Valley 962.155683965918
1980) diaz, alyssa Cal St. Bakersfield 961.272508455834
1981) warren, kelsey USC Upstate 961.033050923258
1982) stebbins, kaylee Hofstra 961.010095944562
1983) avers, jordyn Stetson 960.968813557015
1984) stevens, kaitlyn Central Connecticut 960.882931906388
1985) kole, madeline Mount St. Mary's 960.681419659746
1986) thornhill, bethany Charleston Southern 960.550310502682
1987) smithwick, cameron UNC-Wilmington 960.307595117386
1988) rivera, cristal Fresno State 959.706550385827
1989) kartalia, emma UMBC 959.585428659511
1990) kipkorir, sylvia Fairleigh Dickinson 959.191039909564
1991) gardner, faith Maine 958.933714556721
1992) ashley, michaela Troy 958.900528292725
1993) johnson, kassidy Kansas State 958.765176263957
1994) keene, kaitlyn Charleston Southern 958.675812453006
1995) townsley, jordan Georgia State 958.237745545342
1996) hassett, heather Hartford 958.057682323094
1997) green, kingsley Mercer 957.786107182107
1998) mccarthy, nicole St. John's 957.353071076762
1999) calain, chrissy San Diego St. 957.136344911112
2000) kulp, erika Troy 957.039003165944
2001) gattuso, hailey St. Bonaventure 956.895631046288
2002) ott, kate South Florida 956.563042586345
2003) davis, mia USC Upstate 956.349807693051
2004) klinowski, nora Niagara 956.260485676784
2005) hernandez, aimee Prairie View 955.842676960157
2006) benson, sydney Howard 955.706232462116
2007) taggart, nicole South Florida 955.70105063195
2008) beeman, sydney St. Bonaventure 955.623723705734
2009) frank, kendra North Dakota 955.570684933379
2010) jepkogei, stella Fairleigh Dickinson 954.820071808502
2011) callejas, eleana Nicholls State 954.796727952457
2012) ehlen, meta Wis.-Green Bay 954.152501924185
2013) siegle, kristin Rider 954.144430286842
2014) griffin, diamond Alabama A&M 954.073054406853
2015) casazza, gio Hawaii 954.065079546449
2016) whiffen, katie Stetson 953.916936036492
2017) luna, kassandra Sam Houston St. 953.905112393539
2018) mckinnon, bonnie Kennesaw State 953.84692034398
2019) akers, mikayla San Jose St. 953.756747752426
2020) burton, ashton LIU Brooklyn 953.570830415659
2021) fricano, ripley Presbyterian 953.463623347905
2022) kerby, mary Marshall 953.419697038206
2023) shell, keleah Austin Peay 953.369128267031
2024) gardner, hope Maine 953.23167830425
2025) aberson, cassidy Pepperdine 952.753746417304
2026) kay, alexandra Mount St. Mary's 952.670183165715
2027) towianski, veronica Detroit Mercy 952.309331117536
2028) lowe, katherine Troy 952.278061122523
2029) mora, eva North Texas 952.063624389316
2030) rolfe, dasia UT-Arlington 951.684398344451
2031) kelley, megan VMI 951.59761029312
2032) page, shannon St. John's 951.219140839281
2033) tejeda, crystal UCF 951.022802327421
2034) spranger, sydney Southern Illinois 950.908447357716
2035) montgomery, alise Towson 950.891668224393
2036) baynes, alexis Morgan State 950.801630111598
2037) dicristina, kelly New Jersey Institute 950.61187545879
2038) yates, kathleen VMI 950.035430607935
2039) cunningham, baillie UL-Monroe 949.964795193138
2040) quijano, sabrina FIU 949.83680743587
2041) graffius, samantha Marshall 949.492894471832
2042) hubbell, eleanora Maine 949.086756384155
2043) kern, katie Fairfield 948.560986074762
2044) will, shayna St. Bonaventure 948.515127529039
2045) bauer, rachel Morgan State 948.158938240658
2046) gil soriano, maria eugenia Robert Morris 948.026338468561
2047) freeman, achante Alabama A&M 947.990341403406
2048) hardy, jade Howard 947.971367768161
2049) bosler, ashton Evansville 947.893227871772
2050) bacher, alli Hofstra 947.485159562044
2051) richter, olivia UMBC 947.370404053092
2052) barba, sonsoles Cal St. Northridge 947.327219706203
2053) reynolds, kristin St. Bonaventure 947.325766389794
2054) chepkosgei, carolyne UTEP 946.914470081729
2055) reid, khadijah N. Carolina A&T 946.656504645164
2056) aumer , brooke Kennesaw State 946.452274411053
2057) guirey, krystin Troy 946.419101394199
2058) baker, kaeli Hartford 946.350342539121
2059) middlebrooks, quinci Louisiana Tech 946.190379783692
2060) mirkhanian, megan UC Irvine 946.075768171478
2061) chesters, sabrina Hartford 946.065356114787
2062) zarate, sofia UMBC 945.87827351729
2063) green, miranda N. Carolina A&T 945.760261923481
2064) reynolds, jocelyn Portland State 945.317302100923
2065) jostes, leah USC Upstate 945.261370909667
2066) leone, giovanna Coastal Carolina 945.091974662194
2067) tashiro, lisa Hawaii 945.065789519234
2068) rask, tatum Pepperdine 945.02695834546
2069) locklin, autumn Alabama A&M 944.977920136834
2070) cooper, anna Tennessee Tech 944.916538931941
2071) hodge, olivia Radford 944.680502716662
2072) correia, lananda Delaware State 944.153186633308
2073) benavidez, joanna Prairie View 943.801297096072
2074) behrends, leah UNC-Wilmington 943.786972169446
2075) johnson, asia Hampton 942.790205277791
2076) dexheimer, kassidy SIU Edwardsville 942.669900107553
2077) molloy, devin Florida Gulf Coast 942.3914600153
2078) allmark, annie South Florida 942.212896953776
2079) meizen, caroline Bryant 941.861827034508
2080) pedroza, fatima USC Upstate 941.851019392648
2081) fritschi, nadine Robert Morris 941.799468684531
2082) hanley , jessica Florida Gulf Coast 941.63151594404
2083) lucero, andrea UTEP 941.487365658034
2084) welsh, hannah Evansville 940.998811371973
2085) dooley, madison Northern Kentucky 940.925424178658
2086) dioguardi, meghan Colgate 940.524003581336
2087) souffrant, ashley Morgan State 940.244927142703
2088) deaton, kayla Western Carolina 939.953681526956
2089) ledgett, julia UNC-Wilmington 939.571964062662
2090) hayes, taylor Jackson State 939.221031243632
2091) nesbit, christie Long Beach St. 939.115747338075
2092) garcia-arce, bela Pepperdine 939.073359605476
2093) joseph, emma Colgate 937.708803675063
2094) holman, maeve Montana 936.609154468001
2095) prorok, maggie Robert Morris 936.417399113126
2096) sutherland , ariela Fairleigh Dickinson 936.149872918944
2097) webster, stephanie Niagara 935.937761740249
2098) spears, hayley Alabama State 935.669274258744
2099) walters, decara Texas Southern 935.293049075928
2100) bethea-nurse , ajani Arkansas-Pine Bluff 935.293049075928
2101) padgett, kenslee Citadel 935.02644817809
2102) dawson, izzy Evansville 934.953946575443
2103) bounds, julia USC 934.859100485207
2104) graham, ashley Winthrop 934.654498269435
2105) carpenter, alexis Coastal Carolina 934.405593922924
2106) gunther, hannah Colgate 934.207679926924
2107) menzie, madeline Robert Morris 934.136378378657
2108) korsmit , laura UCF 933.912034087136
2109) pirozzi, adria Mount St. Mary's 933.723141216131
2110) davis, sydney Gardner-Webb 933.548127337335
2111) hajduk, natalia Southern Illinois 933.454823305808
2112) elder, alexandra Wagner 932.860516859868
2113) larock, maddie Illinois-Chicago 932.772991219459
2114) campise, breann Bryant 932.338308363073
2115) seeley, lindsay VCU 932.209566863862
2116) mcdowell, javenique Charleston Southern 932.099338987767
2117) williams, alana Prairie View 931.564955904075
2118) brennan, shea Rider 931.561758022701
2119) hoshijo, kai Hawaii 931.329285846547
2120) farren, kelsi Fairfield 930.820182654944
2121) lavin, shannon Fairfield 930.617225973409
2122) bailey, bethanie Mercer 930.192502340805
2123) jepkorir, damaris Bethune-Cookman 929.90276199044
2124) white, rachel Gardner-Webb 929.549957455238
2125) walker, annelis Fresno State 928.980035211088
2126) hill, christina VMI 928.752286413479
2127) lapham, sarah Bryant 928.74520576871
2128) sorilla, jordan Wagner 928.531791134521
2129) wilson, alexia Alabama A&M 928.023196474948
2130) look, ellie Radford 927.778851566407
2131) costantino, elizabeth St. John's 927.148274162297
2132) greenfield, mackenzie Rider 926.996688962896
2133) valentine, anna Fairfield 926.976173998716
2134) guzman, grecia Wis.-Green Bay 926.886793470517
2135) schroeder, mahal Illinois-Chicago 926.412687520279
2136) olson, megan North Dakota 926.313366558254
2137) masuda, chloe Long Beach St. 926.181423576761
2138) buom, nya Jackson State 925.66122322227
2139) jones, denise Sam Houston St. 925.595054721655
2140) haring, katie Houston Baptist 924.9827882509
2141) bryant, diondra St. Francis (N.Y.) 924.681513294985
2142) baldwin-joiner, alana Portland State 924.664080266362
2143) murphy, dinah Prairie View 924.196924694171
2144) targonski, meredith Wis.-Green Bay 923.359848715114
2145) brindley, naomi Radford 922.900847556988
2146) reeves, bethany Citadel 922.647635736744
2147) gallagher, jacqueline St. John's 922.491642247937
2148) tullai, sydney USC 921.935739454656
2149) brown, bernita Bethune-Cookman 921.124598941671
2150) staton, chyna-joi Alabama State 921.111227553762
2151) woodward, sarah-emily Austin Peay 920.963450734143
2152) atara, segree Fairleigh Dickinson 920.741507038768
2153) hackman, courtney Hartford 920.15385259669
2154) shaw, sydney Detroit Mercy 920.098339156455
2155) boone, destiny Mount St. Mary's 920.080017340075
2156) robinson, victoria Kansas State 919.955544163223
2157) ortega, jazmine Jacksonville St. 919.954818920381
2158) williams, casey Longwood 919.549013563837
2159) haney , morgan Kennesaw State 918.91325969082
2160) gazeryan, lusine Hofstra 918.752793266219
2161) burton, elizabeth LIU Brooklyn 918.722422248931
2162) umunakwe, dypna Maryland-Eastern Shore 918.668883486125
2163) patel, roshni New Jersey Institute 918.601970389999
2164) simon, dayja Jacksonville St. 917.937168809565
2165) santorelli, allison Wagner 917.710849841292
2166) wolken, brianna Western Kentucky 917.391554161263
2167) kiekhaefer, caitlyn IPFW 917.209047194599
2168) neeley, jordan Citadel 917.197466418262
2169) wynn, rebekah Tennessee St. 917.160412691411
2170) swanigan, emily Presbyterian 917.103676014082
2171) martin, mckenna Portland State 916.952725133859
2172) grogan, alysse Prairie View 916.951713576588
2173) smith, kennedy UL-Monroe 916.72395599626
2174) boese, megan Hofstra 916.561892280156
2175) heidebrecht, hannah Northwestern St. 916.355367105611
2176) koech, ascar Florida A&M 916.092798837642
2177) mcguirt, christina Gardner-Webb 915.017312667051
2178) harris, callista Houston Baptist 914.865382872444
2179) jelley, chloe New Jersey Institute 914.755125751872
2180) meyer, lauren Evansville 914.399074261343
2181) holguin, sonia Cal St. Bakersfield 914.311647611721
2182) tedeschi, allie Hartford 913.894620676272
2183) flores, amy UC Irvine 913.026654964921
2184) martinez, olympia UC Irvine 912.983339507976
2185) felton, samantha Robert Morris 911.879043904674
2186) douglas, taylor Nicholls State 911.500358079137
2187) cambiasaca, ashley Fairfield 911.325073340739
2188) mezidor, hannah Alabama State 909.127384854809
2189) madison, sophia Alabama A&M 908.876797748106
2190) plough, heather Wis.-Green Bay 908.53707903343
2191) hamel, amanda Hartford 908.431399043859
2192) rodriguez, carla Miami 907.697749803461
2193) grubbs, sarah Niagara 906.945203708171
2194) schwartz, olivia Wagner 906.715524263811
2195) williams, dynasty Alcorn State 906.477763734505
2196) hudson, isabella Northwestern St. 906.440251568241
2197) turlington, amy Gardner-Webb 906.070306478452
2198) crayton, faith Houston Baptist 905.957185298498
2199) mcdowell, valencia Morgan State 905.682072414495
2200) yanez, monica UT-Rio Grande Valley 905.083662077555
2201) sulzbach, shona Citadel 904.592276264796
2202) mcdonald, piper Hawaii 903.966214279913
2203) rivera, j'renda St. Francis (N.Y.) 903.837974123299
2204) boni, kimberley Arkansas-Little Rock 903.13520525063
2205) perteete, avi' tal UNLV 902.607306646446
2206) cadieux, marissa Hofstra 901.837867992838
2207) devaney, denise Presbyterian 901.709213839231
2208) wood, josie UL-Monroe 901.514475447213
2209) cadet, rebecca Charleston Southern 900.987927137426
2210) garcia-hernandez, karen Chicago State 900.780011886153
2211) gilbert, lenneisha Maryland-Eastern Shore 900.615805927714
2212) guajala, allison New Jersey Institute 900.163376882653
2213) knight, camiya Arkansas-Pine Bluff 900.009320090207
2214) williams, michaela Gardner-Webb 899.814499792698
2215) royal, yekeshia Alcorn State 899.761901401768
2216) mueser, kara Towson 899.65316706277
2217) okafor , sylvia Delaware State 898.865563465907
2218) smith, taylor Detroit Mercy 897.943192829654
2219) guenzler, madison Oral Roberts 897.0631496186
2220) hebron, saloni Morgan State 896.803845766113
2221) cole, aubree Jacksonville St. 896.4490760362
2222) cowart, madison Mercer 896.324529205297
2223) espinoza, jovana Prairie View 895.862232260944
2224) ngo, hope Oral Roberts 895.457520751944
2225) roca, claudia South Carolina St. 895.094508600702
2226) kannapel, morgan Western Kentucky 894.805300208958
2227) schvaneveldt, grace Charleston Southern 894.486391906218
2228) crisp, brittainy Western Carolina 893.72610502202
2229) regan, allison New Jersey Institute 893.561580395441
2230) lim, jasmin New Jersey Institute 893.379221768014
2231) hudgins, alyssa Jacksonville St. 892.252600796901
2232) troxclair, courtney Nicholls State 891.128672387889
2233) hood, brianna Louisiana Tech 890.600975093583
2234) lewis, tichina Grambling 889.938372658439
2235) stewart, ayress Delaware State 889.731361003724
2236) cowie, katelyn South Alabama 888.861860268084
2237) berneche, nicole Valparaiso 888.857467017779
2238) dibona, elizabeth Presbyterian 887.571099640013
2239) arreola, ashley Eastern Washington 887.014842150044
2240) freemire, julia Niagara 886.114850681062
2241) coffey, anna UL-Monroe 885.67193315797
2242) johnson, paije Bethune-Cookman 885.59640023595
2243) pevey, lydia SE Louisiana 883.904264097405
2244) wingerter, ashley Louisiana Tech 883.900978473955
2245) barnett, bryanna Prairie View 883.691546672805
2246) aberdeen, nerene LIU Brooklyn 883.346827087541
2247) hughes, kayla Detroit Mercy 883.320886737868
2248) pollock, briana Bethune-Cookman 882.916969677745
2249) neal, kathleen Valparaiso 882.750082402145
2250) biggers, yamilet UNLV 882.483989588068
2251) peterson, mone't Delaware State 882.201090267894
2252) wilson, sophia Austin Peay 881.732474822328
2253) jones, alayshia Texas Southern 879.03694447656
2254) lock, kierstin Bryant 878.609845342844
2255) green, hydia Presbyterian 877.042744921285
2256) williams, aaliyah St. Francis (N.Y.) 876.754585178444
2257) medina, genesis Cal St. Bakersfield 876.592994793438
2258) elliot, hayley Evansville 874.510952121355
2259) ritche- rowley, sade Bethune-Cookman 874.326220628003
2260) turner, latona Southern 873.796834034781
2261) pryor, kayla Tennessee St. 873.711605770944
2262) petroski, kelley UNC-Asheville 873.288488773834
2263) davis , cydney Delaware State 873.2182662098
2264) shirley, jessica Jackson State 872.432620221715
2265) woodson, linei Norfolk State 871.721738331179
2266) pryor, christian Tennessee St. 871.712694123582
2267) fleming, kelsey Stetson 871.386294476014
2268) martinez, emily New Orleans 871.011270508308
2269) deboise, zaahira LIU Brooklyn 870.726521898536
2270) harris , loren Delaware State 870.711244106981
2271) jones, amirah Maryland-Eastern Shore 870.267157735021
2272) ronan, mallory Niagara 869.658963059421
2273) gibson, lunnise Coppin State 868.696177733725
2274) white, destiny UTEP 868.101730783481
2275) ballard, sasha Northwestern St. 867.954106002567
2276) lindley, n'finity UL-Monroe 867.141765405132
2277) bordlee, elise Louisiana Tech 866.797925646993
2278) hill, shaquanda Alcorn State 866.76775213811
2279) evans, alysha Hampton 865.876500486292
2280) bowman, alison Hawaii 865.810132751058
2281) berg, hayley Louisiana Tech 865.63622705547
2282) roney, jessica Maryland-Eastern Shore 865.62956443434
2283) mercer, rylie Western Kentucky 864.780152332598
2284) shell, grenetria Tennessee St. 864.468736707305
2285) king, grace Mount St. Mary's 864.251704485883
2286) crayton, miracle Houston Baptist 864.123912869533
2287) ard, fantasia Mississippi Valley 864.019575945455
2288) schultz, kylee Niagara 862.49090163432
2289) endres, alura Austin Peay 861.862703113241
2290) cook, rebecca Western Kentucky 861.639238952282
2291) allison, brooklyn Grambling 861.459330880399
2292) lane, janice Alabama State 861.0364268745
2293) jones, azalia Jackson State 860.528491346149
2294) carpenter, sarah Austin Peay 859.063328629872
2295) busch, michaela Western Illinois 858.23100284591
2296) wilson, miranda Longwood 856.66567182762
2297) laign, kasey Longwood 856.533703641105
2298) hochkeppler, lill-ann SE Louisiana 855.312379937211
2299) blyly, morgan IPFW 854.321004200901
2300) cristo, taylor Winthrop 853.711649020508
2301) hutcheson, lindsey SE Louisiana 849.451299644942
2302) smith, lanique Texas Southern 848.496353503925
2303) register, tylynn Jacksonville St. 846.113086439161
2304) tyler, tiler Arkansas-Pine Bluff 845.192056611193
2305) elmore, miara Savannah State 841.584116526324
2306) jacquet, gentry New Orleans 841.049371299693
2307) segrest, heather Cal St. Bakersfield 838.778235911115
2308) davis, kenya Mississippi Valley 837.833749419484
2309) lovett, shamaria Alabama State 837.771027440735
2310) orfano, aly Niagara 836.633951709204
2311) brown, devonya Hampton 835.641192285746
2312) goben, kristen Western Illinois 833.036236166359
2313) seabrook, kiana N.C. Central 831.387632536207
2314) duarte, luiza South Carolina St. 831.387632536207
2315) shy, kristie Texas Southern 828.866161634594
2316) barac, lucija Nicholls State 828.71073798482
2317) winters, madison Longwood 828.193237384093
2318) kelly, tyler Arkansas-Little Rock 828.164469766595
2319) dumpson, mya Mississippi Valley 826.787426019187
2320) weiskopf, lorraine SE Louisiana 826.42582374664
2321) ransom, aairiona Western Kentucky 825.095264691981
2322) quarterman, tyneshia Savannah State 824.337989626065
2323) jebet, abigael Grambling 823.662669230137
2324) odom, kyla Tennessee St. 822.794278450238
2325) jarema, justina South Carolina St. 818.554232647432
2326) woods, garesia Howard 817.407236313182
2327) haroon, nikole Texas Southern 816.402489561364
2328) ridle, rashaunda Jackson State 815.710632891223
2329) king, alexia Tennessee St. 814.008280999426
2330) ng, ariel St. Francis (N.Y.) 812.131056649846
2331) jerop, nelly Norfolk State 811.03909848247
2332) harris, latoya New Orleans 810.717330766143
2333) roberts, mckayla Oral Roberts 809.881522177127
2334) jackson, d'airrien Tennessee Tech 809.028837694537
2335) mihajlovic, andjela South Carolina St. 806.670559845465
2336) gant, dajah Southern 804.968629236606
2337) lucido, isabella Oral Roberts 804.430417359213
2338) dieujuste, dauthline Alcorn State 804.283485193338
2339) price, raelynn Southern 802.422523210516
2340) utsey-williams, morgan Texas Southern 801.521272715565
2341) dreyer, destinee Oral Roberts 801.443681809379
2342) thomas, lovasia N.C. Central 800.580070168209
2343) devert, ashley Savannah State 800.030963620359
2344) wallace, erielle Coppin State 799.833669372611
2345) newberry, alexis Howard 798.388172426806
2346) spearman, jasmir Tennessee St. 796.986988114516
2347) jones, carlandra Savannah State 792.960798437052
2348) morales , jomanda St. Francis (N.Y.) 789.887469526375
2349) bass, alanna Alcorn State 787.52835475138
2350) thornton, breanna Georgia Southern 786.142279841689
2351) alexander, tyresha N.C. Central 780.763718469759
2352) cummins, azah Grambling 779.851941374234
2353) derricho, danielle Savannah State 760.419891873843
2354) weyer, noelle St. Francis (N.Y.) 759.599096026549
2355) barrientos, keisy Texas Southern 759.3092833497
2356) wilson, aleah Chicago State 757.908069771419
2357) bennett, tyisha Chicago State 744.968297312504
2358) hooks, daeja Chicago State 743.962209325209
2359) holloway, quiaira Jackson State 743.122971820681
2360) smith, julia New Orleans 731.047878525773
2361) harris, tiyanna New Orleans 722.223196446742
2362) tasher , ashley Arkansas-Pine Bluff 718.365061796883
2363) mcclary, marie South Carolina St. 711.720873717059
2364) baker, jaclyn Winthrop 708.782143057139
2365) henery, jasmine Coppin State 708.278831771472
2366) harris, candyla Southern 703.780985332323
2367) gilliam , summer Arkansas-Pine Bluff 696.040403931462
2368) sharnique, leonce Tennessee Tech 693.947939165559
2369) forte, savannah Coppin State 641.814916011728
2370) couture, natalie Chicago State 637.917726794585
2371) hunter, salonica Arkansas-Pine Bluff 636.010961090213
2372) smoot, jaleesa N.C. Central 602.902641210114
2373) norman, jessica N.C. Central 584.209206311697
2374) bohler, randi Coppin State 541.420828572183
--------------------------
1) kiprop, vincent Alabama 1158.58484694546
2) day, tyler Northern Arizona 1155.81766589751
3) kigen, gilbert Alabama 1155.74271851238
4) baxter, matthew Northern Arizona 1155.55555725064
5) chelanga, alfred Alabama 1151.32696943798
6) kemboi, amon Campbell 1147.33237832434
7) knight, justyn Syracuse 1145.38943811971
8) fisher, grant Stanford 1143.16532883095
9) trouard, andy Northern Arizona 1141.48023095357
10) kirwa, azaria Liberty 1139.77821341013
11) mock, jerrell Colorado St. 1139.28444017706
12) kipkoech, lawrence Campbell 1138.88905292849
13) klecker, joe Colorado 1138.09095584491
14) roudolff-levisse, emmanuel Portland 1137.19925523647
15) thies, jeff Portland 1136.38437995257
16) brandt, robert UCLA 1136.02950280994
17) hauger, nick Portland 1135.99311922651
18) templeton, aaron Furman 1132.45168211464
19) ruiz, clark Michigan State 1132.40037478625
20) mcmillan, connor BYU 1132.38905997528
21) linkletter, rory BYU 1132.1024187343
22) beamish, geordie Northern Arizona 1131.88531188258
23) tate, mike Southern Utah 1131.79277978311
24) maggard, dillon Utah State 1131.5598988487
25) aziz, mohamed San Francisco 1131.3362973203
26) brickell, josh Furman 1131.21559615734
27) solomon, nahom Georgia Tech 1130.54795718923
28) george, alex Arkansas 1129.86682518744
29) rockhold, cole Colorado St. 1129.75786596782
30) seufer, peter Virginia Tech 1129.34899034457
31) clinger, casey BYU 1128.86143607281
32) choge, jacob Mid. Tenn. State 1128.38676825769
33) bennie, colin Syracuse 1128.30636123794
34) reynolds, garrett UCLA 1128.05583720824
35) young, clayton BYU 1127.70172810225
36) ostberg, alex Stanford 1127.67582829571
37) carney, daniel BYU 1126.20081179338
38) johnston, andrew Air Force 1125.68622555044
39) herrera, eduardo Colorado 1125.41806480436
40) tooker, aidan Syracuse 1125.07168846767
41) beadlescomb, morgan Michigan State 1124.98602482963
42) demarest, brent Virginia 1124.49718562543
43) kurgat, edwin Tennessee-Martin 1124.09155665116
44) flanagan, ben Michigan 1123.95885193372
45) kipruto, meshack Campbell 1123.5322076119
46) davis, jonathan Illinois 1123.43430401431
47) grijalva, luis Northern Arizona 1123.37777045881
48) forsyth, ryan Colorado 1123.12016699824
49) thomson, jacob Kentucky 1122.87515454215
50) lomong, peter Northern Arizona 1122.58639777559
51) quattlebaum, james Clemson 1122.40658989096
52) hamer, eric Colorado St. 1122.37779835654
53) hardy, joe Wisconsin 1121.94834558352
54) davey, mickey Air Force 1121.74762825917
55) haller, miler Boise State 1121.59579931833
56) hinkle, tanner Furman 1121.38283527059
57) bruce, jack Arkansas 1121.05818931063
58) green, jonathan Georgetown 1120.84889836093
59) wright, matthew Southern Utah 1120.79740895673
60) palm, alexander New Mexico 1120.75816706124
61) alcock, ben San Francisco 1120.72164840996
62) tobin, sean Ole Miss 1120.59012137961
63) harper, jonathan BYU 1119.80259531349
64) knevelbaard, kasey Southern Utah 1119.35478378294
65) fischer, grant Colorado St. 1118.80957168241
66) germano, philo Syracuse 1118.58447700621
67) teigen, chandler Washington St. 1118.51969156519
68) collins, josh Southern Utah 1117.54160441183
69) barraza, brian Houston 1117.31309326301
70) rotich, emmanuel Tulane 1116.97356307786
71) anderson, tanner Oregon 1116.72908238298
72) lara, frank Furman 1116.62062608176
73) ali, obsa Minnesota 1116.53475092825
74) teare, cooper Oregon 1116.48223342419
75) dressel, john Colorado 1115.88585156544
76) robinson, ryan Michigan State 1115.8825319264
77) hoare, oliver Wisconsin 1115.86391757372
78) jaskowak, daniel Virginia Tech 1115.38684643203
79) benoit, max Michigan State 1114.76584355599
80) fahy, steven Stanford 1114.50823018047
81) veatch, ben Indiana 1114.46094746683
82) carpenter, jaret Purdue 1114.42006883966
83) reeder, troy Furman 1114.02425789589
84) morton, kramer BYU 1113.91380320008
85) webb, caleb Portland 1113.88080479552
86) gardner, andrew Washington 1113.69969417501
87) wildschutt, nadeel Coastal Carolina 1113.60839879867
88) bolger, callum Stanford 1113.1263150348
89) coppi, mason Furman 1112.12809099457
90) dinger, tai Stanford 1111.87133970607
91) marshall, jackson UCLA 1111.60956230993
92) brendel, trent California 1111.5524566594
93) motschmann, johannes Iona 1111.36821012463
94) jordan, andrew Iowa State 1111.31121005669
95) cook, lachlan Virginia 1110.91665163409
96) long, zach Tennessee 1110.87136262159
97) nobles, tom Charlotte 1110.76189902529
98) espino, george Southern Utah 1110.71921853344
99) baumgarten, aaron Michigan 1110.6925830076
100) mora, connor Michigan 1110.66123258739
101) glines, cory Northern Arizona 1110.59293002604
102) kerr, josh New Mexico 1110.5579878293
103) bilvado, jacob Air Force 1110.51987553877
104) chemadi, kigen Mid. Tenn. State 1110.49259493038
105) young, matt Arkansas 1110.39869617422
106) too, david Florida A&M 1110.30214940636
107) guillorel, ars�ne Samford 1110.07742919746
108) abdi, hassan Oklahoma State 1109.98865115072
109) hogan , paul UMass Lowell 1109.25042116543
110) parsons, alek Stanford 1109.0748215315
111) preisner, benjamin Tulsa 1108.72635643285
112) peterman, adam Colorado 1108.57633974312
113) abushouk, bakri East Carolina 1108.52137459551
114) orndorf, logan Portland 1108.34578367819
115) joseph, patrick Virginia Tech 1107.90670094103
116) cross, jordan Weber State 1107.80981661699
117) marston, andrew Villanova 1107.73460141464
118) abert, colin Penn State 1107.51174807993
119) prakel, sam Oregon 1107.32854065321
120) gutierrez, derek Ole Miss 1107.24992742086
121) rogers, alex Texas 1107.22340931315
122) mcguire, wyatt Nebraska 1106.89808157073
123) tamagno, austin Oregon 1106.41563917036
124) neuman, travis Oregon 1106.30919056863
125) o'neill, connor Texas 1106.30475401832
126) dalquist, austen Arkansas 1106.18580204044
127) scott, parker Ole Miss 1106.00294690136
128) kirui, kelvin Campbell 1105.95442762559
129) gilbert, colby Washington 1105.53420648755
130) hurlock, blair Stanford 1105.52250987419
131) gourley, neil Virginia Tech 1105.51084972958
132) coulter, mihret Charlotte 1105.23604367432
133) smith, myles UCLA 1105.15810725215
134) moskowitz, elijah North Carolina St. 1105.11232684791
135) comber, casey Villanova 1104.90421779234
136) tario, andrew Iona 1104.88722709972
137) andresson, hlynur Eastern Michigan 1104.74366129798
138) worley, sam Texas 1104.74013055228
139) haney, blake Oregon 1104.59852034131
140) farris, christian Texas A&M 1104.59216922612
141) barus, sylvester Oklahoma State 1104.41537196594
142) hall, philip North Carolina St. 1104.41007794799
143) harding, isaac Michigan 1104.39211558542
144) perrin, zach Colorado 1104.38303892985
145) morken, nick North Florida 1103.96340135068
146) riba, alex Texas A&M 1103.92508682579
147) lundy, conor Princeton 1103.85802514576
148) stroede, bryce Oakland 1103.73925360829
149) thomas, ryan Columbia 1103.3154299164
150) boit, gilbert Tennessee Tech 1103.25885309314
151) dragon, joe Syracuse 1103.22319283242
152) reiser, jesse Illinois 1103.15704885101
153) hall, wayde Colorado St. 1103.05538151006
154) dee, liam Iona 1102.9126728498
155) reed, aidan Southern Utah 1102.88471135164
156) kirui, gilbert Iona 1102.87933046155
157) corcoran, garrett California 1102.65897195003
158) bernal, daniel Furman 1102.33205959794
159) shipley, jimmy Air Force 1102.19966698982
160) murray, kevin Navy 1102.13887116115
161) eckstein, curt Purdue 1102.12464130692
162) brown, reed Oregon 1101.83963658683
163) kiprono, reuben Portland 1101.77214140663
164) rowe, jack San Francisco 1101.7390232768
165) monogue, kevin Penn 1101.68052675678
166) coleman, jamaine Eastern Kentucky 1101.66162423686
167) kamau, bryan Georgia 1101.63498336825
168) martinez, luis Oklahoma State 1101.461814357
169) begley, patrick Connecticut 1101.2850497239
170) flores, abel Eastern Michigan 1101.27354058389
171) reinhart, trevor Yale 1101.25646251458
172) deluca, dominic Cornell 1101.13609261419
173) hull, talon Washington 1100.97830816456
174) ciattei, vincent Virginia Tech 1100.92074299125
175) fraley, troy Gonzaga 1100.89420125594
176) domangue, justin UT-Arlington 1100.89362335963
177) aouani, iliass Syracuse 1100.88669476312
178) bouchikhi, lahsene Eastern Michigan 1100.76490981173
179) barrett, ben North Carolina St. 1100.52813318737
180) mylenek, nathan Iowa 1100.35886432143
181) gonzales, ethan Colorado 1100.04072423929
182) vasbinder, kenny Columbia 1099.9736496947
183) bund, billy Michigan 1099.53742809449
184) de la torre, daniel UCLA 1099.50887685757
185) withers, james Utah State 1099.32210824783
186) griffith, cameron Arkansas 1099.20754770117
187) mahoney, matt Brown 1099.19639960679
188) fields, brennan Kentucky 1099.14336016902
189) wadhwani, nathan Washington St. 1099.08181218021
190) vennard, michael Boise State 1098.79351969996
191) day, mitchell Wake Forest 1098.76367115154
192) schille, andrew Northern Kentucky 1098.4761505951
193) jones, nathan McNeese State 1098.44208895245
194) finney, jake Washington St. 1098.3086416283
195) hill, ben Michigan 1097.92993095592
196) moussa, mahmoud Washington 1097.62884241983
197) pulimood, nikhil Duke 1097.59970680222
198) sullivan, ryan Youngstown St. 1097.57573830287
199) bistritz, joe North Carolina St. 1097.54709288738
200) aho, john Michigan 1097.49631130615
201) williams, michael Washington St. 1097.41986045491
202) hersha, jesse Michigan State 1097.21499150739
203) valeri, john Army West Point 1096.9755263564
204) mcgowan, timothy Penn State 1096.74898429849
205) zeiss, paul California 1096.71956064703
206) soto, enrique McNeese State 1096.66899591835
207) negri, chris Dayton 1096.63295167765
208) edwards, matthew Belmont 1096.44347910102
209) zarate, diego Virginia Tech 1096.1482088105
210) mau, kyle Indiana 1096.08977834943
211) schreiner, lucky Columbia 1096.08843753766
212) poyner, jacob Lipscomb 1096.04481144446
213) hoffert, jake Bradley 1095.88652257662
214) donley, cory Navy 1095.52744388244
215) langat, vincent Jackson State 1095.52406541841
216) shanklin, ian North Carolina St. 1095.25145871911
217) beattie, scott Tulsa 1095.23795451962
218) monroe, addison Eastern Kentucky 1095.1428742712
219) de backer, manuel Saint Louis 1095.04781144063
220) davila, hunter Arizona 1095.01859721582
221) varghese, ben East Tenn. St. 1095.00930453203
222) romo, jaime Eastern Kentucky 1094.94817483431
223) hockenbury, dominic Syracuse 1094.88861535598
224) miller, bryce UMKC 1094.81350653207
225) madden, thomas UC Davis 1094.74563309552
226) leatham, dallin Weber State 1094.67047167884
227) rutto, edwin North Carolina St. 1094.54675096621
228) hall, michael Florida State 1094.45822235589
229) bouchark, houcine High Point 1094.31145689821
230) smith, zack Illinois 1094.2091496112
231) slattery, thomas Fordham 1094.08482670181
232) hume, carson Colorado St. 1094.08248795943
233) ambrosio, cj Duke 1094.07765611798
234) basten, alec Minnesota 1094.04289896414
235) boyal, swarnjit Cal Poly 1093.97566720301
236) myjer, aubrey North Carolina St. 1093.83498105789
237) meyrer, devin Baylor 1093.80283310266
238) nuguse, yared Notre Dame 1093.78251859083
239) joyce, jack Virginia Tech 1093.60819681952
240) suliman, waleed Ole Miss 1093.31206399573
241) robinson, beau UL-Lafayette 1093.16844798274
242) beattie, luke Utah State 1093.1242310338
243) kaderabek, max Gonzaga 1093.03505397647
244) brown, spencer Georgetown 1092.91597133339
245) santoyo, robert Army West Point 1092.90154157691
246) luciano, christopher Penn 1092.62425851898
247) barney, david Florida State 1092.45834308235
248) mills, charles Texas 1092.38313428081
249) curtin, fearghal Charleston Southern 1091.9926011934
250) baker, alex Loyola (Ill.) 1091.99118629569
251) kauppila, noah Princeton 1091.90951134837
252) dehaven, addison Boise State 1091.83837956898
253) cayo, chase South Dakota St. 1091.74512970775
254) o'donnell, mike Connecticut 1091.64195528636
255) stone, jacob Weber State 1091.63038378297
256) stevens, johnathan Washington 1091.61041441973
257) langat, stanley Iowa State 1091.49876440978
258) manahan, ryan Ole Miss 1091.49740676816
259) trojan, jp William and Mary 1091.28268003542
260) mcleod, kaleb Belmont 1091.15522474553
261) weaverling, chase Virginia 1091.05434009617
262) powell, trent Colorado St. 1091.01946369809
263) magnesen, billy Illinois 1090.96336823518
264) pollard, thomas Iowa State 1090.89570906889
265) churitch, coleman Auburn 1090.84966768476
266) hanna, josh Navy 1090.84830462431
267) schutte, noah Portland 1090.7410552949
268) miller, chartt Iona 1090.63082945974
269) lawrence, charlie Minnesota 1090.5394939059
270) lambert, tyson Utah Valley 1090.4375447052
271) pulliam, kevin Notre Dame 1090.32382262222
272) hughes, ryan Pittsburgh 1090.27591468575
273) rice, john Texas 1090.2196588341
274) brophy, jake Navy 1090.06470045182
275) ho, richard UCLA 1090.05997116881
276) muhumed, ahmed Boise State 1090.05295126432
277) milner, hugo Harvard 1090.02728952806
278) campbell, riley Boise State 1089.9615461512
279) tirba, alaeldin American 1089.94926978057
280) goodwin, sumner Gonzaga 1089.92022081659
281) floydmews, taylor Bradley 1089.86750389389
282) hanawalt, jake Purdue 1089.8650609092
283) carmack, dylan Davidson 1089.84189127158
284) schaub, noah Bowling Green 1089.79383066471
285) makepeace, euan Butler 1089.78828933223
286) liddell, christian Oklahoma State 1089.49589207789
287) berge, andrew Buffalo 1089.46171050555
288) meade, joseph Texas State 1089.42365957575
289) linton, stanley Florida State 1089.38764163313
290) garcia, jared New Mexico 1089.32407264933
291) stifel, evan Ohio State 1089.28595397792
292) george, thomas Missouri 1089.25486625614
293) watkins, matthew Washington St. 1089.21903107661
294) wiebke, derek Minnesota 1089.07854277669
295) bishop, jon Texas A&M 1089.02840318292
296) laari, sampson Mid. Tenn. State 1088.98375074083
297) juan torres, alejandro High Point 1088.72138414958
298) perrin, jake Gonzaga 1088.71527870361
299) uchikoshi, yusuke Boise State 1088.62042672068
300) smeeton, ryan Oklahoma State 1088.56858933833
301) snyder, andy Washington 1088.56583226204
302) lalang, isaac Arkansas-Little Rock 1088.55436281842
303) gleason, george UCLA 1088.54029203171
304) seal, alexander Boston U. 1088.44275739457
305) zabilski, brian Columbia 1088.3893968927
306) keane, barry Butler 1088.370601636
307) avery, cameron Stony Brook 1088.07426748739
308) el-sandali, ehab Iona 1088.02211557992
309) girma, anteneh Norfolk State 1087.86699127399
310) riordan, joe Michigan State 1087.82473039133
311) antolos, jeffrey Canisius 1087.69734327102
312) thorne, j.d. Utah State 1087.57209837523
313) abdulkarim, farah Morehead State 1087.53353942946
314) danielson, spencer Dayton 1087.41421539388
315) bloomer, reilly Georgetown 1087.34434582416
316) mattes, kyle Illinois State 1087.2849365375
317) reilly, patrick Lehigh 1087.23428843814
318) stucker, dwain Idaho 1086.97070772267
319) glen, jonny New Mexico 1086.92144272785
320) bowman, jacob Oakland 1086.91993460237
321) o'toole, garrett Princeton 1086.8997429947
322) zentmeyer, james Liberty 1086.87589790922
323) villarreal, carlos Arizona 1086.75849209858
324) silverman, chase Cornell 1086.72010848119
325) ali, hamza Minnesota 1086.39448548909
326) hally, patrick Penn 1086.26230077162
327) sprague, austin Georgia 1086.15662985528
328) heath, nick Pepperdine 1086.0759466179
329) galassi, rico Duquesne 1086.05090431417
330) burke, sean Boston College 1085.88189078985
331) snider, zack Wisconsin 1085.80462128823
332) stahl, tyler North Florida 1085.79061280782
333) parpart, gavin Washington 1085.70622843487
334) soto, daniel Iowa 1085.65424176209
335) marchinko, zach Charlotte 1085.62264484186
336) okada, takeshi California 1085.58149750796
337) southard, daniel Kentucky 1085.52415729141
338) mcgorty, ryan William and Mary 1085.41405939121
339) hill, bobby Penn State 1085.22415613783
340) lauer, aaron Pittsburgh 1085.09484757114
341) savage, dan St. Joseph's (Pa.) 1085.06286341248
342) paulson, william Princeton 1084.90777064106
343) glavin, donovan Canisius 1084.84604325038
344) hanlon, aaron Providence 1084.75041197691
345) ollar, roman Army West Point 1084.71977334026
346) kuck, nathan Miami 1084.68931990123
347) udvadia, ryan Albany 1084.58406677889
348) henry, christopher Wyoming 1084.43147341473
349) crowe, jamie Lamar 1084.41095583304
350) burdick, kyle South Dakota St. 1084.34204153235
351) harvey, brandon Ole Miss 1084.24818767288
352) limoh, stanley UL-Lafayette 1084.17883467574
353) clausnitzer, sam Iowa State 1084.13816627447
354) hogan, john California 1084.10283099995
355) ocegueda, anthony Utah Valley 1084.02696049502
356) robinson, wesley Tennessee 1083.89223419349
357) rotich, erick Stephen F. Austin 1083.86526117233
358) green, tyson Weber State 1083.7912107078
359) short, josh Alabama 1083.74108490759
360) freyhof, mark Nebraska 1083.72504347982
361) gonzalez, juan Lipscomb 1083.70535637325
362) flavin, jp Dayton 1083.69280162829
363) callegari, michael Florida State 1083.65213793385
364) steinsberger, marc Temple 1083.5460563259
365) hogan, peter Gonzaga 1083.54040832968
366) kutch, ryan Fordham 1083.52572452067
367) lagat, festus Iowa State 1083.34953832217
368) curts, dan Iowa State 1083.32388116767
369) bordash, william Bucknell 1083.2225231759
370) rotich, erick Eastern Kentucky 1083.03047463841
371) wyss, kevin Auburn 1082.97700864246
372) post, austin Nebraska 1082.79311831571
373) wyman, mike Brown 1082.77314338626
374) leverenz, johnny Butler 1082.62100987604
375) torpy, sean Miami (Ohio) 1082.61614676363
376) ciolkowski, nick Elon 1082.47301435613
377) wolk, nick Pittsburgh 1082.29197373939
378) proctor, samuel Liberty 1082.23139805734
379) greder, milo Iowa State 1082.20512596611
380) block, harrison Connecticut 1082.18083956941
381) pittdman, logan Texas State 1082.16833910133
382) schultz, drew Idaho 1081.93347936502
383) moehn, ethan Arkansas 1081.73328019735
384) luevano, paul Boston U. 1081.63236819706
385) harrsen, anton Temple 1081.63030135144
386) burks, kyle Indiana 1081.5074268641
387) lynch, kevin Utah Valley 1081.3404744918
388) davidson, jack Santa Clara 1081.2842553618
389) england, bryce Saint Francis (Pa.) 1081.26539885228
390) ewing, harry Wyoming 1081.14576258444
391) moakler, justin Morehead State 1081.10372232005
392) sullivan, patrick Air Force 1081.09802931786
393) petrella, benjamin Army West Point 1081.00375122646
394) hough, brandon Montana State 1080.86263309182
395) janke, justin Washington St. 1080.83233271821
396) lange, matthew George Washington 1080.79677113993
397) moffett, vann Stony Brook 1080.72392906772
398) nicklason, hugh San Francisco 1080.68488488168
399) hendrickson, adam Utah State 1080.61681828324
400) curles, wesley Auburn 1080.58836148222
401) adgalanis, tyler Dayton 1080.55591366849
402) sanchez-pinto, julian Memphis 1080.54758731741
403) wood, aaron Ohio State 1080.53134545544
404) berriatua, joey Santa Clara 1080.52111936634
405) westog, eric Georgia 1080.48975255003
406) mcgowan, john Penn State 1080.44098916225
407) kelley, bryce Florida State 1080.4273568948
408) corti, craig Wake Forest 1080.35196654119
409) lumbar, matt Butler 1080.26923238733
410) riley, noah Air Force 1080.07039263593
411) viegra, daniel Wake Forest 1080.03575911525
412) szogi, istvan Florida State 1080.00870684758
413) georges, evan Appalachian State 1079.97058579485
414) law, brayden Michigan State 1079.93954852931
415) stone, robert Princeton 1079.93681938827
416) teachen, thomas UMass Lowell 1079.92776614534
417) daly, william Penn 1079.9142287994
418) coston, eric LSU 1079.85066040805
419) ryan, paul Washington St. 1079.7379007146
420) donahue, colton Kansas State 1079.72417152221
421) groff, aaron Penn 1079.44285409257
422) maier, josh Southern Illinois 1079.43230769121
423) taylor, linton New Mexico 1079.27653427228
424) dyer, mitchell Wake Forest 1079.24005952701
425) bryant, ben Samford 1079.14607372035
426) rainey, matthew American 1079.13297401327
427) murphy, joseph Indiana 1079.07965311908
428) cisneros , alejandro Portland State 1079.04710412685
429) hirsch, seth Wisconsin 1079.01476115885
430) tankersley, andrew Air Force 1078.96353532064
431) levermore, kyle Arkansas 1078.84896057104
432) dorflinger, drew Bucknell 1078.71769740518
433) coffey, david Miami (Ohio) 1078.5899175516
434) johnson, evan Butler 1078.54178089408
435) kroon, eric Texas 1078.44950089486
436) gronostaj, kyle Albany 1078.2792698403
437) ferlic, evan Minnesota 1078.21327064917
438) kirshenbaum, jeffrey Lehigh 1078.18064708663
439) ricketts, christian Southern Utah 1078.17198641769
440) dellinger, paul Duke 1078.12099179962
441) karamanolis, marcus Providence 1078.07854270957
442) gade, noah Oklahoma State 1078.04097415634
443) wattleworth, bradley Notre Dame 1078.02643482249
444) gessner, finn Wisconsin 1078.005073167
445) deokar, viraj Princeton 1077.92866481158
446) eidenschink, ben Wisconsin 1077.83357906342
447) pederson, daniel Marquette 1077.82170097572
448) polerecky, jack Loyola Marymount 1077.79971933541
449) rafla, andrew Boise State 1077.79170628179
450) sell, andrew Penn State 1077.54577667008
451) fishburn, phillip Gonzaga 1077.50108898924
452) halsted, scott San Francisco 1077.2854528202
453) wareham, nicholas Georgetown 1077.14279319672
454) perkins, noah North Florida 1077.10948811347
455) collison, gabriel Navy 1077.03924559506
456) roderique, adam Tulsa 1077.03198573641
457) burgwald, theo Purdue 1076.94769096186
458) elrod, john Tennessee 1076.82061341214
459) zuniga, joacim Texas Tech 1076.69908198105
460) martinez, martin Brown 1076.67836053223
461) kibet, evans Siena 1076.54339154804
462) tiernan, jack Wake Forest 1076.48150556783
463) kazanjian, christian Duquesne 1076.42571019023
464) pickle, jacob Texas 1076.36076735249
465) potgieter, warno South Alabama 1076.34828594306
466) garrett, stephen Duke 1076.34467310515
467) kimutai, jonathan UL-Lafayette 1076.31396178222
468) craven, jeremy Purdue 1076.30330631085
469) delcourt, tim Idaho 1076.23271894088
470) doiron, benjamin American 1076.14285703108
471) baumann, hutson Coastal Carolina 1076.03799995601
472) willingham, aaron Maine 1076.00408510622
473) daly, colin Penn 1075.91971133852
474) cruz, nick Stony Brook 1075.90650158486
475) hesse-withbroe, bailey Iowa 1075.89936666618
476) taylor, levi Purdue 1075.84999941588
477) alfond, christopher UMass Lowell 1075.8169674834
478) wilson, jeryck Charleston Southern 1075.77010338029
479) olson, connor Minnesota 1075.75218715693
480) lapsansky, kevin Temple 1075.73839273825
481) miller, alec Marquette 1075.72233504252
482) taylor, brendan Oklahoma 1075.71752310567
483) power, paul Villanova 1075.67859367548
484) burton, jordan Duke 1075.61004914965
485) dale, zach Illinois 1075.58234178958
486) mcdermott, sean Cal Poly 1075.5740276796
487) hatfield, dustin Eastern Illinois 1075.53674780431
488) cotsirilos, peter Cal Poly 1075.50375011526
489) russo, anthony Penn 1075.33231161849
490) caldwell, taylor Ole Miss 1075.27785920307
491) williams, cooper Indiana 1075.2263854602
492) van scoter, jack Georgetown 1075.1063012509
493) wilkins, joshua Northwestern St. 1075.02898755322
494) connell, dawson William and Mary 1075.02694260919
495) meirow, liam Oklahoma 1074.88471280535
496) mcdermott, noah St. Mary's (Cal.) 1074.80560194323
497) willcutts, gannon Princeton 1074.75938747226
498) hardy, deion Incarnate Word 1074.73734844121
499) fayers, matthew Oklahoma State 1074.72001864047
500) day, carter George Washington 1074.67852019745
501) gold, alex Illinois 1074.66873043117
502) cooley, brandon Iowa 1074.66010078664
503) jones, stephen Miss State 1074.60981471184
504) bartlett, avery Georgia Tech 1074.584452539
505) zona, vincent Notre Dame 1074.44361520247
506) millar, bryce Indiana 1074.42124041685
507) davidson, brett Boston U. 1074.33922584959
508) harman, darren Utah State 1074.32572568818
509) holm jensen, kristian Temple 1074.14548196293
510) klau, ari Virginia 1074.13762694095
511) wondaferew, ebenether Texas Tech 1073.94639636686
512) howard, alexander San Francisco 1073.78788156431
513) fridrich, maximilian Drake 1073.74077852152
514) kiptoo, daniel Bethune-Cookman 1073.69421533157
515) pearce, henry Tulsa 1073.52968849669
516) giguere, mikey Cal Poly 1073.51621536551
517) connelly, daniel Stony Brook 1073.5089578599
518) brown, jeremy North Carolina 1073.42677509785
519) ceja, jordy UC Davis 1073.42101589903
520) hamblen, brayden Illinois 1073.22831405567
521) dershem, gable Appalachian State 1073.01363409469
522) mueller, kyle Monmouth 1072.92818225009
523) lozano, isaiah UC Santa Barbara 1072.79440766711
524) lomogda, jonathan Yale 1072.78786874542
525) reniewicki, john Arizona State 1072.75146991655
526) cornwell, alex Charlotte 1072.72143695972
527) cooper, haydon Utah State 1072.72018865534
528) griffith, silas Lipscomb 1072.71305148068
529) corbett, alex Virginia 1072.63646066101
530) duren, joel UT-Arlington 1072.54984023111
531) khaghani, amir Manhattan 1072.42044124034
532) bowman, andrew Oakland 1072.25792273174
533) cortez, garett Incarnate Word 1072.1795100433
534) mcgonnigle, michael Connecticut 1071.93112508194
535) mosel, dietrich Marist 1071.68612378572
536) korir, ronald Norfolk State 1071.67810740448
537) catlett, bryce VCU 1071.59539949384
538) cheruiyot, geoffry Mid. Tenn. State 1071.43270049445
539) mills, kevin Winthrop 1071.31034186118
540) james, oliver McNeese State 1071.30174958636
541) cook, chas Cal Poly 1071.1677013877
542) altopp, gabriel Brown 1071.13471192759
543) hogue, johnny Richmond 1071.08071160181
544) kenefick, timothy New Hampshire 1071.07918105513
545) anderson, ben Purdue 1070.96573821957
546) kosgei, albert Louisville 1070.77910137097
547) shafer, will Dartmouth 1070.76760790569
548) ciaccia, nicholas East Carolina 1070.70378756384
549) simonsen, jacob New Mexico 1070.6607068649
550) maloney, joe Weber State 1070.62556779823
551) gonzalez, jose angel Texas State 1070.52825338572
552) jones, tyler Georgia 1070.52609960642
553) louco, cordon Duquesne 1070.44346160354
554) penrod, zack Wichita State 1070.18840030157
555) gregory, patrick Dartmouth 1070.09404441315
556) abrahamsen, jakob Eastern Kentucky 1070.00828479918
557) michon, zachary St. Joseph's (Pa.) 1070.00355781431
558) mazzei, daniel Army West Point 1069.80599529198
559) medrano, akis Indiana State 1069.77655155899
560) wier, aaron Morehead State 1069.76594433046
561) lowe, mike North Texas 1069.75748241146
562) grady, alex Georgia Tech 1069.48645767244
563) marshall, logan Cal Poly 1069.28474503494
564) diderickson, wyatt Idaho State 1069.24783604931
565) kiprotich, felix Norfolk State 1069.23399884904
566) daly, cameron Brown 1069.19820556876
567) kennedy, brent Notre Dame 1069.09053703442
568) warner, eldon South Dakota 1069.00103855934
569) koch, lukas Kansas State 1068.93733467719
570) pierce, quentin Indiana State 1068.9182369206
571) crichlow, garrett Akron 1068.74967390289
572) fleace, daniel Louisville 1068.66326568564
573) bussard, kyle Ohio 1068.62664362372
574) merder, alex Cal Poly 1068.39729138567
575) cheplak, brannon Tennessee Tech 1068.36437919856
576) mandel, jake Ohio State 1068.3296806178
577) abushouk, dean East Carolina 1068.30280150647
578) thomas, matthew Kentucky 1068.28220687024
579) wagner, tannor Wisconsin 1068.22036645946
580) johnsen, colton Eastern Washington 1068.13528481726
581) doan, nick Liberty 1068.11163724488
582) boffman, raymond St. Mary's (Cal.) 1067.95528053364
583) martinez, goerge Long Beach St. 1067.60515167891
584) novak, matthew Virginia 1067.57328789304
585) too, emmanuel Hampton 1067.5483801015
586) migliozzi, marc Akron 1067.52557476045
587) golebiowski, nicholas Georgetown 1067.36032119756
588) brackman, kyle Connecticut 1067.26980034649
589) kemboi, onesmus Florida A&M 1067.22248465823
590) dove, john Manhattan 1067.05478911026
591) brumfield, jake Miami (Ohio) 1066.99676341254
592) crigger, alex Tennessee 1066.98293541107
593) bartelsmeyer, amos Georgetown 1066.92122783102
594) dunn, nathan Wright State 1066.8931674938
595) ford, ryan Tennessee-Martin 1066.84434583071
596) morgan, grayson George Mason 1066.80713979113
597) chepkwony, hassan Grambling 1066.75601204399
598) irani, arman UC Riverside 1066.73056331607
599) fischbach, sebastian Wake Forest 1066.72155526041
600) kemboi, bill Norfolk State 1066.62712873029
601) pittman, frank Georgia Tech 1066.57682437228
602) harris, liam Providence 1066.50215131447
603) lenneman, mitchell Eastern Michigan 1066.49962276229
604) kemboi, festus Florida A&M 1066.47188361062
605) keslin, tyler Notre Dame 1066.43228304102
606) cousins, seth Indiana State 1065.99706650098
607) bradtmueller, adam East Tenn. St. 1065.98459813878
608) johnson, marcus UMKC 1065.94013109389
609) anderson, eric Baylor 1065.89821026972
610) cardenas, fabian Idaho 1065.70349619422
611) sullivan, tom Duke 1065.61348264246
612) hagan, kenneth Virginia 1065.19668623114
613) manley, kellen Gonzaga 1065.16746725395
614) dorsey, david St. Joseph's (Pa.) 1065.09918551968
615) gibson, patrick Loyola Marymount 1065.07505906369
616) munson, dominick Rutgers 1065.04454675903
617) biondi, chris Stony Brook 1064.96655434307
618) white, seamus Arizona 1064.89951155703
619) wickoren, nathan Wichita State 1064.85991425216
620) munns, matthew Georgia Tech 1064.74291263373
621) allen, jacob San Francisco 1064.68048794183
622) moore, hunter Eastern Michigan 1064.64641379569
623) flanagan, brian McNeese State 1064.57809221647
624) kunzweiler, alec Duke 1064.4212228949
625) seiger, zach Temple 1064.4114983762
626) pfeil, frankie Buffalo 1064.40349602329
627) moll, quinlan UMKC 1064.39104476344
628) romano, dan Northeastern 1064.33209812559
629) landa, hociel Rice 1064.2669396655
630) torpy, christopher Miami (Ohio) 1064.20681092563
631) griffith, brian Notre Dame 1064.06277393234
632) heine strydom, migael South Alabama 1064.04624919853
633) garcia, hector UC Irvine 1063.83053957661
634) stewart, brackin Troy 1063.76737937329
635) shewbert, jacob Navy 1063.55602010848
636) hamilton, william McNeese State 1063.54981353612
637) zeratsion, huruy San Jose St. 1063.47434603601
638) collier, jonathan Butler 1063.46058879253
639) cheruiyot, amos Mid. Tenn. State 1063.38932569732
640) grossman, sean Miami 1063.36081562741
641) kemps, johnny Boston U. 1063.29738382076
642) lamberth, chance Northeastern 1063.24724667738
643) schulte, evan Missouri 1063.15340673183
644) matko, csaba Eastern Michigan 1063.1406992035
645) pschunder, nick Rutgers 1063.09811693154
646) kelly, kyle Stony Brook 1063.07611463741
647) foley, ian Appalachian State 1063.01440829393
648) hedman, bryce Stony Brook 1062.95971831277
649) richardson, paul Samford 1062.95428667435
650) kosgei, antony UTEP 1062.83202774162
651) pectol, wesley Auburn 1062.80038238281
652) klaiber, jon Marquette 1062.74023218746
653) bachman, jeffrey Kansas State 1062.66478528086
654) stricklen, nick Akron 1062.58818535566
655) timm, fynn North Florida 1062.56671056821
656) leitch, mitch Ohio State 1062.51044340136
657) reyna, gj Houston 1062.45796840115
658) green, daniel Marshall 1062.4499282037
659) schaible, peter Loyola (Ill.) 1062.43656400909
660) barr, martin Villanova 1062.42502202499
661) cross, steven Florida State 1062.39280956849
662) bilitz, mitchell Wis.-Green Bay 1062.3666400768
663) bookman, clark Kent State 1062.36025176381
664) miller, logan George Mason 1062.28017182529
665) fambrough, jason UMKC 1062.21190215803
666) bah, mohamed Howard 1061.99505077017
667) melgares, michael Kansas 1061.95843127051
668) bourke, patrick UC Santa Barbara 1061.89569348952
669) longfellow, nathan East Tenn. St. 1061.88722287594
670) kushen, alexander Dartmouth 1061.75356258787
671) fiol, aidan Connecticut 1061.61170370743
672) cook, zach Missouri 1061.47574326321
673) mcmanus, declan Belmont 1061.39560683989
674) khan, steven California 1061.36500618889
675) purdy, liam American 1061.32223599135
676) crilly, collin St. Joseph's (Pa.) 1061.31134937575
677) stewart, zach Eastern Kentucky 1061.28767676855
678) karls, michael Navy 1061.23193942093
679) sandusky, alec Northern Kentucky 1061.21675070869
680) buck, collin Montana State 1061.12264694972
681) anderson, luke Central Michigan 1061.11051059593
682) bailey, owen Samford 1060.90601553747
683) dubrick, marc Missouri 1060.82885905887
684) shabaz, jahanzib VMI 1060.79697112265
685) ketema, abel New Mexico St. 1060.69458721614
686) mcdonald-meteer, dan Brown 1060.63654162554
687) eklin, ian Iowa 1060.58932538502
688) preston, brandt Texas A&M 1060.58871641538
689) murphy, conor Rutgers 1060.54258259931
690) allen, jesse Idaho State 1060.46236358283
691) day, owen Eastern Michigan 1060.44902250235
692) zack, bryan Kansas State 1060.38795634776
693) bull, garrett Alabama 1060.33136992037
694) morro, rob Villanova 1060.23228948624
695) andrade, dino Duquesne 1060.22209236099
696) clikeman, miles Richmond 1060.11561202819
697) berryhill, carlin Florida Gulf Coast 1060.09527290442
698) arredondo, paul Charlotte 1060.0810668531
699) belmares, noe Texas State 1060.06604737609
700) marcuello, sergio Eastern Kentucky 1060.02229080213
701) tarpey, dylan Columbia 1059.90936490516
702) mireles, izzak UC Irvine 1059.89463131604
703) steele, nick Villanova 1059.78478781434
704) breaux, adam Tulsa 1059.75768605047
705) wenning , jonathan Bowling Green 1059.6818213944
706) kramer, blake Indiana State 1059.67682122301
707) davis, bradley Miami (Ohio) 1059.66474702892
708) hernandez, alex Sam Houston St. 1059.62047621283
709) yerrow, ryan Texas A&M 1059.60454895504
710) kachman, william Lipscomb 1059.59333767036
711) sampson, luke Iowa 1059.549715744
712) litoff, zach Santa Clara 1059.4858726097
713) bachman, brett Kansas State 1059.44150306367
714) schaffer, dan Binghamton 1059.40679230922
715) walton, xavier Bethune-Cookman 1059.27972717089
716) orlow, christopher Eastern Illinois 1059.27735659622
717) timmons, bailey Nebraska 1059.21848085734
718) pimentel, sam Cal St. Fullerton 1059.20928578327
719) caldwell, billy Pittsburgh 1059.19394729528
720) clinton, nyle Bradley 1059.1718618501
721) clark, joshua St. Joseph's (Pa.) 1059.12691002867
722) leverone, rob North Florida 1059.07946895957
723) arnold, matthew Lamar 1059.02913312434
724) hintz, daniel Wyoming 1058.89271285266
725) engstrom, erik UMass Amherst 1058.73156700035
726) west, jordan Baylor 1058.64312395804
727) stupak, jacob Bucknell 1058.6343871937
728) baier, george UC Santa Barbara 1058.57762104078
729) dyrland, josh Cornell 1058.53800001503
730) maloy, harrison UMass Lowell 1058.53005611044
731) hindman, austin Missouri 1058.46314387835
732) hansel, graham Liberty 1058.40230754053
733) sprung, sawyer Troy 1058.27637382193
734) hillsman, andre Tennessee 1058.18847707703
735) heppenstall, robert Wake Forest 1058.16534652422
736) silva, jose New Mexico St. 1058.16471030968
737) naeger, ben Saint Louis 1058.11869352718
738) carroll, logan North Carolina 1058.06955401563
739) mallory, brad Oakland 1058.05605282619
740) trainor, austin Central Connecticut 1058.02815848404
741) sussman, chad Bucknell 1058.01909476879
742) wiley, luke Rutgers 1057.95925706666
743) fleming, patrick Georgia Tech 1057.90999997837
744) white, angus Providence 1057.90668002648
745) thorne, travis Arizona 1057.88451165589
746) young, ben Kentucky 1057.88261503271
747) kleam, logan Central Michigan 1057.85082297225
748) leon, jordan Sam Houston St. 1057.84627794822
749) morris, louis East Tenn. St. 1057.79592470463
750) guerrera, trevor Sacred Heart 1057.7478754776
751) murphy, daniel Iowa 1057.73027461799
752) zimmerman, zach Ohio 1057.72077236826
753) peck, ryan Georgia Tech 1057.679437176
754) o'leary, michael Providence 1057.64817854991
755) ansel, ryan Quinnipiac 1057.63986607995
756) mickool, ian Connecticut 1057.59262106024
757) braxton, dajour LSU 1057.58784468983
758) wang, michael Cornell 1057.55041388194
759) kiplagat, henry Jackson State 1057.54083047551
760) yeager, joshua Drake 1057.46013340711
761) keter, elias UL-Monroe 1057.439687365
762) lisoreng, augostine Liberty 1057.42354820782
763) price, collin Harvard 1057.41626458003
764) hawkins, conner Tennessee 1057.30486230577
765) simmons, joe Idaho State 1057.17050481853
766) titon, dylan La Salle 1057.15674768891
767) hess, nikolas Bradley 1056.93333553946
768) flanagan, michael Appalachian State 1056.91524552796
769) saavedra, walmer Illinois-Chicago 1056.91195299679
770) spinks, peter Nebraska 1056.86774107303
771) sugg, tj Baylor 1056.61585508099
772) garst, james East Tenn. St. 1056.57759254889
773) hawthorne, anthony La Salle 1056.5598892103
774) beckmann, mark Central Michigan 1056.48890708525
775) tucker, aj William and Mary 1056.17662349616
776) weber, andy George Washington 1056.15571008486
777) de spong, jordan Nebraska 1056.14130666399
778) burns, alan Youngstown St. 1056.07058568955
779) gagne, daniel Bradley 1056.00168552369
780) dillon, marshall Florida 1055.90425957993
781) thornton, matt North Carolina 1055.74623418096
782) lancaster, trent George Mason 1055.73858258712
783) changco, elijah Sacramento St. 1055.67297709763
784) gardner, charlie Yale 1055.59103879424
785) kelly, cormac Lamar 1055.55238357892
786) seidel, matt Seattle U. 1055.52959129155
787) johnson, bobby Butler 1055.52126923207
788) pederson, koby Loyola Marymount 1055.49027422756
789) myers, mark North Carolina 1055.33138591858
790) beaumont, jack North Texas 1055.23615787097
791) eado, ifa UMBC 1055.22280041315
792) savage, ben IUPUI 1055.22128723763
793) lomong, alex Ohio State 1055.17975926767
794) chauvin, samuel Cornell 1055.15518763007
795) yegon, victor Lehigh 1055.09982551447
796) o'brien, patrick Dartmouth 1055.06465710418
797) duhamel, gashaw Tennessee 1055.0263233064
798) schumacher, dan Columbia 1054.94159063317
799) carson, dray Wichita State 1054.91774098603
800) rimann, colton Weber State 1054.90636761903
801) pelose, greg Boston U. 1054.80400701647
802) smith, jacob Cal St. Fullerton 1054.77734831431
803) cleary, ryan Abilene Christian 1054.73573094981
804) korabik, chris DePaul 1054.65020677002
805) white, kevin Loyola (Ill.) 1054.61506701604
806) makofane, mpho Clemson 1054.57316214625
807) rigsby, shane Morehead State 1054.52801706651
808) kapel, cornelius UTEP 1054.48206103593
809) chelide, brian Tennessee-Martin 1054.29289442762
810) condly, johnathan Temple 1054.2554793494
811) weisel, ben Belmont 1054.19084694752
812) nelson, lukas South Dakota St. 1054.17608903862
813) fisher, tyler Cornell 1054.11704415924
814) eastwood, jonathan Montana 1054.10573815972
815) brown, tevin Akron 1054.07086707161
816) dahmen, tristan Youngstown St. 1054.0060337237
817) norstrom, alex Central Connecticut 1053.92011102897
818) reimer, tomas Cornell 1053.89570154873
819) lecomte, karson Nebraska 1053.88748059651
820) burdett, cullin Boston U. 1053.84433899432
821) maeda, kevin Pepperdine 1053.81767147996
822) loy, colin Appalachian State 1053.80283202372
823) bailey, luke South Dakota 1053.7138947562
824) stone, elliott North Dakota State 1053.71150665295
825) hoover, luke Dayton 1053.63166353033
826) butler, griffin Ohio 1053.60934965544
827) bumgarner, ben Penn State 1053.48414609871
828) tsai, spencer William and Mary 1053.39435354835
829) flores, daniel Grand Canyon 1053.38644398558
830) godfrey, william Idaho 1053.33125947459
831) hans, michael Georgia 1053.28840518176
832) marshall, tyler Vermont 1053.19689943494
833) jones, dorian USC Upstate 1053.11517748017
834) thompson, zac Miami (Ohio) 1053.01686396773
835) gomez, mitchell Auburn 1052.94294727296
836) skolnekovich, zach William and Mary 1052.92403514122
837) mitchell, ryan Monmouth 1052.88919960709
838) moses, jon Georgia 1052.85937577093
839) valenzuela, aaron New Mexico St. 1052.79478441229
840) cash, ryan Indiana State 1052.71692751888
841) swenson, zach Villanova 1052.67451930159
842) mickey, todd Texas Tech 1052.67278800807
843) vanepps, justin Buffalo 1052.63792643645
844) dixon, bradley Troy 1052.60216437955
845) musial, clay Rice 1052.53638476712
846) rosas, david Providence 1052.52341661167
847) danner, alec Bradley 1052.47173741259
848) brancato, william New Jersey Institute 1052.39222291337
849) gasbarri, federico Lamar 1052.21265733148
850) orlando, christopher Manhattan 1052.19024410943
851) perry, jacob Texas A&M 1052.15471781585
852) herrera, alberto UT-Rio Grande Valley 1052.08321104437
853) miller, aric Marquette 1051.98227984928
854) fallon, keith Lamar 1051.9670849677
855) calem, matt Rice 1051.94884471869
856) heinauer, jake Duquesne 1051.84662400783
857) hilbert, liam Buffalo 1051.81173698112
858) braganza, neil Yale 1051.80266668259
859) laverty, sean Dartmouth 1051.79634784821
860) charles, noah East Tenn. St. 1051.73041461625
861) wallace, chris Houston 1051.72444962028
862) glad, cody Weber State 1051.50219593634
863) ramirez, daniel Cal St. Fullerton 1051.49134367833
864) singer, mikey Army West Point 1051.40871535715
865) fransham, nick Mount St. Mary's 1051.37111912206
866) steele, brady UT-Arlington 1051.29776795242
867) keown, nathan UMKC 1051.29002345684
868) forde, tyler UT-Arlington 1051.23982889846
869) schweikert, markus Central Arkansas 1051.06649375325
870) petty, joe Idaho State 1051.03867542313
871) van kooten, jeff Duquesne 1050.98705775279
872) evans, luke Belmont 1050.90084059714
873) breedlove, jeremy IUPUI 1050.77931988657
874) aloiloi, moses Tulane 1050.7692320361
875) kosgei, eli New Mexico St. 1050.65674334015
876) bull, andrew Alabama 1050.65419948562
877) ortiz rivera, victor Albany 1050.61062420408
878) mogos, abiel IUPUI 1050.60463186975
879) crimmins, brian Buffalo 1050.58777705206
880) dipietrantonio, josef Duquesne 1050.58777705206
881) james, ryan La Salle 1050.5609384234
882) cooney, quinn Dartmouth 1050.55557049481
883) koech, titus Toledo 1050.4841543182
884) mortimer, alex Kentucky 1050.46122687589
885) resor, mitch North Carolina 1050.4165894422
886) dugan, aaron Saint Louis 1050.32707626431
887) kimball, liam UMass Lowell 1050.29506423319
888) salcido, ryan Sacramento St. 1050.09988330354
889) irish, miles Dartmouth 1050.09206402053
890) eagan, brad Marquette 1050.01430824951
891) laird, will Yale 1050.01268141626
892) chouati, oussama Maryland-Eastern Shore 1049.84876875147
893) loquercio, justin Missouri 1049.74283393203
894) kunc, grzegorz Kent State 1049.66431084824
895) schulz, brian UC Santa Barbara 1049.62479968799
896) jeandree, julien Central Arkansas 1049.62478447385
897) sharkey, ryan Miami (Ohio) 1049.60250192683
898) carroll, cameron Montana State 1049.58031554451
899) mcmillan, terry Wis.-Milwaukee 1049.57671235766
900) israel, zach Lipscomb 1049.57538775103
901) causey, nickolas Army West Point 1049.44769330456
902) sanchez, jorge Cal St. Fullerton 1049.437869405
903) mackay, jt Miss State 1049.39789675305
904) klemmeck, ben Liberty 1049.36925880021
905) alberico, christian Iona 1049.33054986396
906) brandt, kyle Drake 1049.32854044224
907) foerder, andrew Brown 1049.29817465426
908) haik, spencer Columbia 1049.28334555327
909) ventura, mark Murray State 1049.24507940374
910) kaiser, craig Buffalo 1049.22543555752
911) schmeck, gavin Vermont 1049.13142998657
912) leslie, cooper William and Mary 1049.1044065998
913) naughton, conor Central Michigan 1049.07607858437
914) collichio, dominic UNC-Asheville 1049.0610587139
915) fitzgerald, jeremiah Akron 1048.9837014615
916) shaffer, chris George Washington 1048.96305818003
917) belfatto, anthony Canisius 1048.89125652436
918) bathgate, dawson UMass Amherst 1048.83465514939
919) cronin, jackson George Washington 1048.82184617047
920) domoney, jaymee Charleston Southern 1048.79855226847
921) westfall, noah Santa Clara 1048.69896500624
922) jibb, jack Buffalo 1048.6321361393
923) hampton, chase Lipscomb 1048.57143483918
924) dombi, dylan Youngstown St. 1048.54558711925
925) kemboi, geofrey Utah Valley 1048.53387788097
926) albers, michael Harvard 1048.50754464625
927) demassa, bradford Lehigh 1048.40333247819
928) battershill, will Harvard 1048.32374231325
929) lynch, peter Tulsa 1048.31055041039
930) rogers, austin Tennessee-Martin 1048.12632172666
931) viveiros, matthew Memphis 1047.98868097825
932) schmalz, anthony Montana State 1047.98020806101
933) garriques, brennan Troy 1047.78816965714
934) sarco, gefry Cal St. Northridge 1047.76027993434
935) carleo, jack Providence 1047.69419124358
936) bojorquez, moses St. Mary's (Cal.) 1047.65846085852
937) haas, stephen Northern Colorado 1047.51407544493
938) carvalho, adolfo Rice 1047.46313250312
939) ballard, chase Belmont 1047.32238065557
940) lucci, aaron Vermont 1047.30316657816
941) mcdevitt, billy Penn State 1047.20814368369
942) perry, patrick Yale 1047.19552620347
943) burd, ryan Marquette 1047.17453145708
944) consalvo, tommy Quinnipiac 1047.11126146614
945) cowman, brice South Dakota 1047.10070511806
946) armes, erik Auburn 1047.07400760733
947) holt, niall McNeese State 1046.99593076574
948) cosgrove, daniel UMass Lowell 1046.88546984651
949) hertzog, ryan Central Connecticut 1046.88408159898
950) jaciw-zurakowsky, luke La Salle 1046.75691716224
951) skelly, chris UMass Lowell 1046.66556287343
952) didonna, cataldo North Dakota 1046.59178661039
953) baddour, yousef UC Santa Barbara 1046.5725082481
954) horne, nick East Tenn. St. 1046.35224407485
955) takele, endalow Western Kentucky 1046.14780952926
956) estime, terrell Georgia 1046.07645667026
957) mcmenamin, connor Bucknell 1046.01988259525
958) southard, jackson UMass Amherst 1045.91917281
959) nedrich, james Youngstown St. 1045.83496922705
960) baele, cody Illinois State 1045.71588207479
961) arnold, charles George Washington 1045.5957995685
962) dean, dillon Samford 1045.41134763408
963) phelps, aaron Miss State 1045.35480509184
964) fred, austin Idaho 1045.2520409241
965) gift, nathan Texas Tech 1045.24788413408
966) johnson, jake Albany 1045.24641282384
967) mears, donovan Temple 1045.12079842669
968) clements, cameron Indiana 1045.10786020231
969) carmody, jack Vermont 1045.06254507407
970) muhammad, kendall Kentucky 1044.96645737636
971) nally, rick North Texas 1044.95871136621
972) alvarez, stephen Texas Tech 1044.92724545122
973) maier, chad Manhattan 1044.88461389275
974) guenthner, ryan Cincinnati 1044.85818185055
975) wills, colin George Washington 1044.7707665065
976) cook, brant Central Arkansas 1044.75259989303
977) merchan, michael Cal St. Northridge 1044.74212470235
978) tooke, corey Morehead State 1044.69559700808
979) emery, andrew Clemson 1044.63560564805
980) ollar, grayson Idaho 1044.58304311416
981) pereira, matthew Harvard 1044.58053178623
982) gebelein , ryan Chattanooga 1044.53412470886
983) piotto, roberto Central Connecticut 1044.51636038824
984) wilson, ethan Youngstown St. 1044.48594234884
985) siciliano, ben Bucknell 1044.31601340651
986) harter, joe Wichita State 1044.31138914738
987) blank, kevin Ohio State 1044.208918461
988) blunt, clark Texas Tech 1044.13011867378
989) waters, seth Arkansas State 1044.09680161894
990) font, alec Rhode Island 1044.09073602964
991) birka, grayson UT-Arlington 1044.04349696372
992) zemichael, haben Radford 1044.03772769547
993) walsh, patrick Rutgers 1043.91883320428
994) sandin, william UNC-Greensboro 1043.91809410269
995) huben, dan Cincinnati 1043.91296212858
996) famiglietti, michael UMass Amherst 1043.86178977801
997) alber, michael Harvard 1043.84618157001
998) schenten, jacob Bowling Green 1043.81430075061
999) martingayle, harrison LSU 1043.71292540334
1000) ruiz, marco Rice 1043.65140379056
1001) barrios, gilmar Sacred Heart 1043.58249982319
1002) quintero, jorge Incarnate Word 1043.48853505398
1003) eaton, kaden Belmont 1043.41406022049
1004) reda, andrew Manhattan 1043.30997393135
1005) mundy, donovan Maryland-Eastern Shore 1043.29984780669
1006) may, cj Northern Iowa 1043.11219059835
1007) saina, daniel McNeese State 1043.1014579569
1008) koech, dismas Toledo 1043.05692893348
1009) dozier, nolan St. Mary's (Cal.) 1042.94771377073
1010) evans, matt Ohio 1042.85815638857
1011) gilbertson, brant North Dakota State 1042.85815184691
1012) vincze, jason Vanderbilt 1042.85584525463
1013) mclennan, jordan Loyola Marymount 1042.80759670911
1014) cummings, drew Abilene Christian 1042.72798242968
1015) hutchison, shawn St. Joseph's (Pa.) 1042.64365438789
1016) sponaugle, will St. Joseph's (Pa.) 1042.63669228165
1017) holland, jacob UL-Monroe 1042.55839930223
1018) bell, imran Rice 1042.51497418749
1019) sammy , kipkirui Tennessee Tech 1042.46461526029
1020) cortez, adam SE Louisiana 1042.37756641459
1021) grace, ryan Lehigh 1042.35655670636
1022) clayton, taylor Texas A&M 1042.32564210356
1023) hulzebos, jonathan Florida 1042.29181771459
1024) ranke, tyler Albany 1042.2555156388
1025) stahl, logan Eastern Washington 1042.24833709593
1026) kennedy, michael Marist 1042.22042385071
1027) anstey, jack Illinois State 1042.21846600679
1028) adam, paul George Mason 1042.15638891621
1029) noonan, armstrong Yale 1042.04753264874
1030) sommer, thomas American 1041.91523678542
1031) mustafaa, hakeem N. Carolina A&T 1041.64160980315
1032) spieler, jay Auburn 1041.61767909112
1033) fielding, luke South Alabama 1041.50810486991
1034) polman, tyler Youngstown St. 1041.48724465208
1035) davis, stosh Siena 1041.46810806145
1036) moser, jarod Seton Hall 1041.37214671093
1037) gunzenhauser, todd Charlotte 1041.28247062691
1038) wise, adam Ohio 1041.19216705214
1039) brinyark, james Alabama 1041.17846711579
1040) quinn, daylan UMKC 1041.17552335659
1041) wagler, brendan Grand Canyon 1041.13889336118
1042) gordon, dorrian Saint Louis 1041.1256446227
1043) pecorin, jake DePaul 1041.11964377153
1044) garcia, gage Wichita State 1041.06312354524
1045) santistevan, jereme New Mexico St. 1041.04025044884
1046) cass, kyle Drake 1041.03586880513
1047) bollam-godbott, andre Akron 1040.99119578389
1048) stamm, jacob IUPUI 1040.85967721048
1049) gorthy, joe Kansas State 1040.81553447525
1050) flowers, ben Wichita State 1040.80427987623
1051) borg, preston Central Arkansas 1040.70075626601
1052) burke, liam San Diego 1040.58178478185
1053) randazzo, nick UC Santa Barbara 1040.55526663817
1054) schloth, jonathan George Mason 1040.53606538657
1055) mcdonald, michael UMass Amherst 1040.46640090378
1056) ward, john Clemson 1040.38004211498
1057) davidson, benjamin Santa Clara 1040.17391598843
1058) lee, jonathan UC Riverside 1040.1706783608
1059) janer, jordan Texas State 1040.13106506938
1060) peters, gabe South Dakota St. 1040.02019201426
1061) heck, dylan UL-Lafayette 1039.91501996276
1062) vickroy, carson Kansas 1039.88927388773
1063) tolbert, john Lehigh 1039.74795636656
1064) byrne, billy La Salle 1039.49634326869
1065) tampa, cash South Florida 1039.46272152477
1066) cuyeu, julien Western Kentucky 1039.42528110372
1067) reynolds, jonathan Louisville 1039.36140163705
1068) watson, nathan Chattanooga 1039.19078533436
1069) morton, jackson Pittsburgh 1039.03594610838
1070) smith, dijon Chicago State 1039.02980420953
1071) sabourin, kyle VMI 1039.02953981354
1072) normand, ryan Arizona State 1039.02132896907
1073) demeku-ousman, solomon UC Riverside 1038.83859018904
1074) benedict, kai California 1038.82911411434
1075) warner, derek North Dakota State 1038.79904179615
1076) keditukei, lamek Utah Valley 1038.72260129594
1077) jennings, roman IUPUI 1038.56648006443
1078) garcia, ashton UC Irvine 1038.45844511233
1079) jones, adrian Utah Valley 1038.4496171537
1080) kuciemba, ricky Idaho State 1038.44934041227
1081) clark, tom Dayton 1038.38904785914
1082) coon, ellis Tulsa 1038.36024209787
1083) taberner, kohl Bowling Green 1038.35306482625
1084) mcgee, mar'quise N. Carolina A&T 1038.34490661431
1085) mceneaney, jake North Carolina 1038.29335695779
1086) fredlund, christopher Loyola Marymount 1038.13444885675
1087) ochoa-sevilla, nicolas New Hampshire 1038.11898487914
1088) rafferty, ryan Monmouth 1038.05143054885
1089) vargas, isaac Texas A&M-CC 1038.0009918431
1090) sahli, sam Baylor 1037.98987753782
1091) marcos, jaime Eastern Illinois 1037.96871089455
1092) payne, john Chattanooga 1037.96625632802
1093) fortna, carrick Rhode Island 1037.90783190463
1094) weisberg, henry Arizona 1037.89999874064
1095) bett, festus Norfolk State 1037.78480883555
1096) burgett, rhys UMBC 1037.77335803747
1097) keence, sheldon Missouri 1037.6150015724
1098) weimann, palmer Marist 1037.61102981447
1099) szczesniak, zach Illinois-Chicago 1037.60604847388
1100) benoit, michael Texas Tech 1037.48383232093
1101) law, reno Wichita State 1037.42581924644
1102) nadal, nathan UMBC 1037.30195917719
1103) gonzalez, josue San Jose St. 1037.25302035695
1104) grismer, nick Cincinnati 1037.25250692314
1105) fierro, jonathon Boston U. 1037.23104099333
1106) peynado, mathew UT-Rio Grande Valley 1037.1039673351
1107) glogovsky, owen Lipscomb 1037.05875204627
1108) burrows, ryan Northern Kentucky 1036.97733727132
1109) mattingly, jarrett Morehead State 1036.83141516712
1110) mullen, ryan Clemson 1036.81123209638
1111) olivero, xander Santa Clara 1036.5614826837
1112) dengler, brian Bucknell 1036.50410516915
1113) lawton, cal South Dakota St. 1036.38681849785
1114) anderson, scott Illinois State 1036.36621548583
1115) jutras, hunter George Mason 1036.35577076733
1116) hopkins, will Vermont 1036.35546450637
1117) perez, enrique Houston Baptist 1036.23180449432
1118) kravitz, matthew Lehigh 1036.17488343417
1119) mutai, boniface Florida A&M 1036.02208361231
1120) ewert, ben Louisville 1035.9869697325
1121) grosner, isaac Vermont 1035.7413551818
1122) michalowski, nick Wis.-Milwaukee 1035.56019087935
1123) minor, alex Marshall 1035.49149010494
1124) carrington, jordan Morehead State 1035.44903017719
1125) simon, jacob Seton Hall 1035.43273953539
1126) lefever, zach Pittsburgh 1035.43032541759
1127) cordero, anthony SE Louisiana 1035.33335793343
1128) christensen, joseph Utah Valley 1035.26601632968
1129) williams, levante Prairie View 1035.2027635506
1130) reyes, efren Fresno State 1035.17992116961
1131) schraer, aidan Sacramento St. 1035.11918533588
1132) baratte, andrea Montana 1035.03590406969
1133) adams, justin VMI 1035.03170419476
1134) laughlin, michael Dayton 1034.89055579307
1135) courts, tim Binghamton 1034.84944931496
1136) hazan, alex Davidson 1034.70998573652
1137) kahler, theo Winthrop 1034.6507632171
1138) phillips , tyler Bowling Green 1034.64159875667
1139) cozine, matt Drake 1034.5815874687
1140) rolader, ben South Alabama 1034.55800328976
1141) kidanu, ashenafi Radford 1034.54545637364
1142) downey, michael Wyoming 1034.48311973298
1143) sotelo, ezra Long Beach St. 1034.42028134381
1144) meadows, jeremy Baylor 1034.38889327106
1145) avers, brandon Kent State 1034.27223272052
1146) ragone, charles Albany 1034.22756201535
1147) warren, heath Oklahoma 1034.21013351223
1148) rautter, michael Siena 1034.19421036322
1149) condelario, garrett Idaho State 1034.14920926237
1150) miller, brad Ohio 1034.14240396847
1151) douglass, james UC Santa Barbara 1034.03884706802
1152) holt, eric Binghamton 1033.94967774237
1153) gonzalez, joel Fresno State 1033.94176694522
1154) hector, billy Binghamton 1033.90188976066
1155) lara, gabe Houston 1033.86251789994
1156) hamilton, jared Central Arkansas 1033.82690865044
1157) mathes, tyler Wright State 1033.78371821805
1158) poteet, david Kennesaw State 1033.7070866852
1159) paul, simeon Loyola Marymount 1033.63546477852
1160) suzman, evan Vanderbilt 1033.41467458882
1161) doud, sam American 1033.36079194227
1162) skinner, nicholas Kansas State 1033.27638782288
1163) howell, jake Monmouth 1033.27120617638
1164) buley, grant Sam Houston St. 1033.03586739674
1165) winkler, nicholas Akron 1032.91855387278
1166) hassim, cain Southern Illinois 1032.87662089629
1167) teuscher , ryan Oklahoma 1032.82409729689
1168) stimpfel, bransen Central Michigan 1032.5498989589
1169) koski, kevin Illinois State 1032.52425745964
1170) burchstead, ben Kansas 1032.51592537434
1171) deramus, larry Stephen F. Austin 1032.31387532057
1172) rivas, christopher Marist 1032.30059556734
1173) newland, ethan George Mason 1032.20910369921
1174) klashinsky, cole UT-Arlington 1032.1796279813
1175) modini, brodie North Carolina 1032.11250812524
1176) ramirez, mario Cal St. Northridge 1032.02442064337
1177) kimutai, betwel Mid. Tenn. State 1032.00002622139
1178) scheerer, alec Charlotte 1031.946948693
1179) sharma, ravi UC Irvine 1031.86160764346
1180) conway, samuel UMass Amherst 1031.84624452593
1181) sickler, tyler Sacramento St. 1031.84067317292
1182) hale, avery Kansas 1031.74976233683
1183) boudouris, eli Seattle U. 1031.72785605763
1184) mcfarland, nick Monmouth 1031.67047978989
1185) hogue, alex Marist 1031.56920443467
1186) spear, tyler Harvard 1031.53734151759
1187) kosanovich, malik Howard 1031.52365817429
1188) belay, danniel Rider 1031.45387331623
1189) beitter, jack Florida 1031.39028674673
1190) hager, david UNC-Asheville 1031.26341253157
1191) pacheco, david Cal St. Fullerton 1031.236883924
1192) gebisso, hiob Saint Louis 1031.20974528122
1193) kurdieh, zade Illinois-Chicago 1031.15437202579
1194) waterman, eric UMass Amherst 1031.11396681429
1195) pascoe, bennett Arkansas State 1031.07209079526
1196) mierzwa, henry Marquette 1031.06205240706
1197) albert, aaron New Orleans 1031.03709741174
1198) cotter, alex Wis.-Milwaukee 1031.03296409074
1199) skelly, landon SIU Edwardsville 1030.98978250907
1200) benz, isaac South Dakota 1030.93760621712
1201) barron, evan Stephen F. Austin 1030.86444785823
1202) raefski, nicholas Fordham 1030.68888278673
1203) spriesterbach, marek Texas A&M-CC 1030.65717432629
1204) shields, brandon UC Riverside 1030.59420855907
1205) skinner, marcus Eastern Illinois 1030.48899827361
1206) schmidt, nickolas Marshall 1030.32528866758
1207) patterson , benjamin Kennesaw State 1030.27917634783
1208) gorsuch, andrew La Salle 1030.21754488097
1209) kamph, matthew Memphis 1030.03171863647
1210) schank, nick Kent State 1030.02709484056
1211) valdez, tyler New Mexico 1029.92765307588
1212) powhida, simon Maine 1029.80898183839
1213) burschinger, will Santa Clara 1029.80676194337
1214) pope, charlie San Jose St. 1029.68184276918
1215) livernois, alex Rutgers 1029.56151963449
1216) del valle rutherford, joey Long Beach St. 1029.49674607345
1217) alfredson, corey Indiana State 1029.45543936243
1218) ballow, austin Louisiana Tech 1029.41594769463
1219) ciaccia, andrew East Carolina 1029.379636705
1220) kurgat, stalline Toledo 1029.3197147281
1221) stafford, christian Northeastern 1029.31139552588
1222) oliver, brett SE Louisiana 1029.2845986241
1223) goodman, sam Kent State 1029.23382455556
1224) gay, jonathan Albany 1029.09850732204
1225) laktasic, connor Baylor 1029.09790797064
1226) bentz, isaac Indiana State 1029.0968226234
1227) goodwin, jackson Clemson 1028.99892368362
1228) garcia, kyle Lamar 1028.99323279333
1229) hale, chace Kansas 1028.88882888486
1230) tanner, daniel LSU 1028.82005513541
1231) howard, chase Creighton 1028.80789180584
1232) deck, noah DePaul 1028.80589747087
1233) dohner, bradley Rice 1028.77542365671
1234) lipani, dc LSU 1028.73889542439
1235) wright, jordan Texas A&M-CC 1028.66494721388
1236) agosta, matthew Ohio 1028.51652412797
1237) ulrich, william New Hampshire 1028.50619886649
1238) tecle, daniom Arizona 1028.49774055959
1239) mcgregor, quinlin Stephen F. Austin 1028.28234841114
1240) johnston, luke Northern Iowa 1028.26657538716
1241) glick, daniel Troy 1028.17211603882
1242) euler, tim Monmouth 1028.16505004275
1243) estrada, branden Loyola Marymount 1028.09992775542
1244) mroz, nathan Illinois-Chicago 1028.06488589324
1245) brinkofski, trent Rutgers 1028.0564393305
1246) randall, william Siena 1028.0526773192
1247) ballard, brock Memphis 1027.91454703189
1248) chelimo, alberto Toledo 1027.88496435205
1249) collins, seamus Cincinnati 1027.8227953463
1250) hetherington, alan Hofstra 1027.78026575102
1251) daughtry, calvin UNC-Wilmington 1027.77920443804
1252) thornton, thomas Illinois State 1027.73595197691
1253) celico, nick Rhode Island 1027.70200542015
1254) osipow, ben Boston College 1027.4957245991
1255) meyer, quin UNC-Asheville 1027.39332181972
1256) parmley, matt Houston 1027.37029922981
1257) cheruyot, joshua Tulane 1027.36319618725
1258) garbarino, gabe Bowling Green 1027.35223236431
1259) horvath, jon UC Davis 1027.26410174351
1260) reed, curtis SE Missouri 1027.24094739706
1261) tapia, tristan Northern Kentucky 1027.22128000021
1262) serem, kelvin Lafayette 1027.19541575338
1263) weaver, john South Florida 1027.16532806634
1264) bernard, sigei Tennessee Tech 1027.10577856458
1265) lesko, daniel Maine 1027.01976519084
1266) ferre, cisco Wofford 1027.0036086322
1267) zemp, jack Wofford 1026.99544553724
1268) clark, davis New Hampshire 1026.98350882437
1269) casey, makinnley Radford 1026.89554127966
1270) hennelly, patrick Manhattan 1026.76940158923
1271) santelli, louis Fordham 1026.76447992466
1272) pritts, mitchell Northern Iowa 1026.69805367974
1273) matson, nick Manhattan 1026.58932811065
1274) bowers, joshua Charleston Southern 1026.58094047967
1275) livingston, aidan Vanderbilt 1026.57361627778
1276) wendt, nathan South Dakota 1026.53804187825
1277) ivanecky, sam South Dakota St. 1026.50093434474
1278) kennedy , chase Kennesaw State 1026.42441812347
1279) johnson, kyle Pepperdine 1026.36730880156
1280) white, zachary Saint Francis (Pa.) 1026.28461339362
1281) suflita, paul Canisius 1026.19270104604
1282) dejong, spencer Creighton 1026.16489053112
1283) purvis, zach Florida 1026.16478239427
1284) thomas, sam Davidson 1026.02467997048
1285) young, nash Austin Peay 1026.00766042572
1286) gonzales, erik Arizona State 1025.93905495784
1287) ehlers, david IUPUI 1025.88516854334
1288) boone, zach UNC-Asheville 1025.85351635858
1289) gilbert, hunter Campbell 1025.78708963507
1290) omell, alec Central Michigan 1025.7693116368
1291) hebert, jacques Seattle U. 1025.70874986015
1292) lowery, blake Florida 1025.6874411124
1293) arthur, skyler Illinois State 1025.66334284517
1294) lacroix, will Vermont 1025.5116759779
1295) robertson, ian Davidson 1025.35961151385
1296) jacobs, rickus Arkansas State 1025.31785189503
1297) ramirez, enoch Houston Baptist 1025.17258926446
1298) cook, brian Fordham 1025.16151755163
1299) rogers, jack Florida 1025.15504954736
1300) koech, aaron Grambling 1025.14617167083
1301) hommel, matt Eastern Washington 1025.13115846354
1302) jones, keenan Oakland 1025.07935884105
1303) fahey, devin Houston 1024.83435613233
1304) fairlee, travis Siena 1024.58954914471
1305) abbatiello, joseph Wagner 1024.568460954
1306) heinrich, fritz Fordham 1024.53671305571
1307) sever, james UC Riverside 1024.47436245068
1308) silva, james Cal St. Northridge 1024.37502283338
1309) dejulio, collin San Jose St. 1024.32517173324
1310) matelong, shadrack Austin Peay 1024.32461216925
1311) alexander, paden Montana 1024.24965594955
1312) kiernan, michael Quinnipiac 1024.24330138129
1313) cleveland, alex North Texas 1024.09798142478
1314) beston, zach Boston College 1024.08630578542
1315) gill, jonathan Central Connecticut 1023.9580488217
1316) mcgoey, matt Pittsburgh 1023.93887072467
1317) maher, sawyer Boston College 1023.92579906229
1318) brennan, tom Illinois-Chicago 1023.79638176384
1319) cime, hector Maryland-Eastern Shore 1023.79509966963
1320) biwott, mathew Austin Peay 1023.76512931462
1321) nettleton, colton Saint Louis 1023.76186305729
1322) thompson, joel IUPUI 1023.71846845855
1323) jackson, alex Northern Iowa 1023.56312966256
1324) perez, mario San Jose St. 1023.53316380416
1325) van buskirk, shaun Siena 1023.50857823118
1326) cordova, bryant Seton Hall 1023.43416611727
1327) martin, tyler Incarnate Word 1023.32238738965
1328) toczko, jake Appalachian State 1023.28474315943
1329) ohnstad, jacob Creighton 1023.25943823055
1330) terry, jacob Maine 1023.13743206777
1331) lay, tyler Eastern Illinois 1023.10380314805
1332) orihuela, israel Incarnate Word 1023.09371853065
1333) spooner, josh St. Mary's (Cal.) 1023.02025869325
1334) tuzzio, robert Holy Cross 1022.92936433916
1335) hamilton, jaron Central Arkansas 1022.85114214823
1336) knapik, garrett Xavier (Ohio) 1022.81694420945
1337) jones, tim North Texas 1022.75998617008
1338) romero, jeremy Northern Colorado 1022.71469195415
1339) manzano, juan UT-Rio Grande Valley 1022.65719061564
1340) hautz, jack Xavier (Ohio) 1022.60577853539
1341) berling, raymond Bowling Green 1022.53103748947
1342) strosko, michael Saint Francis (Pa.) 1022.38731451333
1343) mitchell, andrew Grand Canyon 1022.33345889414
1344) lagarde, logan UL-Lafayette 1022.33335038731
1345) o'callaghan, grant SE Louisiana 1022.15219891447
1346) hoppel, bryce Kansas 1022.0412364926
1347) pausic, dylan South Alabama 1021.99495095665
1348) bartholomay, alex North Dakota State 1021.97589152696
1349) lewis-graham, brandon Northwestern St. 1021.89199433314
1350) bennett, luke Appalachian State 1021.87236143604
1351) mcqueen, chase Arizona 1021.83677770628
1352) diaz, faustino Long Beach St. 1021.80429012208
1353) broom, james VMI 1021.72896049955
1354) draney, james Marist 1021.69635021456
1355) slichko , lance Seattle U. 1021.58560856595
1356) pudner, nate South Alabama 1021.4846423436
1357) akakega, john Maryland-Eastern Shore 1021.48168613941
1358) handfield, andrew Sacred Heart 1021.42566190274
1359) gonzalez, erik Arizona State 1021.32725197335
1360) moses, logan Maine 1021.28398940632
1361) sanders, chris La Salle 1021.14492316558
1362) kepler, calum Wyoming 1021.06390199799
1363) gentry, zach Oklahoma 1020.94069749174
1364) britt, mark Chattanooga 1020.88696882933
1365) nettles, charlie Cal St. Northridge 1020.80366092325
1366) bockoven, benjamin Xavier (Ohio) 1020.77835220369
1367) chamberlain, gannon Montana State 1020.71142226759
1368) trevino, eduardo UT-Arlington 1020.64902833521
1369) garbier, james Northeastern 1020.56732798745
1370) kiptoo, hezron Austin Peay 1020.54615992854
1371) ryan, james DePaul 1020.50966643501
1372) gillespie, blanton UNC-Asheville 1020.46931792586
1373) pickett, caleb Stephen F. Austin 1020.44706369767
1374) demeulenaere, riley Loyola (Ill.) 1020.39557339619
1375) ubaldo, javier San Jose St. 1020.38405462058
1376) moore, jeffrey Sam Houston St. 1020.35146582892
1377) o'meara, maximilian Loyola (Ill.) 1020.34866865355
1378) poole, frisco Radford 1020.34130204476
1379) may, dillon Montana 1020.30561381896
1380) millson, jesse Florida 1020.16207556659
1381) wilkes, james New Hampshire 1020.04433791199
1382) stockings, james Lamar 1020.0337444587
1383) kane, matthew UMBC 1019.95787584246
1384) loehner, timothy Sacred Heart 1019.90005213678
1385) eipp, justin UC Riverside 1019.84700419116
1386) wuori, connor Oakland 1019.83051758007
1387) scarbrough, taylor Western Kentucky 1019.82026639527
1388) geraci, matthew New Hampshire 1019.81642924068
1389) griffith, colt Clemson 1019.71542080912
1390) queyrou, leo North Florida 1019.71264570693
1391) sappey, henry Monmouth 1019.65059275243
1392) weaver, zach Miss State 1019.56799723677
1393) kunkel, patrick Ohio State 1019.53509237063
1394) taubl, charles Central Connecticut 1019.52072582293
1395) o'hara, john Siena 1019.51968885482
1396) smith, daniel Tennessee-Martin 1019.51506599313
1397) rogerson, joshua Northern Colorado 1019.42607772713
1398) keller, brian Northeastern 1019.40028709943
1399) mcglothlin, owen Texas State 1019.33544406403
1400) medina, emilio Arkansas-Little Rock 1019.24200903378
1401) may, jon Bradley 1019.22570920064
1402) kvidera, scott North Dakota 1019.17216563354
1403) timmerman, dillon Northern Iowa 1019.14405175844
1404) mangus, michael Northern Kentucky 1019.10195560277
1405) medina, uriel Cal St. Fullerton 1019.08761889801
1406) brown, nicholas New Hampshire 1018.99093318987
1407) beck, arye Stetson 1018.94819986512
1408) evans, christopher Mount St. Mary's 1018.90409355281
1409) denomme, kyle Texas State 1018.89034052984
1410) gabig, ian Saint Francis (Pa.) 1018.8448069193
1411) abbkar, abbas Savannah State 1018.80767159903
1412) arias, carlos Houston Baptist 1018.74598428478
1413) salter, josh Samford 1018.64785203411
1414) gray, wesley Austin Peay 1018.38597852164
1415) taylor, jerald Wyoming 1018.31000292137
1416) woodard, austin SIU Edwardsville 1018.1879083897
1417) wolfenden, kaleb Bethune-Cookman 1018.17905168956
1418) pack, cameron Savannah State 1018.17905168956
1419) galanes, gavin Murray State 1018.10344549859
1420) hodges, tyler San Diego 1018.08488519958
1421) irish, tristan Northern Colorado 1018.04629241477
1422) barton, alex IPFW 1018.03744102368
1423) daly, scott Fairfield 1018.02409855029
1424) hillquist, jason Cal St. Fullerton 1017.96132704211
1425) ritchie, ramsay Davidson 1017.83592804014
1426) ellington, micah VMI 1017.78757498693
1427) richards, bryce Kansas 1017.77109335586
1428) pruim , cole Florida Gulf Coast 1017.6432033711
1429) mest, michael Eastern Illinois 1017.49832846805
1430) somerville, thomas Saint Francis (Pa.) 1017.47230427735
1431) crowley, patrick Canisius 1017.39734438168
1432) phillips, sean Fordham 1017.31635905193
1433) collins, riley Montana State 1017.25497331009
1434) salek, zachery Saint Francis (Pa.) 1017.24437077529
1435) price, ronan Eastern Washington 1017.00522051599
1436) hanson, alex Central Arkansas 1016.88694578156
1437) zacharias, luke Miss State 1016.87230114939
1438) campbell, josh Northern Colorado 1016.81818832579
1439) lawson, colton Elon 1016.75724662344
1440) zombory, steven Cincinnati 1016.70606588916
1441) rodriguez, jon UC Irvine 1016.7001179279
1442) mcdavitt, brian Boston College 1016.57991065183
1443) rugut, noah Grambling 1016.51832431883
1444) owens, tyler SIU Edwardsville 1016.51568035458
1445) schank, connor North Dakota State 1016.43911786895
1446) prunty, joseph Holy Cross 1016.31249865773
1447) killian, conner Louisiana Tech 1016.11668832777
1448) bostian, jordan Western Carolina 1016.08323922578
1449) dale, nick Arizona State 1016.07779637633
1450) moehringer, james Marist 1016.05418009981
1451) hawkins, elijah UMBC 1016.02841515013
1452) cabrera, carlos Illinois-Chicago 1015.94084131924
1453) miller, tyler Northeastern 1015.90897579452
1454) frantal, jalen Pepperdine 1015.73990475231
1455) coccia, jacob USC Upstate 1015.63036530872
1456) smith, ethan Northern Iowa 1015.51688396387
1457) jones, will Davidson 1015.46488534791
1458) yunk, eryk Miss State 1015.29348129738
1459) carder, john Arkansas State 1015.2352415688
1460) craw, ben Miss State 1015.22602114181
1461) guerrera, brandon Seton Hall 1015.18383981316
1462) holihan, joshua Northeastern 1014.51686213462
1463) von dohlen, john UTSA 1014.39342164225
1464) kasper, richie Elon 1014.25976379585
1465) peterson, kyle Montana 1014.11179879014
1466) bennett, matt UMBC 1014.11128935045
1467) conlin, sean Saint Louis 1013.9507838644
1468) doran, connor Canisius 1013.91293395122
1469) kemboi, daniel Toledo 1013.91167588041
1470) frimodig, jack UC Riverside 1013.82355672757
1471) cunningham, james Citadel 1013.76148735722
1472) beard, leon Longwood 1013.54724237194
1473) morris, jack Boston College 1013.44055411855
1474) carver, jake Davidson 1013.19989045241
1475) stephens, richard Seton Hall 1013.13101148354
1476) pedrotti, james San Diego 1013.07998734613
1477) drew, micah Montana 1013.05438974594
1478) kesy, michael Wyoming 1012.91798023092
1479) dodson, andrew Tennessee-Martin 1012.78650057696
1480) zervigon, carlos Tulane 1012.75177635249
1481) durkin, james Memphis 1012.75019724458
1482) bobo, john North Florida 1012.49541502854
1483) melly, hillary Stetson 1012.45642411668
1484) riley, connor Rider 1012.36100839791
1485) burton, henry Canisius 1012.31764460995
1486) shilleh, moetiz Sacred Heart 1012.10523580714
1487) little, thomas UNC-Asheville 1011.97703277114
1488) thomas, harrison Vanderbilt 1011.97286547035
1489) bailey, griffin SE Missouri 1011.90695028629
1490) anciaux, matthew Grand Canyon 1011.76614443772
1491) gromer, preston Pepperdine 1011.66982569654
1492) garner, wade Arkansas-Pine Bluff 1011.65996381024
1493) henne, jacob North Dakota 1011.60005543118
1494) todd, jacob UNC-Asheville 1011.57794012527
1495) lewis, jackson Arizona State 1011.50249054983
1496) amenzou, imad Arkansas-Little Rock 1011.3259606862
1497) kirkland, zach North Texas 1011.31257986271
1498) lantz, michael Citadel 1011.28247935278
1499) vitucci, michael Cincinnati 1011.26148293385
1500) nelson, jp Arizona State 1011.13600585461
1501) widenhouse , cristian Wofford 1011.05602602309
1502) miller, conner Abilene Christian 1011.01700744031
1503) kole, isaac Mount St. Mary's 1010.93348633537
1504) long, tom Rider 1010.8617496743
1505) holsten, jonny Grand Canyon 1010.71823375733
1506) hanna, isaiah Western Carolina 1010.47460209082
1507) moreno, cesar Incarnate Word 1010.44945703977
1508) hanson, watson Colgate 1010.22586740479
1509) alexander, hayden Charleston Southern 1009.94781782332
1510) nosker, branden Cincinnati 1009.74493480473
1511) jean-baptiste, isaiah Rider 1009.6564656818
1512) meyer, desmond Chicago State 1009.61960208243
1513) jones, evan UNC-Wilmington 1009.54898765796
1514) vara, jonathan Southern Illinois 1009.46866615419
1515) zavala, david Sam Houston St. 1009.27721911661
1516) bruce, patrick San Diego 1009.27239358975
1517) hassim, theo Southern Illinois 1009.2226862639
1518) roy, alex UNC-Greensboro 1009.10868180383
1519) flannery, tyler Seattle U. 1009.08704079333
1520) lockwood, trevon Sacramento St. 1008.75414836262
1521) ahlrichs, ben Northern Iowa 1008.61869394127
1522) babatz, evan South Florida 1008.58365142133
1523) shipley, jeremy Citadel 1008.57621782076
1524) parker, sean Mercer 1008.50025817828
1525) kipkemboi, andrew Tulane 1008.46428420972
1526) yanez, brian UT-Rio Grande Valley 1008.28288385621
1527) rehm, domenic Eastern Washington 1008.2001253823
1528) figueroa, jan Florida Gulf Coast 1008.0563549011
1529) pina cardona, siro High Point 1007.97122362647
1530) maguire, joseph Rhode Island 1007.72572695846
1531) howe, nathaniel Binghamton 1007.49305934177
1532) garner, ben Samford 1007.03277412136
1533) ethridge, jake Chattanooga 1006.97027742696
1534) ayala, sam UC Irvine 1006.8587351914
1535) thornton, corey Wis.-Milwaukee 1006.8311152248
1536) sullivan, sean Boston College 1006.78949083205
1537) cisneros, juan Radford 1006.75377841097
1538) elam, kiernan UC Davis 1006.71515478004
1539) femmer, george UL-Lafayette 1006.48194698733
1540) doherty, andrew Oklahoma 1006.45530180874
1541) kontos, nick Rider 1006.35652875673
1542) van geffen, caleb Vanderbilt 1006.34683003085
1543) salazar, angel Grand Canyon 1006.16779049937
1544) groves, darius Northwestern St. 1006.12668273239
1545) dolan, tommy Eastern Washington 1005.85104744129
1546) spare, joshua East Carolina 1005.79027907327
1547) baker, john Abilene Christian 1005.75723371153
1548) guiry, richard Chattanooga 1005.71455959704
1549) nicol, mason Eastern Washington 1005.37094953899
1550) fraeyman, adam Detroit Mercy 1005.3421031749
1551) gill, matthew Binghamton 1005.33393597922
1552) larson, jeff Seton Hall 1005.11034478901
1553) wallace, kenny Loyola (Ill.) 1004.98043112474
1554) hawkins, reid North Dakota State 1004.93944904181
1555) macintyre, charlie DePaul 1004.90378613903
1556) slack, tim Rhode Island 1004.71535272128
1557) lustig, max American 1004.57241861007
1558) ott, bryce Kent State 1004.54622013015
1559) crone, ryman UC Davis 1004.41654664822
1560) gallagher, bryan Holy Cross 1004.36273269554
1561) pierce, willy Hartford 1004.31968646776
1562) mcclarty, alex Louisville 1004.25817088551
1563) dewitt, jacob Southern Illinois 1004.08516339458
1564) aguilar, stephen Houston Baptist 1004.00672192962
1565) gotfredson, duncan Presbyterian 1003.95250419512
1566) southard, jesse Seton Hall 1003.88810503654
1567) rotich, noah Fairleigh Dickinson 1003.83938739558
1568) wikler, justin Portland State 1003.59364074651
1569) atwell, james Cal St. Northridge 1003.57899894444
1570) nichols, travis Abilene Christian 1003.57274611614
1571) moore, jonathan Bethune-Cookman 1003.32315560884
1572) tucker, justin Western Carolina 1003.31453393941
1573) micheal, sam Kent State 1003.23922329993
1574) grudzwick, richard Central Connecticut 1003.18796514982
1575) irvine, andrew Vanderbilt 1003.15280055291
1576) noble, sidney Valparaiso 1003.12499496535
1577) harless, brady Xavier (Ohio) 1003.00428478286
1578) macias, marcos Tennessee-Martin 1002.95218750071
1579) contreras, blake Houston 1002.94192358599
1580) fantaye, tomas Norfolk State 1002.8203346313
1581) bellard, andre UL-Lafayette 1002.81532360509
1582) shelevy, elmer Portland State 1002.69760276194
1583) oeters, josh Toledo 1002.62247665249
1584) biehl, joseph Grand Canyon 1002.54576769999
1585) huff, adam Charleston Southern 1002.30434676904
1586) campagna, alex Holy Cross 1002.25914973847
1587) neeson, michael Lafayette 1002.21983054841
1588) pettinga, zachary Oakland 1002.14231712641
1589) horne, joshua Maine 1001.95136048201
1590) winski, christopher Incarnate Word 1001.78738929958
1591) saffadi, alexander Loyola (Md.) 1001.78540463188
1592) vonn, hannes Tennessee Tech 1001.7182947219
1593) kimbell, mason St. Bonaventure 1001.61376532397
1594) burciago, patrick Long Beach St. 1001.42253245702
1595) hernandez, abraham USC Upstate 1001.42172330011
1596) heikkila, tim North Dakota State 1001.39309653751
1597) johnson, erik Wis.-Green Bay 1001.27224610315
1598) abbott, jonathan Colgate 1001.24969361321
1599) southard, andrew Coastal Carolina 1001.12768345149
1600) maule, jayson Portland State 1001.01193516355
1601) labadie, mason St. Mary's (Cal.) 1000.90390250121
1602) halpern, mitch Binghamton 1000.71714216221
1603) munsterman, ray South Dakota St. 1000.66882525953
1604) vandine, andrew Montana State 1000.54086676683
1605) thomson, tristen Sacramento St. 1000.54085359746
1606) delaney, blake Seattle U. 1000.47171551925
1607) hagert, sean Miami 1000.40743709226
1608) meli, stanley Maryland-Eastern Shore 1000.35538322336
1609) mclain, james New Mexico St. 1000.3117991697
1610) beatty, justin Hampton 1000
1611) whitener, andrew SE Missouri 1000
1612) hvidsten, austen Portland State 1000
1613) yanez, luiz Prairie View 1000
1614) hazoor, shehayar St. Peter's 1000
1615) bania, ian Colgate 1000
1616) notice, jazire N.C. Central 1000
1617) scott, jamario Tennessee St. 1000
1618) irby jr., quintsontro Tennessee St. 1000
1619) miller, timmy Evansville 1000
1620) mclaughlin, charles Rhode Island 1000
1621) lascelles, jermaine St. Peter's 1000
1622) lacomble, robbie TCU 1000
1623) podgaisky, bogdan Gardner-Webb 1000
1624) vinacco, matthew Rhode Island 999.968135102706
1625) touhey, justin Pepperdine 999.914472207687
1626) bailey, nick Northern Colorado 999.843577217052
1627) brooks, matt Wis.-Milwaukee 999.82524394127
1628) fernandez, carson Radford 999.766881014245
1629) luevano, martin UTSA 999.699176592475
1630) murphy, hayden North Texas 999.692500103487
1631) tellier, noah Bryant 999.679640726732
1632) turner, vince Murray State 999.668039781967
1633) besselink, jonathan Wagner 999.662819991279
1634) alpaugh, william Richmond 999.508192085607
1635) youberg, mason Louisiana Tech 999.407523166267
1636) lanza, ben Quinnipiac 999.231290712796
1637) degraaff, kyle Idaho State 999.221674779379
1638) unger, bret IPFW 998.950292367934
1639) culley, lucas Colgate 998.9078754675
1640) rodriguez, juan UNC-Greensboro 998.703931325987
1641) tewolde, ermias Savannah State 998.46556924939
1642) stubelt, brian Toledo 998.424906717992
1643) lance, brady St. Mary's (Cal.) 998.258357350676
1644) akright, andrew Charleston Southern 998.206824992147
1645) kennedy , kyle Seattle U. 998.121977860624
1646) poole, keaton Gardner-Webb 998.084090189356
1647) skucas, martin Illinois-Chicago 997.999484386875
1648) liebmann, nicholas San Jose St. 997.920910535971
1649) camps, austin South Florida 997.892743649143
1650) george, adam Miami 997.527442573091
1651) olivier, brett SE Louisiana 997.511592117813
1652) stangle, trevor Long Beach St. 997.466323005367
1653) austin, aaron Prairie View 997.372175319024
1654) mohammed , ababu Tennessee Tech 997.075717846494
1655) sepulveda, pedro UTSA 996.79936125113
1656) smart, eric UMBC 996.722453009437
1657) serna, jose UT-Rio Grande Valley 996.721528089778
1658) atakilti, sahlu Savannah State 996.654967359158
1659) mccullough, geoffrey Hampton 996.272434283012
1660) villagomaz, michael VCU 996.178476187855
1661) remington, isaiah Northern Colorado 996.176550340578
1662) deem, hunter Marshall 996.139635555161
1663) araiza, rogelio Arkansas-Little Rock 996.101000926069
1664) migliorati, stefano East Carolina 995.823591344054
1665) poholek, ryan Bryant 995.779458929218
1666) lake, andrew Wright State 995.755460226275
1667) hackman, brian Saint Francis (Pa.) 995.725143698835
1668) mccann, james Detroit Mercy 995.663639725242
1669) smith, tyler Austin Peay 995.653707829521
1670) gill, gerard New Jersey Institute 995.617529956695
1671) nunez, mateo Loyola (Ill.) 995.509986546011
1672) sessoms, terrence Savannah State 995.451523748804
1673) kawasaki, caleb Murray State 995.397679070454
1674) simmons, jacob South Dakota 995.33805478889
1675) bertschy, montgomery UTSA 994.755754252962
1676) hinz, zach San Diego 994.679025501374
1677) vargas, manuel Cal St. Northridge 994.568424642115
1678) jenkins, grayson Xavier (Ohio) 994.417289795028
1679) wells, tim Pepperdine 994.395618981256
1680) rich, jeremy Stephen F. Austin 994.323002693405
1681) monkemeyer, nicholas Creighton 994.162970106635
1682) landreth, jake Creighton 994.040036442963
1683) mcdonald, brandon UL-Monroe 993.992993214708
1684) neeley, matt South Florida 993.984694135402
1685) ardino, anthony Rider 993.840384760916
1686) mendoza, ricardo UT-Rio Grande Valley 993.573990246291
1687) de la rama, james VCU 993.556467983605
1688) rumore, john South Alabama 993.479022538513
1689) white, bryant SE Louisiana 993.428263191405
1690) weintraub, matthew Lafayette 993.339877359815
1691) kipkorir, roy Abilene Christian 993.283891247029
1692) guillozet, blake Wright State 993.27992947781
1693) ingle, greg Detroit Mercy 993.272711355014
1694) kaminski, chris Drake 993.09039400516
1695) betts, jackson VMI 993.045682577295
1696) streich, cole South Dakota 992.904759069968
1697) viano, michael Fresno State 992.81751840019
1698) lewis, ereck USC Upstate 992.762629543825
1699) katzman, zachary UC Davis 992.541330740342
1700) whalen, matthew Wagner 992.251089268593
1701) khalid, salman Rider 992.097539260352
1702) mealing, roman USC Upstate 992.02608545606
1703) williamson, sam IPFW 992.019801663664
1704) neal, john UL-Monroe 991.983578249204
1705) velez, nick Wagner 991.886790816057
1706) stephens, cameron Louisville 991.792915998449
1707) prive, keith Northern Kentucky 991.684206340783
1708) robakiewicz, tyler Western Carolina 991.661802550619
1709) fortin, victor Valparaiso 991.525159256691
1710) goolsby, kenny Central Michigan 991.458112160679
1711) hand, jordan Kennesaw State 991.37098402027
1712) sadvary, david Lafayette 991.149036705629
1713) jenkins, austin Hofstra 990.822471405177
1714) fisher, graeme Campbell 990.79488578943
1715) arndorfer, matthew Oklahoma 989.955419935889
1716) fitch, robert VMI 989.712106339166
1717) harper, henry DePaul 989.658083339474
1718) harbacevich, joe Wofford 989.555130265788
1719) bakken, matthew North Dakota 989.540030487168
1720) church, laforrest Memphis 989.408996973279
1721) reiser, marc Mercer 989.394043423752
1722) allen, matthew Quinnipiac 989.307629781231
1723) quiambao, isaiah San Diego 989.127253621148
1724) mueller, thomas Detroit Mercy 989.116052000231
1725) collins, tanner UL-Monroe 988.982946796406
1726) stowe, steve N. Carolina A&T 988.942689222973
1727) o'connell, liam SIU Edwardsville 988.914239077423
1728) morales, tj High Point 988.802811214773
1729) zabricky, ben Valparaiso 988.734873844004
1730) joseph, halim Morgan State 988.669142071912
1731) budhu, ryan New Jersey Institute 988.667558716398
1732) godfrey, dylan New Mexico St. 988.605820843102
1733) oury, jacob Arkansas State 988.485603980215
1734) conway, austin VCU 988.27289916227
1735) germinario, michael Elon 987.78263928814
1736) coates, aaron Howard 987.712276684015
1737) hassett, john Maine 987.335932388586
1738) brown, mitchell Gardner-Webb 987.318872284709
1739) menyes, kevin Xavier (Ohio) 986.876520465699
1740) werble, jonathan Florida Atlantic 986.760615548681
1741) moore, lachlane UMKC 986.743736158011
1742) hilton, alec Holy Cross 986.732514640034
1743) scheuer, samuel Sacramento St. 986.554154202786
1744) mannion, tyler Quinnipiac 986.357798807056
1745) kimeli, jeremiah Grambling 986.107347856421
1746) fedel, nate Creighton 985.946455509426
1747) hernandez, francisco Prairie View 985.849032664547
1748) perez, dante Hofstra 985.730405418139
1749) chatham, luca UTSA 985.714863540004
1750) heinz, drake Louisiana Tech 985.705949746452
1751) dueck, drew Wis.-Milwaukee 985.62866348083
1752) dipaola, mark Lafayette 985.615109724997
1753) delaney, william St. Bonaventure 985.582799282944
1754) sanchez, anthony UC Davis 985.468969136984
1755) van der cruyssen, patrick High Point 985.39336772561
1756) deangelo, jacob Western Carolina 985.343172616174
1757) kokoska, jordan Western Carolina 985.323166802802
1758) tucker, hunter Arkansas-Little Rock 985.294911301741
1759) avery, andrew Coastal Carolina 985.26242011838
1760) medd, ty Creighton 985.176530694252
1761) wilkes, jack LSU 985.033155206406
1762) hadity, joshua Sacred Heart 984.481776371769
1763) hasse, will Kennesaw State 984.352815727785
1764) lynch, alex Louisville 984.261789076125
1765) turner, jaleel Mississippi Valley 984.214457548632
1766) balleau, zach Murray State 984.190691176267
1767) gray, stephen High Point 984.057955139477
1768) durr, chris SE Missouri 984.044873071736
1769) gonzalez, tomas New Jersey Institute 984.013382991704
1770) maddox, dequan N. Carolina A&T 983.855132455636
1771) jordan, austin Marshall 983.836136558113
1772) gill, hasan Delaware State 983.639331172963
1773) kitchen, logan IPFW 983.588001965892
1774) krchnavy, dane Sacred Heart 983.549592628029
1775) mcgovern, matthew Bryant 983.457129872786
1776) myers, luke Colgate 982.935434081397
1777) golay, mark New Orleans 982.791762657697
1778) swindell, bryce Western Kentucky 982.500557927171
1779) coccia, jared USC Upstate 982.426665778312
1780) conner, harrison Western Carolina 982.153128074178
1781) garrison, sean Hartford 982.137921430347
1782) moore, gregory Delaware State 981.628239951326
1783) flores, pedro Stephen F. Austin 980.907298765671
1784) solano, andy Portland State 980.708735034086
1785) kipleting muhindi, nickson Southern 980.696123574389
1786) tucker, lenier Morgan State 980.557424689122
1787) cook, nathan SE Missouri 980.54833283025
1788) thigpen, gregory Alabama State 980.54368521187
1789) rodriquez, josh UTSA 980.541891412105
1790) wileczek, mitchel Mount St. Mary's 980.438994388443
1791) jaqua, josiah Mercer 980.112674237905
1792) aguilera, jose Eastern Illinois 979.706161974875
1793) triarsi, jacob Miami 979.194693991725
1794) sasso, anthony High Point 979.09769348973
1795) gugendiran, pratheip St. Francis (N.Y.) 978.967526893415
1796) kaiser, grant Western Illinois 978.886349891886
1797) hohlbein, adam Citadel 978.822030616235
1798) reyes, jonathan UT-Rio Grande Valley 978.74972688929
1799) o'connor, matthew SIU Edwardsville 978.611187863564
1800) coffelt, joshua Alabama State 978.297811004608
1801) wise, william Presbyterian 978.292411647386
1802) becker, william Xavier (Ohio) 978.262600343039
1803) hawkins, hunter UTSA 977.892218507038
1804) lingle, lucas Western Illinois 977.768399835929
1805) gordon-bester, anthony Howard 977.745418131643
1806) paugh, greg Elon 977.722849597621
1807) schafer, brian Wis.-Milwaukee 977.653537374946
1808) rosen-duran, eli San Diego 977.247192269034
1809) prisella, nathan St. Bonaventure 977.125141318561
1810) lacour, patrick TCU 977.11343341577
1811) jones, trelek UNC-Greensboro 977.066424793943
1812) schmidt, stew Stetson 977.006915639488
1813) rossi, brandon Loyola (Md.) 976.646623881056
1814) birdsall, zach Northern Kentucky 976.623047739792
1815) paoletti, dominic Valparaiso 976.615921402482
1816) yuro, noah Richmond 976.550376317427
1817) lechleitner, xavier Drake 976.314397655899
1818) price, ethan Evansville 976.057363711866
1819) dagrin, jordan Bryant 975.870888376397
1820) shiver, lachlan Florida Atlantic 975.866810660117
1821) hensley, ben Wofford 975.404348843664
1822) herburger, nurlan Hartford 974.997905625348
1823) farris, cameron Louisiana Tech 974.983339028867
1824) marinez, jorge Texas Southern 974.362773521691
1825) crockett, seth Abilene Christian 974.219587468574
1826) christ, william Holy Cross 974.186624355857
1827) leopold, justin Elon 974.141557801659
1828) aiken, corey N. Carolina A&T 973.955835087393
1829) epstein , ethan Wofford 973.89022624765
1830) peterson, daniel DePaul 973.876699053074
1831) champion, corey Jacksonville St. 973.825785462426
1832) mcvay, tyler UL-Monroe 973.58268483638
1833) pieterse, michael Coastal Carolina 973.573036352694
1834) peck, robert IPFW 973.461407439852
1835) duff, reece Stetson 973.41758698776
1836) rubalcave, jack Portland State 973.402380698647
1837) cooper, cameron LSU 972.943657258104
1838) otto, seamus Richmond 972.863004049974
1839) makemsom, meyer Murray State 972.374099331262
1840) caplinger, kelby TCU 972.345456715358
1841) edwards, christopher Southern Illinois 971.665256636621
1842) doerr, joseph Holy Cross 971.572624321478
1843) russell, michael New Jersey Institute 970.828430002824
1844) berryhill, cameron Bethune-Cookman 970.819709045058
1845) turnock, alex Jacksonville 970.816010610469
1846) hood, dawson Evansville 970.777103389495
1847) jarvis, hunter Winthrop 970.731667599652
1848) bijeau, blair Winthrop 970.701479581547
1849) robinson, tyson Norfolk State 970.552012515442
1850) kruppa, josh Elon 970.496720585929
1851) boltman, jack St. Bonaventure 970.001148398674
1852) brokmeyer, dylan TCU 969.84119598964
1853) boatwright, ben Wofford 969.575647828797
1854) medlin, stephen Tulane 969.348416969904
1855) craig, samuel Stetson 969.262654756564
1856) davis, stanley Hampton 968.57036795045
1857) alidost, bismillah VCU 968.090723940854
1858) moran, samuel IPFW 968.082659423207
1859) salerno , joseph Florida Gulf Coast 968.082039854829
1860) zachariou, christos Houston Baptist 968.077735322346
1861) moore, josh USC Upstate 967.707316065104
1862) church, michael Southern Illinois 967.366866190826
1863) hampton, darrion Jackson State 967.278400686018
1864) wiefels, matthew Miami 967.119997047959
1865) marting, john Florida Atlantic 966.973763846772
1866) hill iii, james Tulane 966.641992818208
1867) bailey, austin Mercer 965.913283263973
1868) taylor, jacob East Carolina 965.898394797561
1869) ruppe, cameron Winthrop 965.758523226872
1870) carter, kit UC Irvine 965.575904222374
1871) mitchel, alekos Fresno State 965.530395821275
1872) mcalary, connor Quinnipiac 965.510583460583
1873) parks, josh Gardner-Webb 965.404834155372
1874) schell, alex Western Kentucky 965.149343533555
1875) geiman, sam South Florida 965.055079297923
1876) buchholz, alexander Loyola (Md.) 965.029417708305
1877) porter, thomas Austin Peay 965.02877488053
1878) maraggia, will Texas A&M-CC 964.755289967638
1879) brannen, mark Mercer 964.438677410942
1880) hendrix, enrique Evansville 964.404191807653
1881) beaman, tyler SE Missouri 964.112455159478
1882) clark, troy Florida Gulf Coast 963.974390289232
1883) mullen, doug Coastal Carolina 963.583595149257
1884) mack, nathan Mid. Tenn. State 963.43235815316
1885) brown, matthew TCU 962.855445714685
1886) rowlands, michael Mercer 962.747198385992
1887) butz, henry TCU 962.641727015781
1888) gallimore, travis Campbell 962.458277228236
1889) bodie, michael Fairfield 962.444228959881
1890) sarver, chase Arkansas State 962.041117872194
1891) delola, ryan Niagara 961.448807233442
1892) black, joey Valparaiso 961.281498225542
1893) smetzer, ross Western Illinois 961.107091950464
1894) o'keefe, gabe IPFW 960.885927930753
1895) sykes, dylan Miami 960.655172380409
1896) moore, delaney Troy 960.449035379718
1897) kiprop, hillary Grambling 960.371271093816
1898) daseler, robert Long Beach St. 960.316815065287
1899) price, coby Hampton 960.007929557609
1900) camby, gavin New Jersey Institute 959.808394606246
1901) plumb, banner Presbyterian 959.473929438406
1902) ochs, kalen Evansville 959.24800541793
1903) breton, ben Fairfield 959.179398413847
1904) timothy, jonathan UNC-Greensboro 958.284698489166
1905) burgess, cameron Delaware State 958.067816489365
1906) brennan, ryan Fairfield 957.961536257648
1907) navarro, eduardo Wis.-Green Bay 957.939324571478
1908) yamitshi, ngoy Maryland-Eastern Shore 957.816593070956
1909) hamlet, joshua Memphis 957.758585333383
1910) secora, connor Fairfield 957.628413716707
1911) skinner, raheem Jackson State 957.56508578581
1912) hussain, syed Prairie View 957.52758353561
1913) casolaro, caleb Vanderbilt 957.476548938901
1914) respress, jonathan SE Louisiana 957.38725999281
1915) mixon, walter Southern 957.38234693382
1916) anthony, thomas Lafayette 957.263724036026
1917) salmons, nick Marshall 957.047392245357
1918) barham, john Louisiana Tech 957.037316402324
1919) clayton, weston UNC-Greensboro 956.497062315279
1920) mathes, tanner Wright State 956.431047324491
1921) mcghie, corey Delaware State 956.323650073743
1922) brown, coy N. Carolina A&T 955.296944225899
1923) malrey, tracy Prairie View 954.88679394101
1924) clarke , harlan Arkansas-Pine Bluff 954.705260998145
1925) dzubia, mike Fairfield 954.674404619411
1926) adams, sean Arkansas State 954.266761785858
1927) russell, matthew North Dakota 954.091555289209
1928) kibii, titus Florida A&M 954.022166134216
1929) ward, thomas Troy 953.995399671927
1930) braddock, charles Citadel 953.649422865976
1931) reyes, ricardo South Florida 953.613448377139
1932) kosbar, james SE Missouri 953.533901061353
1933) javois, keshaun Southern 953.481134507251
1934) aispuro, jose Fresno State 953.295384149991
1935) baptiste, dominc Texas A&M-CC 953.248327758807
1936) endress, josh Marshall 953.073417018583
1937) finnigan, benjamin Mount St. Mary's 953.038814293256
1938) chepchieng, stanley Evansville 953.02322226467
1939) gerhardt, brett Jacksonville 952.467734908296
1940) davis, tyler Arkansas-Little Rock 952.16822769919
1941) johnson, jonathon Mount St. Mary's 952.048243649919
1942) franklin, eclecius Jackson State 951.96742679048
1943) smith, jonah Mount St. Mary's 951.581880554016
1944) heath , laurel Arkansas-Pine Bluff 951.340294134519
1945) theriot, cameron Sam Houston St. 950.719052679505
1946) ramirez, nicholas New Jersey Institute 950.083693704335
1947) martin, ezekiel Gardner-Webb 949.86860008907
1948) salit, timothy Fairfield 949.732517726015
1949) barone, sean Florida Atlantic 949.661389455149
1950) choate, bryce Oral Roberts 949.20652586037
1951) tricarico, joe Niagara 949.113417558708
1952) areces, jorge FIU 949.094668525939
1953) ibironke, tosin Hofstra 948.779807980568
1954) loughlin, colin Colgate 948.704187938353
1955) tingle, cameron UL-Monroe 947.798163955631
1956) batteh, fuad Mercer 947.333563444577
1957) marcello, lucas New Orleans 947.189092875698
1958) frields-reifsteck, tyler Evansville 946.878051661696
1959) izewski, nathan Valparaiso 946.615868727511
1960) pettit, kole Jacksonville St. 946.506506255456
1961) infante-rosales, jose Delaware State 946.391471832708
1962) malone, levi St. Bonaventure 946.280206559894
1963) pressl, tyler Lafayette 945.877153828375
1964) price, gabriel Prairie View 945.688450723845
1965) mccabe, robert Bryant 945.678950090047
1966) walker, ryan Fresno State 945.143911651473
1967) o'brien, nicholas Hartford 943.96893940042
1968) jackson, andrew Alabama State 942.936063597668
1969) curran, ryan Colgate 942.51367637796
1970) miller, john Loyola (Md.) 942.453789122557
1971) vitagliano, christian FIU 942.016420589612
1972) walker, zion Houston Baptist 941.880661435533
1973) cantrell, blake Northwestern St. 941.788659922801
1974) chirchir, rodney Hofstra 941.317816065206
1975) bradley, tyler Murray State 941.258700588656
1976) founds, matthew Fresno State 941.038614762819
1977) shelton, daniel Houston Baptist 940.955380788077
1978) lawson, elijah Coastal Carolina 940.780505661213
1979) lowe, donavan St. Bonaventure 940.545263428955
1980) smith, scott Detroit Mercy 940.240029907712
1981) bolner, nathan Louisiana Tech 939.710423280016
1982) brown, isaac Southern 939.527200815469
1983) weigand , maximilian Florida Gulf Coast 939.480660622728
1984) faljean , zack St. Francis (N.Y.) 939.432667417567
1985) quansah, elton Delaware State 939.283179437383
1986) mohamed, suhieb Savannah State 938.677007298908
1987) moreno, cristian Florida Atlantic 938.669208965161
1988) london, mark Coppin State 937.654362239983
1989) butler, peter Loyola (Md.) 937.423256303157
1990) kredo, kyle Montana 937.378879222846
1991) kipchirchir, amos Fairleigh Dickinson 937.117309883642
1992) daughtery, joshua Tennessee Tech 937.015533748008
1993) hicks, brendon TCU 936.763646699292
1994) schoch, tyler Loyola (Md.) 936.570689456107
1995) chimel, ryan St. Bonaventure 935.271949854884
1996) smith, noah Arkansas-Little Rock 935.193801961948
1997) taber, neel Presbyterian 935.106271798762
1998) scott, santana Detroit Mercy 934.400724223014
1999) young, anton Texas Southern 932.198473243022
2000) dunn, ryan Wright State 929.729015916307
2001) schiller, noah North Dakota 928.867228764836
2002) rivers, cashion South Carolina St. 928.594027510518
2003) snowman, john Citadel 928.202510213308
2004) davis, destin Hartford 928.161413572409
2005) evans, alexander Bryant 927.699409392838
2006) mckinlay, harrison Bryant 927.162868257313
2007) southall, stephen Sam Houston St. 926.743048121423
2008) llanos, william Chicago State 925.625073779374
2009) williams, samuel Loyola (Md.) 925.576844254485
2010) turnbow, caleb Oral Roberts 925.52512933869
2011) buff, ian UNC-Wilmington 924.047904941097
2012) jones, dartanyan Howard 923.39032021546
2013) burris, tayvon Hampton 923.27423113996
2014) grimes, tyler Valparaiso 923.194668971531
2015) avalos, eric Citadel 922.299719257386
2016) mcnaary, larry Tennessee St. 920.809157936495
2017) stahl, wyatt Wright State 919.042224649825
2018) lyons , tyran Arkansas-Pine Bluff 918.958049630992
2019) hynes, ewan UNC-Greensboro 918.710800683388
2020) huff, andrew Chicago State 918.645578299077
2021) price, jacob Texas Southern 918.436223315138
2022) areces, daniel FIU 918.013650125427
2023) robertson, hayden Northwestern St. 917.530185977255
2024) dominguez, alec FIU 915.892159000021
2025) aninipot, brandon Texas Southern 915.835930853378
2026) hetrick, kyle Radford 915.566329164456
2027) yancey, lawrence Hartford 915.090599307028
2028) sloan, riley Jacksonville St. 914.851227535624
2029) emmenegger, seth Jacksonville St. 914.107005890252
2030) wamack, hunter Northwestern St. 913.106171858769
2031) lintiso, hanqaamo Delaware State 912.764015241025
2032) sinegal, troy Texas Southern 912.734900769287
2033) moody, corey Western Illinois 912.521985722262
2034) townsend, taron North Dakota 912.326583025374
2035) swartout, jon Longwood 912.198337221899
2036) fierst, jacob Wis.-Green Bay 911.666512677261
2037) chanet, kaleb New Orleans 911.496102105158
2038) sanders, jacolby Southern 911.226668802102
2039) spera, john paul Nicholls State 910.774832351315
2040) smith , malique Arkansas-Pine Bluff 910.166671617456
2041) johnson, alan N. Carolina A&T 908.903534100065
2042) sime, alvin Wagner 908.540988425297
2043) moody, wesley Hartford 908.153429037866
2044) miles, tyreq Alcorn State 908.080749334252
2045) oliver, john Winthrop 906.180100430723
2046) garman, jordon Jacksonville 905.880330341338
2047) sastre, patrick Gardner-Webb 905.725089865323
2048) nweeia, nick Stetson 904.250067940388
2049) delacruz, leonel Florida Gulf Coast 903.736247278068
2050) thomas, luke Jacksonville St. 903.04364979731
2051) schnorbus, jack Wagner 902.396178920798
2052) petty, deandre Bethune-Cookman 902.083662463414
2053) dunford, dylan Northwestern St. 901.934759934525
2054) topham, joshua Chattanooga 901.286492525611
2055) ohlwein, nick Jacksonville 901.217570309094
2056) swoboda, spencer Niagara 898.777588237297
2057) dugan, peter Jacksonville 897.681189200099
2058) meltzer, marc Hofstra 893.464095538337
2059) lowery, trey Nicholls State 892.302568358916
2060) slate, ben Niagara 891.879061658709
2061) guerrero, johannes St. Peter's 891.86454951414
2062) jaggernauth, josh Oral Roberts 891.698434444129
2063) lumpkin, cory Chicago State 891.300590218417
2064) abdul, marcus Tennessee St. 891.270117867993
2065) donahue, seamus UNC-Wilmington 890.140728201254
2066) washburn, hayden Jacksonville St. 889.418330640733
2067) whytock, tiernan Jacksonville St. 886.801535762512
2068) elysee, sandley Fairleigh Dickinson 885.442062836141
2069) addison, anijae Coppin State 883.079862465938
2070) hoyt, zac Winthrop 882.439949976668
2071) fountain, jordan VCU 882.15834012063
2072) bapties, john Longwood 878.550649081196
2073) saint-cyrin, peterson Alcorn State 876.684448323939
2074) johnson, cheyenne Coppin State 874.63795488557
2075) venancio, carter UNC-Wilmington 873.795960561264
2076) guzman, david Texas Southern 869.564419856572
2077) engel, samuel Wis.-Green Bay 869.439274873591
2078) mosley, thomas Tennessee St. 868.315461191993
2079) closson, mekhi Howard 868.264515324366
2080) suarez, david FIU 868.22804023131
2081) ortiz, allan UTEP 863.496977433619
2082) langteau, joshua Wis.-Green Bay 863.282641942042
2083) osborne, harry Western Illinois 861.449986416751
2084) palapa, jorge St. Francis (N.Y.) 861.05722549026
2085) oyetunji, james Florida A&M 854.825466260876
2086) boggs, alex UNC-Wilmington 853.064416604549
2087) anderson, trenton New Orleans 852.115034499722
2088) nieves, matthew St. Francis (N.Y.) 850.83928464666
2089) montanez, esteban UTEP 850.519682776417
2090) ellis, eric Hampton 850.321798499883
2091) martin, joshua South Carolina St. 849.455731828363
2092) collier , alexander Arkansas-Pine Bluff 849.048107454851
2093) corriette, judah Maryland-Eastern Shore 844.821284226616
2094) russell, rj UNC-Wilmington 843.390365007234
2095) williams, james South Carolina St. 841.922769942143
2096) hammad, abdallah Fairleigh Dickinson 841.917075662112
2097) fitts, jacob New Orleans 841.870858577138
2098) thurman, quintin Western Illinois 841.501067874813
2099) small, alexander Oral Roberts 840.680542520901
2100) carroll, william Jackson State 839.858377591148
2101) breaux, tristan Nicholls State 836.700678173828
2102) plough, adam Wis.-Green Bay 836.163152357725
2103) surdej, nick Niagara 834.914103148853
2104) mcdowell, jontue Tennessee St. 833.175476576377
2105) johnson, alex Presbyterian 832.666490716824
2106) gyamfi, ron Longwood 831.519440795602
2107) villanueva, alexander FIU 828.722273253908
2108) montgomery, trenton South Carolina St. 828.517307336696
2109) mendoza, caleb Oral Roberts 827.492008339594
2110) baker, zyhir Tennessee St. 821.51667319878
2111) eddings, barrett Western Kentucky 817.124012983571
2112) ismail, zubayr Fairleigh Dickinson 815.860495331012
2113) thompson, jabari Alcorn State 813.050440097216
2114) johnson, justin Chicago State 811.391079010838
2115) member-meneh, lezoghia Alabama State 810.386395434088
2116) johnson, james N.C. Central 807.205445118478
2117) hamilton, patrick St. Peter's 806.280578114683
2118) keller, terry Jackson State 803.292572992639
2119) fortune, darius Mississippi Valley 801.582857432827
2120) o'callaghan, travis New Orleans 799.618736267613
2121) jackson, todd Alabama State 795.258899829922
2122) baker, jake Longwood 789.481059759891
2123) birdsong, jake Presbyterian 782.61413483051
2124) dollard, chrishon Longwood 780.405782856494
2125) cirilo, rodolfo St. Peter's 775.503714954313
2126) goy, tyrek Coppin State 774.067349662153
2127) cooper, teril Nicholls State 774.038400320971
2128) chase, quinn Longwood 772.751696380869
2129) dorielan, gadimi St. Peter's 767.976825916097
2130) elancieux, wagner St. Francis (N.Y.) 763.679282121131
2131) turner, justin Coppin State 763.31995482417
2132) member-menah, lezoghia Alabama State 761.103349607158
2133) hermanns, samuel Gardner-Webb 759.962692562293
2134) teagle, devon Coppin State 749.967672091812
2135) fritz, will Niagara 748.155257017239
2136) alexander , curtis St. Francis (N.Y.) 747.715800284364
2137) ingram, da'mon N.C. Central 745.991803746939
2138) michell, joseph Mississippi Valley 732.364670941342
2139) hammock, braxton Morgan State 731.067831927606
2140) lamb, camrin Alabama State 730.65693687212
2141) hughes , patrick St. Francis (N.Y.) 730.32542242002
2142) wells, sethren Oral Roberts 721.936486676298
2143) mcreynolds, jeffrey South Carolina St. 721.538837281907
2144) hairston, devon Morgan State 711.555485208387
2145) alexander, nicholas Mississippi Valley 711.115181213224
2146) cooper, daryl Nicholls State 707.269633725455
2147) boyd, fernandes Morgan State 705.924145398979
2148) mcknight, marwin South Carolina St. 703.801302211451
2149) scott, lamar Alcorn State 697.618013594353
2150) gamble, garrion Mississippi Valley 696.424051624685
2151) strepay, hollan N.C. Central 696.188357177771
2152) locklear, tristan N.C. Central 696.188357177771
2153) horn, carvellion UTEP 686.445453022545
2154) ross, lane Alcorn State 676.844428406575
2155) alcazar, alejandro UTEP 664.48939263991
2156) henry, shindell Morgan State 658.057092277419
2157) lewis, gordon N.C. Central 609.143147577886
2158) huggins, joash Morgan State 605.791547307355
2159) shaw, jarmarius Mississippi Valley 594.550487880523
2160) guevara, asa UTEP 588.440796737206