RIT's Otto Kingstedt Seeks First NCAA XC Title By Deaf Runner
RIT's Otto Kingstedt Seeks First NCAA XC Title By Deaf Runner
Otto Kingstedt of the Rochester Institute of Technology is set to compete at the 2017 NCAA Division III Cross Country Championships, held in Elsah, Illinois, on November 18.
Nov 15, 2017
by Lincoln Shryack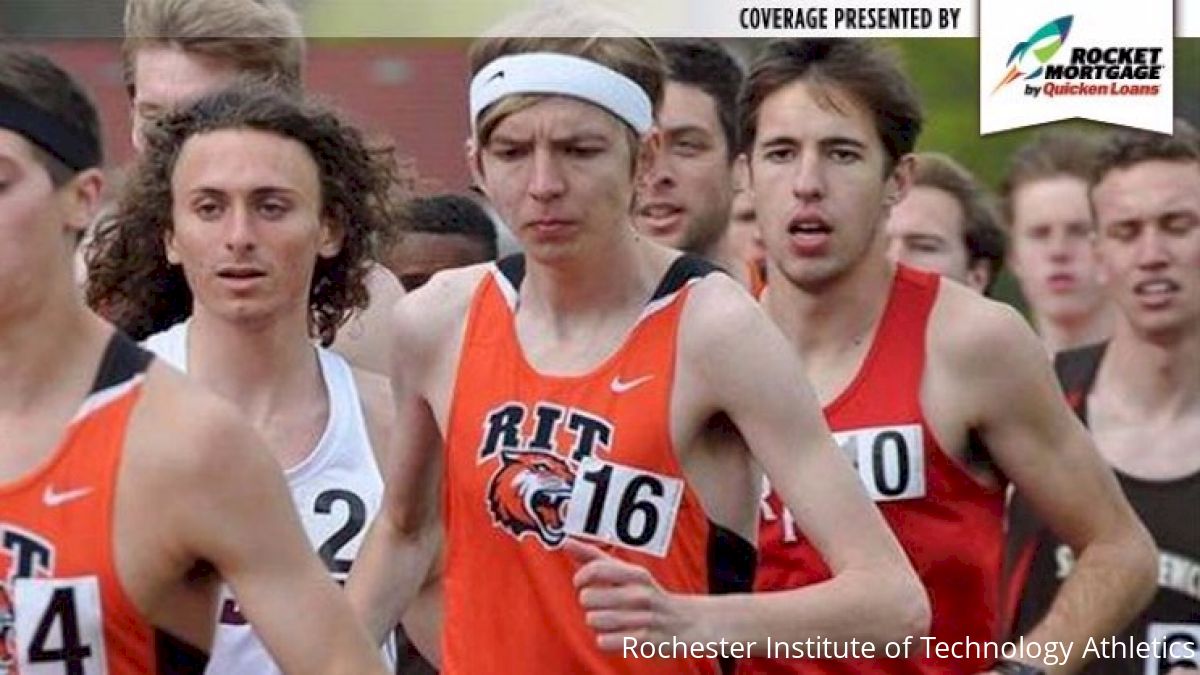 After Otto Kingstedt broke the Rochester Institute of Technology (RIT) 10,000m record back in April, he was so excited he could barely sleep. Kingstedt had destroyed the 21-year-old mark by 14 seconds, and did so while cutting nearly three minutes off his PR. The Division III runner had even covered the final 5,000m faster than his previous best in the distance -- running the last 3.1 miles in 14:41.
But there was more to that run than just a school record and personal best; something else kept the Swedish athlete awake.
With his 29:38, Kingstedt had also set the Swedish Deaf record, and was now within striking distance of Timothy Butler's 29:07 World Deaf record. For an athlete who grew up in a family of accomplished runners -- his mother, Monica, was sixth in the 1991 Chicago Marathon -- Kingstedt had earned his own moment in the spotlight.
"It is one of the best moments of my life," Kingstedt told FloTrack through email.
The record-holder now hopes to carry that momentum into Saturday's DIII cross country championships in Elsah, Illinois, which you can
stream live right here on FloTrack
.
Kingstedt's success on the track continued a month after his breakout 10K last spring. In his first ever trip to the NCAA DIII Outdoor Championships, Kingstedt earned All-American honors with an eighth-place finish in the 10,000.
For a runner who was relatively anonymous entering the 2017 outdoor season -- he didn't break 15 minutes in the 5K until last February -- Kingstedt had suddenly established himself as an athlete to watch on the DIII scene. And the Swede had done it all after switching schools earlier in the year, while facing the communication challenges of a deaf athlete in a foreign country and new academic environment.
"Obviously, the communication is a challenge for me," Kingstedt said. "English is my third language -- first Swedish Sign Language, second Swedish, third English, fourth ASL (American Sign Language). Sometimes, I go too fast or too slow during workout because I misunderstand what coach tells me."
Fast forward seven months since Kingstedt first made his presence known in the NCAA, and the junior is readying for next Saturday's DIII cross country championships. It will be Kingstedt's first appearance in the race, and after picking up four wins during the regular season and a sixth-place showing in the super competitive Atlantic region, the newcomer isn't selling himself short of accomplishing an unprecedented feat.
"My goal is to win the NCAA championship as the first deaf runner in the history of collegiate [cross country]," Kingstedt said.
Reaching his lofty goal will be incredibly tough, as several DIII athletes with faster track PRs and NCAA championship experience stand in his way.
Kingstedt, though, has overcome many obstacles throughout his life in a world that takes communication for granted. The Swede developed meningitis as a young toddler that has left him deaf since he was a year and a half old. But running was a family affair, and Kingstedt's dream was to come the USA to compete in the NCAA like his brother John had before him. He wasn't going to let the communication barrier deter him from getting there.
"My dream has always been to compete for a college in the USA," Kingstedt said. "I [wanted] to run for a NCAA DI [or] DII, with a chance of landing a scholarship in order to finance my studies. But it is hard for me because of my communication needs cannot be accommodated . . . in colleges without any particular special support for the hearing impaired. There are only two choices in the U.S."
Kingstedt arrived in Rochester last winter after spending two years at Gallaudet University in Washington D.C. Although he initially wanted to compete in either Division I or II , his communication needs required that a prospective school have the necessary resources -- such as dedicated sign language interpreters -- to support him. According to Kingstedt, that eliminated any of the top-tier schools, leaving him with just two DIII options: Galluadet and RIT's National Technical Institute for the Deaf (NTID).
Kingstedt chose Gallaudet first, and while he enjoyed his educational experience at the renowned university for the deaf, he felt limited athletically. The urban setting in east Washington D.C. made training hectic, and his teammates couldn't keep up with him in workouts. He frequently won small races with ease, but Kingstedt expected more of himself; after two seasons at Gallaudet, he had yet to establish himself as a DIII elite. He knew he wasn't going to reach his potential as an athlete unless the competition in workouts and races intensified.
Enter RIT, with their deaf-accessible programs through NTID and recent history of distance-running prowess. Kingstedt says he was intrigued by the success of former RIT athlete Matt Giannino, who had broken several of RIT's distance records in 2015 and earned All-American honors. He contacted RIT's track and field and cross country head coach David Warth, and the wheels were set in motion.
"I really liked the Gallaudet team and coach," Kingstedt said. "I was really happy that my Gallaudet coach allowed me to transfer to another college where the practice and competition opportunities are more challenging and rewarding for me."
Since first donning the RIT jersey back in February, Kingstedt has set PRs across multiple distances. The transfer lowered his 1500m best by 11 seconds last spring, his 5K by over 30 seconds, and of course, the big one --10K -- by nearly three minutes.
As Kingstedt looks ahead to next weekend's race, he reflected on a decision that undoubtedly has been crucial in his development into one of DIII's best. The All-American credits his decision to transfer to RIT as the catalyst for his sudden improvement.
"I think that coach David (Warth) and of course the excellent team spirit together with consistent and hard training have had a really positive effect on my running," Kingstedt said. "I thrive [in an] environment where I'm pushed, both during practice and of course when racing."
With Kingstedt leading the way for his team at Saturday's Atlantic regional, the RIT Tigers finished third and qualified for NCAAs as a team for the first time since 2009. A year ago at the same meet, before Kingstedt arrived, RIT placed 11th.
"My confidence level is good and training with my team has been really good from the start of the XC season," he said.
Kingstedt faces the most competitive race of his life on Saturday at nationals. His goal to cross the line first may seem far-fetched for a runner with no NCAA XC experience, and there's no doubt that Kingstedt winning against the likes of All-Americans Isaac Garcia-Cassani and Darin Lau -- each with multiple top-15 finishes in cross country -- is improbable. But Kingstedt isn't short on confidence, and how can you fault a guy for believing in himself given the huge leaps he's made in the last nine months?
Besides, Kingstedt's entire running career has been defined by long odds and the will to overcome them. What's one more?