2017 DI NCAA West XC Regional
Justyn Knight Hopes To Lift Syracuse To Another NCAA Team Title
Justyn Knight Hopes To Lift Syracuse To Another NCAA Team Title
Justyn Knight Hopes To Lift Syracuse
Nov 18, 2017
by FLO TRACK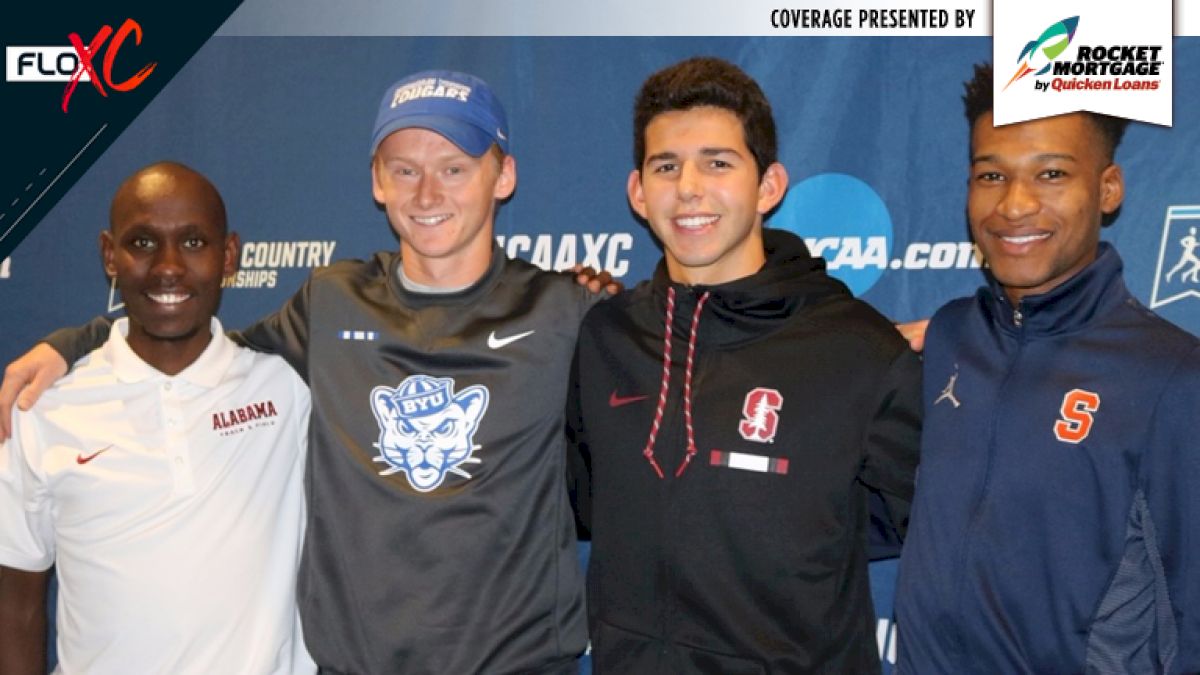 By David Monti, @d9monti
(c) 2017 Race Results Weekly, used with subscription
LOUISVILLE, KY. (17-Nov) -- Two years ago here the men of Syracuse University won their first NCAA Division I Cross Country title in 64 years. Justyn Knight, then just a sophomore, finished fourth overall, the first of three Syracuse men in the top-10. Coach Chris Fox was elated.
"We always knew we had a shot," Fox told Race Results Weekly back in 2015. "This race never goes perfect for anybody, but I kind of think it went perfect for us today. It couldn't have gone any better."
At last year's meet, held in Terre Haute, Ind., Syracuse slipped two pegs to finish third, and that is where they are ranked in the latest coach's poll in advance of tomorrow's championships. But Knight, now a senior who finished second in last year's meet, is the favorite for victory, and Syracuse's team leader, a role Coach Fox says he grew into, organically.
"Well he's really grown as a leader in the four years that we've had him," Fox told Race Results Weekly in an exclusive interview today. "He's learned from good guys like Marty (Hehir), Colin (Bennie), and grown into his own spot. I think it's really cool the way he handles his success and blends it in with the team to help them along. He's just a great guy. He's nice to everybody. I think the kids look up to him in the most positive way."
Knight, 21, a Canadian from Vaughan, Ontario, has indeed grown over the past two years. In the NCAA system, he is the undisputed distance star of the Atlantic Coast Conference (ACC) and a major national player. During his 2017 indoor and outdoor track campaigns, he won the ACC 3000m and 5000m titles indoors (for the second year in a row), was second in the NCAA indoor 3000m, and third in the NCAA 5000m. More importantly, he lowered his 5000m personal best to a world class 13:17.51, qualifying for the IAAF World Championships where he finished a surprising ninth. His confidence has swelled.
"Going into World Championships no one really knew my name," Knight told reporters at a press conference here today. "I was kind of just an added person in the race and I don't think anybody had any real expectations for me. I went into the semi-final just having a ball, smiling, soaking up the atmosphere. When I made it into the final I was like, wow this is really cool, but nobody still knows who you are."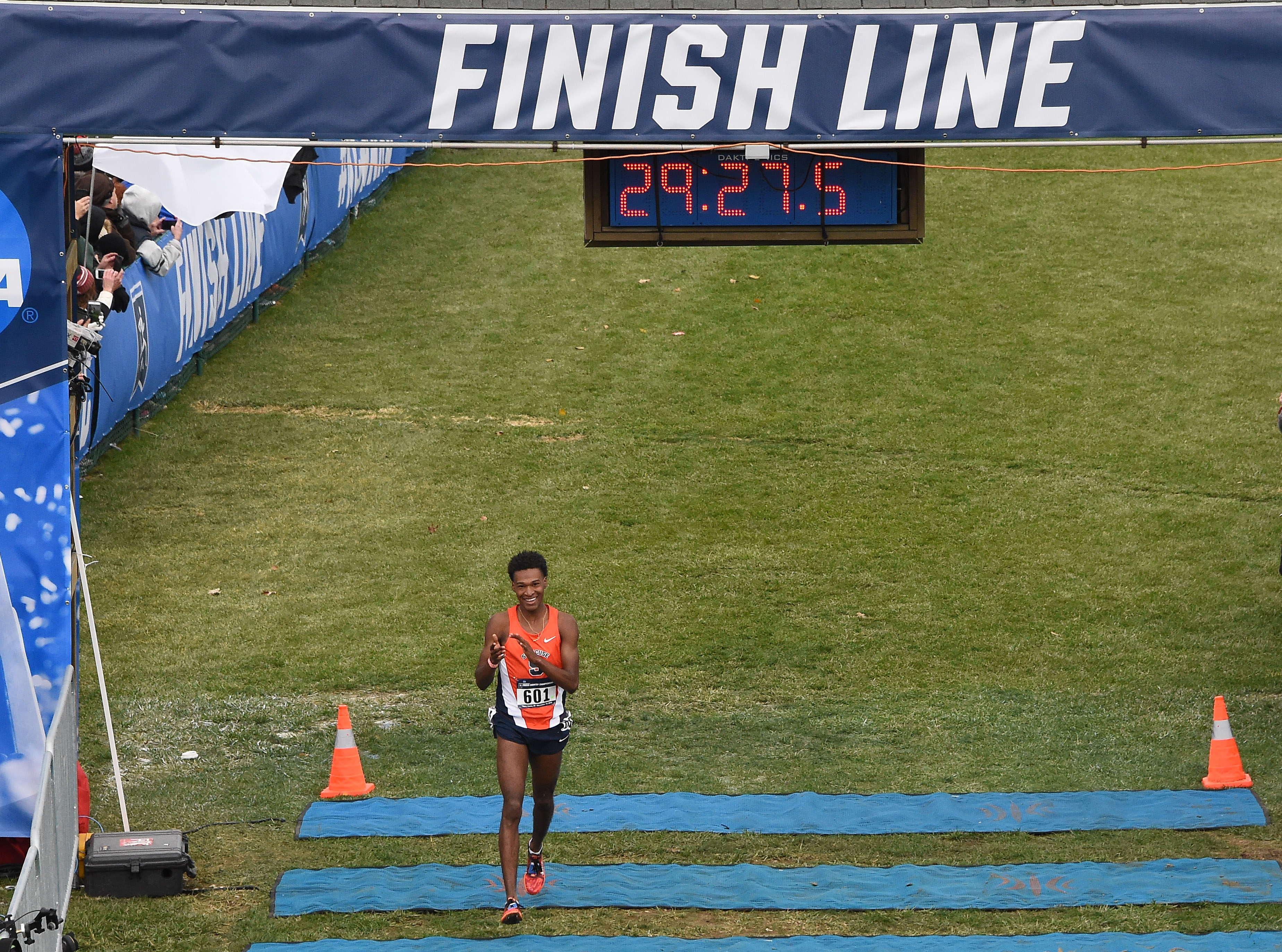 With Coach Fox, Knight planned how he would carefully recover from the World Championships, then ramp up gently for the fall cross country season. Already a low-mileage runner, Knight said he didn't feel antsy after taking two weeks completely off then only running for as little as 30 minutes at a time.
"Coach Fox and I made plans to run the World Championships in the summer," Knight explained. "Before we decided we were going to do that, we talked about the possibilities and how it was going to be a long season. The way I approached it was that I took the rest of August off right after World Championships, and I went to school when I was still on break. We took things really easily. The one thing about myself is that I came to Syracuse running low mileage, and I trained pretty successful with that so it wasn't weird for me to start off with 30 minute runs and getting up to 35 miles a week."
Not all NCAA coaches would have supported Knight's decision to continue his season that far into the summer. After all, the schools provide valuable scholarships and expect that competing for the university should be their athlete's first priority. But Fox thought that the decision rested with Knight, and that it was his job to support his athlete.
"He was really wanting to do it," Fox recalled. "He never showed any reservations. I would have let him make the call. We took a couple of weeks off of no running after the Worlds, and then we went two more weeks of four miles a day, and then we kind of started getting into it. He decided he wanted to run Wisconsin (October 13); that was kind of optional too (Knight won). He ran really well, and since then things have really been great."
Speaking here today, Knight made it clear that his personal success was secondary to the success of his team. Every man on the team had a job to do, he said, and in that respect he was no different than the other six Syracuse men who would start tomorrow's race. They would all succeed or fail together.
"At Syracuse, we're a very team oriented program," Knight said seriously. "Coach Fox, he has to deal with myself, Colin (Bennie), Aidan (Tooker), Philo (Germano) and he pushes us to our limit and everything. But at the end of the day, your fifth guy wins the race. And I think back to 2015, that's the reason why we won NCAA's, because Philo passed something like ten guys at the finish line. I think your fifth runner is probably one of the most important runners just because the difference between 30th place and 20th place can all be within maybe a second or two seconds." He continued: "I think, what we try to stress at Syracuse, is to have a lot of faith in yourself. There's a reason why we're here."