2017 DI NCAA West XC Regional
Way-Too-Early 2018 NCAA Cross Country Podium Picks
Way-Too-Early 2018 NCAA Cross Country Podium Picks
Way Too Early 2018 NCAA XC Podium Picks
Nov 20, 2017
by Gordon Mack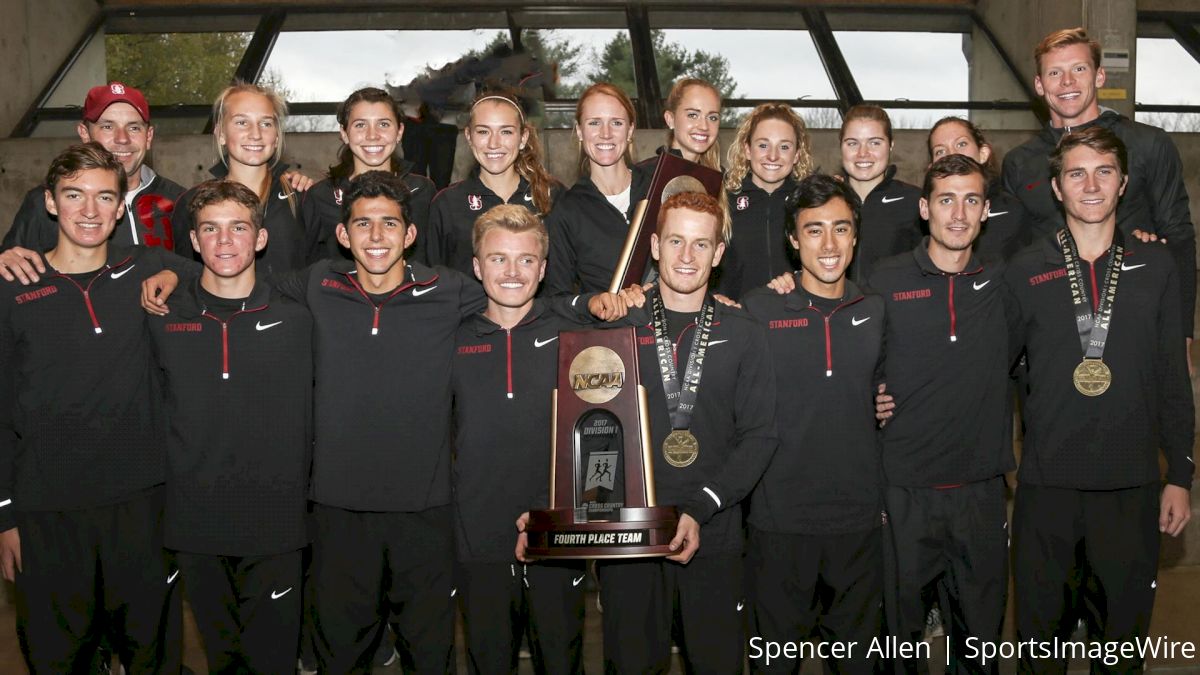 UPDATE: After publishing this article we have discovered that NAU's Matt Baxter will have one last season of xc eligibility. He was granted a third season of cross country after this past outdoor season. This changes our 'way-too-early projections'
The 2017 cross country season may be done, but is it ever too early to talk about next season? Check out our 2018 NCAA cross country podium team predictions below.
2018 Men's Top Four Predictions:
No. 4 Portland Pilots (2nd in 2017)
JR Emmanuel Roudolff-Levisse (11th in 2017)
SR Nick Hauger (26th in 2017)
JR Caleb Webb (54th in 2017)
SR Logan Orndorf (64th in 2017)
FR Evert Silva (Redshirted 2017)
The Portland men finished second this year with only two returners from their 2016 squad. Next year, the Pilots return four men and add a great redshirt freshman in Evert Silva. The Pilots have depth, and with depth comes the ability to maintain a high level of success year in and year out.
No. 3 Iowa State Cyclones (7th in 2017)
JR Andrew Jordan (15th in 2017)
JR Festus Lagat (Did Not Race, Injury)
JR Thomas Pollard (45th in 2016)
JR Stanley Langat (53rd in 2017)
SR Dan Curts (68th in 2017)
The Iowa State men were one of the surprise teams this season after starting the year off flat. They finished 16th at the Nuttycombe Wisconsin Invitational, but rebounded well with a Big 12 title and a top-10 finish at NCAAs. And, even though Thomas Pollard finished 98th overall and preseason No. 1 stick Festus Lagat didn't race due to injury, the Cyclones still finished seventh this year. If these men both return to their true form in 2018, Iowa State will be a podium team.
No. 2 Stanford Cardinal (4th in 2017)
SR Grant Fisher (5th in 2017)
SO Thomas Ratcliffe (Redshirted 2017)
JR Alex Ostberg (16th in 2017)
SR Steven Fahy (17th in 2017)
FR D.J. Principe (Redshirted 2017)
The Stanford men will be scary good in 2018. They return their entire top seven, including three from the top 20 (Fisher, Ostberg, and Fahy). But what makes this team 2018 contenders is the addition of Thomas Ratcliffe and D.J. Principe waiting in the wings. Ratcliffe redshirted this year due to injury, but has proven he's a potential All-American talent after placing eighth at the 2016 Pac-12 XC Championships and running a 7:53 3K at the 2017 UW Invitational. Meanwhile, D.J. Principe was a top-tier recruit for the Cardinal this past year after running a four-flat mile and 8:14 3K.
No. 1 Northern Arizona Lumberjacks (1st in 2017)
SR Matthew Baxter (2nd in 2017)
SR Tyler Day (3rd in 2017)
SR Peter Lomong (8th in 2017)
JR Geordie Beamish (40th in 2017)
SO Luis Grijalva (60th in 2017)
A men's team has only three-peated four times in the history of NCAA cross country, but the Lumberjacks could pull off the rare feat with the return of Matt Baxter, Tyler Day, Peter Lomong, Geordie Beamish, and Luis Grijalva. If coach Mike Smith can find formidable depth in Soren Knudsen and Blaise Ferro, they will have another title-contending team in 2018.
2018 Women's Top Four Predictions:
No. 4 Oregon Ducks (5th in 2017)
JR Katie Rainsberger (4th in 2016)
JR Lilli Burdon (21st in 2017)
SR Carmela Cardama-Baez (34th in 2017)
SR Jessica Hull (79th in 2016)
JR Judy Pendergast (176th in 2016)
The Oregon women had an off day at the 2017 NCAA Cross Country Championships, but should rebound well next year with the return of five runners and incoming redshirt freshman Kate Murphy. Katie Rainsberger will be a key low stick for the Ducks, and with a another year of championship experience for this younger core, the Ducks should be primed to get back on the podium in 2018.
No. 3 New Mexico Lobos (1st in 2017)
JR Ednah Kurgat (1st in 2017)
SO Weini Kelati (7th in 2017)
SR Charlotte Prouse (12th in 2017)
SO Alondra Negron (85th in 2017)
JR Alex Buck (105th in 2016)
The New Mexico women will return a majority of their squad from this year's title-winning team, but they do lose a key member in four-time All-American Alice Wright. If head coach Joe Franklin can bring in another international recruit to compliment the Lobos' stellar front trio, New Mexico will skyrocket back into title-contention.
No. 2 Colorado Buffaloes (3rd in 2017)
SR Dani Jones (10th in 2017)
JR Sage Hurta (35th in 2016)
SR Mackenzie Caldwell (39th in 2016)
JR Tabor Scholl (42nd in 2016)
SR Makena Morley (43rd in 2016)
The Colorado women once again return their core group for another shot at a team title. After back-to-back third-place finishes, these women will be even hungrier to be more than just a podium team. Dani Jones leads the Buffs, and should be the key low stick to get this team over the hump in 2018.
No. 1 Stanford Cardinal (4th in 2017)
JR Fiona O'Keeffe (13th in 2017)
SR Courtney Smith (Redshirted 2017)
JR Christina Aragon (38th in 2016)
SR Elise Cranny (57th in 2017)
FR Nevada Mareno (Redshirted 2017)
On paper, the Stanford women's roster has the most talent, and that talent should come into fruition with a team title next year. The Cardinal will return five from this year's fourth-place team, but also add three key players for next year: Harvard transfer Courtney Smith, who redshirted this season to save eligibility and should be a top-20 contender; highly touted recruit Nevada Mareno, who will make her debut as a redshirt freshman; and, like every year, the Cardinal have a great recruiting class headlined by Rebecca Story.