XC Trailblazer: Chris Daymont Pioneers Women's Coaching For 41 Years
XC Trailblazer: Chris Daymont Pioneers Women's Coaching For 41 Years
Chris Daymont, retired cross country coach at St. Olaf's, pioneered coaching for women.
Dec 6, 2017
by Hunter Sharpless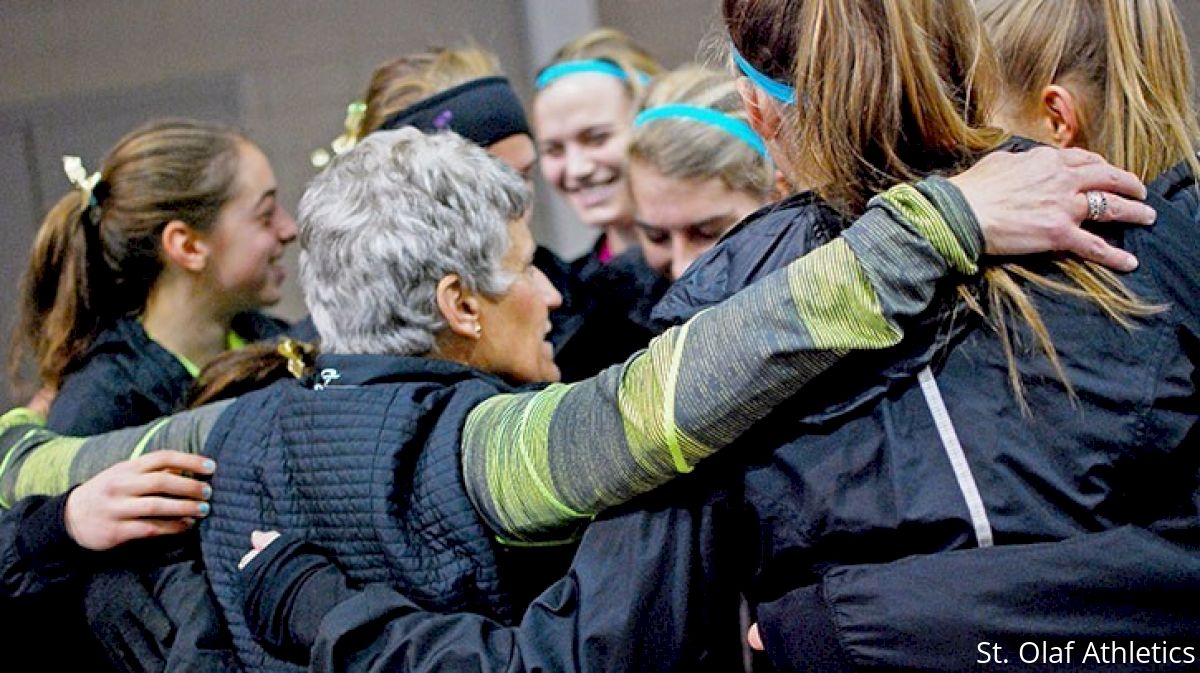 By Sarah Barker
Chris Daymont grew up with disorganized sports.
Born Chris Schilly in 1952, she was one of seven siblings, five of them girls, in a boy-heavy neighborhood in Central Square, New York, just north of Syracuse. Like most families at the time, plenty of kids and little extra money was the recipe for a year-round program of DIY backyard sports — football, basketball on a grass court ("The ball bounced weird," she remembers) and a homemade track complete with hurdles, high jump, shot put, and a sandbox-turned-long jump pit. Backyard sports were way ahead of the game in terms of gender equity, the perfect environment for learning that girls, and women, could do anything.
"I played basketball at Hartwick College, the first organized sport I'd ever done," said Daymont, now 65. "I absolutely loved it — the physicalness, the team aspect, being around other women who loved sports, and learning to work together. And I loved being coached; it felt like you were doing something important, beyond just learning plays. That's why I went into coaching, to give other women the opportunity to do this amazing thing."
Daymont recently retired as women's head cross country coach at Division III St.Olaf College in Northfield, Minnesota, a position she's held for 36 of her 41 years of coaching. Not only has she had one of the longest coaching careers in Minnesota, she's one of the still-small club of women who headed a collegiate program. The arc of her story as an athlete and a coach mirrors that of women's running in the United States. Many pioneers, like Daymont, fell into that role by default. As she readily admits, she was making it up as she went along, just trying to make a living doing something she loved.
Chris Schilly was a cheerleader in high school. During her tenure — 1966 to 1970 — there were no other sports offered for girls at Central Square High School. When she got to Hartwick College in the fall of 1970, she was convinced her future lay in basketball: she was going to play basketball, then coach basketball. Five-foot-three and fast, she admitted she "couldn't shoot a free throw to save my life." The women's team practiced from 8 to 10 PM.
"The men's team had the gym at prime time, then the JV men," she said. "We didn't give it a thought. Guys always got prime-time — it's all we knew."
Congrats to @StOlafSports Chris Daymont on her @USTFCCCA HOF induction last night! Well-deserved! #legend #HOF pic.twitter.com/B8PwKHYdZd

— MIAC (@MIACathletics) December 16, 2014
While she was reveling in the new-found opportunity to participate in organized sports, the Schilly family girls-can-do-anything motto ran headlong into the state of New York. In the summer of 1971, Chris' younger sister Katy, then 14, was introduced to the coach of the Syracuse Chargers Track Club who, spotting great potential, suggested she train — which she did on her own, running three miles a day, in bell bottom jeans.
In the fall, Katy joined the boys cross country team because there was no girls equivalent, but at the first meet some coaches filed a grievance pointing out that cross country was not on the list of coed sports. She was not allowed to run in the meet. Her mother and the cross country coach — and eventually the ACLU — fought that decision, suing the state of New York. They won, Katy was allowed to compete on the boys team, and six months later that case was instrumental in mandating equal opportunities for girls in the form of Title IX.
Katy continued to work out with the Syracuse Chargers, recruiting Chris for a 4x100, her first regulation race. And that race flipped a switch: from basketball to running.
Late in 1973, Schilly transferred to State University of New York-Cortland to pursue a double major in PE and biology, and started running with the men's indoor track team (again, no women's equivalent). She did a bit of everything — hurdles, 400 meters, 800, pentathlon — but a sub-60 clocking in her very first 400 seemed to indicate that was her event. That first year out for track, she qualified for the AAU national meet, and eventually worked down to a PB of 54 seconds.
With an eye toward teaching, Schilly embarked on a master's program in exercise physiology at Syracuse University, and signed on as a grad assistant to the men's track and field coach because — while it was unpaid — her tuition was waived. Things went according to plan until the head coach was fired abruptly in October 1975. Suddenly, the 23-year-old grad assistant was the head coach of a DI men's program.
"I got 10 years of experience in nine months," Daymont joked.
"I had a hard time convincing meet directors that I was the head coach, not the manager," she said. "One guy, a half-miler, said he was going to coach himself; he coached himself to a 2:05 and then reconsidered. But I was treated very well by the other coaches, who were all men."
Her crash course in coaching involved asking her experienced peers for three things to look for in every event. One of those helpful coaches from her undergrad days at Hartwick College was an "older guy," easily 28 years old, whom she called Mr. Daymont. Of course, while Syracuse was happy to have her as a handy — and unpaid — interim coach, she assured the administration that she had no intention of applying for the job when it was posted in the spring of 1976. That job went to Andy Jugan, formerly at Macalester College in St. Paul, Minnesota.
She joked with Jugan that maybe they should just swap jobs, but two weeks later she was studying a map to see where Northfield, Minnesota, was. She graduated with a master's in exercise physiology and was hired by St. Olaf College to teach PE methods and exercise physiology theory classes, and coach women's cross country and track, and assistant coach women's basketball — for $11,000 a year.
"That first year in cross country we had three women," Daymont said. "I begged the team manager and her friend to run, just so we could score. The next year we had 14 women, and the year after that 30. It grew really really fast."
#MIAC Women's XC/TF Coaches celebrating at @USTFCCCA HOF Ceremony w/ inductee @StOlafSports Chris Daymont! #MIACpride pic.twitter.com/5VDxnmPkdT

— MIAC (@MIACathletics) December 16, 2014
She "re-met" Dick Daymont as a colleague rather than a student in late fall of 1976. They went on one date when she went back to upstate New York for Thanksgiving, another couple dates during the Christmas break, were engaged over spring break, and married in July 1977. Dick followed Chris to Minnesota.
Gary Wilson, who retired as head women's cross country and track and field coach at the University of Minnesota in 2013, also grew up and started his career in upstate New York. He and Dick Daymont were, and still are, close friends.
"I first met Chris over Christmas in 1976," Wilson recalled. "She and Dick had been dating for about (a) half-hour. That's not quite true, but it was not long. My impressions were that they were really smitten, that this was the real thing, and that Chris would be successful."
Looking back over her 41 years of coaching (between 1981 and 1986, Daymont coached at Bloomsburg State in Pennsylvania and at Macalester College in St. Paul before returning to St. Olaf), she is proud of developing a program that built average runners into national contenders.
"When I first started, we did less mileage, but more intensity, more hills," Daymont said. "Kids didn't get hurt like they do now. We'd never heard of a stress fracture, partly because they were all new runners. They didn't have years of running under their belt. Physically, but mentally, too. They loved being coached, and the opportunity to compete was so new. They latched onto it like I had. They really appreciated it. It was a good time to get into a sports career."
"She was feisty," Wilson remembered of Daymont.
Daymont has always championed a fairly low-mileage program, in recent years, as a way to keep athletes from overtraining and injury. The Oles adhere to a schedule she developed back in the mid-1980s: a couple 50-mile weeks over the summer, with 40 to 45 miles during the season including one day completely off and one day in the pool, which she said was the best training decision they ever made.
Monday and Wednesday are hard workouts, Tuesday is in the pool, Thursday is off, Friday pre-meet, Saturday race, and Sunday long run. Any added miles are done in the pool. This schedule, she said, provides high volume per day (big training load) but not per week (time off to recover and adapt).
Daymont worked to bring the Minnesota state high school cross country meet to St. Olaf, and has some perspective on the incredible improvement in high school girls times, like Claudia Lane's stunning 15:49 5K. While Daymont is happy to see girls training well, she'd rather see junior high athletes competing in their own division rather than have 7th and 8th grade girls competing against high schoolers.
"In 1976, I felt I had to prove myself, to do things better than men," she said. "And within three years, we were second in the AIAW (Association for Intercollegiate Athletics for Women). Title IX did some wonderful things with respect to gender equity, but not much for the sport of cross country. We've had really good runners, we've gone to nationals, we're always academic All-American, but cross country never got much attention. The football team wins a game and it's on the homepage."
Another perplexing effect of Title IX is that while opportunities for female athletes grew, the number of female coaches plummeted. According to a recent study published by the NCAA, in 1972 when Title IX was passed, 90 percent of women's collegiate teams were coached by women; now that number is about 40 percent.
"As coaching women's teams became more lucrative and more prestigious, the assistant men's basketball coach would become the head women's basketball coach," Daymont said. "And that's the way it went."
"In 1976, I felt I had to prove myself, to do things better than men."
Not only a female coach, Daymont is in the still-smaller group who are married and have children.
"It's not an easy life, for a man or a woman," she said. "I have a track rat for a husband so he understood everything I had to do and still, making decisions about child care was hard. My kids would say I put the team before them on occasion. I was never home to see my daughter get dressed for prom, for example. If you didn't have that [support], I'm not sure you could do it."
Having raised three children over the course of her career, she knows exactly what it takes for a woman to maintain work-life balance.
"At 1 AM the night before the state track meet I went into labor," Daymont said. "I didn't call my doctor; I called the athletic director. I wrote down all the logistics for him, then went to the hospital and delivered Megan."
That was Thursday. Daymont was back to work on Monday. And two weeks later, she took 10 St. Olaf women to nationals in California, with daughter Sara, who was not quite 2 years old, in a backpack, and newborn Megan. Between events, she popped into the press box to nurse Megan.
That year, 1981, St. Olaf's Lesley Seymour won the 1500.
Stories like that — of passion and naivete and stubbornness and gratitude — define Daymont's career.
As she said, "It was always wonderful, rarely easy."