Track is back! Several top NCAA athletes made their season debuts this weekend after a long offseason to shake off the cobwebs before the holiday break. Below, we recap some of the top moments.
Sydney McLaughlin Debuts With U.S. No. 2 All-Time 300m
University of Kentucky freshman Sydney McLaughlin made her collegiate debut in the 300m at the University of Indiana, clocking a swift 36.12 to shatter Candace Hill's world junior best of 36.56.
McLaughlin's time ranks No. 2 all-time in American history behind only Quanera Hayes' 35.71, set in January of this year; McLaughlin is the seventh-fastest performer in world history. She also ranks No. 3 all-time in the NCAA behind two marks by Merlene Ottey, 35.83 and 35.96, both of which were recorded at altitude in 1981. The Olympian's prior best was 36.82.
Watch McLaughlin's race below: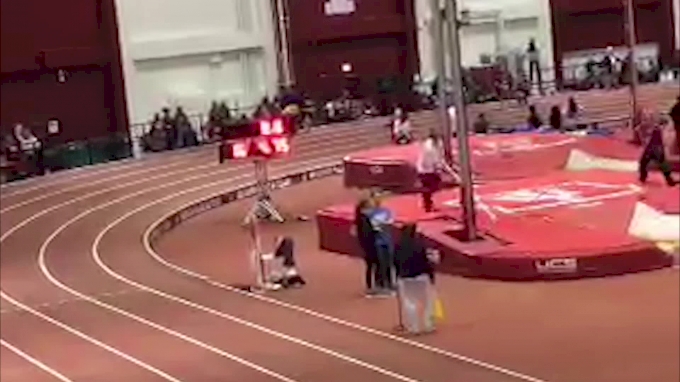 Other standout marks from the Hoosier Open included the 5Ks. The women's race saw Indiana's Katherine Receveur win in 15:48.1 over Charlotte Imer of Eastern Kentucky, who ran 16:09. The men's race also saw a winner from Indiana, as redshirt freshman Ben Veatch ran 13:57.27 over a group of Portland Pilots, with Jeff Thies (14:00.55) taking second place and Middle Tennessee State duo Kigen Chemadi and Jacob Choge placing third and fourth in 14:01 and 14:05.
According to USATF, the 19-year-old Veatch's time broke the American indoor junior record for 5K by 11 seconds. The listed record is Louis Luchini's 14:08.37 from 2000, though fellow Stanford Cardinal Chris Derrick actually ran 13:48.26 as a 19-year-old freshman in 2009. We have reached out to USATF for clarification.
Watch the men's 5K at the Hoosier Open: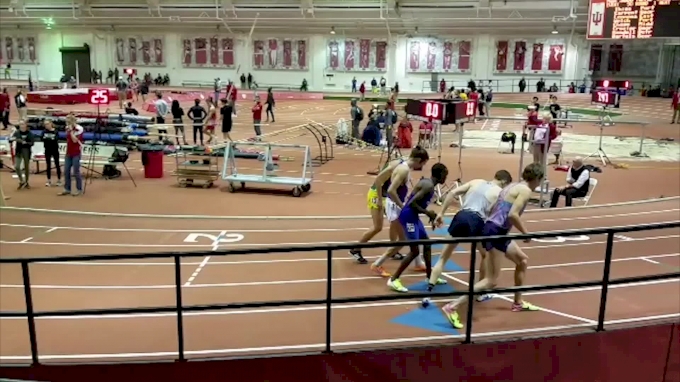 Other noteworthy marks from Indiana include the men's 500m, where Indiana's Daniel Kuhn clocked 1:01.35, and the men's 300m, where Kentucky freshman Dwight St. Hillaire ran 32.83 to defeat Tennessee All-American Nathan Strother (33.16).
Sammy Watson Runs NCAA No. 7 All-Time 1K
Middle-distance star Sammy Watson has clearly adjusted well to training in the South, as the New York native made her Texas A&M debut with a 2:42.12 1K. The mark broke the Aggies' school record and ranks No. 7 all-time in NCAA history. According to 12thman.com, her splits were 30.33, 32.51 (1:02.83), 33.72 (1:36.54), 33.12 (2:09.66), and 32.46. Watson's PB of 2:40.72, which set the national high school record last March, is faster than the NCAA record of 2:40.79 set by Kaela Edwards of Oklahoma State this year.
After her 1K run, Watson split 55.41 on the Aggies' "A" 4x400m relay.
Another nice double at Texas A&M's Reveille Invitational came from former Aggie Donavan Brazier, who became the 493rd American to break four minutes in the mile with a 3:59.3 win ahead of Leo Manzano. He also came back with a strong 4x4 split of 46.0.
Watch Brazier's first sub-four mile below:
Charlotte Taylor Leads Great Britain To Win European XC Championships
San Francisco's Charlotte Taylor, third at NCAA XC last month, helped Team Great Britain win the team title at the women's senior European XC Championships on Sunday in Slovakia. She was the top finisher for Team GB in sixth place with a time of 27:23 over the 8.23K course.
With five counters inside the top-15, the Brits claim the team title ahead of Romania and Turkey. pic.twitter.com/ZyBn48RxGy

— European Athletics (@EuroAthletics) December 10, 2017
And another gold medal for the British team in the senior women's race! pic.twitter.com/3Hpg3OgwsT

— European Athletics (@EuroAthletics) December 10, 2017
Several of Taylor's teammates also competed, but in the U23 race: Isabelle Brauer was sixth overall for Sweden in 21:09 and Weronika Pyzik was eighth for Poland in 21:18.
Washington's Amy-Eloise Neale, the NCAA XC runner-up in Louisville, placed fourth in the U23 race to aid Great Britain to the team title.
Other NCAA athletes who compted in Slovakia include Jasmijn Lau of Portland (fourth in the U20 race), Sophie Murphy of Iona (10th in the U20 race), Emmanuel Roudolff-Levisse of Portland (fourth in the U23 race), and Sean Tobin of Ole Miss (15th in the senior race).