2018 Aramco Houston Half Marathon
Molly Huddle, Jordan Hasay Chase Half-Marathon American Record In Houston
Molly Huddle, Jordan Hasay Chase Half-Marathon American Record In Houston
Molly Huddle and Jordan Hasay could break Deena Kastor's American record at the 2018 Aramco Houston Half Marathon.
Jan 9, 2018
by Johanna Gretschel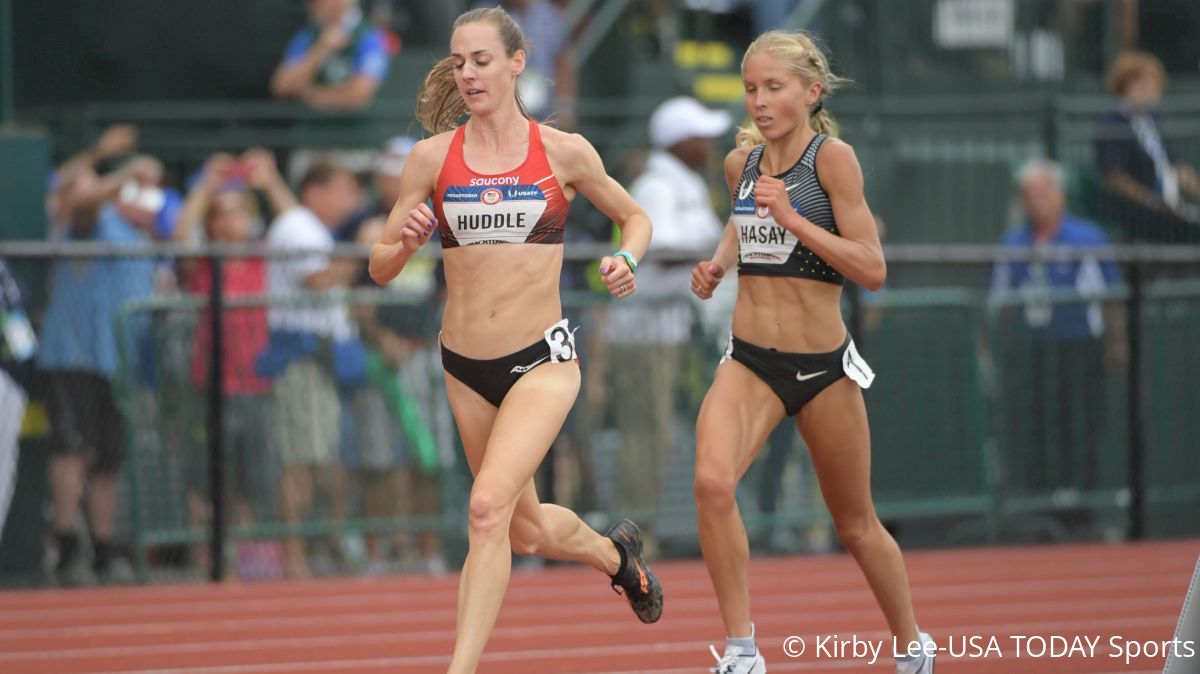 Twelve years have passed since Deena Kastor's spectacular 2006, which saw her set American records in both the half and full marathon distances in 67:34 and 2:19:36. Prior to 2016 Kastor was truly in a league of her own, as no other American woman had ever broken 68 minutes for the half marathon, and to this day no other American has run faster than 2:20 for the full distance.
But perhaps 12 years is long enough, as the second- and third-fastest female half marathoners in U.S. history are set to battle this Sunday at the 2018 Aramco Houston Half Marathon in Texas: Molly Huddle and Jordan Hasay, whose PBs of 67:41 and 67:55 make them the only American women to join Kastor in the sub-68 minute club.
Huddle vs Hasay
The 33-year-old Huddle seems to be the popular favorite for the record, as the multiple-time U.S. road champion is undefeated against Hasay and quite a bit faster in most distances.
Huddle still holds the American record in the 10K — 30:13.17 compared to Hasay's nearly four-year-old best of 31:39.67 — and ran her half-marathon PB of 67:41 at the 2016 NYC Half, a much tougher course than the pancake-flat Houston, where Hasay debuted in 68:40 last year. She later lowered her PB to 67:55 in Prague.
Yet Hasay is riding an exciting upward trajectory with her newfound success in the marathon. With third-place finishes at the 2017 Boston and Chicago Marathons and a personal best of 2:20:57 that makes her the second-fastest American ever, the 26-year-old Hasay is at least as promising — if not more so — a marathoner as Huddle, whose sole performance in the marathon warranted her a 2:28:13, third-place run at the 2016 NYC Marathon.
That the duo will meet in the middle, so to speak, of their respective 10K and marathon specialties, makes for an exciting and unpredictable battle. It will also set the tone for their rematch at the Boston Marathon, where 2017 NYC Marathon champion Shalane Flanagan is favored.
Even Kastor was reticent in choosing one over the other, stating via email, "My American record is sure to go this weekend with great competition and weather ideal for fast racing. If we were to look on paper, Molly has always won against Jordan, but Jordan has good momentum with her new career at the marathon distance, which makes this well-hyped race an exciting one to follow."
The Rest Of The Field
Both Huddle and Hasay could break the American record on Sunday and not place within the top three — though we think they will — as the top four entrants all have faster PBs than Kastor's 67:34.
Another course record! Edith Chelimo wins the women's race at the #bbccardiffhalf!

@BBCOne Wales

LIVE: https://t.co/ejE5pfQdqE pic.twitter.com/Wp6yfxJGvg

— BBC Sport Wales (@BBCSportWales) October 1, 2017
The fastest in the field is Kenya's Edith Chelimo, who ran 65:52 to win the Cardiff Half Marathon in October. The 31-year-old was also second at the Berlin Half Marathon and third at the Paris Half Marathon in 2017.
She'll have her hands full with Kenya's Mary Wacera Ngugi, who won bronze at the 2016 Half Marathon World Championships and silver in 2014. She is the 2016 Houston Half Marathon champion, setting a course and U.S. soil record of 66:29. She will aim to reclaim her title after placing third in 2017, one spot ahead of Hasay.
Eunice Chumba of Bahrain will also be a threat after setting the national record at 66:11 in winning the 2017 Copenhagen Half Marathon.
The Marathon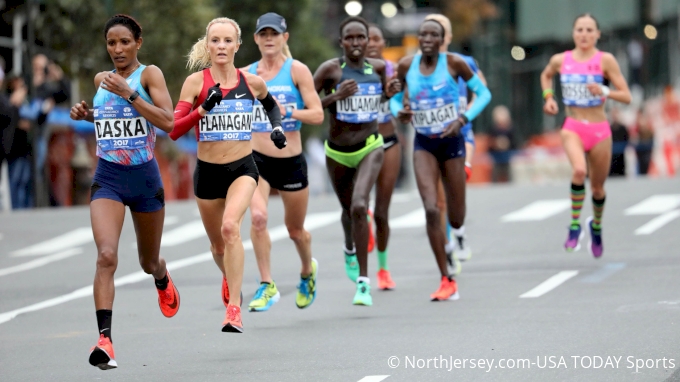 Mamitu Daska of Ethiopia, a consistent top performer at major road races, leads the field here with her 2:21:59 personal best from 2013. She was third at the New York City Marathon in 2017, a year in which she won several notable races: the Healthy Kidney 10K in New York City, the Crescent City Classic 10K in New Orleans, and the Bolder Boulder 10K in Colorado.
UPDATE: According to David Monti of Race Results Weekly, Mamitu Daska has withdrawn from Houston due to a tooth infection.
.@Mamitu_Daska will not run Sunday's #HOUMarathon. She had a tooth pulled yesterday due to an infection and needs to recover, according to her management, @ESMINTL. (Photo by @JaneMonti1 for Race Results Weekly) pic.twitter.com/D5OWt5OHUX

— David Monti (@d9monti) January 10, 2018
The top Americans are Lindsey Scherf and Sarah Crouch, both of whom have run 2:32 and could look at breaking 2:30 on a superlative day.
Olympic Trials Watch
Outside of the overall winners and American record watch, the third most compelling storyline of the Houston Marathon and Half Marathon is how many athletes will record qualifying times for the 2020 U.S. Olympic Trials.
The "A" standard to qualify through the marathon is 2:15:00 for men and 2:37:00 for women. The "B" standard is 2:19:00 for men and 2:45:00 for women. Half-marathoners can also qualify for the Trials with a time of 1:04:00 for men and 1:13:00 for women. You can read more on the 2020 U.S. Olympic Marathon Trials here.
It will be interesting to note how Houston matches up to the California International Marathon (CIM), an equally fast course that hosted that USATF National Marathon Championships in December. At that race, 10 men met the A standard and an additional 28 men met the B standard while 13 women met the A standard and an additional 41 women met the B standard.