By Lincoln Shryack
---
Starting small has never been too big of an obstacle for Western Oregon's David Ribich.
Once a 4-foot-10, 86-pound high school freshman competing at a tiny eastern Oregon school with just 118 students, Ribich has morphed into one of the best collegiate milers in the country despite his humble beginnings. Now a fully grown college senior entering 2018 after a shocking ninth-place finish at last summer's USA 1500m final, Ribich is on a quest to not only run faster and take down the big boys once more, but also to help elevate the image of Division II.
In the process, Ribich is hell-bent on learning his own lesson from USAs.
For Ribich, it's a mission that aligns with his personal belief in himself, one that says it's not where you start but where you finish. The reigning DII 1500m champion and 3:39 runner has steadily improved since his pint-sized prep days to reach the upper echelon of the college ranks, doing so despite never receiving a DI offer and — even with his success — still fighting the perception that DII runners don't belong up front.
"I've been at a Azusa Pacific meet and I'll hear a coach yell, 'Beat this Division II guy, you can't lose to a DII guy!'" Ribich told FloTrack. "At some point, hopefully, that'll change to where it's like, all right, these are racers, these are competitors, these are athletes."
Now with his name out there as a stud to be reckoned with, Ribich wants to show the track and field world that a smaller school doesn't have to mean smaller expectations. For Ribich, Division II does not equal second-rate, and he's hoping that his USA experience — both the good and not-so-good from it — can show other late bloomers and non-prep superstars that athletes can forge a path to greatness from anywhere.
"Just because you're from a small school doesn't mean you have to have a small dream," Ribich said.
"These are racers, these are competitors, these are athletes."
And 2017 was a dream season for the small school kid. Ribich won NCAA DII titles both indoor and outdoor — he anchored Western Oregon's DMR to a dramatic victory and NCAA record over mighty Adams State by .001 of a second before winning his first individual crown last spring in the 1500m — and that was only the beginning.
Two weeks after winning that national title, Ribich ran 3:39.56 at the Portland Track Festival, out-kicking Oklahoma State's Craig Nowak to take his heat. The result was nearly a two-second personal best, and, after a few scratches, a spot on the USATF Championship start line.
"In the prelims I was just thinking, 'Okay, I'm just gonna race. Technically I'm not supposed to be here. I'm ready to race, feel good. I've raced people in my heat before.' I just went through the basic mental preparation for any kind of prelim," said Ribich.
Congrats to our @NCAADII 🚹 SAOTY: Rami Gharsalli (IT), Corey Reid (IF), David Ribich (OT) & Florian Obst (OF)

MORE: https://t.co/DZ374Xy38l pic.twitter.com/dTMezdlJMr

— USTFCCCA (@USTFCCCA) July 31, 2017
In the sweltering Sacramento heat, the Division II champ certainly proved he belonged with the pros and fellow elite collegians. Going into the prelim with no extraordinary expectations, Ribich felt the pressure wane as he finished fifth in the third heat, qualifying him to the final while beating big names such as Drew Hunter, Andrew Wheating, and Mac Fleet in the process.
"And when I made the final, I was like, 'Holy crap, I made the final!'" Ribich said. "I was ecstatic."
But even though Ribich had surprised many — including himself — by advancing, his thoughts quickly went to the next race and how he pictured himself having a say in the outcome.
Despite being a total newcomer to the stage, Ribich did not want to take the just-happy-to-be-here approach, instead hoping to put himself in the lead if a tactical race set in early.
"Once I made the final, I'm writing a journal and in my journal — I can still read it — it says, the night before the final, 'If I'm in a position to take the lead, and we go out in a 63, 64, I'm going to do it,'" he said.
This fearlessness and willingness to go for broke, however, proved easier said than done in the heat of the moment in scorching Sacramento. In a loaded field with three spots to the world championships on the line, the confident kid from Enterprise, Oregon, found himself succumbing to the heavyweights around him.
Boxed in and unable to do much aside from hang on, Ribich never touched the lead as he had to fight his way to ninth place. It was a fine finish, further proof that he belonged, but upon reflection it was an uninspired performance that went against his steadfast ethos of never counting himself out no matter what.
"I was like, 'Holy crap, I made the final!'"
"I think I would be more satisfied getting ninth if I went to the lead, like what Ben Blankenship did, and I just died back, because I never really got a say in how the race went," Ribich said. "Mostly just going through the motions."
Just going through the motions hadn't transformed him from a non-recruit to a battler on the sport's biggest stage. A call from his high school coach and mentor Dan Moody afterwards drove home what Ribich already knew: he hadn't given himself a chance.
"I was happy with ninth until I called my high school coach and he just was ranting and raving: 'You were boxed in the whole time but you would have finished no further back than seventh if you would've just made your move!'" Ribich said. "He kind of riled me up."
Ribich may not have been ready to hear such a harsh assessment from his former coach, but Moody's input held tremendous weight for him. Ribich says Moody deserves credit for much of the success he's had in college, as the Enterprise coach saw to it that his pupil was never over-trained in high school while he slowly developed as an athlete. That meant at times skipping workouts that Ribich felt he was ready for, which irked him at the time. But now the DII star sees it was all a part of a plan.
"I credit him to the successes I can have now because when I was developing in high school, I wanted to be that guy in high school that was super good and he wouldn't let me do big workouts. He wouldn't let me do a lot of stuff, but I trusted him," Ribich said.
"He would have me work out enough where I could accomplish what I wanted to accomplish without being burnt out, getting hurt or whatever. By the time my senior year came, he was giving me really good workouts, but at the same time he knew my body was still developing so he didn't want to push me beyond a limit to a breaking point."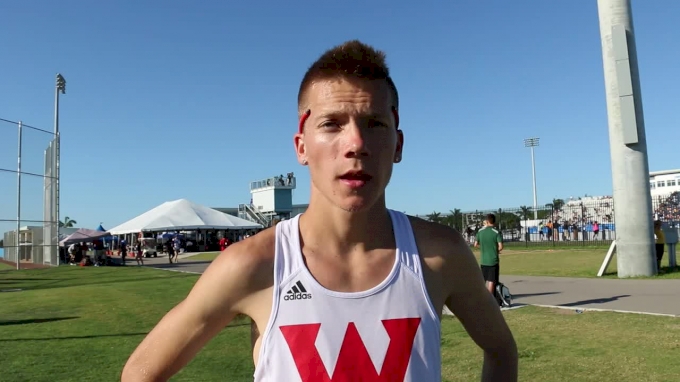 Ribich departed Enterprise with just a 4:10 1500m PR, not nearly enough to attract serious attention from a Division I program. (A DI coach Ribich had contacted failed to call him back and later said he lost his number.) But while Moody's plan may have limited Ribich's shot at a top program, by Ribich's freshman year at Western Oregon it was clear that the strategy was paying off.
Ribich ran 3:50 in the 1500m the spring of his first year at Western Oregon, as head coach Mike Johnson picked up where Moody left off by slowly nurturing Ribich's development. The steady uptick in mileage and intensity throughout his career has seen him improve to the point now of competing against the likes of Matthew Centrowitz and Robby Andrews — a path to the top that Ribich intertwines with the small school appeal.
"The perception that everyone has is, the bigger the school, the more money the school has, the better the outcome," Ribich said. "But sometimes, schools can be a perfect match for an athlete; they just have to give themselves a chance and give themselves the confidence to make that decision."
Ribich, like others before him, has experienced firsthand that modest times in high school and developing at a small college program do not create the ceiling on an athlete's potential. He's believed in his process since high school, and now that the fast times have come Ribich is focused on using the spotlight to motivate the next generation of underdeveloped athletes.
"What I hope to do is work my way up to that point and while I'm still in college be known as a DII guy, because I want people to know that, and them to see, 'Okay he's doing it, so why can't I do it?'"
Part of that job this season for Ribich has been atoning for the hesitant approach he used in that USATF final. While that ninth-place finish earned him praise from his DII peers all fall on the cross country course, Ribich still had a slight taste of disappointment in his mouth months later from never fully putting himself in the mix in Sacramento. So when it came time for the NCAA DII Cross Country Championships in November — his final cross country race — Ribich decided he wasn't going to let his underdog status keep him from the ultimate goal again.
As other contenders hung back off the hot early pace, Ribich chased heavy pre-race favorite James Ngandu of Tiffin through the race's first three kilometers, challenging himself to leave everything on the course. The strategy didn't fully pay off — Ribich faded to 30th — but he had earned his first cross country All-American nod, and, more importantly, had not backed down from the moment.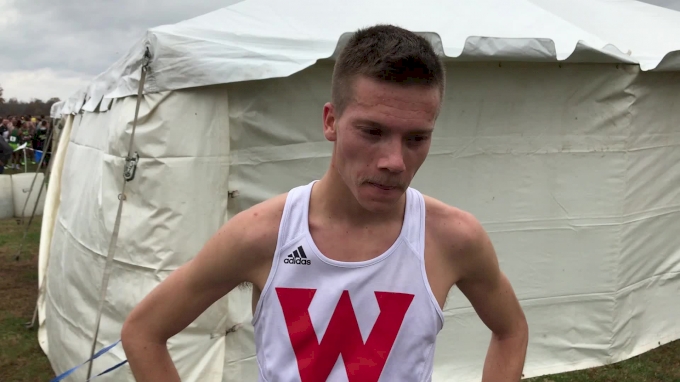 "Looking back at USAs, it was kind of like some unsettled business that I wanted to try to do at cross country that I should have done at USAs," Ribich said. "Just try to go for it."
The "just go for it" attitude for Ribich isn't simply a method of running aggressively in every race, but instead a doctrine of seeing a plan through — no matter how far-fetched it seems in the beginning, or how long it may take to get there. That belief started in high school, under the tutelage of Moody, back when the 86-pound Ribich would have never been labeled a future professional athlete.
The Ribich of today — a two-time national champion and USATF finalist still working to prove himself — owes a lot to that tiny freshman eight years ago and that high school coach who convinced him that running with the big boys would not happen overnight. It's why he's so intent on earning respect for DII, a place for late-bloomers like himself to thrive. And it's why he knew the perfect person to keep his NCAA 1500m national champion trophy: coach Moody.
"I told him, 'This is just as much mine as it is yours.' He sent me a picture of it between two antelope mounts on his fireplace. It's a much better place there than sitting on my shelf."