2017 DI NCAA XC Championships
How To Solve Cross Country's Gender Equality Problem
How To Solve Cross Country's Gender Equality Problem
Men and women should race the same distance for NCAA XC, but what distance should that be?
Jan 31, 2018
by Johanna Gretschel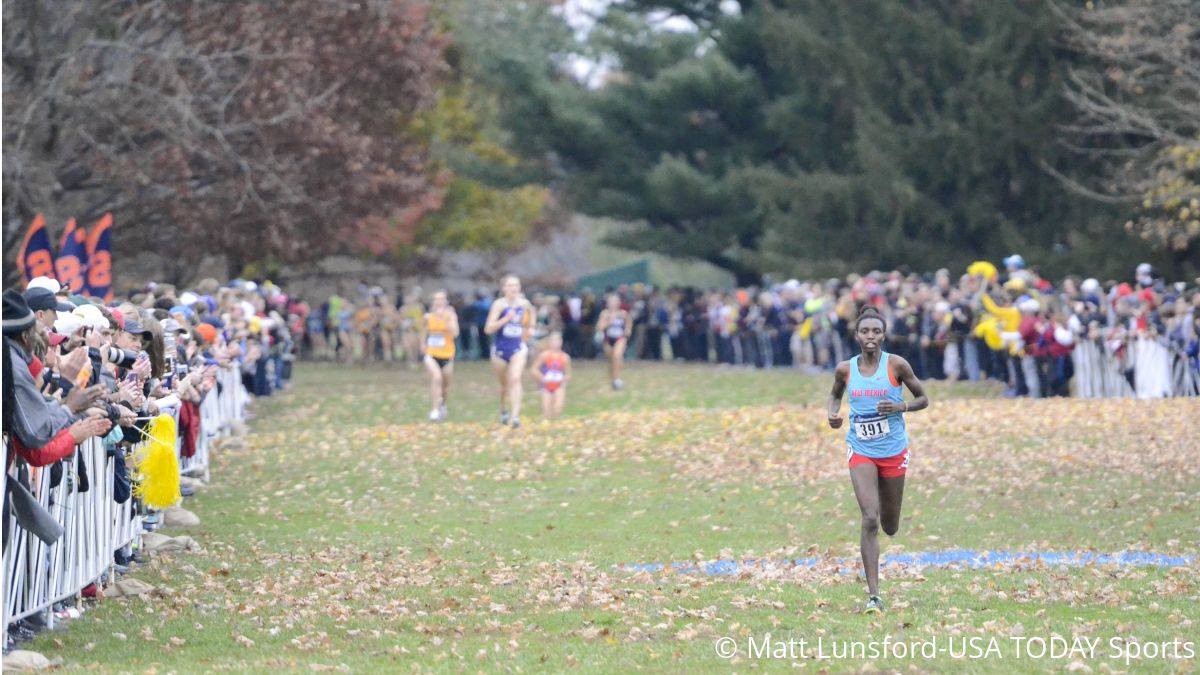 It's no secret that cross country's gender divide is pretty archaic.
The specifics vary by country and by competition, but essentially it's typical for men to run longer distances than women — even though both genders have successfully raced the marathon at the Olympic Games since 1984.
Londoner Maude Hodson sparked renewed interest in the subject this past December, when she started a viral online petition "to equalise cross-country races for men and women in England."
Hodson's petition provoked thoughtful responses from the likes of marathon world record holder Paula Radcliffe, 10K world silver medalist Kara Goucher, and four-time NCAA champion Lauren Fleshman — the sum of which reveal that perhaps it's too simplistic to propose bumping, for instance, women's NCAA cross country runners up from 6K to the men's distance of 10K without a bit more reflection about how such a dramatic increase in distance would affect the quality of the race, injury rates, and high school recruiting, as well as an athlete's future earning potential.
Radcliffe, a two-time world cross country short course champion and two-time European XC champion, sparked the online debate with the following tweet:
Equality actually means Equal Rights and Respect for every person on this earth. It does not mean we must make everything we do exactly the same as men in the name of equality. Many things we already do better. Leave them be. #concentrateontherealissues #XCworksbest8k

— Paula Radcliffe (@paulajradcliffe) January 16, 2018
She went on to argue that, though she herself was a marathon specialist and likely would have benefited from a longer race, she believes the 8K distance makes for a superior race experience because it's more inclusive to both middle and long distance runners.
Hodson's petition is specifically targeted toward changing women's championship races in England from 8K to the men's distances of 12K and 15K, which Radcliffe says would diminish the quality of the current competition.
You are misunderstanding the point. Marathon has always been 26.2. For cross country 8km is a better distance, better races, brings more athletes together and more interesting to watch. Why assume that what men do is the best option?

— Paula Radcliffe (@paulajradcliffe) January 16, 2018
Goucher, who won the NCAA Division I XC championship individual title in 2000, vehemently disagreed with Radcliffe.
I have to respectfully disagree. We have come to a place of equality on the track and the roads- why are we still telling XC girls and women that they aren't capable or strong enough to handle longer XC distances?

— Kara Goucher (@karagoucher) January 16, 2018
The exchange made me think about the cross country race that FloTrack spends the most blood, sweat, and tears covering — the NCAA XC championships.
Watch the 2017 NCAA DI Women's XC Championship here.
When Goucher won the NCAA DI XC title in 2000, it was the first year that women moved up from 5K to 6K since women's cross country was established as an NCAA sport in 1981.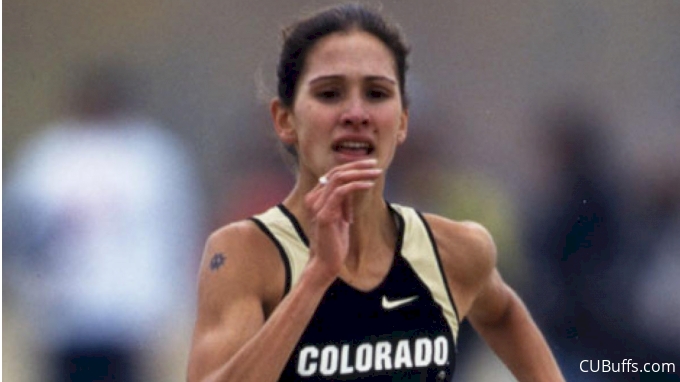 Collegiate men, meanwhile, have raced 10K since 1976 and no shorter than 4 miles (6.55K) ever, the latter being the standard distance from the very first NCAA XC championships in 1938 until 1964.
Perhaps there is more history in the men's 10K than the women's 6K, but the longer distance isn't necessarily indicative of a superior athletic ability, nor is it more interesting to watch from a spectator's perspective.
The beauty of the women's 6K is that it is inclusive to almost every event specialist on the track: 800m/1500m middle-distance types are just as capable of winning the big dance as 5K/10K runners.
When comparing top finishers at the 2017 NCAA DI XC Championships, it's very clear that the men's race favors 5K/10K specialists. Seventeen of the top 20 men at 2017 NCAA XC are long distance runners, while only 11 of the top 20 women specialize in the 5K or 10K.
Amy-Eloise Neale of Washington is the perfect example of this pattern, as the three-time All-American over 1500m and the mile recorded the fastest final 1K of anyone in the field (2:59.9) in Louisville and kicked down NCAA 10K champion Charlotte Taylor of San Francisco for runner-up honors behind victor Ednah Kurgat of New Mexico.
Watch the post-race interview with Neale here.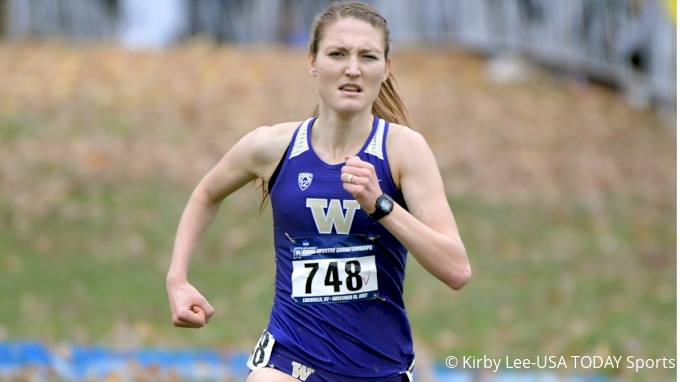 Of the top 10 women, five have earned All-American honors in events besides the 5K or 10K. On the men's side, only Justyn Knight and Dillon Maggard have earned All-American honors in a non-5K or 10K event, though the 5K could certainly be defined as their specialty.
That a 1500m runner in Neale and a 10K runner in Taylor has equal chance to fight for the crown against Kurgat, a 5K specialist, shows the unpredictability and, therefore, higher entertainment value of the women's NCAA championship race.
Conversely, once NAU's distance duo of Matthew Baxter and Tyler Day set a hard pace from the gun in the men's race last fall, the move eliminated essentially all middle distance runners from contention. (Which was exactly Baxter and Day's plan, and which won their team the national title).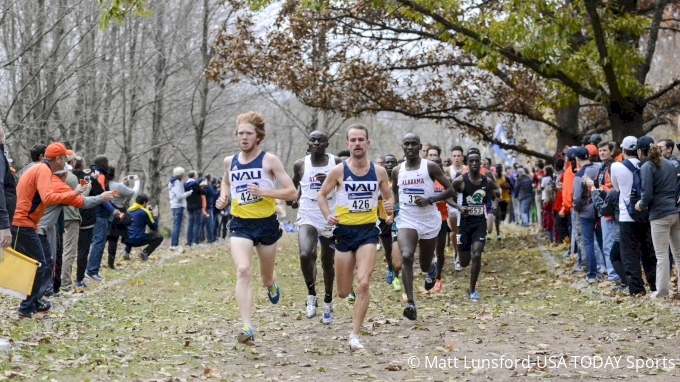 Watch the 2017 NCAA DI Men's XC Championship here.
This is not to say that every men's cross country championship is an honest race from the start — there have certainly been slower races that allow middle distance men to retain a top position. But there is more potential for "upset" in the women's 6K distance.
Perhaps the most egalitarian system currently exists in U.S. high school cross country. As of 2016, all 50 states offer 5K or three miles as the standard championship race distance for both girls and boys, save for some private schools and the smallest classifications in Texas and Oklahoma, which hold 3200m or two mile state title races for girls.
With preps united at a common distance of 5K — or, in some states like Montana and Utah, the slightly shorter three miles — it's a fairly seamless jump to the women's collegiate standard of 6K, and it's not uncommon to see several top female freshmen mix it up in the lead pack at NCAAs and earn All-American honors.
Not so much for the men's 10K.
There are typically twice as many female true freshmen in the top 40 (All-American) and in the top 100 — though 2017 was actually an outlier year as seven male and six female first-year runners placed in the top 100. But compare that to 2016 (five women in the top 40, 14 women in the top 100; one man in the top 40, three men in the top 100) and 2015 (six women in the top 40, 13 women in the top 100; three men in the top 40, six men in the top 100), and you can see the pattern emerge.
Even in an anomaly year like 2013, when true freshmen Edward Cheserek, Ben Saarel, and Patrick Tiernan placed first, eighth, and ninth overall, there were still nearly double the number of true freshmen women in the top 100 than men: 13 to seven.
The ability of true freshmen to compete right away keeps the sport exciting and unpredictable, and lends high-stakes importance to programs' ability to recruit.
What if the men's distance was thus lowered to 6K? Or perhaps men and women could meet in the middle to race 8K?
In the aforementioned Twitter debate, Radcliffe and Fleshman were strong proponents of the 8K. Fleshman, a three-time top-five finisher at NCAA XC for Stanford who also represented the United States at World Cross in 2005, suggested that men switch to the slightly shorter distance to create equality in the sport.
— Lauren Fleshman (@laurenfleshman) January 17, 2018
Things to consider when selecting the equal distance:

-How it fits into the entire year calendar.
-Who it provides opportunities for.
-Who it excludes.
-The depth of international competition.

What do you think? What else should we consider?

— Lauren Fleshman (@laurenfleshman) January 17, 2018
Then again, if the highest level of the sport — the USATF Nationals and IAAF World Cross Country Championships — features a 10K race for both men and women*, then maybe the collegiate system should simply buck up and increase the women's distance to a full 10K.
Female collegiate distance runners have spent the majority of the academic year training specifically for the 10K since the sport of women's outdoor track and field was added to the NCAA program in 1982.
Would racing another 10K in the fall really be that big of a deal?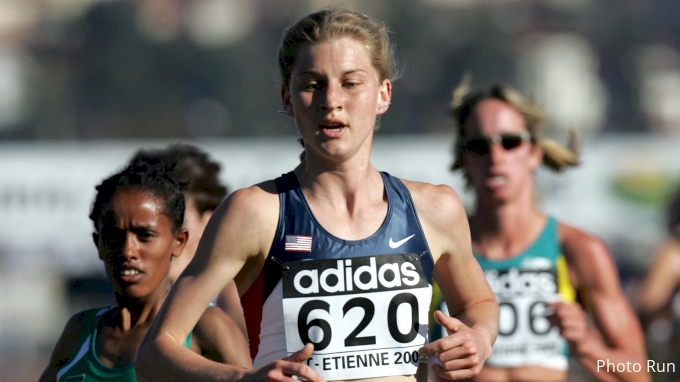 Of course it would.
To increase the NCAA women's racing distance from 6K to 10K would completely turn the collegiate system on its head. Women's teams wouldn't be able to build strong cross country squads from exclusively middle-distance based rosters any longer, and we might see an entirely new reign of powerhouse programs as a result.
Two-time Olympic medalist Nick Willis of New Zealand, a Michigan alum, also points out that women's cross country teams may be at increased risk of injury due to training at higher mileage volume.
If NCAA cross country were 10K instead of 6K, would the injury-prone Sheila Reid of Villanova have won back-to-back titles in 2010 and 2011? She is, after all, a 1500m/5K hybrid — not a 5K/10K type.
Perhaps with an extra 4K to run, her Oregon rival Jordan Hasay — now one of the top marathoners in the world — would have won that elusive cross country title.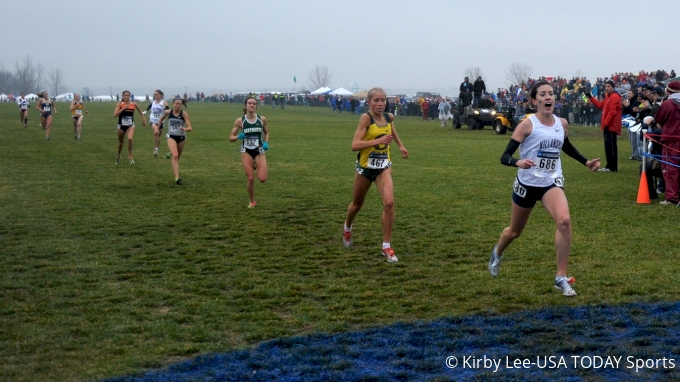 Watch Reid's post-race interview after defending her NCAA XC title in 2011 here.
To provide a solution, I want to point to the IAAF's since-disbanded practice of hosting separate long-course and short-course races for the World Cross Country Championships. Between 1998 and 2006, the IAAF held a short course race of 4K for both men and women, then a long course race of 8K for women and 12K for men on back-to-back days.
Runners with different strengths thus had an outlet to be competitive, and true world-beaters were given the opportunity to race both distances. Kenenisa Bekele won an insane five straight double titles from 2002 to 2006.
What if the NCAA took a page from this now-defunct event? Of course, the beauty of NCAA cross country is that the race pits runners of all different disciplines against each other in one big grind-fest. If athletes and coaches got to pick one distance over the other, that would ruin all the fun.
So, here we go.
I propose that the NCAA host two separate cross country national championships: a short course championship in October and a long course championship in December. Men and women would race 6K in October and 10K in December. Both races are national title races with the same amount of pressure and accolades on the line. Distance runners would be incentivized to compete at both due to the increased marketing potential of an additional NCAA title.
Two NCAA XC titles sounds better than one, right? How many past champions do you think would be capable of pulling off the 6K/10K XC double?
Plus, athletes would then get to take their two-week break at Christmas instead of Thanksgiving, which sounds worth all the bureaucratic hassle of creating an entirely new NCAA championship event — at least, to me.
*It is worth noting here that the IAAF and USATF race distances are a relatively new phenomenon. The IAAF held an 8K race for senior women and 10K race for senior men until just last year. In 2017, senior races for both genders were 10K, though the junior races are still disparate as the under-20 men race 8K and the under-20 women race 6K.
At the USATF XC championships, which will be held this weekend in Florida, men and women will both race 10K for the third year in a row. Prior to 2016, senior men raced 12K and senior women raced 8K; junior men and junior women still race 8K and 6K, respectively.