2018 USATF XC Championships
USATF XC Preview: Nike Oregon Project, Bowerman, U.S. Army WCAP To Battle
USATF XC Preview: Nike Oregon Project, Bowerman, U.S. Army WCAP To Battle
Olympic and world medalists Galen Rupp, Evan Jager, Courtney Frerichs, and Emily Infeld take on the best of the U.S. for the USATF XC Championships.
Feb 1, 2018
by Johanna Gretschel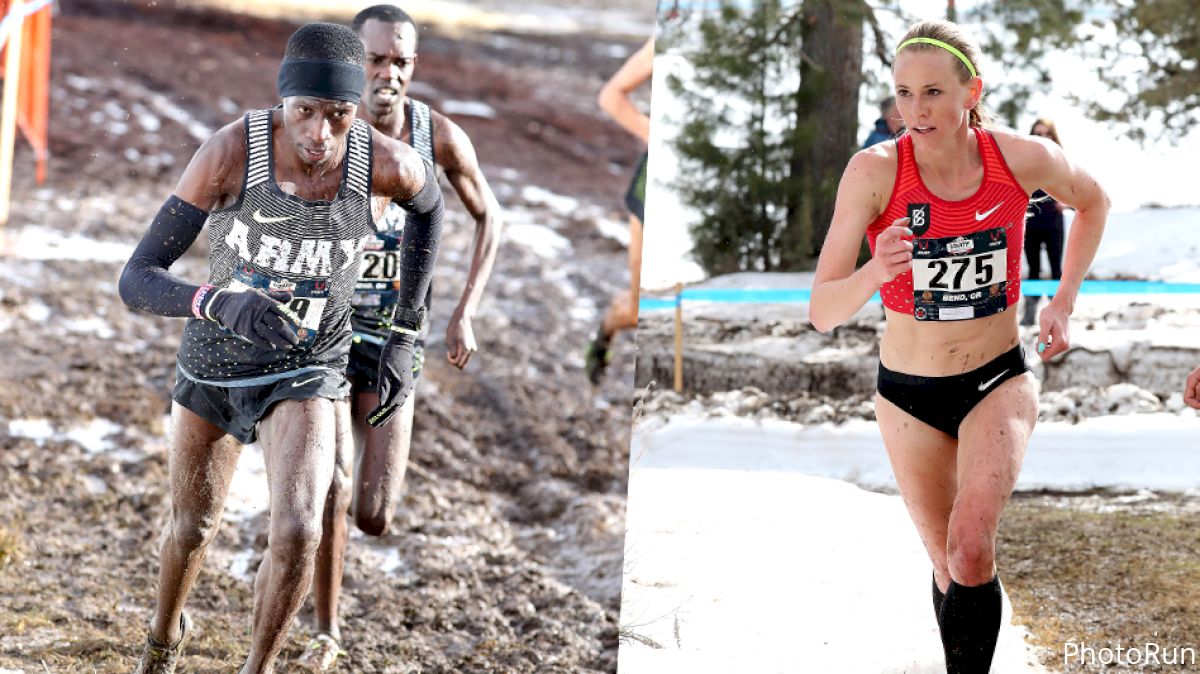 It might be February, but cross country is still in season! The USATF XC Championships go down this Saturday in Tallahassee, Florida, with 10K races for both men and women. There's no world cross to qualify for this year, so the event is simply a fun way to kick off the track and road racing season for this slew of diverse athletes — with, of course, a national title on the line.
Women's 10K
When: 12:05 PM ET
Who: Jordan Hasay, Emily Infeld, Courtney Frerichs, Stephanie Bruce, Molly Seidel. Chelsea Blaase, Anne-Marie Blaney, Hannah Everson, Olivia Pratt
Why: A 10K will feel short for the Nike Oregon Project's Jordan Hasay; the 2:20 marathoner hasn't raced cross country since putting together three consecutive top-three finishes at the NCAA DI XC championships for Oregon from 2010 to 2012. Her appearance here adds an extra layer of intrigue to the race — though it must be noted that while NOP announced her entry on Twitter, she's not actually listed on the official USATF start list.
While the championship will act as a tempo effort for Hasay's main focus of 2018 — the Boston Marathon in April — the 10K distance will be right in the wheelhouse of Bowerman TC's Emily Infeld and Courtney Frerichs, both of whom are global medalists on the track; Stephanie Bruce, who was seventh at USATF XC and 22nd at world XC last year; and Molly Seidel, the four-time NCAA champion who recently led the United States with a third-place individual finish at the Great Edinburgh XC Challenge over 6K.
Frerichs, the world silver medalist in the steeplechase, was fourth at last year's USATF XC championships and the top returner to this race, as Aliphine Tuliamuk, Laura Thweatt, and Kellyn Taylor are not entered. She is coming off a stint of altitude training in Colorado Springs with teammate Infeld, the 2015 world bronze medalist for 10K.
Interestingly enough, both Frerichs and Infeld were members of NCAA DI XC team title-winning programs: Frerichs won with New Mexico in 2015 and Infeld won with Georgetown in 2011.
Bruce opened the year with a win at the Rock 'N' Roll Arizona Half Marathon in 72:31, the fourth-fastest time of her career and nearly three minutes faster than her winning time at the same race in 2013.
Recent college grads Chelsea Blaase (formerly of Tennessee), Anne-Marie Blaney (UCF), Olivia Pratt (Butler), and Hannah Everson (Air Force) will be fun to keep tabs on. Blaase, Blaney, and Pratt all competed at Great Edinburgh with Seidel in January, where they placed 12th, 19th, and 20th, respectively.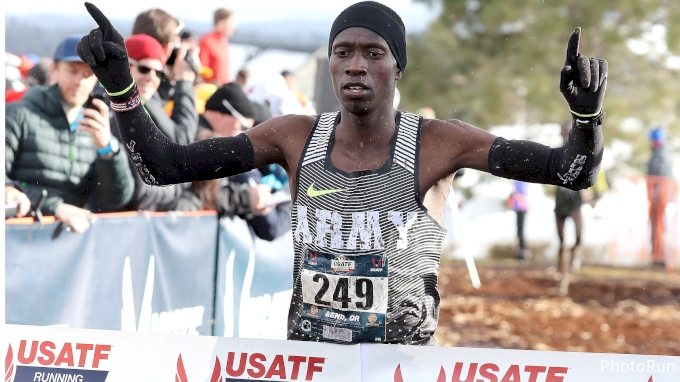 Men's 10K
When: 12:55 PM ET
Who: Galen Rupp, Evan Jager, Leonard Korir, Haron Lagat, Stanley Kebenei, Abbabiya Simbassa, Scott Fauble, Aaron Braun, Elkanah Kibet, Luke Puskedra, Tim Ritchie, Robert Cheseret, M.J. Erb, Martin Hehir, Ian La Mere, Matthew Llano, George Parsons
Why: As far as we can tell, Olympic silver medalists Galen Rupp and Evan Jager have never raced each other in a major competition before, a fact that should drive interest in this race without need for any additional storylines. In 2018, the two athletes are at very different points in their careers with different specialties — the 31-year-old Rupp has completely (and successfully) transitioned to the marathon, while the 28-year-old Jager is at the height of his game in the steeplechase.
Rupp last raced cross country in 2011, when he was runner-up at Great Edinburgh to Mo Farah. Before that, his last outing on a cross-country course resulted in winning the 2008 NCAA DI XC title for the University of Oregon; Rupp is the last American man to win the title.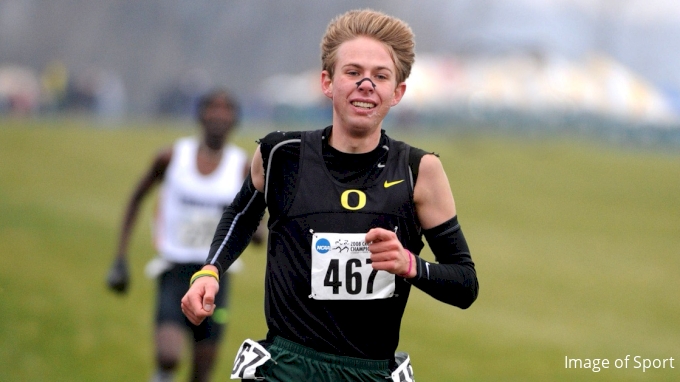 In contrast, the last cross country race on record for Jager was a 15th-place finish at the 2007 Foot Locker Midwest Regional as a senior at Jacobs High School in Algonquin, Illinois. (Fun fact that year: Jager won the Illinois AA state title that year ahead of fellow pro runner Chris Derrick, who took third in that race and was slated to compete in Florida this weekend before withdrawing with injury).
The steeplechaser's level of success since, then, should serve as inspiration for anyone who's ever just missed qualifying for Foot Locker Nationals. (Let the record show, however, that Jager did qualify for and place ninth at Foot Locker in 2005).
Of course, the U.S. championship will hardly be a two-man show and, in fact, you'd be better off placing your bet on one of the U.S. Army WCAP crew to take home the title than either Rupp or Jager.
The top man for the job seems to be defending USATF XC champion Leonard Korir, who has also won the past two individual titles at Great Edinburgh. A stellar 2017 also saw him win the USATF 10K championships (Peachtree Road Race) and the U.S. half marathon championships. He was runner-up to Rupp at the USATF 20K Championships in September, but Korir should superior in a shorter event — he placed third in the 10K at the USATF outdoor championships to earn the final spot to worlds, while Rupp placed fifth. Fourth-place finisher Abbabiya Simbassa will also compete in Tallahassee this weekend.
Last year's USATF XC runner-up is back, too, in U.S. Army's Stanley Kebenei. But watch out for their compatriot Haron Lagat, who recently ran a breakout 1:01:01, the seventh-fastest time in American history, for 10th place at the Houston Half Marathon earlier this year.
Watch U.S. Army WCAP: Soldiers First for an inside look at the top competitors this weekend.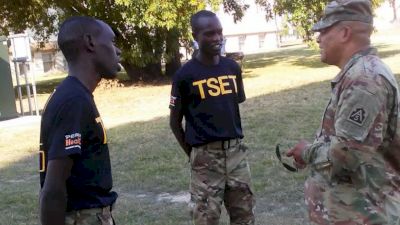 Unlock this video, live events, and more with a subscription!
Get Started
Already a subscriber? Log In
Tim Ritchie, the 2017 USATF marathon champion, will return to the U.S. cross nationals after placing 23rd last year.