The Making Of A Marathoner: U.S. Champion Tim Ritchie
The Making Of A Marathoner: U.S. Champion Tim Ritchie
Tim Ritchie won his first USATF road championships title this month at the California International Marathon
Dec 19, 2017
by Johanna Gretschel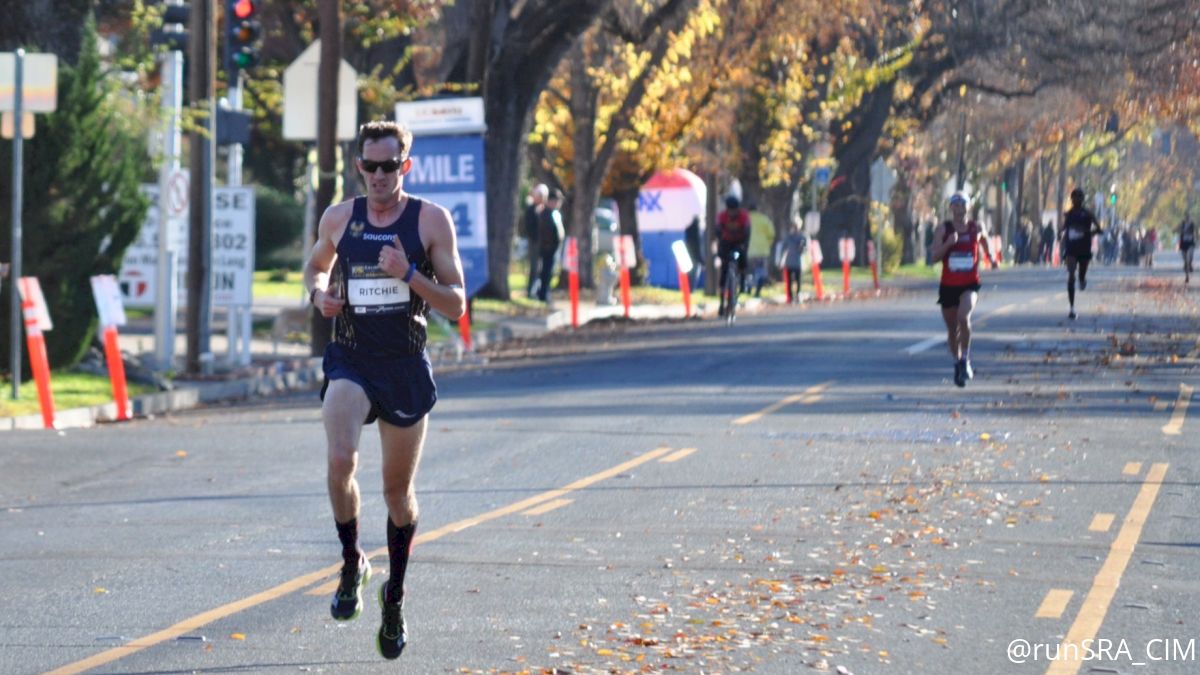 In the summer of 2012, Tim Ritchie was pretty close to hanging up his spikes.
The Massachusetts native was three years out of Boston College and had missed qualifying for the Olympic Trials in the 10K.
"I had given it a shot," he says. "But I was at a point in my life where other things started to matter, and call me, and I wondered if I should leave it all behind."
Ritchie's coach, Matt Kerr, for whom he was also working as an assistant coach at BC, advised him not to quit before trying a marathon. Ritchie acquiesced and entered the 2013 Boston Marathon.
That year at Boston was historic for unfortunate reasons, as three people died and hundreds more were injured when terrorists set off homemade bombs near the finish line.
The event proved life-changing for Ritchie.
"My whole perspective on running shifted," he says. "Both with the excitement of the buildup for the Boston Marathon and the joy of running the Boston Marathon, but also in the wake of the bombings that year, reevaluating and finding a new understanding of what it meant to be a runner, and what it meant to be a part of that community. It flipped the whole script for me, where the running thing wasn't just a hobby, or me seeking a personal best — this is something much bigger.
"I'm part of this Boston community where running brings out the best in people and showcases the spirit of generosity and care and people rushing to the assistance of others; people overcoming tragedies and obstacles and all being runners… [I thought], 'I'm not ready to leave this yet, I want more.'"
Four and a half years later, Ritchie the marathoner has officially arrived.
"You've just got to trust that you'll find the strength when the time comes," said @TimRitchieWTD after winning the USA Marathon title at #CIM35 in a personal best 2:11:55 (photo by @d9monti for Race Results Weekly) pic.twitter.com/2uu7fUtUvW

— David Monti (@d9monti) December 3, 2017
The now 30-year-old, who is sponsored by Saucony, won the USATF Marathon Championships earlier this month, his first national title after what he estimates are 25 appearances on the USATF road championships circuit. The race was held in conjunction with the historically speedy California International Marathon in Sacramento, and Ritchie lowered his four-year-old personal best from 2:14:50 to 2:11:55.
That time makes Ritchie the second-fastest American in 2017 behind only Galen Rupp, the Rio Olympic bronze medalist in the event who ran 2:09:20 this year to become the first American to win the Chicago Marathon in 15 years.
"I was surprised by the time actually," Ritchie says of Sacramento. "My only real goal was to run a solid last 10K. My last two marathons, I pretty much walked it in over the last couple miles and I wanted to reverse the trend on that.
"If I had another race like I did at New York, where I'm running eight-minute miles to finish it off, then it's a sign that I need to rethink the marathon or try something different. But this validated that maybe the marathon is an event I can succeed in."
Ritchie certainly wasn't closing in eight-minute miles in Sacramento — more like 4:55. His strength at the end was likely due in part to a conservative start that saw him split 66:52 at halfway while positioned in just 16th place.
It wasn't until mile 23 that Ritchie and the chase pack were able to catch Parker Stinson, who had taken the race out at sub-2:10 pace but stopped several times over the 20-mile mark to stretch out a cramp. Once they passed the leader, Ritchie seized his opportunity and jetted to the win in 2:11:56 over Tyler McCandless, who ran 2:12:28.
Ritchie's second half marathon split was 65:04, a negative split of almost two minutes.
Great job to our top 3 finishers. @TimRitchieWTD @TrackTy @Kiya_Dandena pic.twitter.com/WvDoFLXpGD

— SRA and CIM (@runSRA_CIM) December 3, 2017
The quoted reference to New York is about his self-described poor performance at the 2016 New York City Marathon, where he placed 19th in 2:21:09. Though the race was about a minute faster than his 25th-place, 2:22:16 run at February's Olympic Trials, it felt eons away from the potential he showed when he ran 61:23 to win the 2015 Rock 'n' Roll Philadelphia Half Marathon.
"After New York, I was really humbled," he says. "[I felt that], okay, I need to learn more about the marathon and not assume that because I've run a fast half or had some success on the roads that I'm ready to hang with these guys. I got my butt kicked out there."
Last fall, Ritchie was also in the midst of several big personal changes. In August, he had quit his assistant coaching job at Boston College to focus more on his own running and move to New Haven to live with his fiancée, Kristin, who was enrolled in nursing school at Yale. He also switched coaches from long-time mentor and BC head coach Matt Kerr to 2004 Olympian Tim Broe, whom he originally met while recruiting one of Broe's high school athletes.
"I will always consider myself a Boston College community member," Ritchie says. "I just needed a change. If I was going to continue in coaching, I needed to mix it up and learn some new things and be challenged in new ways. As an athlete, I'd been doing the same thing for years and what coach Kerr said [was], 'Sometimes you need to make changes to ignite a new fire and spark some development.'"
A new spark was particularly needed after a disappointing showing at the Olympic Trials Marathon in Los Angeles. It was his first race at the distance since 2013, when he set a best of 2:14:50 at the Twin Cities Marathon, because he was out of commission from March of 2014 to March of 2015 with two stress fractures.
"Qualifying and getting to the Olympic Trials is such a happy moment, but I have a bit of an injury history and I just couldn't get the training going," he says. "Getting up to the Trials, I knew I was going in there on a wing and a prayer and it was a tough race. The hype is really big [for the Trials] and I'd run a big half so there was a lot of publicity. I wanted to do something really special to represent my family and Boston College and the people who had a really big part in my running journey. When it didn't come together, it was really tough."
After two dismal marathon showings in 2016, Ritchie and his coach, Tim Broe, decided against pursuing a 2017 spring marathon or a world major in the fall.
Instead, Ritchie ran various distances on the road this year, including five different USATF Championship events over 15K (16th), 20K (fifth), 25K (fourth), half marathon (fifth) and, of course, the marathon.
He saw Broe's Freedom Track Club officially launch this summer with several big name post-collegians attached. And he married Kristin, whom he still lives with in New Haven — though he makes the trek to Boston for four- or five-day training stretches each month.
Watch the FloTrack feature on Tim Broe, founder and head coach of the Freedom Track Club: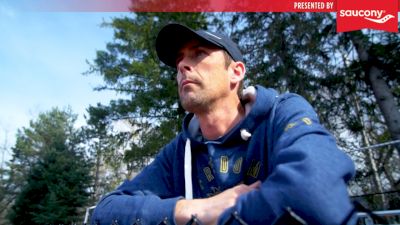 Ritchie is the only marathoner in what is mainly a track-based group of athletes who compete in events ranging from the 1500m to the steeplechase to the 10K.
"I can go up there [to Boston] and feed off their youthful energy," Ritchie says of his newly post-grad Freedom TC teammates. "They can do things I haven't been able to do in awhile [on the track]. It's encouraging to see their excitement for the sport and their goals start to develop and come true. It reminds me of how far I've come in the sport and how lucky I am to be a part of it."
To prepare for a fall marathon while simultaneously thwarting his inclination towards injury, Ritchie conservatively upped his mileage and spent more time in the weight room.
"I average around 80 to 85 miles a week," he says of his build-up to CIM. "It's definitely on the low end [for a marathoner] but for me, I've run more miles in the last 10 weeks on average than I have in any other 10-week period of my career. So I'm getting there. Mileage is obviously a big part of marathon training — I don't think it's the factor, but it is a big factor. I was pretty healthy for the buildup, so hopefully this gives me the confidence to maybe jump into the 90s next spring or next fall and keep building slowly on this foundation."
His health actually faltered in the weeks just before CIM, when he came down with a "wicked" illness, "a flu or cold or something."
"For better or worse, I had to take a few days off running," he says. "It was an unplanned taper. Maybe that was my way of getting rest. At the time, I was [stressed to be] missing all these runs, missing all this training. But in hindsight, maybe it was a blessing in disguise."
Ritchie is an athlete who is never far from remembering to count his blessings.
"I see this [2020] Olympic Trials, Olympic Games build-up as probably the last chapter of my running career," he says. "I left the 2016 Trials hungry for something that I wasn't able to achieve. But what I realized that day was that nothing changed in the eyes [of the people I care about]. It was only me who saw it as a failure.
"When I walked out of the recovery tent and reunited with my now wife and brother and sister and friends — I was the same runner who has his hopes and dreams and makes them proud. It was really encouraging for me to realize that who you are isn't defined by a place in a race, or a time. It's much bigger than that."
He turns to baseball — like a true Boston native — to articulate what it meant to win his first USATF road championship title.
"You keep swinging that bat and hope one day you hit a home run. It's hard sometimes — to extend the metaphor — to walk back to the dugout with your head up. So many people have helped me over the years and believed that I could do this someday. I felt like I was not out there alone."