Last week, I wondered if Missouri's three-time NCAA champion Karissa Schweizer had a chance to break Jenny Simpson's 4:25.91 collegiate record in the mile after the 5K specialist turned in a somewhat-shocking 4:27.54 run at the New York Armory.
Jury is still out on whether or not she'll go for the mile record or even race it again this season, but after a stunning 25-second 3K PB at the NYRR Millrose Games this weekend, the senior set her first collegiate record in 8:41.60.
The prior record also belonged to Simpson, who ran 8:42.03 in 2009, one of six collegiate-best marks she set that year (indoor mile, 1500m, indoor 3K, indoor 5K, outdoor 5K, steeplechase), although only five count as NCAA records because her 15:01.70 indoor 5K was run on an oversized track.
2009 was the year that Simpson (then Barringer) broke four minutes in the 1500m and placed fourth in the world in the steeplechase as a 22-year-old college student.
No one is expecting anything of that nature from Schweizer just yet, but for the Mizzou Tiger to put her name up there alongside Simpson's is, one, impressive, and two, proof that she is a major threat to make U.S. teams in the future and succeed on the pro circuit right away. Heck, she nearly stole the Millrose race from three established pros in Jamaica's Aisha Praught-Leer, USA's world steeple champ Emma Coburn, and South Africa's Dom Scott-Efurd — all of whom are Olympians.
Schweizer reacts to her collegiate record-breaking effort in the 3K: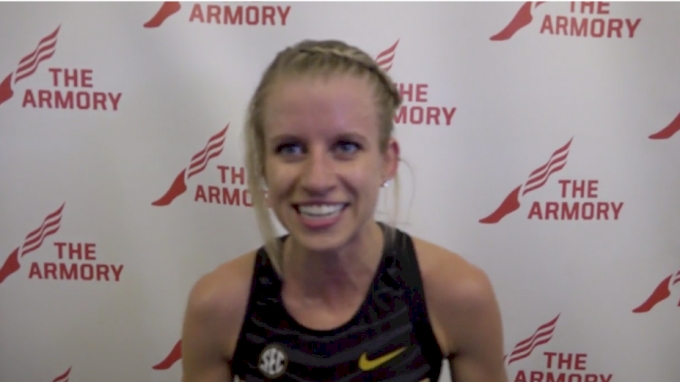 The Millrose 3K was also originally scheduled to feature Schweizer's NCAA rival, New Mexico sophomore Ednah Kurgat, who stole the show at NCAA XC and dominated the field by eight seconds. But Kurgat was a no-show and UNM did not mention her late withdrawal in their press release about fellow Lobo Josh Kerr's entry in the Millrose Games Wanamaker Mile. If Kurgat is injured, Schweizer's road to defending her NCAA indoor 5K title just became a lot easier.
Josh Kerr 'All But Ensured He Will Qualify' To NCAAs
Kerr, though, showed up big-time for the Lobos in New York. The Scottish-born redshirt sophomore, who was miffed at not being selected for the Commonwealth Games, took runner-up honors behind countryman Chris O'Hare in the meet's most prestigious event, 3:54.14 to 3:54.72.
The defending NCAA champion, who notoriously dethroned Edward Cheserek last March for the indoor mile title, lowered his personal best by four seconds and established a new school and Mountain West record. He also now ranks No. 5 all-time in collegiate history, with Cheserek's 3:52.01 the fastest time ever recorded by a collegian.
For all that, Kerr is still only second-fastest Scot in NCAA indoor mile history. The top honor, of course, belongs to O'Hare, who set the collegiate record at 3:52.98 in 2013.
The big run provoked one of the most understated lines ever written by an SID: "Kerr also all but ensured he will qualify to the NCAA Championships in March."
Well, I guess you never know how many altitude-responders will head over to Montana State in the next few weeks.
So Did Justyn Knight
Justyn Knight of Syracuse will also certainly qualify for NCAAs after placing runner-up to Shadrack Kipchirchir for the second weekend in a row, this time in the Millrose 3K, 7:45.49 to 7:45.86. The time is a two-second PB and is very close to landing on the NCAA all-time top-10 list; Cam Levins' 7:45.75 is No. 10 and the collegiate record belongs to Alistair Cragg (or, Mr. Amy Cragg), who ran 7:38.59 for Arkansas in 2004.
Only .67 separates Shadrack's two victories against Justyn Knight this year!

Mile: 3:55.52, 3:55.82
3K: 7:45.49, 7:45.86 pic.twitter.com/l5jSUaAGe2

— FloTrack (@FloTrack) February 6, 2018
Knight is the reigning NCAA cross country champion, but has never won a title on the track. He was runner-up to Cheserek in the 3K at last year's indoor championship.
Mikiah Brisco Is Coming For Hannah Cunliffe's Collegiate Record
Oregon's Hannah Cunliffe set the NCAA record in the 60m almost exactly a year ago with a 7.07 at the New Mexico Don Kirby Invitational. The defending national champion decided to go pro instead of compete for one more year in the NCAA (check out this week's podcast for an exclusive interview with the newly-signed adidas pro), which might have left a void in the college ranks if it weren't for two LSU Tigers, Mikiah Brisco and Aleia Hobbs.
Brisco is the defending national champion in the 100m, which was something of a surprising win for the then-junior over Olympians Deajah Stevens and Ariana Washington as well as Hobbs, whose 10.85 PB is the fastest wind-legal, non-altitude mark ever recorded by a collegian.
But she proved that NCAA title was no fluke with a 7.08 win this weekend, No. 2 all-time, at the same venue where Cunliffe set her record. The time is tied for second-fastest in the world this year, behind only Murielle Ahoure's world-leading 7.07.
Watch Mikiah Brisco run 7.08, NCAA No. 2 all-time in the 60m: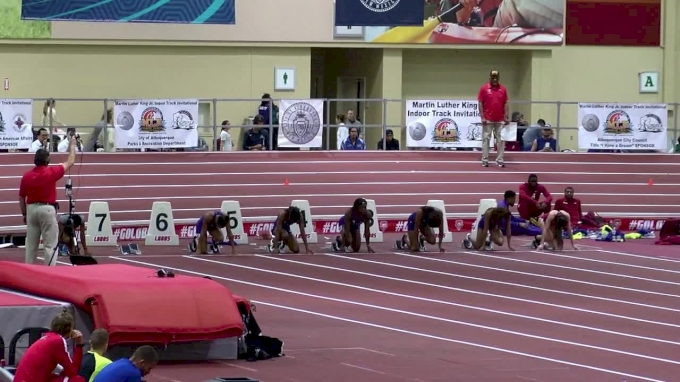 It's not crazy to imagine Brisco and Hobbs going 1-2, in some order, at NCAAs. Hobbs owns the second-fastest time in the NCAA this season behind her teammate at 7.14.
But actually, since we're on the subject . . . could the Tigers sneak three women into the top three? Junior Kortnei Johnson owns the third-fastest time in the nation at 7.18.
Just a thought.
LSU RECORD🙊🙊🙊 Can't thank God enough for this one! When the glory goes up, blessings come down🙏🏾 #schoolrecord pic.twitter.com/iiyQPLijb5

— mikiah b. (@trackfit_) February 4, 2018
The Women's 400m Is Going To Be The Best NCAA Event For The Next Four Years

Two true freshman women are dominating the 400m this season and it's just the tip of the iceberg. Who ya got, Kentucky's own Olympian Sydney McLaughlin, the fastest teenager to ever run 400m hurdles, or Georgia's Lynna Irby, a super-talent in her own right who will be digging for every point she can get to spur the Bulldogs to a team title?
Irby took down 2017 world team member Kendall Ellis last weekend by running a then-NCAA leading mark of 51.48, but McLaughlin responded this weekend with a blazing 51.44 in her open 400m debut.
The New Jersey native is now the third-fastest U20 athlete in world history behind only Sanya Richards-Ross (50.82) and Shaunae Miller-Uibo (50.88).
#McCravy Video -
.@GoSydGo with the world-leading, UK school record and UK freshman 400m record 51.44. Part of a Saturday of #UKTF freshman quarter mile strength. pic.twitter.com/FdC6Ah4rYH

— UK Track & Field (@KentuckyTrack) February 6, 2018
Fingers crossed that McLaughlin spends some time in the flat track sprint before shifting gears back to hurdles. If Kentucky coach Edrick Floreal is true to his word, she should compete in a variety of events this year.
We Should Probably Start Talking About Divine Oduduru
Texas Tech's star freshman Divine Oduduru entered college with a stellar resume as an Olympic semifinalist in the 200m and a five-time African junior champion in the sprints, but he already looks set to surpass those laurels in his first NCAA season.
The 21-year-old from Nigeria clocked 20.18 to win the 200m at the Texas Tech Open this weekend, surpassing Trayvon Bromell on the NCAA all-time list to rank as the third-fastest in collegiate history. Only Wallace Spearmon (20.10) and Christian Coleman (20.11) have run faster.
What's more, Oduduru's mark is actually the fourth-fastest in world history. Frankie Fredericks of Nambia set the world record of 19.92 in 1996.
🚨🔥🚨🔥🚨🔥

ODUDURU
No. 3️⃣ NCAA All-Time
No. 1️⃣ nationally
No. 1️⃣ World

HUDSON
No. 2️⃣ nationally
No. 2️⃣ world

CHAMPLIN
No. 7️⃣ nationally
No. 1️⃣1️⃣ world#WreckEm pic.twitter.com/zcH3R6Kzdq

— TTU Track & Field/XC (@TTU_TF_XC) February 3, 2018
Oduduru's mark is the fastest in the world this year, which reminds me it's a bummer there's no 200m at world indoors.
This is one of the photos in Oduduru's Texas Tech bio, which seems both an appropriate reflection of his college career thus far and a generally good image to end this piece on.