2018 Husky Classic
Edward Cheserek Races Into History, Keni Harrison Equals AR & More Pro News
Edward Cheserek Races Into History, Keni Harrison Equals AR & More Pro News
Edward Cheserek's two-day mile/3K double and Keni Harrison's American record performance were the highlights of the week in professional running.
Feb 13, 2018
by Kevin Sully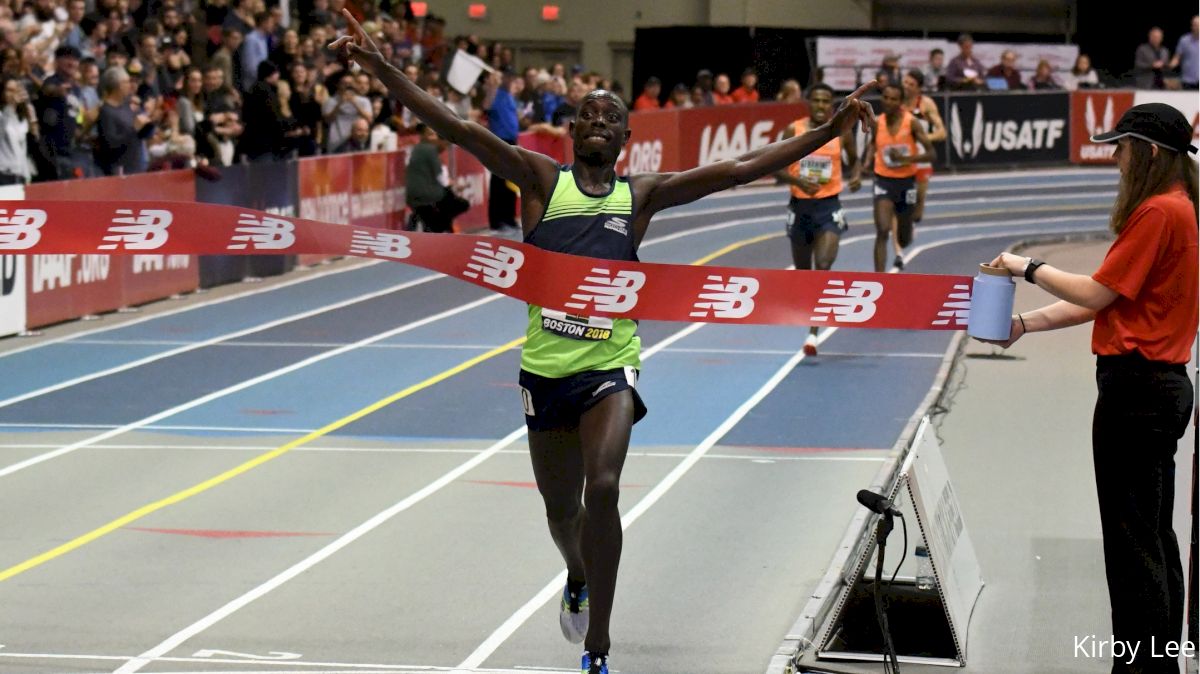 It's only February and we are already running out of ways to describe Edward Cheserek's season. After two fast miles to open 2018, Cheserek took things a step further last weekend.
First, there was the 3:49.44 mile at Boston University. It's the second-fastest mark ever behind Hicham El-Guerrouj — he of "greatest miler of all time" fame. Cheserek ran behind two pacers during the race until they were of no use to him, yelling at Drew Piazza to go faster before Piazza eventually stepped off the track and Cheserek was left alone to chase the sub-3:50.
The next day, at the New Balance Indoor Grand Prix which was also in Boston, Cheserek took down a competitive 3000m field to take the win in 7:38.34. The man with fastest time in the world this year, Hagos Gebrhiwet, was relegated to a distant second place when Cheserek dropped a 27.53-second last lap.
As I said last week in the lead-up to the sub-3:50 attempt, Cheserek is all spiked up with nowhere to go. He's waiting to become a U.S. citizen and in the meantime won't compete in international competition until he's able to run for the United States. As a result, he doesn't need to be concerned about peaking for a championship meet. But after these two races, a championship race is precisely where we want to see Cheserek compete.
Unlock this video, live events, and more with a subscription!
Get Started
Already a subscriber? Log In
With the caveat that not all athletes commit fully to their indoor season, is there a person you'd pick over him if he competed at the World Championships?
Discount the mile as a time trial — fine. But he made light work of Gebrhiwet the day after running a 3:49. If there's a runner out there who right now is better than Cheserek in the mile/3000m, he hasn't made himself visible this indoor season. Things will certainly change during outdoor season, but at this precise moment, Cheserek is the best in the world.
Can Keni Harrison Turn Fast Times Into Gold?
Most athletes will admit that the indoor season doesn't carry the same weight as an outdoor campaign. Indoors doesn't attract as deep of fields and the apex of the season isn't nearly as high as it is in the summer. But it some cases it does provide a unique opportunity for an athlete.
Keni Harrison's career has been characterized by otherworldly regular seasons and championship struggles. In 2016, she had the fastest qualifying time at the World Indoor Championships only to finish eighth in the final. Outdoors, she set the American record at the Prefontaine Classic but did not qualify for the Olympic team after placing sixth at the Olympic Trials. Later that season she set the world record and maintained impressive form into 2017.
This time, she qualified out of the U.S. Championships and made the team for London. Harrison entered the meet with the fastest time in the world, yet she finished fourth in the final and once again did not get a medal.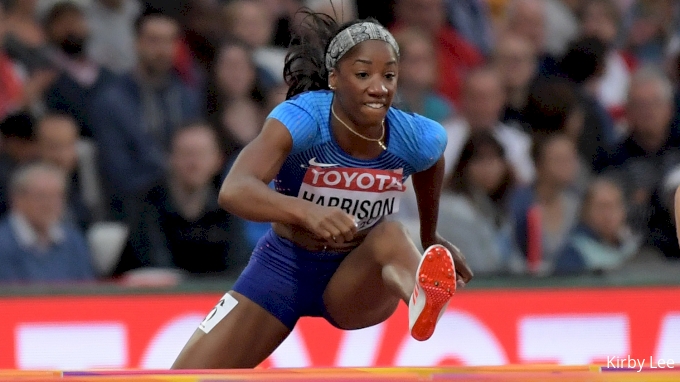 This indoor season Harrison gets a chance to break the cycle of fast times, no medal, more fast times. She equalled the American record in the women's 60m hurdles, running a lifetime best of 7.72 on Friday evening. And so again, Harrison will enter the championship portion of the season as the favorite to win the high hurdles. Sure, it's just indoors, but qualifying for the World Championships and winning in Birmingham, England, might be exactly what Harrison needs to rid her of her postseason woes outdoors.
One guarantee for next weekend's U.S. Championships is that, once again, one of the best hurdlers in the world will be left off the U.S. team. Between Harrison, Christina Manning, and Sharika Nelvis, America owns the top three positions on the world list. The presence of Manning and Nelvis also means that despite Harrison's American record last, her margin for error in Albuquerque, NM, is still remarkably slim.
Indoor Momentum
The indoor season is short enough that maybe this is less of a case of the intangible concept of "momentum" and more about just being in great shape for a couple weeks. Either way, there are a few athletes who are completely dialed in this winter.
Let's start with Chris O'Hare, who won the 1500 at the New Balance Indoor Grand Prix in 3:37.03 after grabbing the lead in the second to last lap. Last week at the Wanamaker Mile, O'Hare won in different fashion. He was the only runner to follow the rabbit and was left to defend a big lead in the second half of the race. He navigated both meets deftly and now he is one of the favorites for the World Indoor Championships.
In the women's 1500m, Aisha Praught finished behind Dawit Seyaum, running 4:04.95. That's back-to-back lifetime bests after she won the Millrose Games 3000m last weekend.
Donavan Brazier posted a 1:45.11, the third-fastest time by an American, edging out his own time from Millrose the week prior. In consecutive weeks Brazier ran 1:45.35 and 1:45.11. That's going to be tough to beat at the U.S. Championships in Albuquerque. As a whole, the men's 800m field for USAs does feature most of the professional names we'd see in an outdoor championship. Erik Sowinski, Drew Windle, and Clayton Murphy are all entered (Murphy ran 1:48 in Seattle over the weekend).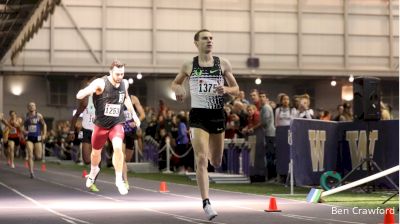 Unlock this video, live events, and more with a subscription!
Get Started
Already a subscriber? Log In
One name who won't be racing for a World Championship spot is Boris Berian. The champion in the 800m at the 2016 World Indoor Championships has scratched from the event. Berian made his first appearance on the track since the summer of 2016. And he went right back to doing what he does best — pushing the pace.
Berian tucked in behind the rabbit for the first two laps, and when the rabbit stepped off, Berian assumed the lead. His time in the front was short-lived: Brazier got in front of him before the bell lap and Berian went backward on the last lap, finishing in 1:50.17.
But if it's possible for a 1:43 800m runner to feel good about running 1:50, this was the race. Jumping into a race with that hard of a pace, and with a runner as strong as Brazier, is probably not going to end well for anyone who hasn't competed in over a year. Sure, Berian ran 31.86 for the last 200m, but it doesn't look like Berian's speed or willingness to compete has gone anywhere.
In Seattle, Olympic triathlon champion Gwen Jorgensen ran her first track race since 2009 and it went well. Very well. Jorgensen ran with Emily Infeld of the Bowerman Track Club for the duration of the race. Both women crossed the line in 15:15. Where that puts Jorgensen on her quest win gold in the Olympic marathon in 2020 is still unclear, but it's never bad to run a world lead in something you haven't done in nine years.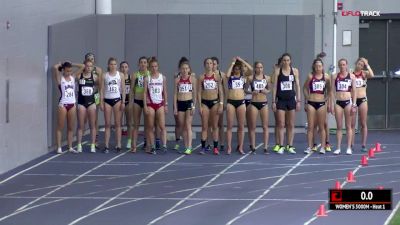 Christian Coleman Gets Some Competition
Rightfully so, our imagination got the better of us after Coleman opened his season with a 6.37 in the 60m, the fastest time in history. What could he done in his second race? How big would his victory be at the World Indoor Championships? Will anyone even race the final or will his opponents just concede gold?
All were logical follow-up questions after how Coleman began the year. But, the sprint world has started to revert to the mean. Coleman still won comfortably at the New Balance Indoor Grand Prix, running 6.46 and showing no sign of strain. It was an impressive run and enough to maintain his status as the favorite leading into the championship portion of the season.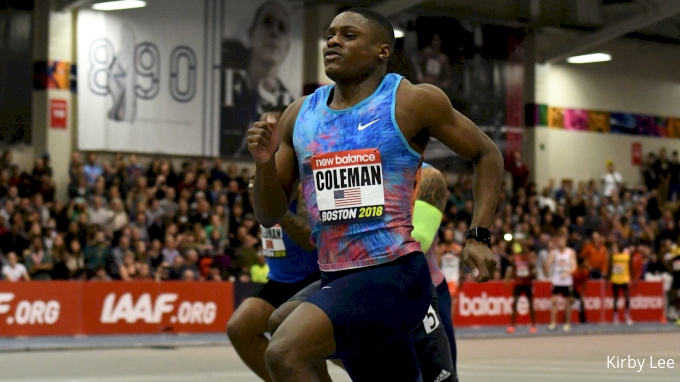 However, it's not going to be a walkover. Last week, Su Bingtian of China posted a 6.43. That's slower than what Coleman ran in January but a tad quicker than Coleman's run in Boston. The presence of Bingtian and the reality that Coleman isn't going to run a world record every time he lines up makes this race look much more competitive than it did seven days ago. Besides, the 60m is too short of a distance to feel confident about any outcome. A mediocre start or a brief stumble can turn a great performance into something average.
Won And Done
This is a reminder that not everyone approaches the indoor season the same way. Jenny Simpson won the New Balance Indoor Grand Prix 3000m in 8:40.31, beating the personal best she set in college. And then she promptly said goodbye to indoors….
Won and done. See y'all outdoors ✌️ #TeamNB #NBIGP #3k pic.twitter.com/RGufKWi1Sj

— Jenny Simpson (@trackjenny) February 11, 2018
Fred Kerley plans on racing at the U.S. Championships, but he didn't compete last weekend. Instead, he decided to run a 400m time trial that is bound to terrify every 400m runner on the planet. A time of 44.50 by yourself is no joke. I don't care if it's hand-timed.
Hard work is easy work. Easy work is too damn easy. 44.50 time trial today. #phase42 #saynomore #greatness #nike #nikerunning #weontosomething pic.twitter.com/AjR62wvN35

— Fred Kerley (@fkerley99) February 8, 2018
On The Roads
At the RAK Half Marathon in the United Arab Emirates there were fast times all around. Men's winner Bedan Karoki ran 58:42, the fifth-fastest time in history. In the women's race, Fancy Chemutai and Mary Keitany ran 1:04:53 and 1:04:55, the third- and fourth-fastest times in history. Chemutai was only two seconds from the world record. Keitany's mark was the first time the multiple-time World Marathon Major champion broke 65 minutes, as she shaved 18 seconds off her personal best. Good sign for London.
At the Barcelona Half Marathon, Mule Wasihun of Ethiopia took the win in 59:44. Julien Wanders of Switzerland, just 21 years old, ran 1:00:09. That mark puts him sixth all-time among European half-marathoners.
El suizo Julien Wanders 60'09'' en la #eDreamsMitjaBCN

➡Nuevo récord nacional suizo
➡Nuevo récord de Europa sub-23
➡6ª mejor registro europeo de la historia. pic.twitter.com/QWLhHlI9fw

— LBDC • WebRun SPORT (@BolsaCorredor) February 11, 2018