When it comes to the races with the smallest average margins of victory, the 60m dash and hurdles, upsets often abound and dominance is difficult to maintain.
But in the women's 60m field at the 2018 USATF Indoor Championships, it'll be tough to dethrone 2016 Olympic 100m silver medalist and reigning 100m world champion Tori Bowie, the top seed entering this weekend's meet in Albuquerque, NM, with a time of 7.14 seconds.
It only took her one meet to obtain the world standard this season, the NYRR Millrose Games, where she finished runner-up to Ivory Coast's Murielle Ahoure, who matched Bowie's 7.11 PR for the win. In that race, Bowie took down fellow USATF Indoor entrants Javianne Oliver, the former Kentucky product who finished third and within a hundredth of her 7.14 PR, and Nike's Dezerea Bryant, who clocked a 7.24 — a far cry from her 7.11 PR, which she set last year at the 2017 USATF Indoor Championships.
Regardless of whether you compare these athletes by recent performances, PRs, or how they performed on the biggest stages of their career, it's safe to say this one should be close. Based on her Millrose Games outing and her knack for making world teams, Bowie seems poised to take this one, but just barely. After that, I anticipate the former Wildcats Oliver, Bryant, and Carter will all dive at the line, with Bryant taking the second for the second year in a row.
Final: Sunday, Feb. 18, 4:42 PM MT
Prediction: 1. Tori Bowie, 2. Dezerea Bryant
We caught up with Bowie and her PURE Athletics sprint-training group this season for Workout Wednesday: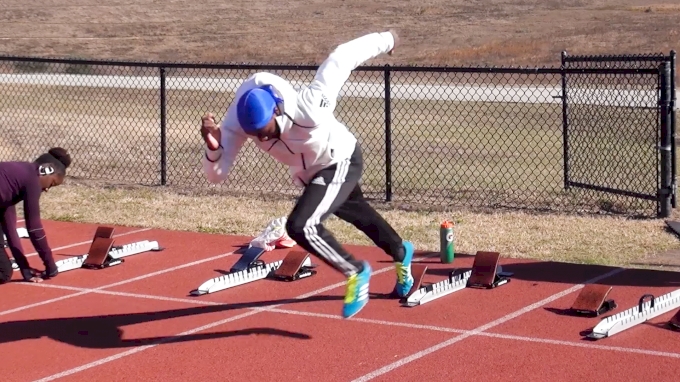 Women's 60m Entries As Of 2/15/2018:
| | | | | |
| --- | --- | --- | --- | --- |
| Name | Affiliation | Mark | Status | Declaration |
| Tori Bowie | adidas | 7.14 | qualified | declared |
| Javianne Oliver | | 7.15 | qualified | declared |
| Dezerea Bryant | NIKE | 7.28 | qualified | declared |
| Destiny Carter | | 7.30 | qualified | declared |
| Teahna Daniels | Texas | 7.31 | qualified | declared |
| Mikele Barber | Garden State Track Club New Balance | 7.34 | qualified | declared |
| Jasmine Todd | NIKE | 7.43 | qualified | declared |
| Dominique Booker | | 7.39 | accepted | declared |
| Jessica Davis | | 7.39 | accepted | declared |
| Felicia Brown | adidas | 7.40 | accepted | declared |
| Asha Ruth | Central Park Track Club (CPTC) New Balance | 7.54 | accepted | declared |
| Brianna Frazier | Dominion Track Club | 7.57 | accepted | declared |
Women's 60m Hurdles
Headlined by the 100m world-record holder, Keni Harrison, the women's 60m hurdles competition contains NCAA champions, Olympians, and world-teamers.
At last year's 2017 IAAF World Outdoor Championships, Harrison finished a stunning fourth behind Pamela Dutkiewicz, Dawn Harper Nelson, and Sally Pearson, but has since regained her record-setting form. She earned the top seed, a lightning-quick, world-leading 7.72, at the Clemson Tiger Paw Invitational last week to tie Lolo Jones' American record.
Keni Harrison (@Ken_AYE_) just tied Lolo Jones' (@lolojones) American record in the 60m hurdles! 7.72! pic.twitter.com/ovE0JZdbsD

— FloTrack (@FloTrack) February 9, 2018
For a year, No. 2 seed Christina Manning has been riding a career-reviving second wind that saw her make her first world team, qualify for the 2017 IAAF World Outdoor Championship 100m hurdles final (fifth, 12.74), and throw down the second-fastest time run by an American in 2018 (7.77), which is also the second-fastest time in the world this year.
Right behind Manning is the third-fastest 60m woman in the world in 2018, Sharika Nelvis. She ran her PR, 7.80, at the Indoor Meeting Karlsruhe on Feb. 3, and hasn't finished any slower than 7.89 in her past three races. Then, there's Jasmin Stowers (No. 24 all-time, 7.82), 2016 Olympic bronze medalist Kristi Castlin, and Queen Harrison.
Although trying to predict which of the fastest hurdlers in the world will be left at home is practically a perennial problem for U.S. track and field fans, it seems like Harrison should take the top spot and Manning's on an undeniable mission to make another world team.
Final: Sunday, Feb. 18, 4:24 PM MT
Prediction: 1. Keni Harrison, 2. Christina Manning
Women's 60m Hurdles Entries As Of 2/15/2018:
| | | | | |
| --- | --- | --- | --- | --- |
| Name | Affiliation | Mark | Status | Declaration |
| Kendra Harrison | adidas | 7.72 | qualified | declared |
| Christina Manning | adidas | 7.77 | qualified | declared |
| Sharika Nelvis | adidas | 7.8 | qualified | declared |
| Jasmin Stowers | NIKE | 7.98 | qualified | declared |
| Kristi Castlin | NIKE | 8.00 | qualified | declared |
| Queen Harrison | ASICS | 8.00 | qualified | declared |
| Bridgette Owens | | 8.04 | qualified | declared |
| Amber Hughes | | 8.08 | qualified | declared |
| Jade Barber | | 8.09 | qualified | declared |
| Kori Carter | Brand Jordan | 8.10 | qualified | declared |
| Evonne Britton | | 8.23 | qualified | declared |
| MacKenzie Hill | | 8.25 | qualified | declared |
| Emily Sloan | FK Elite | 8.33 | qualified | declared |
| Alyssa Dalton | | 8.34 | qualified | declared |
| Tiffani McReynolds | | 8.05 | accepted | declared |