Earlier this year, the city of Austin, Texas, announced its intention to bid for the 2020 Olympic Trials marathon. While the running world waits until April to learn if the Austin will land its first-ever USATF Championship, runners with a wealth of Trials experience will race Sunday in the state capitol in the Austin Marathon and Half Marathon.
Watch The Austin Marathon Live On FloTrack
The hilly route that follows a rough outline of the state of Texas means that fast times will be tough to come by, but it will lead to an intriguing race in both the marathon and half-marathon distances. For women chasing Olympic Trials qualifying marks, the times to hit are 2:45:00 and 1:13:00. The men need to run 2:19:00 and 1:04:00.
The men's half marathon field is headlined by Patrick Smyth, who has been a fixture on the U.S. road racing circuit for several years. The seven-time All-American at Notre Dame finished eighth at the 2016 U.S. Olympic Trials in the marathon. He's also posted strong performances in shorter distances running 1:02:01 in the half marathon and 28:12 in the 10K. Recently, he's competed in trail running races, but Smith's resume makes him the favorite in this field.
Smyth's best competition should come from Luke Humphrey, who has qualified for three Olympic Trials marathons. Last year Humphrey ran 2:23:12 for 24th place at the Boston Marathon. His personal best in the half marathon is 1:03:58.
In the women's half marathon field, the race for the top spot should be between Hillary Montgomery and Allison Mendez-Cleaver. Montgomery, a 24-year-old elementary school teacher from Houston, has a personal best of 1:11:49. She made a quick transition to the roads after a decorated career on the track and cross country course at Texas A&M. Montgomery qualified for the World Half Marathon Championships in 2016. Earlier this year, she ran 1:15:40 at the Houston Half Marathon.
Like Montgomery, Mendez-Cleaver is coached by Steve Magness. Mendez-Clever won the Austin Half Marathon last year and put up a 1:14:11 at this year's Houston Half Marathon. Also entered is Becki Spellman, who has qualified for three Olympic Trials in the marathon and has run 1:16:46 over 13.1 miles.
The men's marathon features Craig Leon. The veteran is coming off a personal best of 2:13:41 in December's California International Marathon. Leon has appeared in two Olympic Trials and has top 10 finishes from Boston and New York.
Set to challenge Leon are David Fuentes and Daniel Bishop. Fuentes has a personal best in the half marathon of 1:04:36 and has won the Austin Half Marathon on three occasions. He's also experienced in mountain racing, which will be useful on Austin's undulating course. Bishop has a wealth of experience racing the Austin Marathon — he's finished in the top three in the last three editions of the race, posting times of 2:31:50, 2:31:51, and 2:33:02.
In the women's race, Allison Macsas seeks to repeat her winning performance from 2017. The Austin native won by over 10 minutes in 2017. Her personal bests of 34:11, 1:13:02, and 2:39:41 make her the favorite on Sunday. Her best competition looks to come from Caitlin Batten. The 34-year-old didn't start running after college and just posted a time of 2:51 at the Chicago Marathon, despite having an issue with her shoe in the final 10 miles of the race. Batten is also the 2016 FloTrack Beer Mile champion.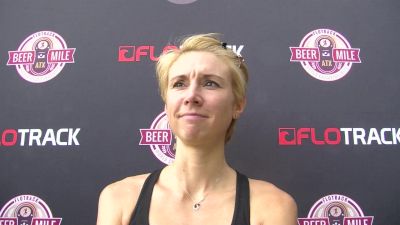 Create a free account to unlock this video!
Get Started
Already a subscriber? Log In