2018 USATF Indoor Championships
Chelimo, Houlihan Take 3K Wins: USATF Day 2 Play-By-Play
Chelimo, Houlihan Take 3K Wins: USATF Day 2 Play-By-Play
The second day of the USATF Indoor Championships featured finals in the men's and women's 3000m and several preliminary heats in the shorter distance.
Feb 17, 2018
by Jennifer Zahn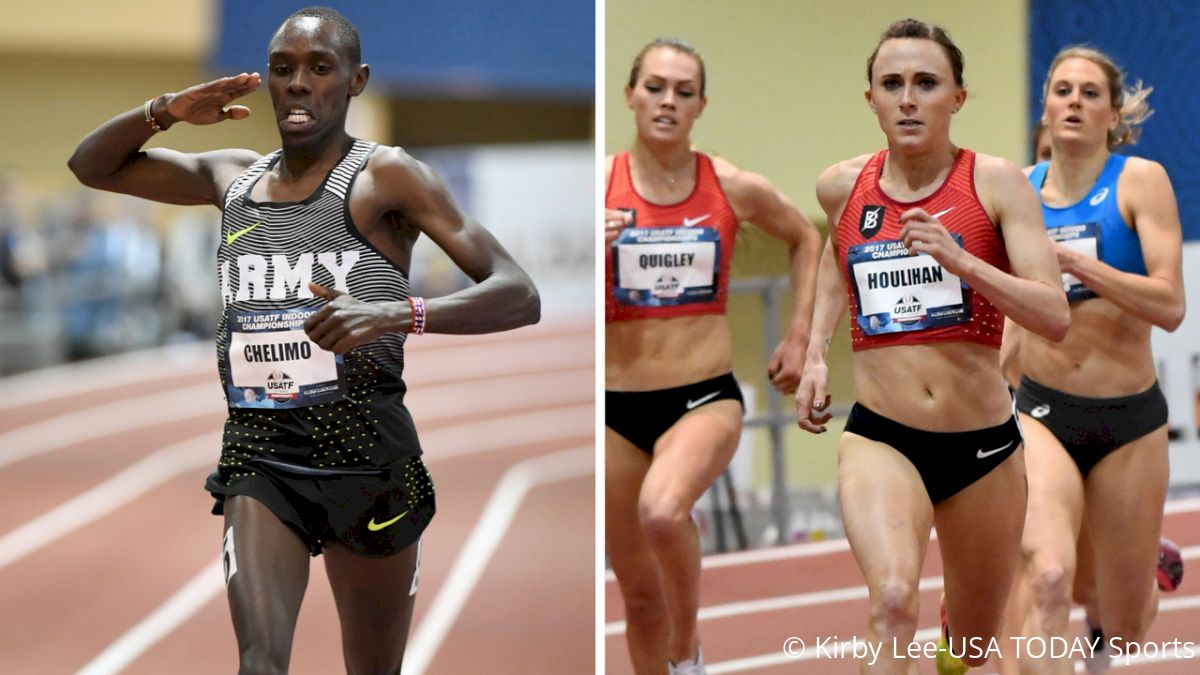 The second day of the 2018 USATF Indoor Championships is the books! Finals in the men's and women's 3000m capped off the action as four athletes qualified for the World Indoor Championships.
The preliminary heats saw their own share of surprises and set the stage nicely for tomorrow's final day of action from Albuquerque. Below is a recap of Saturday's action.
Women's 60m Hurdles
All the favorites advanced without incident Keni Harrison, Sharika Nelvis and Christina Manning winning the three heats. Manning had the fastest time of the day with a 7.84 clocking. Harrison and Nelvis ran 7.87 and 7.91, respectively. Kristi Castlin, Queen Harrison, Jasmin Stowers and Kori Carter also advanced. Tomorrow's semifinals and finals will be incredibly competitive.
Men's 60m Hurdles
Because of scratches, only one didn't advance out of the first round. Jarrett Eaton was the top qualifier running 7.53 to win heat two. Devon Allen took the first heat in 7.58 and Aries Merritt won his heat with a time of 7.66.
Men's 60m
Christian Coleman ran a comfortable 6.46 to take the second heat and turn in the fastest time of the day. Ronnie Baker also had a good day, posting a 6.47 in the first heat. Michael Rodgers won the third heat in 6.52. Noah Lyles ran 6.57 to qualify out of the second heat.
Women's 800m | 3:53 PM CT
3 heats; heat winners + next 3 fastest to 6-person final; 2-turn stagger
READ: USATF Women's 800m Preview: Which Stud Will Get Left At Home?
Heat 1
They're through in 28.14 as Ajee Wilson leads the pack! Hanna Green is on her tail, with Chrishuna Williams not far behind as they go through 400m in 59.94, and then the 600m in 1:32.1. Green and Wilson ease through the finish in 2:01 and 2:02.22, respectively, with Williams taking third in 2:04.25 after fading in the final 200m. Green will have to wait to see how the rest of the heats pan out to know if she qualified for the next round.
Heat 2
Raevyn Rogers almost immediately makes up the stagger as she aggressively takes the lead in 27.39 through 200m. She's taking the rest of the field on a FAST ride as she cruises through the first lap in 57.42! She's still on the pedal through 600m in 1:28.1! Although she's showing signs of fatigue, it looks like she'll go sub-2:00 as she powers down the homestretch! BOOM! She finished just under the wire in 1:59.99! What a statement. Kaela Edwards ran a smart and controlled 2:01.49 to finish second.
Heat 3
Everyone outside of Rogers and Wilson are closely watching this heat to see if they'll make it through. Charlene Lipsey leads the field through 200m in 28.10, and then 58 through 400m. Ce'Aira Brown is RIGHT behind her and looks very smooth. BROWN IS MAKING A MOVE! She's got Lipsey, and crosses the line in 2:01.43. That's smart preliminary racing—Lipsey did just enough to ensure she made it through on time, and Brown wanted to seal the deal with a win to guarantee qualification.
Men's 800m | 4:14 PM CT
3 heats; Heat winners + next 3 fastest times to 6-person final; Two alleys, 5 on inside; 2-turn stagger (prelim)
READ: Can Anyone Stop Donavon Brazier At USAs?
Heat 1
This heat is going to be a GRIND. Clayton Murphy, who's struggled a bit this season, is pitted against the red-hot, 2018 world No. 5 Drew Windle. Will Windle sit and kick again like he did at Millrose, or be more aggressive? Windle runs to the front and leads the pack through 200m in 26.8. Murphy is on his shoulder as they go through 400m in a tight pack in 55.8. With about 150 meters left, Windle is kicking! And Murphy goes with him! But Windle holds Murphy off in stride, looking smooth as Murphy grits his teeth down the homestretch. Windle recorded a 1:49.20 to Murphy's 1:49.25, which might not be fast enough to hold up through the next two heats. A brilliantly executed race for Windle, who ran fast enough for the win, but slow enough to potentially knock out Murphy.
Heat 2
Donavan Brazier will likely look to set the tempo in this heat, and we'll have to see if Casimir Loxsom can hang with him to get in on time. A bit of commotion in the back pack from the start, but they're all still upright. An aggressive first 200m in 24.8, as Loxsom leads with his Toad Track Club uniform!!! But it looks like it was too fast. Loxsom started petering out, and then completely ran out of gas and dropped out. Without much fanfare, Brazier shot around to the front of the pack around after the 600-meter mark, and practically pranced down the homestretch in comfort as he took the win in 1:48.53. With two people going under 1:49 in that heat, Murphy's chances aren't looking good.
Heat 3
Erik Sowinski jets to the front of the pack and takes them through 200m in 25.70. They're all almost in single-file after 300m, and Sowinski's through 400m in the lead still in 52.30. But at 500m, Prince takes over to go through 600m in 1:19. Sowinski stays on him, and uses the banked turn to overtake him down the homestretch and win the heat in 1:47.69. With that, Murphy has officially been knocked out of the men's 800m final.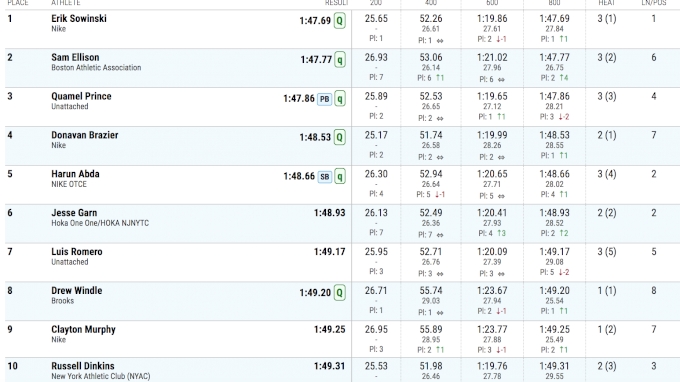 Women's 400m | 4:34 PM CT
Top 8 times to 2-section final; Fastest 4 to f final; 5-8 to semifinal
Heat 1
Shakima Wimbley takes it out hard, and doesn't look back. She took it through 200m in 23.54, and closed hard to finish in 51.39 by a sizeable margin over Natasha Hastings, who finished runner-up in 52.11. Wimbley's time equaled the best time by an American this season, which was set by 400m hurdler Georgann Moline.
Heat 2
The whole field is close heading off the second curve. Shamier Little makes a strong move to get to the inside position at the bell and collides with Robin Reynolds as both runners lose their momentum and are out of the race at the bell. Quanera Hayes isn't impacted by any of the commotion and wins the heat. Carly Muscaro takes second. There will probably be protests to come.
Heat 3
Joanna Atkins charges to the lead and continues to hold through 200m in 23.86. 400m hurdler and 2018 U.S. 400m leader Georganne Moline is more conservative at the half in 24.36. They finish first and second in 51.95 and 52.24, respectively.
Heat 4
Courtney Okolo eases through to the lead at the 200m mark in 24.53, and wins the race comfortably in 51.75. Phyllis Francis, who ran blazing-fast through 100m, finished second in 52.24 to qualify for the next round.
Men's 400m | 4:58 PM CT
Top 8 times to 2-section final; Fastest 4 to f final; 5-8 to semifinal
Heat 1
Dontavius Wright flew off the second curve to take the lead at the bell in 24.44. Wright held his lead down the back stretch. By the time he entered the final 50 meters his win was secured, running 45.76. Sears and Clemons are in a close battle for second and Sears holds on for the number two position -- 46.55 to 46.57. High schooler Brian Herron did not start the race.
Heat 2
As expected, Kerley and Norwood lead after the first 100 meters. Both runners move into lane one with no issues. Kerley takes the bell at 21.21. Norwood is on his shoulder in second place. The two remain close on the back straight, with Kerley gradually increasing his lead. Kerley takes the win in 45.18, Norwood is a comfortable second in 45.58.
Heat 3
Cherry grabs the lead early in the race and is followed close behind by Berry. The two maintain their positions into the second lap. Off the final curve, Cherry is clear of the field and takes the win in 45.83. Marqueze Washington closes well to pass Berry and take second in 46.10. Berry fades to fourth.
Heat 4
The field is incredible close at the break line. Spratling can't quite get the inside position as Quincy Downing maintains the pole position. Spratling stays patient and makes a pass in the final 100 meters. Spratling's lead grows as Kyle Collins moves past Downing to get second place.
Women's 3K | 5:28 PM CT
Two alleys: 7 inside, 4 outside, 2 turn stagger
READ: USATF Women's 3K Preview: BTC's Houlihan, Hall vs. Coburn
The field gets off to a conservative start with Paquette leading through 400 meters. At 800 meters, Paquette is still at the front as most of the field runs in a single file. Paquette, Coogan and Mackey hold the top three spots, but everyone is still in the race. Paquette builds a small gap, but Emma Coburn quickly fill it in as the field passes through 1600 meters.
With six laps remaining, a group of six women have broken away -- Paquette, Coburn, Mackey, Hall, Houlihan and Lawrence. Coburn moves to the front with four laps to go. Can the steepler take this race? Paquette begins to drift off as is Lawrence and this looks like a four person race with three laps to go. Hall now is off the back and it's a three woman race with two laps to go.
Coburn, Mackey and Houlihan are running 1-2-3 with less than 400 meters remaining. Houlihan storms to the front with 200 meters remaining. Mackey tries to follow and moves into second behind Coburn. Houlihan doesn't relinquish the lead and takes the win in 9:00.08. Mackey grabs second ahead of Coburn, running 9:01.68 to 9:01.85.
Men's 3K | 5:45 PM CT
Two alleys: 10 inside, 5 outside, 2 turn stagger
READ: Chelimo, Hill, Kipchirchir Set To Face Off In 3K At USAs
The race starts slowly, but Tyler Day crashes to the track in the first lap. Day recovers and is able to rejoin the race. Paul Chelimo wastes no time and goes straight to the front as he's done in his last two US Championships. Kipchirchir follows Chelimo and the two appear to be trading the lead. The two teammates are working together. Behind them are Emmanuel Bor, Ryan Hill and Garrett Heath. Kipchirchir and Chelimo continue to lead the long line of athletes that stretches over 25 meters.
Chelimo accelerates 7 laps into the race and forces the group to speed up. Kipchirchir is at the front as they pass the 1600m mark around 4:15. Bor, another WCAP of Chelimo and Kipchirchir, takes his turn at the front on the next lap as the pace slows. It's WCAP 1-2-3 at the front as it has been since the beginning.
Ryan Hill finally cracks into the top three and briefly disrupts the string of white jerseys at the front. With 3 laps remaining, Heath and Yorks establish them toward the front of the pack. Chelimo holds the lead ahead of Heath with two laps remaining. This will come down to a kick as there are more than 5 athletes in contention. Chelimo leads at the bell. Hill and Kipchirchir are in a close battle for second and the two make contact off the last curve. Kipchirchir has the extra gear and is clear for second. Chelimo salutes the crowd as he takes the victory in 7:57.88. Kipchirchir takes second in 7:58.42 and Hill places third in 7:58.69.