IAAF World Indoor Championships Birmingham 2018
How The Women's 60 Hurdles Just Became The Most Dramatic Event In T&F
How The Women's 60 Hurdles Just Became The Most Dramatic Event In T&F
Sharika Nelvis and Keni Harrison are the best short hurdlers the United States has ever seen, but Lolo Jones still wants the story to be about her.
Feb 21, 2018
by Johanna Gretschel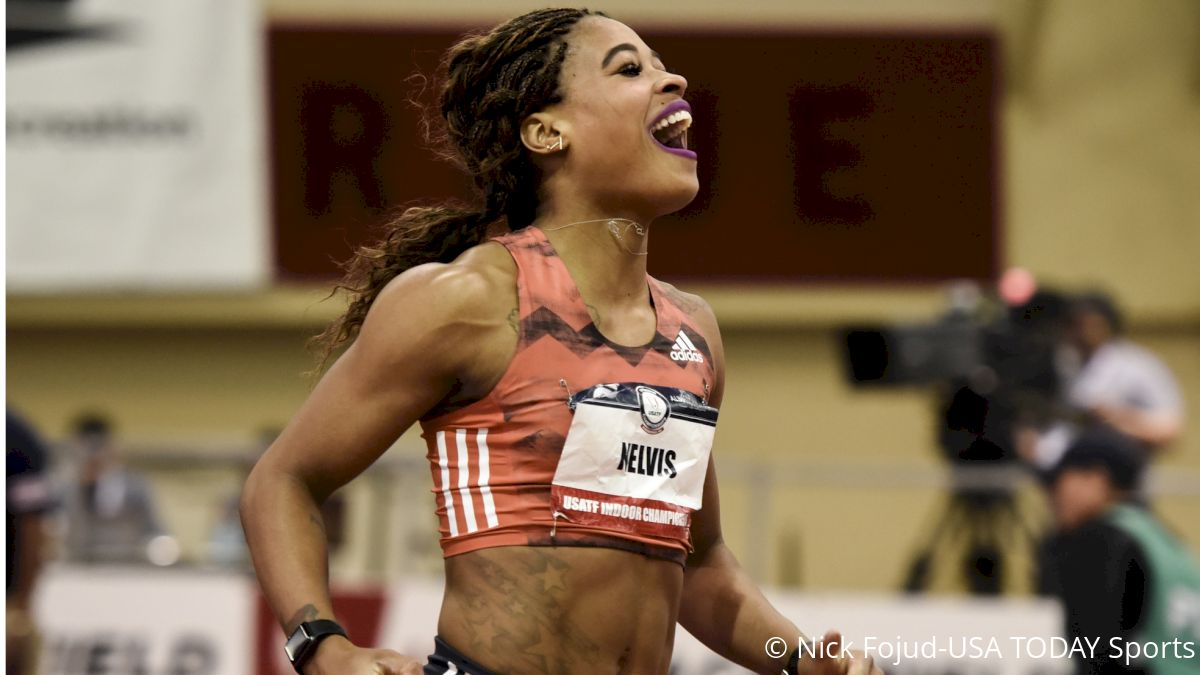 A funny thing happened in the mixed zone at the Albuquerque Convention Center this past weekend at the 2018 USATF Indoor Championships.
Sharika Nelvis had just upset Keni Harrison for the 60m hurdles national title in American record time, 7.70. The win was particularly dramatic given that just eight days earlier, Harrison — the world record holder for 100m hurdles — had tied the prior 60H American record of 7.72, originally set by Lolo Jones in 2010.
When the women — both of whom are adidas athletes — came through the mixed zone to speak to media after the race, about 10 but no more than 20 minutes apart, they each pointedly refused to mention the other by name.
The 27-year-old Nelvis claimed to have no reaction to Harrison's American record the week prior.
"What did I think about it? I didn't think about it at all, to be honest. I don't think about nobody but myself," she said while pivoting to a different reporter in the mixed zone.
Harrison was equally reticent, referring to her rival by the pronoun "they" instead of by name.
"They came out here and they got the job done," Harrison said to reporters, "they" referring to Nelvis. "It's only gonna make me work harder. I'm pretty sure at worlds, that world record is gonna get beaten."
100m hurdles world record holder Keni Harrison didn't have much to say to reporters after a runner-up finish at USAs.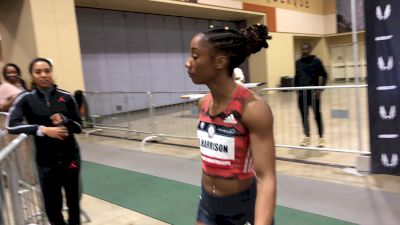 The 27-year-old Nelvis said she was "extremely happy" to see 7.70 on the clock but, as a general rule, she doesn't make time goals and could care less about whether Harrison thought it would take a record to win worlds.
"You know, I'm never about numbers. I'm all about winning," she said to reporters at the Albuquerque Convention Center. "You win, that gets you on the team. You could come out here and run 7.70 and get third place. So I don't focus on numbers; I focus on winning my race."
That makes sense as the two-time NCAA champion qualified to represent the United States at worlds in 2015 but finished two spots shy in both 2016 and 2017, despite consistently clocking some of the fastest times in the world over 100m hurdles.
Last summer, she was second in a photo finish to Australia's world champion Sally Pearson in the Diamond League final, earning a cool $20,000 for 12.55 seconds of work despite finishing just fifth in the U.S. final. Harrison, meanwhile, won the U.S. title and placed fourth at worlds, just barely missing the podium.
"Keni said it's gonna take a world record to win gold in Birmingham, what do you think?" a reporter asked Nelvis.
"Like I said, I'm not about time," she responded, shrugging off the line of questioning and looking visibly annoyed.
Sharika Nelvis talks to the press after her American record in the 60m hurdles: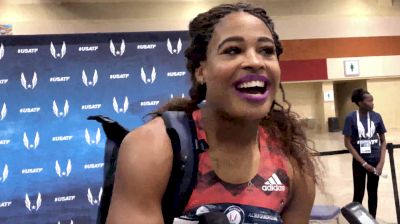 The interaction would have been a fascinating lesson in confidence, competition, and keeping your rivals at arm's length even without the Twitter warfare that erupted just a few hours later.
Like any great track and field-related beef, this story goes back to Lolo Jones — perhaps the sport's most polarizing female athlete, one who is celebrated and demonized in the same breath for her viral-ready quips, movie star looks, and mainstream popularity.
The 35-year-old, who has said she is planning a comeback in the hurdles this year after not being named to the 2018 U.S. Olympic team for bobsled, couldn't resist pointing out to her 425K Twitter followers in a now-deleted Tweet that Nelvis' record "doesn't officially count" due to altitude in Albuquerque.
for reference in case anyone is wondering what's going on. pic.twitter.com/NigEMX9xhM

— Ms. Celie's Pants (@MissOriginalAsh) February 19, 2018
Unfortunately yes. His time will have to have a capital A next to it.

I hate it, it's like a scarlet letter of Track and Field. https://t.co/yRDEZUXmXA

— Lolo Jones (@lolojones) February 19, 2018
While sprint times recorded at altitude are, in fact, denoted on all-time lists with a capital "A," the marks themselves still stand as official records by USATF and the IAAF — meaning both Nelvis' American record and Christian Coleman's 60m world record from this past weekend's championship in New Mexico should both stand, as long as both athletes pass drug testing.
It's possible that Jones' now-deleted tweet is what sparked the following fire, or it's possible that Nelvis' "road dog" Christina Manning, who will likely earn an extra spot at worlds pending final results of the IAAF Indoor Tour this week, was simply making a joke about Jones' tendency to, er, tweet more often than she performs.
This is what happened next.
Does Lolo Jones still compete ?

— Speed Reaper ??⚡️ (@TraackNation) February 19, 2018
Just tweets https://t.co/7z9p8tx581

— Manning, Christina A (@SheTheMann_ing) February 19, 2018
I'm weeeeeeeeeeeeak ????!!!!! https://t.co/YuGzuVSOQR

— Sharika R. Nelvis (@Hurdle_Holic) February 19, 2018
10-12k per ad so yup I just tweet pic.twitter.com/gX1Hhgz7cj

— Lolo Jones (@lolojones) February 19, 2018
Guuuuuurl we don't care ???!!!

— Sharika R. Nelvis (@Hurdle_Holic) February 19, 2018
Just a fact being stated, no beef here!!???

— Sharika R. Nelvis (@Hurdle_Holic) February 19, 2018
February 19, 2018
February 19, 2018
Not today Satan

— Lolo Jones (@lolojones) February 19, 2018
Fellow Olympians Morolake Akinosun, Tianna Bartoletta, Natoya Goule, Kristi Castlin, Marquis Dendy, and Kellie Brinkley (neé Wells) responded with various forms of crying, laughing and skull face "dead" emojis. Brinkley has a more personal bone to pick with Jones, whom she defeated for Olympic bronze at the 2012 Games in London and who accused her of doping via social media this past year.
lol naaaaaahhh not all "old heads" just that one....

— Kellie Brinkley OLY (@KellieWellz) February 19, 2018
??‍♀️??‍♀️

— Kellie Brinkley OLY (@KellieWellz) February 19, 2018
And then, after all of that, we got this gem from Jones, who we should know by now is never one to be upstaged.
"Just tweets" pic.twitter.com/TTorSLoKE4

— Lolo Jones (@lolojones) February 19, 2018
But comedy aside, Jones could barely get across the line at the Millrose Games and did not even compete at USAs.
Harrison is certainly not on Team Nelvis, but she's hardly on Team Jones, either— especially since they have to share that U.S. No. 2 all-time distinction.
Nelvis, Harrison, and Manning — who was third at USAs in 7.73, the No. 3 mark in U.S. history and No. 5 mark in world history — are head and shoulders above the rest of the world in this event.
Germany's Pamela Dutkiewicz currently ranks No. 4 in the world at 7.83 and though she is the one who nipped Harrison for bronze at worlds last year, she has also lost to Manning and Nelvis this season.
We could very well see a U.S. sweep in Birmingham, much like the historic Rio Olympic final.
We could line up again and the race could be completely different, we're all that good!!!

— Sharika R. Nelvis (@Hurdle_Holic) February 19, 2018
A world record isn't out of the question either.
Congrats to @Hurdle_Holic on The American Record. 8 years ago I did mine winning worlds. Hopefully you do the same! ???? ?? pic.twitter.com/Ua6DPanlrM

— Lolo Jones (@lolojones) February 19, 2018
At the end of the day, it's just friendly competition.
Right?