By Zach Dirlam
Area code 757, tattooed on Holloway's left wrist, services the southeastern-most portions of Virginia, covering the Virginia Peninsula, Eastern Shore and Hampton Roads.
Holloway proudly hails from Chesapeake. South Chesapeake, more specifically. Through the years, much of its farmland was converted into what he refers to today as a quiet suburban city, one of nine comprising Hampton Roads.
The area code's recent lineage of professional athletes is astounding. Hall of Famer Allen Iverson rose from Hampton. Seven-time NBA All-Star Alonzo Mourning and 3-time NFL Pro Bowl safety DeAngelo Hall are Chesapeake natives. Percy Harvin was born there but made his name in Virginia Beach, eventually starring at wide receiver for the Gators and playing eight NFL seasons. Dorian Finney-Smith, another recent Florida star and current Dallas Maverick, came from Portsmouth. Norfolk produced David Wright, a two-time Gold Glover and Silver Slugger Award winner for the New York Mets. Recent track and field talents to emerge from Chesapeake are Byron Robinson, a 2016 Olympian, and Michael Cherry, this year's indoor 400 meters American champion.
Holloway's name reverberates across the 757. He frequently reciprocates on the grandest stages, like last year's NCAA Outdoors. Immediately after crossing the 110 hurdles finish line, he found an ESPN camera and shouted, "757 all day! 757!"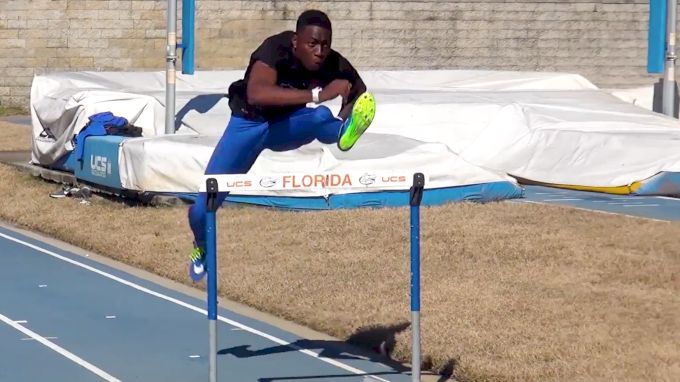 A light pink bracelet was wrapped around Holloway's right wrist. Accessories—everything from watches to wristbands, headbands to arm sleeves—are somewhat of a calling card for him. He typically wears three or four items. That day, however, just the bracelet inscribed Kaitlyn Elizabeth Duffy. Exactly three weeks prior, Kaitlyn was killed when a drunk driver struck her SUV head-on. She was a friend of Holloway's, 18 years old and a month away from graduating high school.
"It kind of hit me hard," Holloway recalled. "I got in touch with the parents and asked if there was any possible way they could get me something I could wear to let her know I'm doing this for her … to let the family know I'm trying to keep her in everybody's thoughts."
Once Florida's championship celebration wound down, Holloway noticed a missed call from an unknown 757 number amid the plethora of congratulatory text messages, voicemails and social media notifications. Curious, he dialed the number back. Kaitlyn's mother, Tammy, answered the phone, crying as she thanked Holloway. Later that summer, he gave the family a signed photo from his title-winning race.
"That right there brought tears to many people here in the city," said his father, Stan Holloway. "It just showed the type of character Grant is."
At different points in the year, Holloway wore two other bracelets commemorating Chesapeake teenagers who tragically passed away. One with shades of pink, yellow and orange for Kelly Valentine, a 13-year-old struck by a car and killed in April 2011. The other was light purple and white, in remembrance of Megan Curry, who died in June 2015 following a nearly four-year battle with a rare blood disorder.
"Me wearing the wristbands and making a story out of it, everybody was kind of intrigued and always remembering Kelly, Megan, and Kaitlyn," Holloway said. "At the same time, I wanted to do it for myself to give me something to motivate me every day at a practice, something to push me at the track meet."
Pure-hearted acts like those are common nature for Holloway. And it's all genuine. One hundred percent.
Holloway's father and Leroy Harper, Grassfield High School's head track and field coach and assistant football coach, both shared a story from the indoor state championships Holloway's senior year. A little boy recognized and congratulated him on his trio of state titles. As both Stan and Harper retell it, Holloway took off one of his gold medals and handed it to the boy. The boy's father recently tried to give it back to Stan. "Grant gave that medal to that young man, and that's where it belongs," he replied.
"That's the thing about Grant; he hasn't changed," Harper said. "He still does that now. These kids that are here, everybody's walking around in Florida gear like they're part of the team. That's the kind of person he is."
Check out Zach Dirlam's full article HERE on Adobe Spark.