IAAF World Indoor Championships Birmingham 2018
Genzebe Dibaba's Indoor Magic Continues: World Indoors Day 1 Recap
Genzebe Dibaba's Indoor Magic Continues: World Indoors Day 1 Recap
Genzebe Dibaba won her third consecutive world indoor championships title in the 3000m, besting Sifan Hassan and Laura Muir.
Mar 1, 2018
by Kevin Sully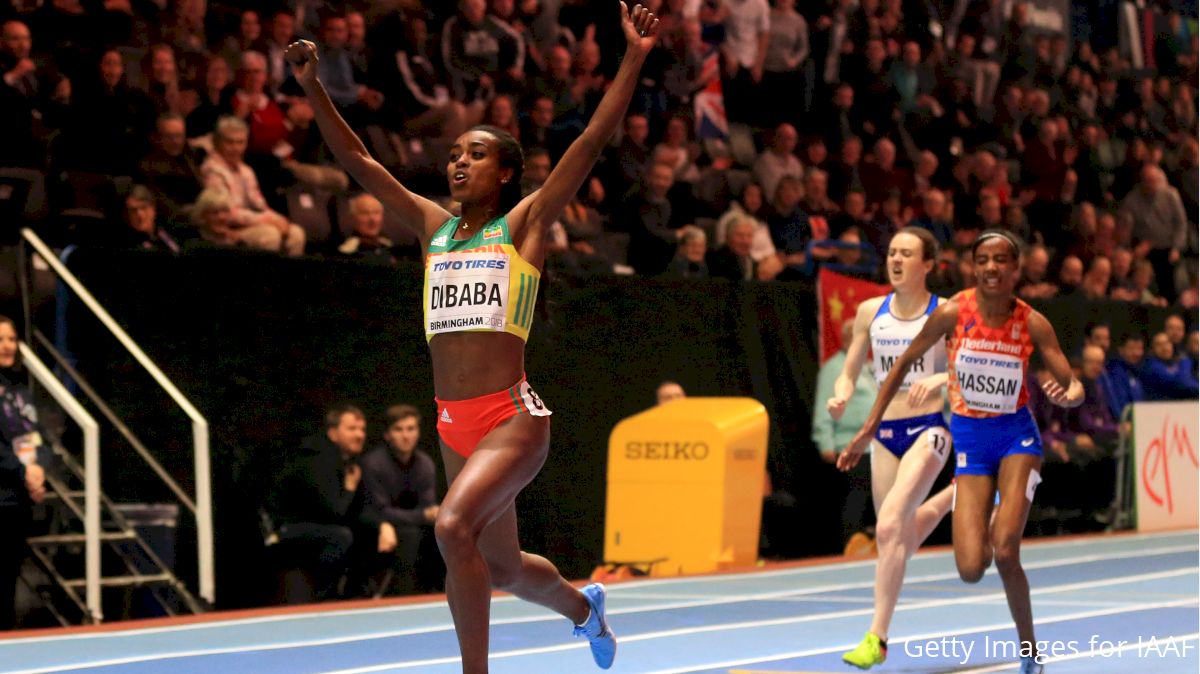 Genzebe Dibaba and indoor championships continue to be a perfect fit. The 27-year-old made a powerful move with five laps remaining to carry her to a third consecutive 3000m title at the 2018 World Indoor Championships 3000m.
Dibaba covered her last 1500 meters in 4:04.05, good enough to hold off a quickly closing Sifan Hassan and Laura Muir. After a conservative early pace, Germany's Konstanze Klosterhalfen went to the front of the pack and took the leaders through the second kilometer in 2:52. With five laps remaining, Dibaba took control of the race and was followed closely by Hellen Obiri, Hassan, and Muir. Dibaba continued to press at the front of the pack and with 400 meters remaining opened up a gap that looked like it would hold.
WATCH: @GenzebeD takes her third consecutive 3000m #IAAFworlds indoor title from @SifanHassan and @lauramuiruns pic.twitter.com/SmIw9AlZt2

— IAAF (@iaaforg) March 1, 2018
But Hassan and Muir wouldn't relent, and were still within striking distance at the bell. The lead shrank, but Dibaba had just enough to carry her to victory in 8:45.05. Behind Dibaba, Hassan and Muir were engaged in a tight battle for silver. Muir looked ready to move past Hassan and get silver, but Hassan moved wide, forcing Muir into lane three. Hassan ran 8:45.68, just ahead of Muir in 8:45.78. Hellen Obiri faded over the final laps to finish fourth in 8:49.66, while American Shelby Houlihan made a late charge to place fifth in 8:50.38. Fellow American Katie Mackey took eighth in 8:56.62.
There were also two field event finals on the Thursday. Mariya Lasistkene breezed through the competition to take the gold in the women's high jump and win her 38th competition in a row. Lasistkene, competing as an Authorized Neutral Athlete from Russia, didn't miss in the competition until she had already clinched gold. Once the field was cleared, Lasistkene had a successful second attempt at 2.01m before bumping the bar up to 2.07m, just one centimeter from the indoor world record. Lasistkene's first attempt was close, but she was ultimately unable to clear 2.07m.
American Vashti Cunningham's second attempt clearance at 1.93m was good enough to secure silver. Alessia Trost of Italy also had a best jump of 1.93m to take the bronze.
In the men's competition, Danil Lysenko pulled the upset over Qatar's Mutaz Essa Barshim. Barshim had a clean sheet through 2.33m, but had three misses at 2.36m. After Barshim went out, Lysenko had the chance to get his first global championships. The 20-year-old Russian asked for complete silence from the crowd before his final attempt at 2.36m. Lysenko brushed the bar, but it stayed on and he had his gold.
Mateusz Przybylko of Germany rounded out the medals with a jump of 2.29m. American Erik Kynard also cleared 2.29m to place fourth.