COLLEGE STATION, TEXAS (09-March) -- Karissa Schweizer of Missouri successfully defended her NCAA Indoor 5K title tonight over reigning NCAA cross country champion Ednah Kurgat of New Mexico in 15:43.22. She now owns four NCAA titles.
Watch highlights from the race below: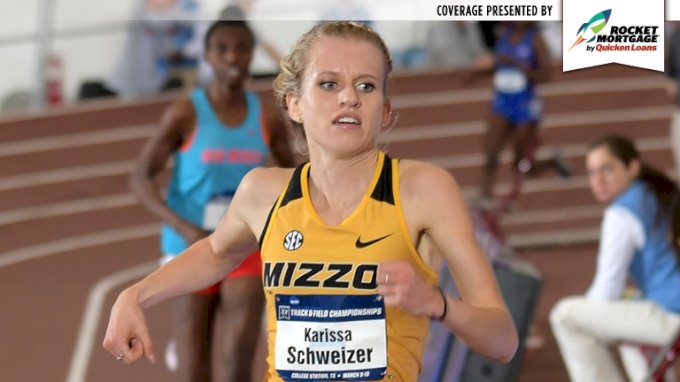 No one was willing to challenge Schweizer, who broke the collegiate record in the 3K and has run 4:27 for the mile this year. The senior was thus forced to lead the race from the gun and casually whittled down her pace from 5:20 at the 1600m to 10:26 for 3200m.
Schweizer split 4:38 for her final 1600m; by the closing 400m, she already had two seconds on runner-up Kurgat and still managed to split 67 seconds. Kurgat clocked 15:47.46. Sharon Lokedi of Kansas ran 15:52.95 for third place.
Kurgat said after the race that she prefers racing on the dirt than the track and admits that indoor is her "worst" competition season of XC, indoor, and outdoor track.
Watch the post-race interview with Ednah Kurgat here.
Schweizer will race the 3K tomorrow in hopes of improving upon her 2017 runner-up finish.
Post-race interview with Schweizer: