The great thing—or annoying thing, depending on your viewpoint—about indoor track is the number of off-events that are contested at invitationals and even conference championships at both the high school and collegiate level.
The NCAA indoor championships play it pretty straight with just a few standard deviations from the outdoor event: 60m instead of 100m, 60m hurdles instead of 100m/110m hurdles, and flat 3K instead of steeplechase.
But what if the NCAA held off-events like the 300m, 600m, and 1K at indoor nationals? (There's also the 500m and 600-yard, but that's too much, even for us.)
Below, we analyze who might be crowned champion in each race, while taking into consideration the fact that top stars would likely still enter the marquee events.
Men's 300m
USC's Rai Benjamin may have just missed the 300m national high school record a few years ago as a prep, but we're going to pick him to win the hypothetical inaugural 300m NCAA title.
The sophomore, who transferred from UCLA this year, took third in the NCAA 200m in 20.34 behind only Eli Hall and Divine Oduduru, who are, respectively, the U.S. record holder and the fourth-fastest man in collegiate history. His stronger event is actually the 400m, and he split an insane 44.35 on the Trojans' world record-breaking 4x400m relay at NCAAs—reportedly the quickest indoor 4x4 relay split ever recorded.
Of course, his teammate Michael Norman set an outright world record himself in the open 400m—but we're going to pick Norman to stick with the quarter, while Benjamin takes the 300m.
Women's 300m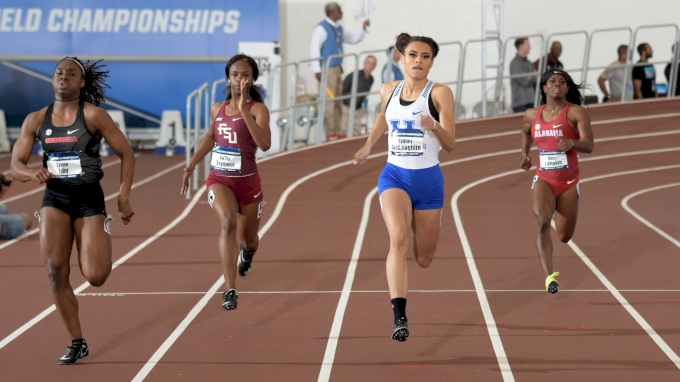 Kentucky's star freshman Sydney McLaughlin only had to race the 300m once this season for us to give the hypothetical NCAA title to her. She ran 36.12, the second-fastest mark in U.S. and collegiate history, to win the Hoosier Open. Her NCAA-leading performance far surpassed times recorded by rivals like Lynna Irby (36.73) and Gabby Thomas (37.47), the collegiate record holder for 200m. McLaughlin went all in to help the Wildcats chase their team title dreams, so let's imagine she opts to go after the 200m, 300m, and 400m triple.
NCAA 400m champion and collegiate record holder Kendall Ellis has never raced a 300m, but we're gonna guess she sticks with the quarter in this hypothetical "off-event" championship and does not enter the 300m.
Men's 600m
This one's easy.
Michael Saruni of UTEP not only dominated the 800m field at NCAAs, he set a collegiate record in the 600m earlier this season in 1:14.79. At altitude, no less!
Women's 600m
Photo via 12thman.com
Texas A&M's Jazmine Fray, the collegiate indoor record holder for 800m, has the perfect blend of speed and strength to win a national title in the 600m. Her NCAA record is 2:00.69 and she regularly contributes to the Aggies' stellar 4x400m relay pool; at NCAAs, she anchored the squad to sixth place with a 52.73 split.
Key to Fray's win will be her willingness to set a hard pace from the gun.
She had a fifth-place showing in the NCAA 800m final, but only after leading the field through 58.21 for the 400m and 1:30.39 for 600m. If the race had ended at 600m, the title would have been hers.
Men's 1K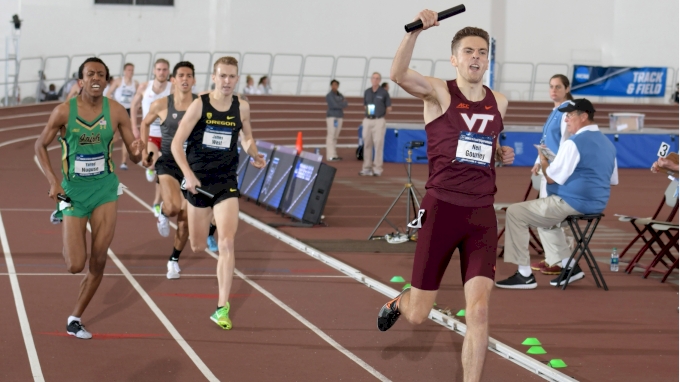 We're going to bet on Neil Gourley of Virginia Tech for this one. The Scotland native is one of five DI men to run 2:21 this season for 1K, and he's proven to be clutch when it counts.
He anchored the Hokies' NCAA title-winning distance medley relay with a 3:58.64 split, and while he and teammates Patrick Joseph and Vince Ciattei are often almost interchangeable in races, Gourley captured the ACC Indoor 800m title over 1:46 guy Joseph. He's also the defending ACC 1500m champion and placed fifth in the 2017 NCAA Outdoor 1500m; he was seventh in the indoor mile final the evening after his stellar anchor.
Joseph, an 800m specialist who broke the DMR race wide open with his 1:46.23 split, and Ciattei, who took second to Kerr in the mile final, would both certainly be up for 1K title contention.
Jacob Dumford of Notre Dame, whose 2:56.73 was the quickest 1200m leg in the DMR, and Oregon's duo of Mick Stanosvek and Reed Brown would also be in the mix.
It's worth noting that DII standout David Ribich of Western Oregon actually owns the fastest time in the NCAA this year regardless of division with his 2:21.38 runner-up finish to Drew Windle at the UW Preview.
Women's 1K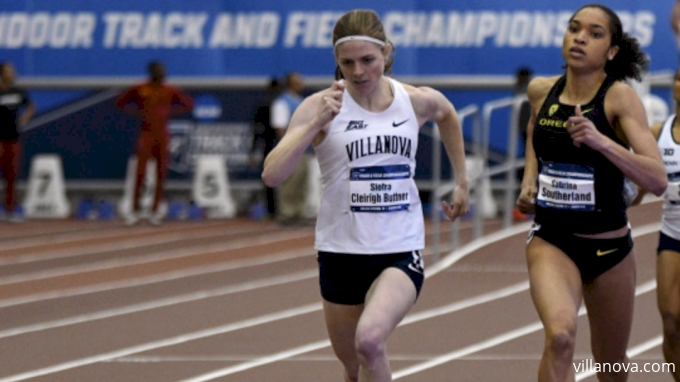 Photo via villanova.com
Villanova's Siofra Cléirigh Buttner set a new Irish indoor national record of 2:02.46 in taking runner-up honors in the 800m at NCAAs to Oregon's Sabrina Southerland, her highest NCAA finish ever, but we think she might be a favorite for the individual crown if she were racing 1K.
Her indoor PBs of 2:02.46 (2:01.98 outdoors) for the 800m and 4:32.84 for the mile make her one of the most dangerous combined middle distance runners in the nation. If you watch the championship race again, Cléirigh Buttner spent most of the 800m in last place. She navigated well around the field to boast the second-fastest closing 200m of 31.16, only four-hundredths of a second off Southerland's closer, who was in much better position.
Another challenger in the 1K would be Virginia Tech's Rachel Procratsky, who took sixth in the 800m final. Her 2:41.98 PB is the fastest time recorded in the NCAA this year and her mile and 800m PBs of 4:34.01 and 2:02.67 stack up well, too.
We wouldn't look too far past mile-800m hybrid Danae Rivers of Penn State, either, whose respective PBs are 4:32.55 and 2:02.53 (outdoor). She was third in the indoor mile last year as a freshman and seventh in the 800m final this year.