2018 DI NCAA Indoor Championships
It's Bullshit That USC Doesn't Have The 4x4 World Record
It's Bullshit That USC Doesn't Have The 4x4 World Record
The USC men ran the fastest indoor 4x400m relay in world history. But they will not be recognized due to some, well, bullshit rules.
Mar 20, 2018
by Johanna Gretschel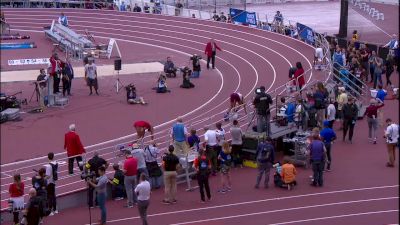 Dear IAAF,
Let's be real.
It's bullshit that the University of Southern California men won't be recognized as the indoor 4x400m relay world record holders.
The 2018 NCAA Indoor Championships were 10 days ago and, honestly, it's still the only thing from the meet that I can think about.
Two weekends ago in College Station, Texas, USC's Zachary Shinnick, Rai Benjamin, Ricky Morgan Jr., and newly minted 400m world record holder Michael Norman split a respective mind-f*** of 46.24, 44.35 (the fastest indoor split in world history), 45.67, and 44.52 for a total time of 3:00.77 to win the men's program's first NCAA title in the event since 1977, and first-ever indoor title.
Watch the world record-setting race below: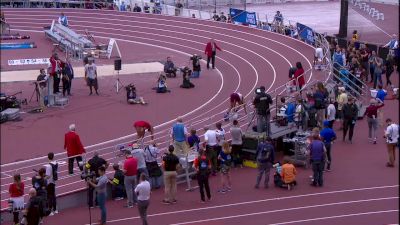 Their time literally dusted the Polish national team's winning time from the IAAF World Indoor Championships in Birmingham, 3:01.77, which was also a world record at the time of competition!
According to the IAAF's race report, however, USC's mark "is not eligible for a world record because Benjamin is from Antigua & Barbuda, and the others are USA citizens."
The sport's international governing body named, instead, Texas A&M as the new world record holders. The Aggies, though anchored by a superb 44.52 split from Mylik Kerley, finished more than half a second off the Trojans in 3:01.39.
Well.
Let's back up a second.
Benjamin, actually, is a U.S. citizen.
The junior, who transferred to SC this year from UCLA, was born on July 27, 1997, at Jacobi Hospital in the Bronx, which he was kind enough to share in a series of tweets last week with all the smart-ass folks on the internet.
I WAS BORN IN AMERICA

— Rai Benjamin (@_Kingben_) March 11, 2018
I AM AMERICAN LOL

— Rai Benjamin (@_Kingben_) March 11, 2018
Lol fam I was born in the United States at Jocabi hospital in the Bronx. I represented Antigua a few years ago and got released by the country. Let me be!! ???

— Rai Benjamin (@_Kingben_) March 11, 2018
Benjamin's parents were born on the Caribbean island of Antigua, which shares sovereignty with Barbuda, a smaller island slightly to the north. The precocious sprinter-hurdler represented his parents' country in several international track and field events as a youth athlete, including the 2013 IAAF World Youth Championships and the 2015 Carifta Games.
Though Benjamin requested and was granted release from Antigua back in July of 2016 in order to compete for his native Team USA as a senior-level athlete, his status has been uncertain since the IAAF announced a freeze on transfers of allegiance in February of 2017.
Rai Benjamin talked briefly after his breakout 48.33, runner-up finish in the 2017 NCAA 400H final about his struggle to transfer allegiance: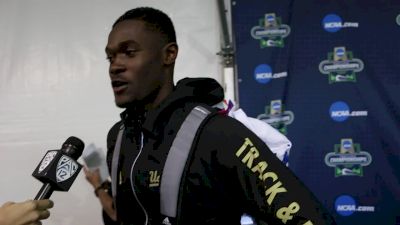 The IAAF announced after its council meeting earlier this month that the blanket freeze will continue until at least July while specific rules are drafted to govern transfers of allegiance.
These rules will likely include a minimum three-year waiting period for athletes hoping to transfer, the establishment of a review panel to determine the credibility of transfer applications, and provisions that athletes may transfer only once during their career and that no transfers take place before the age of 20.
It's likely that once these measures are in place, Benjamin's request will breeze through the requirements as he hasn't competed for Antigua since 2015, which will be three years ago this April. He is also now 20 years old—21 this summer—and will, therefore, be age-eligible to transfer.
It does strike me, however, as profoundly unfair that he should have to go through this process at all—especially considering that he has never represented Antigua in senior-level competition. There should, perhaps, be an additional provision that nullifies the transfer rules until athletes are over the age of 18.
The other damning bit is that if he was released from Antigua in the summer of 2016 and the freeze did not start until February of 2017, then it sounds like some paperwork just got stuck in a bureaucratic sinkhole.
Benjamin said via text that he was told the IAAF is holding a hearing on the issue within the next two months—which would be sooner than the summer council meeting.
He will almost definitely be cleared to compete for the U.S. in 2019 and 2020.
But that still leaves the 4x4 indoor world record in the hands of Texas A&M.
Whatever, IAAF.
We're gonna throw this one to USC director of track and field Caryl Smith Gilbert, whose response to the epic NCAA weekend was perfect.
"I don't care what anyone says, USC owns the world record in the 4x400m relay. No four men in the history of the world have run faster indoors than the Trojans did tonight."
Fast-forward to 9:18 to see the USC men's staid response to not getting the world record: