A crimson-and-black Harvard singlet isn't the one that people expect to see crossing the finish line first at the NCAA Division I track and field championships—especially in a sprint.
So when Harvard junior Gabby Thomas won the NCAA indoor 200m title three weeks ago in College Station—and, in doing so, set a new collegiate record of 22.38—people weren't sure how to react.
"The first thing they asked me [in the mixed zone] was, 'What's your GPA?'" Thomas told FloTrack over the phone last week, in between her shift at the campus laundry service and afternoon track practice.
"Yes, I do go to Harvard, but SEC schools have good academics as well," Thomas said. "People can go there and excel athletically and academically, and you can also go to Harvard and it's not just about academics; you can excel athletically. Putting girls in boxes like that, you're selling everyone short.
"I want to get out of those compartmentalized boxes for everyone—for all female athletes."
Thomas has certainly broken the box, metaphorically speaking, in regards to stereotypes about Ivy League athletes not being as good as their SEC counterparts, or for that matter, athletes from any of the Power Five conferences.
She's the first female sprinter from the Ivy League to win an indoor national title, and she's Harvard's fourth indoor national champion in any event.
"At indoor nationals, you hear the announcers and all they care about is the SEC, which is crazy because the SEC did not even dominate the meet in the sprints," she said. "They just didn't. But all they wanted to talk about was the SEC girls.
"There's definitely that bias there, that no matter what you do, they're always going to favor the schools that are expected to be really good at track. I think it's really important to get some representation outside of the SEC there [at nationals]. You don't have to go to the SEC to do well in track."
As she goes on to point out, the top two women in the 200m at NCAAs were from non-SEC schools: herself, and runner-up Ashley Henderson of San Diego State, who competes in the Mountain West Conference. Men's 200m champion Eli Hall, who also won the 60m, competes for the University of Houston in the American Athletic Conference.
Not to mention the two national 400m champions, Kendall Ellis and Michael Norman—both of whom broke American records in their respective races—hail from USC, a member of the Pac-12, not the SEC, though it is certainly a Power Five conference.
Regardless, the fact remains that most top track and field recruits are going to choose a Power Five school. Often, that school will be in the SEC if you're a sprinter, though the likes of USC and Oregon are certainly outliers in drawing away top sprint talent.
Watch Thomas run 22.38 to break the NCAA DI record in the 200m, previously set at 22.40 by Bianca Knight of Texas in 2008.
Choosing Harvard
There's obviously a lot of non-sporting reasons to go to Harvard—top academics, prestige, endless networking opportunities—but, for Thomas, the connection with the Crimson's sprint coach Kebba Tolbert finalized the decision. Her other final-hour choices were Duke and Brown.
"I chose Harvard because I knew my coach is a very serious, intelligent coach," she said. "He's very passionate about track and is always learning. I made an excellent choice in that regard."
She also wasn't a top-tier track specimen just yet.
While at the Williston-Northampton School, an elite boarding school in nearby Easthampton, Thomas racked up a sterling athletic record (11 total New England Championship crowns in individual events and relays, including five straight NEPSTA titles in the 100m dating back to her middle school days) with PBs of 11.71 for 100m and 24.2 for 200m, which—while certainly elite for a teenager, and in the upper quadrant of prep performances—are not necessarily indicative of a future collegiate record-breaker.
But Thomas could also long and triple jump. And in that dual ability, Tolbert saw glimpses of Blessing Okagbare, whom he coached at UTEP to four NCAA titles in 2010.
Okagbare also won the Olympic bronze medal in the long jump in 2008 for her native Nigeria--which was later upgraded to silver after silver medalist Tatyana Lebedeva of Russia tested positive for banned substances in a 2017 retest. Tolbert joined the UTEP staff the following fall.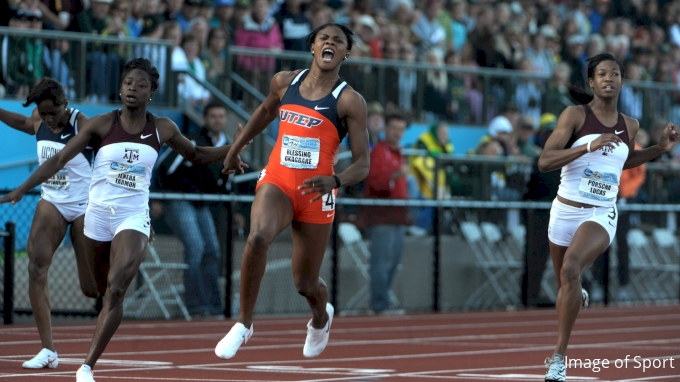 "I knew [Gabby] was pretty talented, but I didn't know exactly how talented because you just don't know when they first get here," Tolbert remembered of his first impressions of his protegé. "We had talked in the recruiting process about where I saw her. She was more of a jumper (and) sprinter out of high school. I had coached Blessing Okagbare, who is the only female to win the 100m and long jump and 60m and long jump in Division I at the NCAA championships. I saw her in that vein.
"I didn't know she could win, but I knew she could be very competitive in those events—eventually in college, not necessarily as a freshman."
Adjusting to campus life is the first piece of the puzzle, as Tolbert well knew and Thomas would soon find out.
'This Is Not Intramurals!'
"Oh my gosh, the whole fall training [freshman year], it was soul-crushing," Thomas said. "So hard. Every single day was just too difficult for me, because I didn't come from intense training [in high school]. Sometimes I would leave practice and cry because it was so hard, and sometimes I would leave practice and cry because it would just take so much of my time and I had so much homework to do. I [am] a science major at Harvard. It was very overwhelming."
But even as a neurobiology major at an Ivy League university, Thomas says the adjustment to Tolbert's training program was more difficult than the academic course load.
"[Track practice] is so mandatory. If you don't show up, it's a bigger deal than if you don't show up to class. You know what I mean? The consequences are much worse. But the academic aspect of it was also very challenging and just having the two together—I struggled a lot as a freshman. I don't know if I struggled more than anyone else, but personally, I didn't know if I could do it for the next four years.
"I have a handle on it now, but at the time I was drowning."
The perceived failure in struggling to adapt to the rhythms of college life can feel like a character flaw, but in truth, it's just a process that every incoming college freshman must navigate.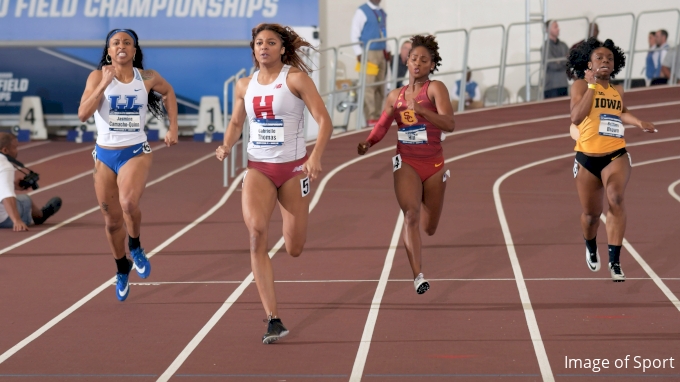 "The biggest thing with freshmen is getting them to understand it's a different mindset, different intensity, different everything," Tolbert said. "What I tell people in the recruiting process is that, when you come to college, you're in a new location with new professors, with new teammates, with new dorm mates and a new coach. That's a lot of change all at once. So you're going to struggle and that's okay. There's nothing wrong with struggle.
"I'll often talk to the athletes [and say], 'It's going to be hard but don't be afraid to take a risk. Be willing to take a risk, be willing to feel uncomfortable.' The ones who embrace that are the ones who are going to succeed sooner and more often. Track and field is a sport where you have to be able to take risks and be uncomfortable."
The gulf between what makes a good high school athlete and what makes a good college athlete in track and field is so vast, too, that to make an immediate impact at the NCAA DI level, an individual must either already be a blue-chip recruit, or else adapt to the new regimen very, very quickly.
Much of that battle can be mental.
"Say, for instance," Tolbert said, "you recruit an 11.8 sprinter [like Gabby] out of high school. That's pretty good in high school across every state, except maybe California and Texas. That doesn't even, hardly even score at our conference meet. So your best day ever is not even going to score. If you just do what you're used to, and feel the way you're used to, you're not going to be able to help us athletically. That's a big, big change. And we're not the only place like that, obviously.
"We recruited you for this, but it's not that good. You gotta get this much better to even be competitive."
Thomas figured that out pretty quickly.
"In high school, I did not train seriously at all," Thomas said. "I was fast, so I would go out to races and just win. I wouldn't even warm up. I would just eat a bag of chips and step to the line and just go.
"Coming here was such a culture shock. I remember Tolbert yelling at me, 'This is not intramurals!' and that I could not train the way I did in high school."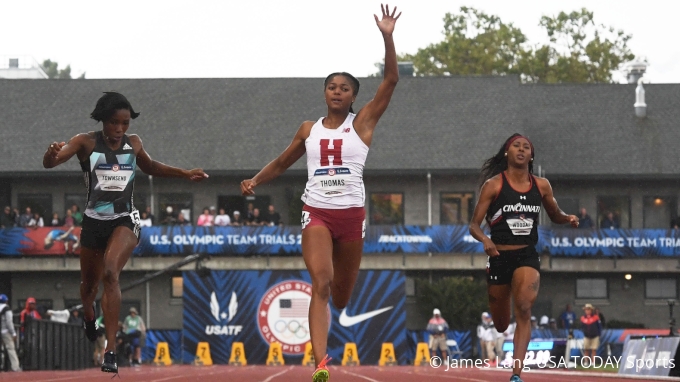 'You qualified for the Olympic Trials.'
'What?'
Fall conditioning was one thing.
Once Thomas started competing, it was clear that Tolbert had a potential All-American on his hands.
He remembers it was Kentucky's 2016 Rod McCravy Memorial, an annual indoor meet, where Thomas first showed her true potential by beating a field of legit SEC sprinters in the 200m.
She ended up running 7.38 for the 60m and 23.37 for the 200m that season, the latter mark missing qualification for NCAAs by just five spots.
Two months later, she popped off a 22.75 (+0.6) to win the Florida Relays.
Thomas had arrived.
"My coach was like, 'You qualified for Olympic Trials!' and I was like, 'What?'" Thomas remembers. "'Okay, cool, I'll show up and I'll run.'
Before that, there were three golds at the Ivy League Outdoor Championships (also known as Heps) in the 100m, 200m, and 4x100m relay. Then there was a stunning, albeit wind-aided run of 22.37 (+3.4) to take second at the NCAA East Prelims. Later, a wind-legal PB of 22.47 (+1.9) to take third in the NCAA final.
We talked to Thomas before the 2016 NCAA 200m final. Watch the race here.
Thomas says she was way more nervous to race at NCAAs than the Olympic Trials, as she "had no expectations of making it to the Olympics."
"I surprised myself by making semifinals and finals and once you make it to the finals, it's pretty much, just run your best race when you step to the line," she said. "Nervous? No... maybe a little bit nervous, just running next to Allyson Felix and you know, Tori Bowie. But other than that, just really excited."
The girl who entered college with a 24.7 PB in the 200m followed a third-place finish at NCAAs with a sixth-place finish in the Olympic Trials final, three spots shy of making the U.S. team. Plus, she had a new wind-legal best of 22.47. In the 100m, she lowered her PB from 11.71 to 11.30 and competed in the prelims at the Olympic Trials.
Even now, Thomas is still a bit incredulous of her big freshman breakthrough.
"I improved drastically," she said. "Like, seconds—full seconds—in all of my events."
Tolbert points to the overall quality of Harvard's track team that year as key to pulling Thomas to her potential. She was one of seven women from Harvard to qualify for the NCAA outdoor championships, one of four to earn All-American honors, and one of five to advance to the Olympic Trials. Only Oregon and Arkansas qualified more women to the Olympic Trials.
"She was able to evolve in a program where there's high-level performers already showing her it can be done," he said. "Even though we don't have people win nationals, we've had a lot of people over the past few years who go to nationals in my event group. Going to nationals is always cool and always an honor to go there, but it's not an anomaly.
"I think her stepping into that situation as a freshman, as much as anything else—work ethic and all that—I think that helped bring her along much faster than it would have otherwise. If it was just her, it would have taken another year or two."


Growing Pains
Thomas' bubbly, effervescent spirit shines through even just a few simple exchanges over the phone. The 21-year-old uses laughter as a punctuation mark, even when she's talking about a solitary summer spent doing lab work, or the most painful workout of her life.
So it's no surprise that she's the type of person who keeps herself heavily involved with on-campus organizations outside of school and track.
After the whirlwind freshman year, she came back down to earth by participating in punch season (similar to rushing a sorority at Harvard) and taking up as diversity director for Harvard Undergraduate Women in Business. She's also the community service chair for the Caribbean Club and, with a friend, started a chapter of We Believe, a mentorship program that empowers young girls in the local area.
"I really wasn't doing much homework," she admitted (with a laugh).
Her sophomore year on the track was good by most standards—but not when compared to her superlative rookie season.
"You go through some growing pains," Tolbert said of year two. "Sometimes when you have that kind of freshman year, you expect it to keep getting better and better and better, and sometimes you don't always look back and appreciate the work you put in to get there. I told her at the end of her freshman year, 'Every year isn't going to be like this. You're not going to improve two seconds in the 200m and a half second in the 100m.'
"If you're improving by a few hundredths, you might be looking around like, 'Hey, what's going on? What's wrong with me?' Nothing's wrong, your window is just tighter."
Thomas did get a little faster in 2017, running 11.24 for the 100m. She also qualified for the NCAA indoor nationals for the first time, placing eighth in the 200m final.
Eighth, though, is last in a sprint final.
She took third again in the NCAA outdoor final, though she would have placed fourth had Oregon's Deajah Stevens not taken an ill-timed tumble just meters before the finish line.
"That was not my best nationals," Thomas said. "After the race, I knew I was going to come back the next year and try to actually win it. I didn't have time to be getting third place every year. Before I came to college, my goal was to win an NCAA championship title."
Instead of prolonging her season past NCAAs to the USATF outdoor nationals and possibly the IAAF world championships, Thomas decided—without consulting Tolbert—to study abroad in Senegal. Traveling to a French-speaking African country was on her bucket list and when she was accepted into a fully funded Harvard program, well, would you be able to say no?
"My coach was a little upset, but I think it was very important for me to get away from the Harvard scene and to a new environment," she says. "I think it really helped. I came back with a new intensity for pretty much everything, not just track, but for all the organizations [I'm a part of] and what kind of legacy I want to leave here."
When Thomas came back to Cambridge last fall, Tolbert could see the new focus and fire. Coach and athlete talked about preparing to win the NCAA outdoor championships in June.
Thomas had never been a strong indoor runner, and neither talked about the possibility of winning the national crown at the indoor meet in March, at least not until much later.
The Race
The Monday before NCAA indoors on March 5, Thomas was scheduled to do a workout that consisted of an all-out, or close to it, 180m sprint, followed by 10-12 minutes rest, a 150m sprint, a few 70m sprints, then a weightlifting session.
She ran 19.9 for the 180m, and Tolbert sent his athlete straight to the weight room.
"She came through the 100m in 11 seconds flat and 150m in 16.5. That's running!" Tolbert said. "I'm a pretty good timer, but even if I'm off a little bit, that's still really fast. The 180 was so fast, I was like, 'Let's go to the next thing on the workout.' I don't need to see if you're in shape anymore, you don't need more confidence, you're good.'"
On the first day of competition in College Station, Texas, Thomas ran 7.26 in the 60m prelims, her weaker event, and did not advance to the final. Less than two hours later, she came roaring back to life in the 200m prelim, clocking 22.66 to win her heat and tie Georgia's Lynna Irby, the NCAA season leader, as the fastest in qualifying.
The 200m final at NCAA indoors is conducted in two separate sections, so all eight athletes can race in an optimal lane on the banked track.
Thomas was seeded in the second section. She watched from the sideline as Henderson ripped a 22.41, one one-hundredth of a second off Bianca Knight's decade-old collegiate record, to win section one.
"I was so nervous, I was shaking," she recalled of stepping onto the track for her final. "It was the same track where, the year before, I had finished last. After [Henderson's 22.41], it definitely added some adrenaline, a little rush.
"I knew I had to get out the first 60m really hard and just get in front of [Lynna Irby from Georgia]. I came [to NCAAs] for the 60m as well, so I'm thinking, 'I'm a fast 60m runner, too, probably faster than every girl in my heat, so I've got to beat them to the 60m. And after that, I'm a really strong finisher, so if I can just get out really fast and keep that top speed'… I just remember getting out of the blocks faster than I ever have and holding on."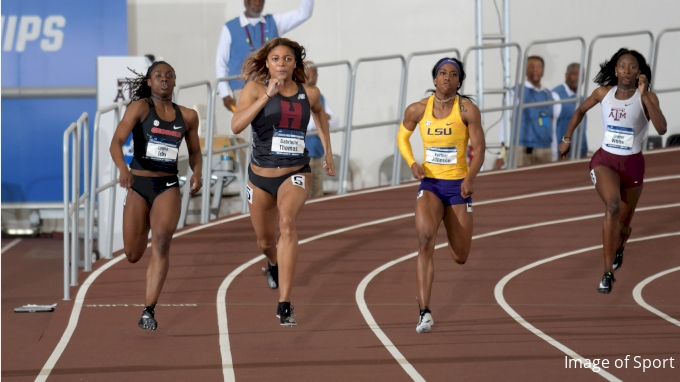 One word that comes up often when talking to Tolbert is "discipline." The concept of a disciplined race is one he emphasizes as critical to Thomas' rapid rise and recent success.
"Discipline" is certainly an easy enough concept to understand—how else to explain an elite athlete's propensity to rise before the sun, push their muscles to exhaustion, eat the right foods, and get enough sleep?—but what does it mean to be disciplined within the confines of a race shorter than 25 or even 10 seconds?
From the perspective of a distance runner, there doesn't seem to be much strategy to racing a 200m or a 60m. "Sprint as hard as you can" means different things to people with different amounts of fast-twitch fibers.
Tolbert, who began his coaching career as a 10th grader when his middle school-aged brother needed help making the Junior Olympics, uses the term "discipline" to describe how an athlete must keep their composure in a race.
"For Gabby, she's not what you would call—by classical standards—a great starter," he said. "Because of her body type, because of her skill set, she's not gonna be a rocket-quick starter and that's perfectly okay because she has a good acceleration phase. She has to be okay with coming on late and using her speed and her abilities in the middle and second half of the race, while some other people are going to be a meter, two meters ahead early on.
"If you're not disciplined and not confident, that's gonna throw you into a panic. You're as good as these people, but your race distribution is going to be different. If they're a meter ahead of you, don't panic, just keep running your race and you'll be fine.
"The other thing about being disciplined is, in sprinting, you have a lane. No one else is in your lane. Don't be 20 meters in, thinking, 'Oh, I've got to catch them.' Your job is to execute your race plan in your lane."
And, one more thing.
"[You also] cannot be tied into feeling a certain way in a certain part of the race because if you're running a PR race, it's gonna feel different than any race you've ever run. So trusting the process, trusting your fitness. To me, sprinting requires a lot of trust and faith. She's gotten better at that and in the final, she did an excellent job of that."
The NCAA 200m final saw Thomas get out harder than she ever had previously, and was well clear of Irby, who later finished second in that section in 22.55.
Thomas is still not sure how to describe what it felt like to cross the line and turn her attention to the scoreboard, which now read four magical numbers: 22.38.
"I was so shocked," she said. "I had been thinking about winning the race for so long, because you really have to imagine yourself winning before it actually happens. The fact that the moment was actually happening was just… wow. I was very proud."
We talked to Thomas in the mixed zone after her collegiate record.
'You Bring Intensity, Or You Might As Well Go Home'
After a week of rest, then spring break training camp in Houston, it's outdoor track season already.
The Crimson sprint crew is currently in Austin to start the season off at the Clyde Littlefield Texas Relays this weekend. Thomas is entered in the 100m, 200m, 4x100m, relay and 4x400m relay.
Thomas and Tolbert would be the first to tell you that the NCAA outdoor title in the 200m is far from guaranteed.
Henderson was only three-hundredths of a second off Thomas at the indoor nationals, and they ran in separate heats. Who knows what would have happened had both women raced in the same section.
Oregon's Ariana Washington, who won the NCAA 100m and 200m titles and made the Olympic team in 2016, will likely make a return to form in the spring. True freshman Irby will return to the track stronger than ever after her first NCAA championship experience under her belt. There's also Kentucky's Sydney McLaughlin, who was fourth indoors and made a big statement already with a wind-legal 22.39 outdoor season opener.
Thomas isn't so much the new kid on the block anymore, the star freshman who made the Olympic Trials final and always makes All-American. She's an NCAA champion now, and the fastest collegiate woman to ever run the 200m indoors.
"It's much harder with a target on your back than the other way around," Tolbert acknowledged.
It's a far cry from the early days—when Thomas joined the track team because it was a thing to do, a box to check off the list before homework and dinner.
"At some point my freshman year, I realized that practices are hard and if you're not trying to get something out of it, you're wasting your own time. I won't run just to run anymore," she said. "I won't do it. Every time I run, I'm trying to get something out of it. You bring intensity or you might as well go home."