Josh Kerr of New Mexico rightfully claimed the throne as prince of the NCAA weekend after breaking one of the oldest records in Division I history: the 1500m. The three-time NCAA champion ran 3:35.01 at the Bryan Clay Invitational to narrowly beat out Sydney Maree's 3:35.3, which has stood as the DI standard since 1981.
A total of seven men broke 3:38 at Bryan Clay, including six collegiate runners. David Ribich of Western Oregon set a new NCAA DII record of 3:37.35, and NCAA cross country champion Justyn Knight showed off his impressive range by running 3:36.07.
🚨NEW NCAA RECORD🚨 pic.twitter.com/cCsOFPeLQ4

— FloTrack (@FloTrack) April 21, 2018
Read more about Josh Kerr's NCAA record race here.
Watch the NCAA record race below: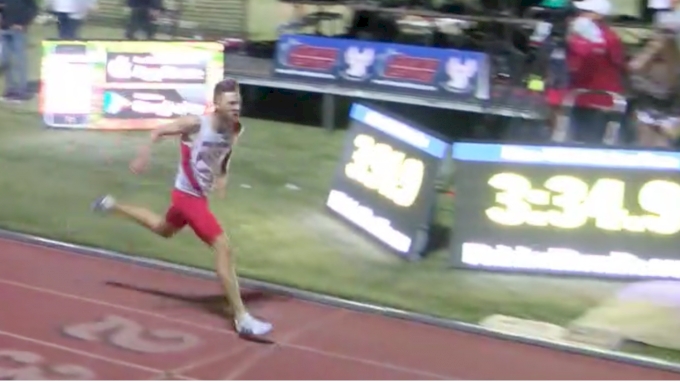 Unlock this video, live events, and more with a subscription!
Get Started
Already a subscriber? Log In
TeeTee Terry Is What's Next
Your new favorite NCAA sprint star is the University of Southern California's true freshman Twanisha "TeeTee" Terry, who ran 10.99 (+1.7) this weekend to win the Mt. SAC Relays, just missing the American junior record and clocking a world and NCAA leader.
Terry's time of 10.99 (+1.7) is the top wind-legal time in the country and broke Olympian Angela Williams' school and freshman record of 11.04 set in 1999. pic.twitter.com/uuJDo5Stmn

— USC Track & Field (@USC_Track_Field) April 21, 2018
Candace Hill set the U.S. junior record at 10.98 in 2015. Terry's time ties the fourth-fastest mark in world junior history.
Michael Norman & Rai Benjamin Are In Shape
USC's quarter-mile duo of Michael Norman and Rai Benjamin—who will likely transition to 400m hurdles later this season—set outdoor PBs in the 400m with marks of 44.53 and 44.74 to go one-two at the Mt. SAC Relays. Norman's time is one one-hundredth of a second off his indoor world record of 44.52.
Norman and Benjamin go 1-2 in the Mt. SAC Relays Invitational 400m dash, both with PRs. Norman betters his 3rd-place standing (44.53) & Benjamin (44.74) moves to 6th on USC's all-time list. pic.twitter.com/FWDC8JxlTW

— USC Track & Field (@USC_Track_Field) April 21, 2018
Lynna Irby Takes Down Kendall Ellis
Well, sort of.
Kendall Ellis, the reigning NCAA indoor 400m champion from USC, took on upstart freshman Lynna Irby of Georgia, who was third indoors, in the quarter mile at Mt. SAC. They were, unfortunately, seeded in separate sections, so while both women secured heat wins on the day, Irby ran significantly faster than her senior rival—50.95 compared to 51.43.
Don't really have time for pictures when it's business 🤷🏾‍♀️

— Lynna Irby (@monalynna_smile) April 21, 2018
This weekend marked the outdoor season 400m debut for both women. Don't forget that Irby also beat Ellis during the regular season indoors before the seasoned vet broke the American record at NCAAs.
The Dawgs' Tatiana Gusin Is Back, And Dangerous (And So Is Keturah Orji)
The University of Georgia woman had no problem securing the first NCAA title in program history this indoor season even without valuable points from high jumpers Tatiana Gusin and Mady Fagan, the former of whom did not compete at all indoors.
Gusin, the two-time NCAA high jump runner-up (to Fagan, no less) took over the NCAA lead in the event with a big season's best effort of 1.88m/6-foot-2 to take third at Mt. SAC behind Vashti Cunningham and Elizabeth Patterson.
Speaking of Dawgs in field events, six-time NCAA triple jump champion Keturah Orji recorded an NCAA lead in that event with a 14.33m/47-0.25 mark. That leap is the second-best outdoor mark in collegiate history, behind only her own NCAA record of 14.53m/47-8.
#ICYMI #Dawgs' Sr. Keturah Orji soared for the #NCAA's 2nd & 5th ALL-TIME marks to win #MtSACRelays triple jump Invite, topping out at the No. 2 collegiate performance ever (47-0.25) in her season debut in the event.#GoDawgs #FindYourGreatness

— Georgia Track&Field (@UGATrack) April 22, 2018
Orji now owns the top 5 #NCAA marks in history & 6 of the top 10 marks outdoors. The national leader also stands No. 2 on the '18 collegiate long jump list as the postseason nears.#GoDawgs

— Georgia Track&Field (@UGATrack) April 22, 2018
Sabrina Southerland Keeps Improving As A Duck
Very few people, if anyone, picked fifth-year Sabrina Southerland—who transferred to Oregon this year after four years at Georgetown—to win the NCAA indoor 800m title. But win she did, improbably extending the Ducks' reign on the women's half-mile even with the early departure of now-Nike stud Raevyn Rogers from the NCAA system.
Southerland continued to prove her worth as her own runner this weekend by clocking a new outdoor PB of 2:01.44 to finish as the top collegiate at the Mt. SAC Relays and second overall behind adidas pro Kaela Edwards.
#MtSac: Nice race for NCAA Champ @SabrinaaJem with a 2-second PR 2:01.44 to finish 2nd overall. Big 2-second PR for Susan Ejore as well 2:04.53 #GoDucks #FlyInFormation pic.twitter.com/vTUGccJl2z

— Oregon Track & Field (@OregonTF) April 21, 2018
Southerland never broke 2:03 while at Georgetown and, even this winter, only ran faster than 2:03 once—when she won the national title in 2:01.55. Now she won't be underrated heading into the championship portion of the season. Southerland's mark ranks No. 2 in the NCAA behind only indoor collegiate record holder Jazmine Fray of Texas A&M, who has run 2:01.18.
Divine Oduduru, Ncincilili Titi Top Men's Short Sprints
Two new names top the NCAA DI men's short sprints leaderboard after this weekend's action: Divine Oduduru of Texas Tech in the 100m (10.10) and Ncincilili Titi of South Carolina in the 200m (20.00).
Despite what may have been a distracting fall from Baylor's Malik Wilson, Oduduru sailed to an easy victory at the Michael Johnson Invitational in a nation-leading time of 10.10 (+1.4). Oduduru's previous wind-legal best of 10.25 dated back to 2016, though he did run wind-aided marks of 10.09 and 10.10 last year.
Watch Divine Oduduru run 10.10 at the Michael Johnson Invitational: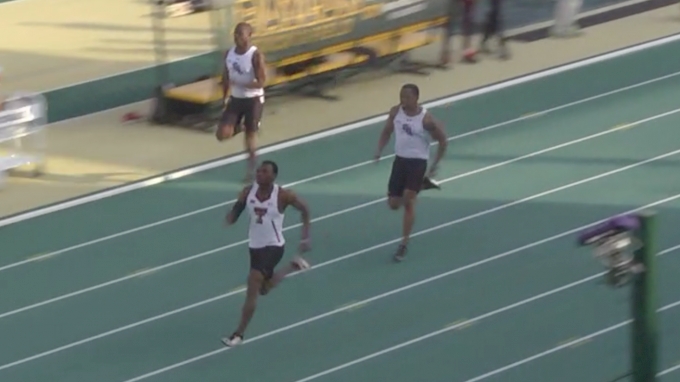 Unlock this video, live events, and more with a subscription!
Get Started
Already a subscriber? Log In
Titi's previous PB was 20.14 (+1.7); he now ranks No. 5 all-time in South African history. His best finish at the NCAA championships was fifth place in the indoor 200m this past March.
In case you didn't know...

2️⃣0️⃣.0️⃣0️⃣ pic.twitter.com/CYA8zgHeoI

— Gamecock Track & XC (@GamecockTrack) April 23, 2018