Create a free account to unlock this article!
Get Started
Already a subscriber? Log In
The highly anticipated Payton Jordan Invitational is this Thursday at Stanford University in Palo Alto, California. The meet is one of the most competitive annual domestic track meets, and this year is no exception. Check out the entries here and read on to learn more about the men's 1500m field, headlined by reigning Olympic champion Matthew Centrowitz.
Watch the Payton Jordan Invitational LIVE on FloTrack this Thursday!
Race Time: 9:12 PM PT (Start times are approximate as the final schedule has not yet been released)
Key Entries: Matthew Centrowitz, Paul Chelimo, Henrik Ingebrigtsen, Jakob Ingebrigtsen, Drew Windle, Eric Jenkins, Craig Engels, Grant Fisher, David Ribich
Analysis: Rio Olympic 1500m champion Matthew Centrowitz of the Nike Oregon Project makes his domestic season debut in Palo Alto on Thursday evening after traveling to Australia for a handful of races in March. He clocked 3:37.96 for the win in his 1500m and 1:53.25 for sixth in an 800m race, which should be considered a solid start.
The race will be paced slightly faster than that—Daniel Herrera is currently tasked with bringing the field through 1K in 2:25, which would result in a low-3:36 with even splits.
Centro's biggest challenger could be Paul Chelimo of the U.S. Army WCAP, a two-time global medalist in the 5K and reigning USATF Indoor 1500m champion. The race will be Chelimo's outdoor season debut ahead of his American record attempt in the two-mile at the Prefontaine Classic at the end of the month.
But Chelimo has broken 3:40 for 1500m just once in his track career—a 3:39.33 in 2016—and while he has clearly shown the ability to kick with the best in the world over 5K, it's a little different to close out a 1500m race. Still, it's safe to predict that if he doesn't win, he'll make some money moves on that PB.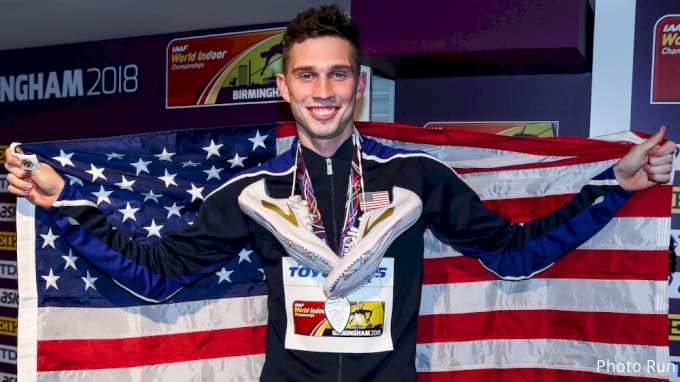 On the other end of the event specialty spectrum is Drew Windle of the Brooks Beasts, the 2018 IAAF World Indoor silver medalist over 800m. Windle ran just 3:48 at Payton Jordan in 2017, but he's a completely different athlete now—at least, confidence-wise—after making two world teams and earning a global medal.
He is long overdue for a big 1500m PB, as his lifetime best effort of 3:44.66 dates back to 2015.
There's also Centro's own NOP teammates, Eric Jenkins and Craig Engels. The trio is heading to California after a training camp stint in Flagstaff.
Jenkins won this race last year in 3:38 but missed time during the winter with an Achilles issue and likely is not in that kind of form right now. He is also entered in the 800m. Engels is certainly one of the faster men in the field with a 3:35 best; he makes his outdoor debut in Palo Alto after making his first world team and world final at the indoor championships.
Two of the Ingebrigtsen brothers from Norway will also compete: Henrik, 27, and Jakob, 17, the latter of whom set the track world ablaze last summer by becoming the youngest man to break four minutes in the mile as a 16-year-old.
Henrik missed most of the outdoor season last year due to injury, but is certainly a major talent as he owns a 3:31 PB and has medaled at the European Championships five times, including an outright win in the 1500m in 2012.
NCAA fans will also be eager to see how Stanford's Grant Fisher and Western Oregon's David Ribich fare. Fisher, the reigning NCAA outdoor 5K champion, opened his season with a 3:44 1500m and 13:36 5K, both wins. Ribich was in Josh Kerr's NCAA Division I record-breaking race at Bryan Clay, where he ran 3:37.35 to set a new Division II record.