2018 Payton Jordan Invitational
Payton Jordan Women's 5K: Kurgat, Ostrander To Challenge NCAA Record
Payton Jordan Women's 5K: Kurgat, Ostrander To Challenge NCAA Record
Ednah Kurgat and Allie Ostrander could challenge Jenny Simpson's NCAA outdoor 5K record at the 2018 Payton Jordan Invitational.
May 2, 2018
by Johanna Gretschel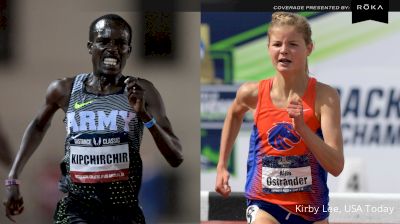 The highly anticipated Payton Jordan Invitational is this Thursday at Stanford University in Palo Alto, California. The meet is one of the most competitive annual domestic track meets, and this year is no exception. Check out the entries here and read on to learn more about the women's 5K field.
Watch the Payton Jordan Invitational LIVE on FloTrack this Thursday!
Race Time: 9:19 PM PT (Start times are approximate as the final schedule has not yet been released)
Key Entries: Meraf Bahta, Katie Mackey, Stephanie Garcia, Ednah Kurgat, Allie Ostrander, Rachel Schneider, Amy Eloise-Neale, Jessica O'Connell, Maureen Koster, Kate Van Buskirk, Vanessa Fraser, Mel Lawrence
Analysis: Nine years ago, Jenny Simpson (at that point her last name was still Barringer) broke the NCAA outdoor record in the 5K at Payton Jordan in 15:07.64 and, well, we think nine years is just about long enough.
Watch Jenny Simpson break the NCAA outdoor 5K record in 2009: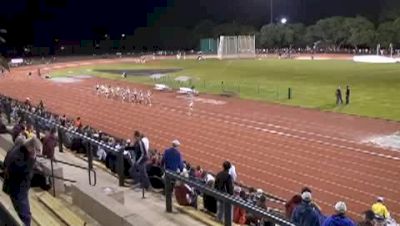 Unlock this video, live events, and more with a subscription!
Get Started
Already a subscriber? Log In
(Note that Simpson's NCAA indoor record is actually faster at 15:01.7, and she was actually pretty disappointed after the race not to break 15 minutes).
While Karissa Schweizer—arguably the top female distance runner in the NCAA—is not racing in Palo Alto this weekend, there are two women who we think could make history on Thursday night: Ednah Kurgat of New Mexico and Allie Ostrander of Boise State.
Kurgat set her personal best at 15:19.03 back in December (watch that race here) and Ostrander's best of 15:21.85 dates back to the 2016 indoor season (watch that race here).
While Ostrander's PB is more than two years old, she has recently set career-best marks in the 1500m (4:15.06), 3K (8:54.27), and steeplechase (9:38.57)—meaning she is in the best shape of her life—and she told us at the Stanford Invitational that she was really looking forward to running a fast 5K this spring.
According to our intel, Corey McGee will rabbit the field at 73-second pace through about two miles, which, with even splits, would result in a 15:12 5K—so they'll need to be able to split 4:48 or so at the end of the race.
The top woman in the field is Sweden's Meraf Bahta, the 2014 European champion in this event who won the 10K at Payton Jordan last year in a national record of 31:13. She was second at the Payton Jordan 5K in 2014, where she set a national record of 14:59.49—lowered in 2016 to 14:49.95.
Katie Mackey of the Brooks Beasts was third in the Payton Jordan 5K in 2014, behind Bahta and Sifan Hassan, and ran what is still her career best at 15:04.74. The 30-year-old is coming off a career-high of making her first world team for the United States, where she actually beat Bahta by nearly 10 seconds in the 3K.
The women's 5K could look similar to the 2014 Payton Jordan Invitational, where Meraf Bahta and Katie Mackey went 2-3 behind Sifan Hassan: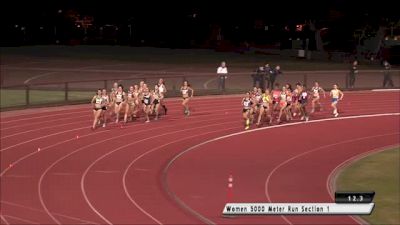 Mackey got the rust-buster over with at the Drake Relays last weekend, producing a fifth-place run in the road mile, and will now race her first 5K since placing sixth in the event at the 2016 Olympic Trials.
A wildcard in this race is Under Armour's Rachel Schneider, who set PRs across nearly all events this year, including a 9:31.89 runner-up finish last weekend at the Drake Relays two mile behind the American record effort by none other than Simpson. Schneider has raced no more than one 5K on the track per year since 2013 and improved by nearly 30 seconds each time. Her year-old PB stands at 15:33.06, so it could be time for her to get into 15-flat territory.