Brothers Jakob and Henrik Ingebrigtsen of Norway stole the show on Thursday night at the 2018 Payton Jordan Invitational, as 17-year-old Jakob dusted Olympic medalists Matthew Centrowitz and Paul Chelimo in the 1500m and Henrik won the 5K in a thrilling photo finish over Riley Masters in Palo Alto, California.
Men's 1500m: Jakob Ingebrigtsen 3:39 Over Centro, Chelimo
No one wanted to go with pacer Daniel Herrera, who led the field by a full second when he stepped off the track after 1200m (2:42.7). Paul Chelimo of U.S. Army, the 2017 world bronze medalist and Olympic silver medalist for 5K, seemed to be in the best position to hold off reigning Olympic champion Matthew Centrowitz for the win, but Norwegian teenager Ingebrigtsen swung wide, took the lead, and never looked back over the final 200 meters.
He closed in 55.23 for a new PB of 3:39.05 (previously 3:39.92), distancing Chelimo by a huge margin in the final stretch. The U.S. 5K champion closed in 56.49 for runner-up honors in 3:40.15. Eric Jenkins of NOP held off the crowd to finish third in 3:40.28 less than an hour after setting an 800m PB of 1:51.58, while teammate Centrowitz faded to sixth in 3:40.73.
Watch Jakob Ingebrigtsen take down Olympic medalists Matthew Centrowitz and Paul Chelimo: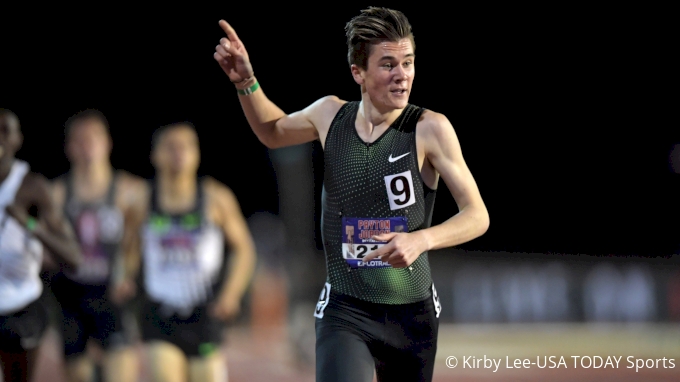 Unlock this video, live events, and more with a subscription!
Get Started
Already a subscriber? Log In
Men's 5K: Henrik Ingebrigtsen Wins Photo Finish Over Riley Masters In 13:16; Justyn Knight Third
Twenty-seven-year-old Henrik kept the momentum going for the Ingebrigtsen family with a 13:16.97 win in the 5K, his first race at that distance since 2016 and an 11-second personal best (previously 13:27.1 from 2015). Riley Masters had a monster kick to go from sixth to challenging Ingebrigtsen for the win, but his 55.5 wasn't quite enough to get by the European champion, who closed in 56.27 but had better positioning at the bell. Masters' time of 13:16.97 is a one-second PB.
Justyn Knight of Syracuse took third and was the top collegian in 13:18.73, the second-fastest time of his career. His NCAA rival Andy Trouard of NAU took sixth in 13:21.06, a huge, nearly 30-second PB.
Watch the men's invitational 5K here: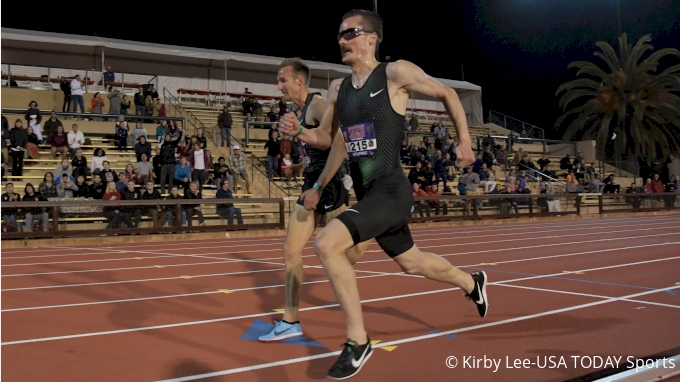 Unlock this video, live events, and more with a subscription!
Get Started
Already a subscriber? Log In
Filip, the third Ingebrigtsen brother—there are actually seven total siblings, but only three elite runners—ran 3200m of the 5K before dropping out with a heel injury, according to a Norwegian newspaper. The race was to be Filip's career debut in the 5K. He earned world bronze in the 1500m last summer.