2018 Big Ten Outdoor Championships
From Off The Radar To Big Ten Champ: David Kendziera's Path To The Top
From Off The Radar To Big Ten Champ: David Kendziera's Path To The Top
In five years, David Kendziera went from little-known high school athlete to one of the nation's best, mixing it up with Olympic champs.
May 9, 2018
by Kevin Sully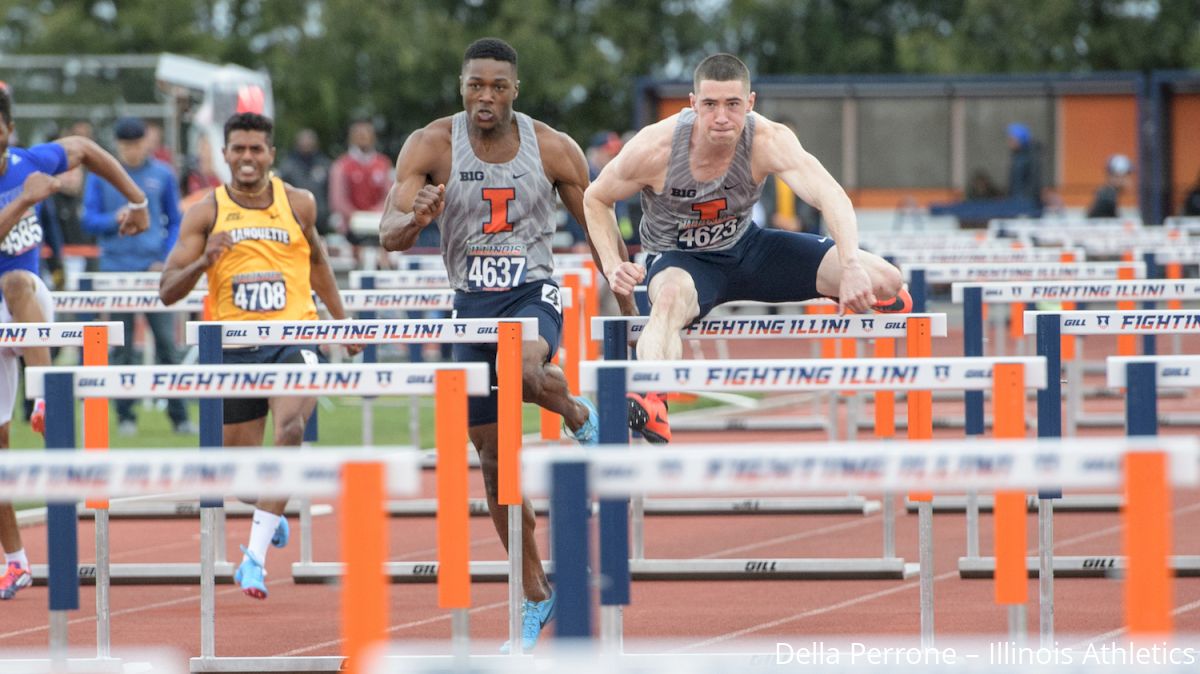 Before he was a Big Ten champion and one of the nation's best hurdlers, David Kendziera was a high school senior on a campus tour at the University of Illinois.
His times at Mount Prospect High School in suburban Chicago hadn't yielded much interest from college recruiters, but Kendziera wanted to run at a Division I school. So he did the recruiting himself.
Kendziera emailed coaches throughout the country, introducing himself and listing off his personal bests. And, if they responded, he gave them weekly race updates. Adrian Wheatley, an assistant coach at Illinois, received one of those emails while Kendziera was in Champaign to see the school, and he responded immediately to ask for a meeting.
"(Kendziera)... kind of ducks to come through my door, and I'm like, 'Oh, OK—kind of passes the eye test,'" Wheatley said.
Watch The 2018 Big Ten Outdoor Championships Live On FloTrack!
Kendziera—who now stands at 6'4"—had the frame, but not the times to justify a preferred walk-on spot. Still, Wheatley agreed to keep in touch.
That spring, Kendziera showed the improvement Illinois was looking for. He won the Illinois state meet in the 300m hurdles and finished runner-up in the 110m hurdles. In June, he signed with Illinois, realizing his dream of running for a Division I school.
Self-recruiting is common in collegiate track and field. But what Kendziera did once he got to Illinois is a bit rarer.
"He wasn't on our initial board. [He was] just a guy that had that determination and drive and wanted to run at the college level," Wheatley said.
Five years later, Kendziera's upward trajectory hasn't stopped. Now a senior, he's made the NCAA finals on three occasions and won the Big Ten outdoor title in the 400m hurdles last spring. Aside from a redshirt season in 2016, he's dropped time off his PRs every year, going from 13.93 to 13.39 in the 110m hurdles and 51.10 to 49.00 in the 400m hurdles.
"[He] just kept coming on and finding his rhythm," Wheatley said. "He committed to that. [He'd say] 'I want to be good, [and I'd say], 'This is what it takes to be good.' [It was always] 'OK, coach—how do we get there?'"
Before the conference championship his freshman year, he looked like could score in the 110m hurdles and 400m hurdles. Unsure where to enter him, the coaches put him in both—and Kendziera finished top five in each.
Despite the success, or perhaps because of it, he's resisted the urge to choose one hurdle race over the other.
"I told my coach at the beginning of the year, 'I want to train to do the best at both.' I don't want to select one and focus on it. I want to see how far I can get with both. I just try to be the best, dual-threat hurdler," Kendziera said.
He's succeeded. Heading into the conference championship weekend, Kendziera's 2018 marks put him second in the NCAA in the 400m hurdles and fourth in the 110m hurdles. He's done it all with a heavy racing schedule that has seen him compete 17 times this season, with nine in hurdle races. This is by design.
The travel and racing schedule doesn't always allow for ample preparation in both events. As a result, Kendziera races frequently to get what Wheatley describes as "glorified practices." All of the racing also helps simulate championship season, where prelims and rounds quickly stack up. He's more concerned with under-racing than overdoing it.
Of those nine hurdle races, Kendziera only lost once. He's undefeated against NCAA competition, and even earned victory against one of the sport's biggest stars.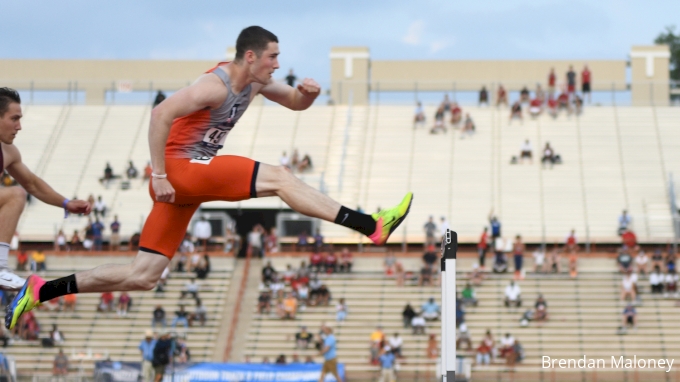 At the Mt. SAC Relays in April, Kendziera lined up against 2012 Olympic champion and world-record holder Aries Merritt in the 110m hurdles. Though Kendziera had raced professionals in the 400m hurdles, this was his first time doing it in the high hurdles.
"In any sport, it's rare when you get to race your sport's superstar," Wheatley said. "In basketball, the college guys aren't playing against Lebron. But in track, it's unique. Every time the kids have time to compete against the top guys, they're going to take a shot at it."
Kendziera took full advantage, beating Merritt 13.47 to Merritt's 13.49.
"It was a dream come true," Kendziera said.
After the victory over Merritt, Kendziera won the 400m hurdles at the Drake Relays (even after two rounds on Illinois' 4x400m relay team).
These performances are what give him the confidence to say he will continue to run personal bests during the most critical juncture of the season. Last year, he won the 400m hurdles at the Big Ten Championships, and finished second in the 110m hurdles. Can he pull off the sweep this year?
"I don't look at it as trying to win it," Kendziera said. "I look at it as getting out there and trying to run my best race to get a PR. If I get a PR, I feel that the place will come with it."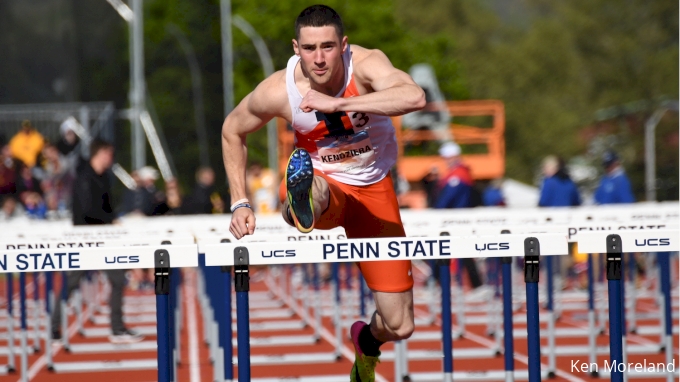 That mental clarity is accompanied by a significant change in Kendziera's scholastic workload' as he recently finished all of his graduation requirements. Last year, he spent the flight to the Big Ten Championships at Penn State working on a paper for class.
This year, Wheatley said Kendziera gets to live the professional athlete lifestyle: training, racing, recovery—that's it. Now, the focus is entirely on track until the NCAA Championships.
After that, Kendziera wants to pursue a professional contract. His versatility between the two races is much of an asset as his consistency and persistence.
"He's very driven to be the best," Wheatley said. "I wish all the stories had this type of ending. It's nice to see a kid progress like that."