The 2018 Division I NCAA West Preliminary Round kicks off on Thursday in Sacramento, California, where every athlete's goal is a top-12 finish and a trip to Eugene. Yesterday, we looked at 10 of the biggest names competing at the 2018 DI NCAA East Preliminary Round. Today, we will do the same with the West.
Watch the 2018 DI NCAA West Preliminary Round Live on FloTrack

1.Michael Norman | USC | 400m, 4x400m
Norman's main rivals in the 400m look to come from the other side of the country with Nathon Allen and Nathan Strother both dropping big times at their conference championships. But Baylor's Wil London and Houston's Kahmari Montgomery will give Norman plenty of company in Sacramento. Norman earned a PR this year with a 44.40, but his world record indoor time of 44.52 indicates that he is capable of another breakthrough. Norman is typically measured with his efforts so it would be surprising if he dropped something otherworldly this weekend.
This event will be important for the eventual team score as well, with USC, Houston, and Texas A&M all having representation. Norman and Ricky Morgan Jr. carry the hopes for USC, while Montgomery is key for Houston. Texas A&M has four entrants that could finish in the top 12 in Sacramento with Mylik Kerley, Bryce Deadmon, Richard Rose, and Kyree Johnson.
2. Josh Kerr | New Mexico | 1500m
Kerr's racing acumen, combined with his collegiate record of 3:35.01, makes him a safe bet to advance. He's managed rounds on plenty of occasions and shouldn't get tripped up or exert any energy that isn't absolutely necessary. Kerr's aim is to stay as fresh as possible for the semifinals and finals in Eugene.
Behind Kerr there should be a furious battle for the rest of the qualifying spots. Oregon has four runners who have broken 3:40 on the year, and Wisconsin's Oliver Hoare just beat last year's 1500m NCAA runner-up, Justine Kiprotich, at the Big Ten Championships. Throw in the always-entertaining finishing kick of Carlos Villareal and there's plenty to watch for beyond who crosses the line first.
3. Cameron Burrell | Houston | 100m, 4x100m
Burrell was second at the NCAA Championships last year and put up a time of 9.93 in the semifinals, a lifetime best. This season he's run a windy 10.01 and a wind-legal 10.24. At his conference meet, Burrell finished second in the 100m behind his teammate, Mario Burke. Are these results cause for concern?
Actually, he's right on schedule to where he was last year. In 2017, Burrell entered the preliminary round with a season-best of 10.25 and he finished runner-up at his conference meet, just like this year.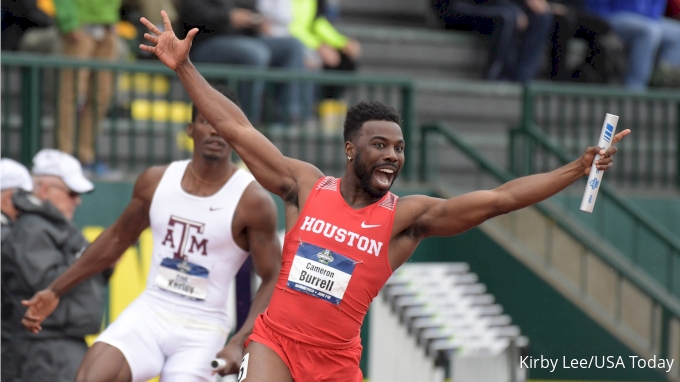 This weekend will be a good test to see if Burrell will be able to win the first individual NCAA title of his career. Last year, he shifted gears at prelim meet dropping wind-aided times of 9.90 and 9.95 in consecutive rounds.
All total, Houston has four men who could make it to Eugene in the 100m: Burrell, Hall, Burke, and John Lewis III.
4. Elijah Hall | Houston | 100m, 200m, 4x100m
Hall is other half of the Burrell/Hall combo that could lead the Cougars to an NCAA Championships. The senior has the top time in the region with 20.11 at the Texas Relays and is the American record holder indoors with a mark of 20.02 from the NCAA Championships. But the race at the Texas Relays was Hall's only 200m of the year, and at the American Conference Championships two weeks ago he finished seventh in the 100m.
That results makes it a bit unclear if he is the same form as he was indoors. If he is, then there's nobody in the country who can run with him in the 200m. Between the 100m, 200m, and 4x100m Hall will be busy this weekend and is critical for Houston's chances at a team championship.
5. Michael Saruni | UTEP | 800m
Saruni grabbed the NCAA record earlier this year, running 1:43.25 which put him two seconds clear of anyone else in this meet. His path to the finals (and to another NCAA title) seems clear. But Saruni's races tend to have a flair for the dramatic. He was disqualified at the 2017 NCAA Indoor Championships. Outdoors, he looked poised to win the race but got tripped up by teammate Emmanuel Korir in the last 200 meters. This indoor season he finally got his NCAA title, but it wasn't without incident as Saruni almost went out in the prelims. He has goals of breaking his NCAA record again this year, but the first task is to have a clean prelim race.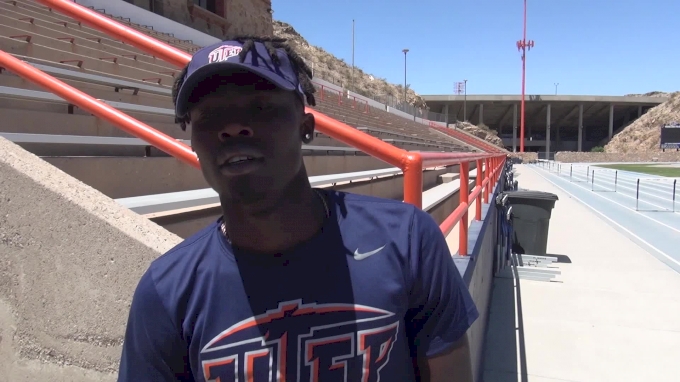 Devin Dixon of Texas A&M is the second seed and will be an important part of any design the Aggies have on the team championships. The same can be said for USC's Robert Ford. His 1:46.64 ranks him fourth on the regional list and would be a boost for the Trojans.
6. Kendall Ellis | USC | 400m, 4x400m
Ellis set the collegiate record indoors and has converted that success into a strong outdoor campaign. She ran 49.99 at the PAC-12 Championships two weeks ago, tops in the nation this year. Courtney Okolo's outdoor record of 49.71 will still take a big effort, but it is coming into view. It's unlikely that she goes for a big mark this weekend, but there have been fast times in the preliminary round before.
There are also team implications in this event with Ellis and freshman Kaelin Roberts hoping to advance and provide team points down the line for the Trojans. The second seed in the event, Oregon's Makenzie Dunmore, is projected to score for the Ducks in Eugene.
Ellis also plays a pivotal role on USC's 4x400m relay. The team won the title indoors and is seeded third in the region entering this weekend.
7. Twanisha Terry | USC | 100m, 200m, 4x100m
Collegiate success has come quickly for Terry. The freshman has windy marks of 10.96 and 22.81 to her name and has taken victories at the PAC-12 Championships and Mt. SAC Relays. She will try to extend her fabulous freshman season this weekend in the 100m, 200m, and 4x100m.
Terry is the top seed in the 100m by virtue of that 10.96 (she's also run a 10.99 wind-legal). The sprints out west also feature San Diego State's Ashley Henderson. She finished runner-up to Ellis in the 200m indoors and has run 10.98 and 22.59. Both Terry and Henderson should advance.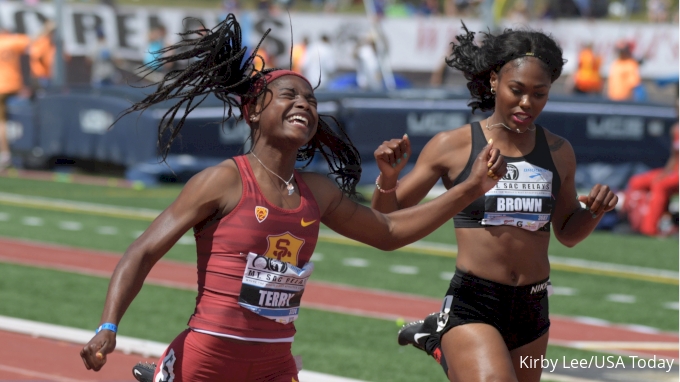 All of the women's sprints have major team ramifications. USC's Deanna Hill is the second seed in the women's 100m behind Terry and the top seed in the 200m. USC is also scheduled to get a qualifier in the 200m with Anglerne Annelus. Oregon and Arkansas are also represented with Lauren Rain Williams of the Ducks in the 200m and Arkansas' Jada Baylark in the 100m.
8. Karissa Schweizer | Missouri | 5000m, 10,000m
In her last NCAA Championships, Schweizer is attempting the 5000m/10,000m double. Running those two races in three days is a brutal task, particularly given the difficulty of the women's 5000m field, but Schweizer shouldn't have to press too hard to ensure her place in Eugene. Schweizer won the 3000m/5000m double indoors, the fourth and fifth titles of her career.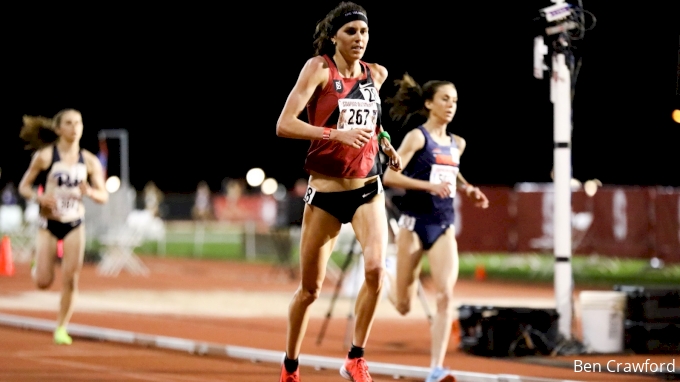 Unlock this video, live events, and more with a subscription!
Get Started
Already a subscriber? Log In
She's run only one 10,000m in her career, a 32:00.55 at the Stanford Invitational at the end of March. In that race, Schweizer stuck with professional Gwen Jorgensen for a large portion of the race before eventually dropping off.
Thursday night's race is on the other end of the spectrum. The goal won't be to run fast, but to do the minimum to finish in the top 12. She will have the same objective on Saturday in the 5000m. There she will meet up with many of the women she beat at the NCAA Indoor Championships, including Ednah Kurgat, Weini Kelati, Vanessa Fraser, Allie Ostrander, and Vanessa Fraser.
9. Allie Ostrander | Boise State | 3000m Steeplechase, 5000m
On Friday, Ostrander begins her journey to defend her steeplechase title from 2017. She will be following the same playbook as last year, opting to double in the 5000m (a race where she took fourth last year). In the steeplechase preliminary round, she is well clear of the next best woman in the region. Her season best is almost 12 seconds faster than the second seed, Charlotte Prouse. With barriers and a water jump, there are always opportunities for a mishap, but Ostrander shouldn't have to extend herself too much to earn a qualifying spot.
Things look to be a bit more difficult for Saturday's 5000m, where she enters the loaded field along with Schweizer. Ostrander's seed time of 15:44.11 came at the Mountain West Conference Championships two weeks ago. She planned to run fast at the Payton Jordan Invitational at the beginning of the month, but a fall at the end of the race scuttled those plans.
10. Maggie Ewen | Arizona State | Shot Put, Discus, Hammer Throw
Last year Ewen won the hammer throw at the NCAA Championships, placed second in the discus and was sixth in the shot put. This season the senior from Arizona State is going for a historic throwing triple again, and she's in position to pull it off.
She's the national leader in all three events and broke collegiate records in the hammer throw and shot put this spring. Her hammer throw best of 74.53 is fourth in the entire world this year and her mark of 19.46m in the shot put places her fifth on the yearly list. Qualifying out of Sacramento figures to be relatively straightforward. There are athletes close to her in the discus (Shadae Lawrence) and hammer throw (Brooke Anderson), but it would take something truly bizarre for her to fall out of the top 12 in one of the three events.
‼️ ANOTHER @NCAATrackField RECORD FOR MAGGIE EWEN ‼️

💥 19.46m/63-10.25 feet 💥#ForksUp😈 pic.twitter.com/C20BmgD5Yw

— Sun Devil TFXC (@SunDevilTFXC) April 29, 2018