2018 DI NCAA West Preliminary Round
Arizona State's Maggie Ewen Aiming for Triple College Closure
Arizona State's Maggie Ewen Aiming for Triple College Closure
Arizona State's Maggie Ewen enters the NCAA postseason with a chance to take home titles in the hammer throw, shot put, and discus.
May 23, 2018
by Kevin Sully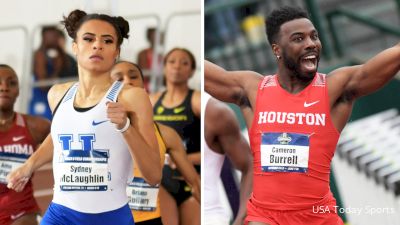 By Judd Spicer
---
As her sterling collegiate career burns toward a close, Arizona State University Sun Devil Maggie Ewen is ready to throw down.
Fresh off a second consecutive triple crown at the Pac-12 Championships with wins in the hammer throw, shot put, and discus, the reigning national champ in the hammer has her eyes locked on Eugene, Oregon, for the 2018 NCAA Track and Field Championships.
Watch the 2018 NCAA East & West Preliminary Rounds LIVE on FloTrack, May 24-26!

"We're pretty much training right through regionals, and just looking to get that top-six spot," Ewen said in the days preceding the NCAA West Preliminaries in Sacramento, California. "It's kind of nice not to have to worry about winning it."
The native of St. Francis, Minnesota, would rather have her rivals do the worrying.
Ewen enters the West Preliminaries this week as the NCAA record holder in both the hammer and shot, and holds the college lead in discus this season; the redshirt senior is the only field athlete, man or woman, to hold two NCAA throwing records, and may well become the first-ever female field athlete to capture The Bowerman later this year.
"Those are things in the back of my mind. I'm trying to be 100 percent in the present right now," Ewen said of potential future accolades. "For what I'm going to face at the NCAAs, and USATF Nationals in a couple of weeks, I need to be entirely focused on the here and now."
Such focus for the triple-threat has long required a balance in practice and training.
"It's kind of something that we've had to get used to — not practicing each event as much as you'd like, but trying to get quality out of every single practice," Ewen explained of readying for all three events. "So, our practices are a super-low effort percentage, but instead trying to get really good technical reps and then relying on the meets to bring out those big throws."
A breakdown of meet prep only allows so much time to ready for each event.
"Definitely way more hammer and, like, no discuss honestly," laughed Ewen of her practice schedule.
"Just because we know that the hammer is the one where I have a lot of potential, and I really want to maximize that. Shot comes a little easier and discus . . . we just know there a lot of really, really good discus throwers in the country, so we're just trying to put our eggs a little more into the hammer and shot put basket. And then cross the fingers for discus."
Her college classwork now concluded (save for an internship), the exercise and wellness major does have some room to wonder what post-ASU life will hold before she readies to qualify for the 2019 IAAF World Championships in Qatar and the 2020 Summer Olympic Games in Tokyo.
"It's just something I'll have to get used to," said Ewen, adding that she'll spend ample time playing with her dog (a female blue heeler).
"It's going to be weird trying to find ways to busy myself during the day. I'm hoping I'll get sponsors that will help support me through at least 2020. But, until then, it's just training, and hope I can find some things to keep me busy."
As for her present schedule, Ewen tries to block out the din of big expectations. Aided by fortuitous timing and locale, she finds a levity in perspective when her team's throwing pattern coincides with training with world shot put champions, Tom Walsh and Ryan Whiting.
"It's awesome to be around such talent; people who have made such a name for themselves," Ewen said. "With these two, if you're not having fun with throwing, there's no point to doing it. I really want to take that mentality with me next year, and be like, 'This should never be a job, this should be fun.'"