NCAA Records, 4x400m Drama Highlight 2018 DII & DIII Outdoor Championships
NCAA Records, 4x400m Drama Highlight 2018 DII & DIII Outdoor Championships
Records were broken and team titles came down to final races over three dramatic days in Charlotte, North Carolina, and La Crosse, Wisconsin.
May 28, 2018
by Jennifer Zahn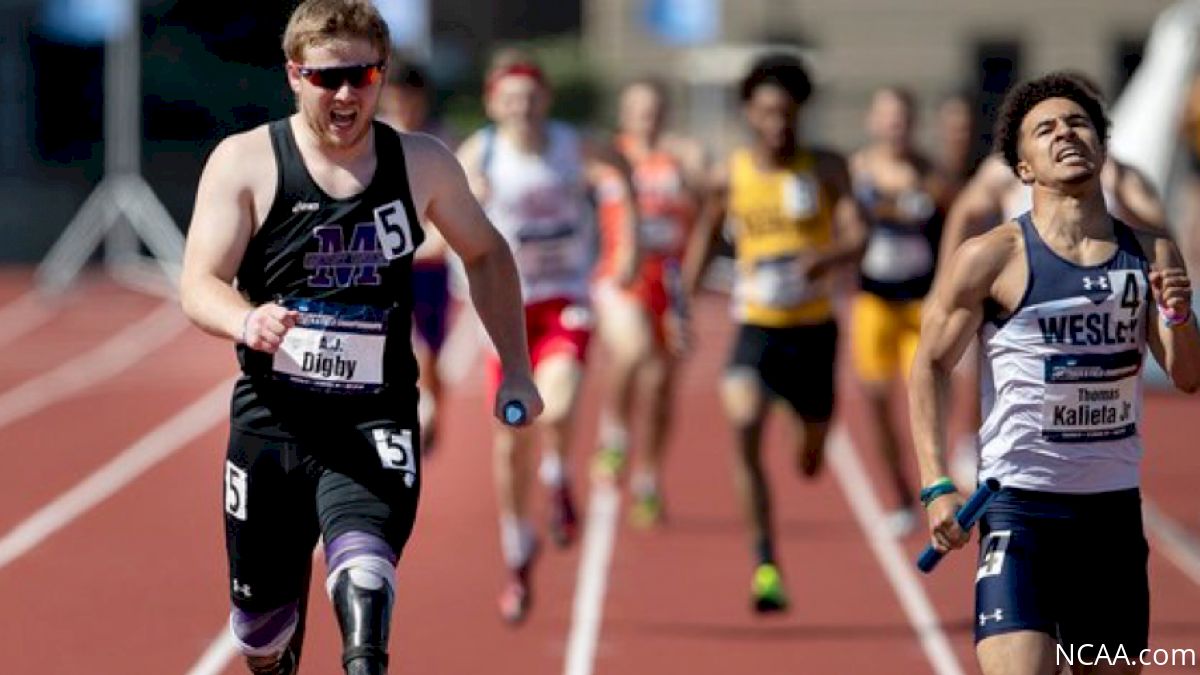 By Lincoln Shryack
---
While NCAA Division I stars were busy dueling it out at the East and West Prelims for spots in Eugene this weekend, their Division II and Division III counterparts were simultaneously making noise at their own championship events.
Records were broken and team titles came down to the final races over three dramatic days in Charlotte, North Carolina, and La Crosse, Wisconsin, at the NCAA Division II and Division III Outdoor Championships, respectively. Below, we've highlighted the best of the best from these two events:
Mount Union men win DIII crown by one point with sensational 4x400m victory
The drama ran high in the men's DIII team battle entering the final event of the championships as indoor champion Mount Union trailed distance powerhouse North Central 30-26 heading into the 4x400m relay. Despite UMU running a slightly faster prelim time than the Cardinals on Thursday, the two relay squads looked closely matched-- both won tightly contested preliminary heats. For UMU to take the title, the Purple Raiders essentially had to win and hope that NCC finished outside of the top three in the final—certainly not an easy mountain to climb for Mount Union.
But that's exactly what happened. The quartet of James Roth, Tyler Neff, Clark Etzler, and A.J. Digby collectively delivered the performances of their lives to win the 4x400m in a new championship record of 3:08.10. The Paralympian Digby—a double below-the-knee amputee who also won the 400m individual title earlier that day— played hero for Mount Union by splitting 44.72 as the anchor to overtake Wesley College and bring UMU back from the grave in a wild finish.
This clip is nuts:
HE IS A BAD BAD MAN @UMUTFXC pic.twitter.com/hB9O9YKtqG

— BC (@BC21_) May 26, 2018
With the win and North Central's heartbreaking fourth-place finish in 3:11.27, the Purple Raiders won their second ever outdoor title. Remarkably, the finish was very similar to Mount Union's victory over NCC at the indoor championships, as that too was a one-point victory for UMU by virtue of a win in the 4x400m.
Texas A&M Kingsville men win first DII title as Saint Augustine's streak ends at five
What a run it was for the Saint Augustine's men's track program. After enjoying a five-year winning streak at the NCAA DII Outdoor Championships, the Falcons' reign finally came to an end over the weekend in Charlotte, North Carolina.
SAU, the second-most-storied program with 16 championships in DII outdoor history (behind only Abilene Christian, now a DI school), graduated several All-Americans from last year's championship squad, but still managed to finish on the podium this year in fourth. The Saint Augustine's men have still only missed the podium once, in 2011, this century.
With the mighty Falcons finally relinquishing the throne, the men from Texas A&M Kingsville won their first-ever NCAA DII track and field crown. Led by wins in the 4x100m (39.93), 110m hurdles (Javier Lopez, 13.71), triple jump (Charles Greaves, 16.08m), and shot put (Richard Cervantes 19.12m), TAMU-Kingsville tallied 65 points to outpace Ashland in second. The Eagles' runner-up finish was remarkable, as well—the team entered the meet ranked 11th overall.
Here are the podium finishers for the men in DII:
1. TAMU-Kingsville, 65
2. Ashland, 51
3. Tiffin, 50
4. St. Augustine's, 42
On the women's side, Lincoln (Mo.) won its first outdoor title since 2014. Here are the podium finishers for the women:
1. Lincoln (Mo.), 60
2. St. Augustine's, 48.5
3. Angelo State, 42.5
4. Grand Valley State, 40.5
Alicja Konieczek shatters her own DII steeplechase record
Western State junior Alicia Konieczek didn't have to go for the 9:49.74 DII steeplechase record on Friday in Charlotte—after all, she already owned it—but that didn't stop the eight-time NCAA champion from breaking it anyway as she reset the mark with her 9:47.72 win. The Polish athlete led every step of the way as the only athlete to break 10 minutes.
NATIONAL CHAMP ALERT!!! @WesternTrack's Alicja Konieczek defends her title in the women's 3,000 meter steeplechase, setting a new #NCAAD2 record with a time of 9:47.72! It's Alicja's 8th career national title and 11th All-American honor #MountUp #BigRedMachine pic.twitter.com/xTyQdpd6U0

— Western Mountaineers (@WSCUMountaineer) May 25, 2018
Konieczek's freshman sister, Aneta, also ran a PR in the race for Western State, placing fourth in 10:01.02 to record the lone All-American finish by a freshman woman in the distance events.
Thomas Staines breaks championship record, runs fastest DII 800m in 22 years
Just like he did at the DII indoor championships back in March, Colorado State-Pueblo sophomore Thomas Staines used a brilliant last lap on Saturday to win the 800m title while breaking the championship record in the process. Staines' 1:46.56 eclipsed the old 1:46.81 championship record held by Truman State's Dan Futrell since 1979.
WATCH Thomas Staines WIN his second national championship in the 800m!! CONGRATS, Thomas! #ThePackWay

VIDEO: NCAA pic.twitter.com/WECCrbXmOo

— CSU-Pueblo Athletics (@gothunderwolves) May 26, 2018
Staines' new PR makes him the fourth-fastest man ever in Division II, and the quickest since Savieri Ngidhi ran the DII record of 1:45.24 back in 1995. The 20-year-old Staines—who broke 1:50 for the first time back in February of this year—will now have two more years to take down Ngidhi's record.
Skylyn Webb breaks DII 800m championship record by .01 after Darroneshia Lott's DQ
It was quite the weekend to be a sophomore 800m runner in Division II.
Right after CSU-Pueblo's Thomas Staines reset the men's championship mark, University of Colorado-Colorado Springs sophomore Skylyn Webb did the same to the women's record, running 2:02.47 to win by over two seconds. But just looking at the results doesn't come close to telling the full story of how this one went down.
Webb didn't initially appear to have won the race, as Coker senior Darroneshia Lott actually crossed the line first while seemingly smashing the overall DII record by more than a second in 2:01.31. It was quite the time for the 25-year-old Lott, who had only run 2:05 previously. There was just one problem—Lott ran out of her lane and would eventually be disqualified by the meet officials. Yikes.
It certainly was a huge bummer for Lott, who was clearly very fit for the championships and didn't gain a discernible advantage from the lane violation. But such are rules, and subsequently the title and new championship record was awarded to Webb. The Coker College Twitter administrator was none too happy to see their star senior go out in such a crushing way.
Unbelievable. After further review Lott has been disqualified for stepping in another lane. You will always be a national champion to us Darroneshia.

Congrats on a great career.

— Coker Cobras (@Coker_Cobras) May 26, 2018
On a brighter note, Webb's performance was a massive breakout—her PR was just 2:05.24 entering the 2018 championships— and with it she bettered Teena Colebrook's previous record of 2:02.48 by the slimmest of margins. Colebrook's mark had stood since 1990.
Congratulations to Skylyn Webb of Colorado Springs, she is the 2018 #D2TF Women's 800 Meter National Champion! ?️ pic.twitter.com/iwNnRk8DX0

— NCAA Division II (@NCAADII) May 26, 2018
Caroline Kurgat pulls off DII 5K/10K double
Alaska Anchorage senior Caroline Kurgat further established herself as the queen of DII distance running this season after sweeping the 5,000m and 10,000m crowns in Charlotte over the weekend. Kurgat—who dominated at the cross country championships last November to win her first NCAA title—became the 11th woman in Division II history to pull off the outdoor distance double.
Caroline Kurgat is your national champion at 5,000 meters. She becomes the 11th woman in D2 to win the 5k&10k at the NCAA Championships. pic.twitter.com/1PuRznUvQY

— UAA Seawolves (@UAASeawolves) May 26, 2018
For a woman who did not have an NCAA win entering the 2017-2018 campaign, this year has been a banner one for the senior. The Eldoret, Kenya, native won the NCAA DII XC crown by nearly 20 seconds on November 18, and she was just as dominant six months later at these championships. Kurgat won the 10,000m on Thursday by just under 33 seconds before coming back less than two days later to take the 5,000m by 11 seconds.
Wadeline Jonathas scores 25.75 points as UMass Boston shares DIII crown with George Fox
Stick with us here as that headline might be a little perplexing at first glance.
If you follow DIII track closely, you'll remember Wadeline Jonathas is the mega-versatile star who won the DIII indoor crown for UMass Boston by herself back in March. That's right, the sophomore from Haiti won the 60m, 200m, 400m, and long jump at the indoor championships—a whopping 40-point total—that exceeded the 37 points scored by runner-up Williams College. Talk about putting the team on your back.
Flash-forward to this weekend, and Jonathas was up to her usual tricks, although not quite as successfully if compared to the indoor national meet. The DIII superstar still won the 200m and 400m, defending her titles from last outdoor season, but she was just fifth in the long jump this time around. Jonathas would go on to add more All-American finishes in the relays with her Boston teammates—UMB was third in the 4x100m and eighth in 4x400m on Saturday—to finish her ninth competition and eighth race of the weekend on the third leg of Boston's 4x400m relay.
A place higher in that 4x400m would've given UMB the overall team title, but instead they had to settle for a tie with George Fox at 44 points. Surely not winning it outright had to be slightly bittersweet for Jonathas and her teammates, but she still has two more years ahead of her in Division III.
And make no mistake—the sophomore still had herself a heck of a weekend. With her pair of wins in the 200m and 400m, she already matched the DIII titles record after just two seasons. R-I-D-I-C-U-L-O-U-S:
.@UMB_CC_TF's Wadeline Jonathas is now tied for the @NCAADIII record for most National Individual Titles with 9 (and she's just a sophomore)!!! @LittleEastConf @USTFCCCA @UMassBoston @BGlobeSports @BosHeraldSports #beaconstrong #d3tf

— UMassBostonAthletics (@UMassBeacons) May 27, 2018