2018 DI NCAA Outdoor Championships
NCAA Women's Distance Preview: Karissa Schweizer Chases History
NCAA Women's Distance Preview: Karissa Schweizer Chases History
Preview of the women's distance events at the NCAA Championships.
May 30, 2018
by Johanna Gretschel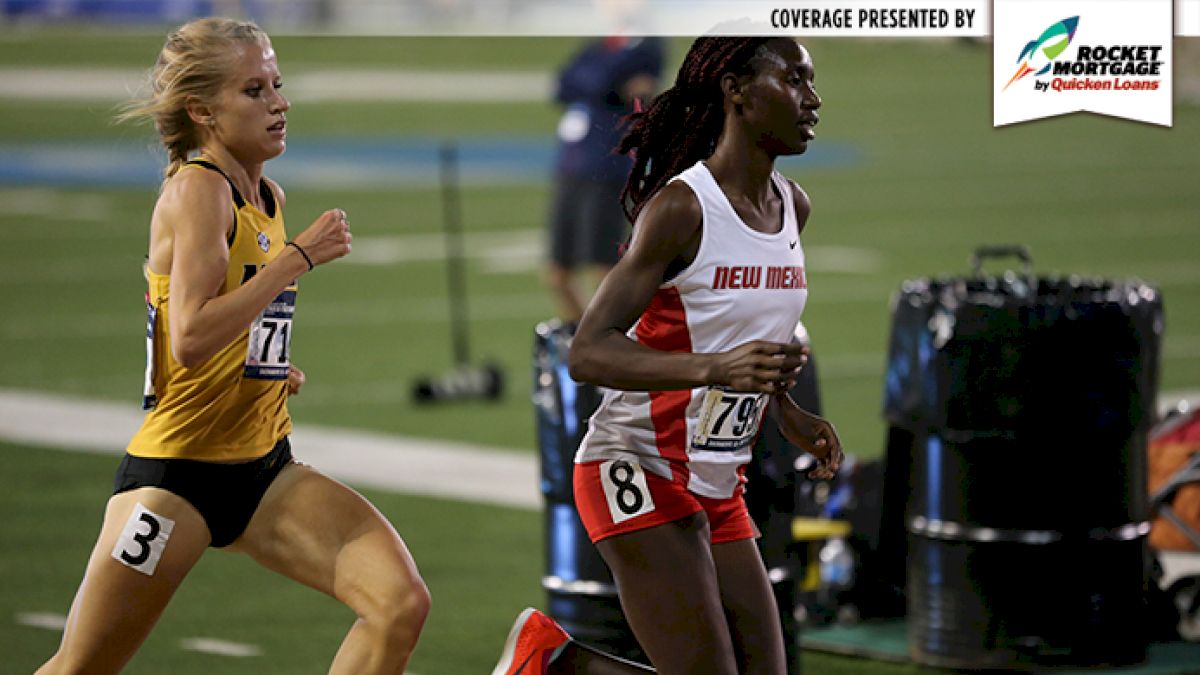 The 2018 NCAA DI Outdoor Track & Field Championships are next weekend, June 6-9, at the University of Oregon's Hayward Field. View the full list of qualifiers here, check out our rankings here and read on as we preview the women's distance events.
Women's 800m: Indoor Champ Sabrina Southerland Looks Poised For Title No. 2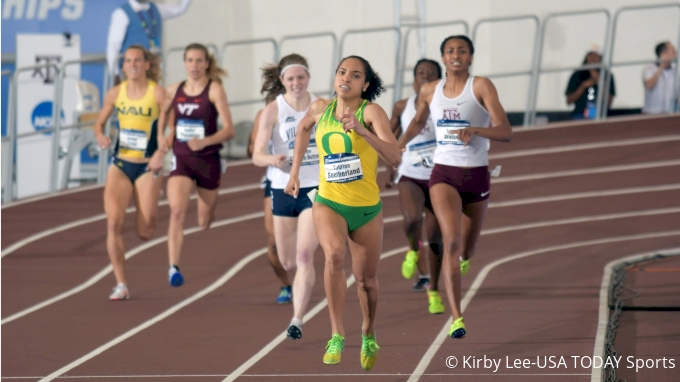 Semi-Final: Thursday, June 7 | 5:44 PM PT
Final: Saturday, June 9 | 4:44 PM PT
Key Athletes: Sabrina Southerland, Avi'Tal Wilson-Perteete, Siofra Cleirigh-Buttner, Sammy Watson, Aaliyah Miller, Jazmine Fray, Sadi Henderson, Susan Aneno
Analysis: Since transferring to Oregon from Georgetown for her fifth year of eligibility, Sabrina Southerland has seen her stock soar dramatically. As a Hoya, she never qualified for an NCAA final. In her year as a Duck, she's won the NCAA indoor title in the 800m, won the Pac-12 outdoor title in the 800m and currently owns the fastest NCAA mark of the season in 2:00.72.
She ran that to outkick UNLV freshman Avi'Tal Wilson-Perteete, whose 2:01.14 stands as the second-fastest time in the NCAA this season.
Watch Southerland run 2:00.72 to win the NCAA West Prelim: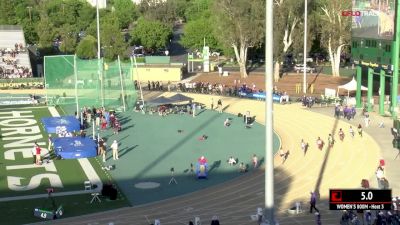 Texas A&M freshman Sammy Watson also won her section at the West Prelims with a time of 2:02.2; she's undefeated in the 800m this spring after placing third at NCAA Indoors.
NCAA Indoor runner-up Siofra Cleirigh-Buttner of Villanova lost twice this outdoor season to Susan Aneno of Connecticut, who has never made an NCAA final but won the East Prelims with a career-best time of 2:02.71.
Aaliyah Miller of Baylor set her PB at 2:02.41 in a largely solo effort to win the Big 12 outdoor title and shouldn't be overlooked, though she had to scrape her way into NCAAs as the 11th qualifier from the West Prelim.
Women's 1500m: Good Luck Trying To Predict This One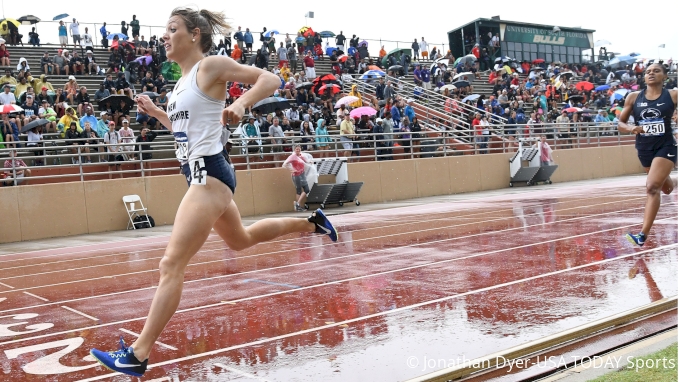 Semi-Final: Thursday, June 7 | 4:16 PM PT
Final: Saturday, June 9 | 3:41 PM PT
Key Athletes: Elinor Purrier, Elise Cranny, Christina Aragon, Jessica Hull, Nikki Hiltz, Sinclaire Johnson, Rhianwedd Price-Weimer, Rachel Pocratsky
Analysis: If there's one thing you can count on in a championship 1500m, it's that the final 200 meters are going to be completely unpredictable.
Last year's surprise champion, Jaimie Phelan of Michigan—who moved from last at the bell to first across the line—will not be back to defend her title after spending most of the past year recovering from injury.
Two past NCAA champions will, however, fight for that elusive title No. 2.
Elinor Purrier of New Hampshire is the probably the best pick to win. The senior is coming off a highly successful indoor season that saw her win her first-ever NCAA title in the indoor mile, plus clock the second-fastest collegiate mark of all time in 4:26.55. She's had a more low-key spring, but showed off her fitness by winning the East Prelims in 4:10.90—more than a full second ahead of runner-up Danae Rivers of Penn State.
Rhianwedd Price-Weimer of Mississippi State won the NCAA 1500m title back in 2015 with an unforgettable kick over Shelby Houlihan. The senior is running as well as anyone in the NCAA this season with a best of 4:10.31, plus she picked up the SEC title and finished fourth at NCAA Indoors.
Stanford's Elise Cranny will be in the hunt to win her first NCAA title to close out her senior year of outdoor track eligibility. Teammate Christina Aragon will be in consideration as well.
Oklahoma State's Sinclaire Johnson was a revelation at the West Prelims, kicking past both Cranny and Oregon's Jessica Hull, the reigning NCAA 3K champion and Pac-12 1500m champion, to capture the win with a nine-second PB of 4:11.57. The sophomore has traditionally been more of an 800m specialist, and clocked her career-best of 2:04.73 to place fifth at Big 12s.
Watch Johnson's big kick to win the NCAA West Prelim 1500m over Cranny and Hull: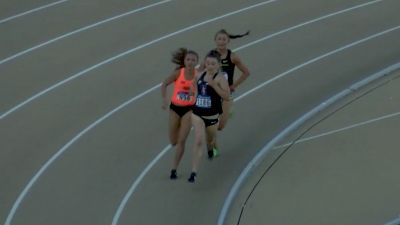 Unlock this video, live events, and more with a subscription!
Get Started
Already a subscriber? Log In
Nikki Hiltz of Arkansas struggled with injury this season, but made it back to the big dance, and her consistency and experience could pay off in the final. She was second in the 1500m to Phelan last June and third in the indoor mile.
Rachel Pocratsky of Virginia Tech owns the fastest time in the NCAA this season at 4:10.03. Listen to our interview with the junior on our latest podcast episode of On The Run.
Women's Steeplechase: Allie Ostrander Is In A League Of Her Own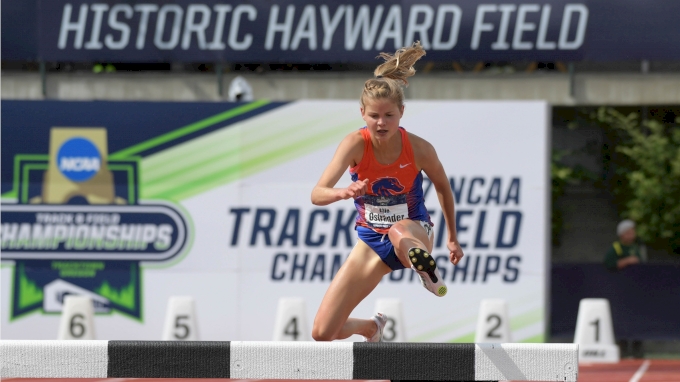 Semi-Final: Thursday, June 7 | 4:32 PM PT
Final: Saturday, June 9 | 3:54 PM PT
Key Athletes: Allie Ostrander, Val Constein, Grayson Murphy, Paige Stoner, Alsu Bogdanova, Charlotte Prouse, Kristlin Gear
Analysis: Allie Ostrander of Boise State was somewhat of an X-factor when she chose to enter the NCAA steeplechase last year, but after winning the final by five seconds and now, leading the NCAA by nearly 10 seconds, it's clear the Alaska native is the current queen of the collegiate steeplechase.
The only Division I woman to run within 10 seconds of Ostrander this year is San Francisco's Marie Bouchard, who did not compete at the West Prelims. The top returner from NCAAs behind Ostrander is Utah's Grayson Murphy, who placed fifth last year and ran 9:49 at the West Prelims. Val Costien of Colorado and Paige Stoner of Syracuse, the East Prelims champion, also ran under 9:50 this season.
Alsu Bogdanova of Eastern Michigan, the surprise NCAA 5K runner-up behind Karissa Schweizer last June, is focusing on the steeple this year. She ran 9:51 at Prelims to record her first time under 10 minutes.
Women's 5K/10K: Karissa Schweizer Chases NCAA History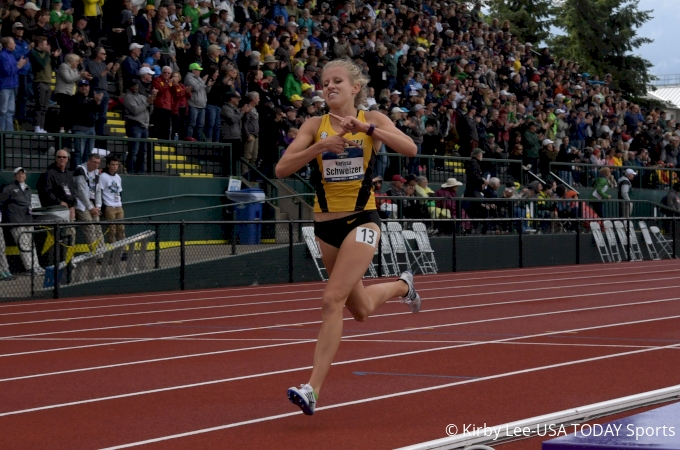 10K Final: Thursday, June 7 | 6:38 PM PT
5K Final: Saturday, June 9 | 5:25 PM PT
Key Athletes: Karissa Schweizer, Ednah Kurgat, Sharon Lokedi, Charlotte Taylor, Allie Ostrander, Alice Wright, Weini Kelati, Dorcas Wasike, Anna Rohrer
Analysis: After a successful showing at the NCAA West Prelims, Missouri's Karissa Schweizer appears well on her way to becoming the fifth woman in NCAA history to sweep both the 5K and 10K.
The biggest question mark may be how well her legs will hold up after posting very solid marks of 32:14 in the 10K (No. 2 in the NCAA only to herself this season) and 15:19 in the 5K (No. 1 in the NCAA) to win both races at the West Prelims with closing laps of 67 and 65 seconds, respectively.
Once Schweizer made her move, she was well clear of the field, but the women who were still hanging on at the bell lap of each race included Ednah Kurgat of New Mexico in the 5K, and, in the 10K, reigning NCAA champion Charlotte Taylor of San Francisco, New Mexico's Alice Wright, and Kansas' Sharon Lokedi, who is also racing the 5K/10K double.
Ostrander came closest to beating Schweizer this season when she made the Mizzou senior work for it in the NCAA indoor 3K final. She pulled off a 1-4 placement in the NCAA steeple and 5K finals last June, which she is certainly capable of replicating, or even improving upon, especially given the relative lack of depth in the women's steeple compared to 2017.
There is one woman who owns a faster lifetime best than Schweizer, and that's Notre Dame's Anna Rohrer in the 10K. She ran 31:58.99 last year, which makes her the seventh-fastest DI competitor of all time and two seconds faster than Schweizer. Rohrer redshirted cross country and indoor track to recover from injury, and in her three 10K races this outdoor season, she won the Penn Relays and placed runner-up at ACCs and the East Prelims to Dorcas Wasike of Louisville.