2018 DI NCAA Outdoor Championships
NCAA Men's Distance Preview: History For Kerr, Epic Battle In 5K
NCAA Men's Distance Preview: History For Kerr, Epic Battle In 5K
Josh Kerr, Justyn Knight, Michael Saruni, Isaiah Harris highlight the men's distance action at the NCAA Championships.
May 31, 2018
by Kevin Sully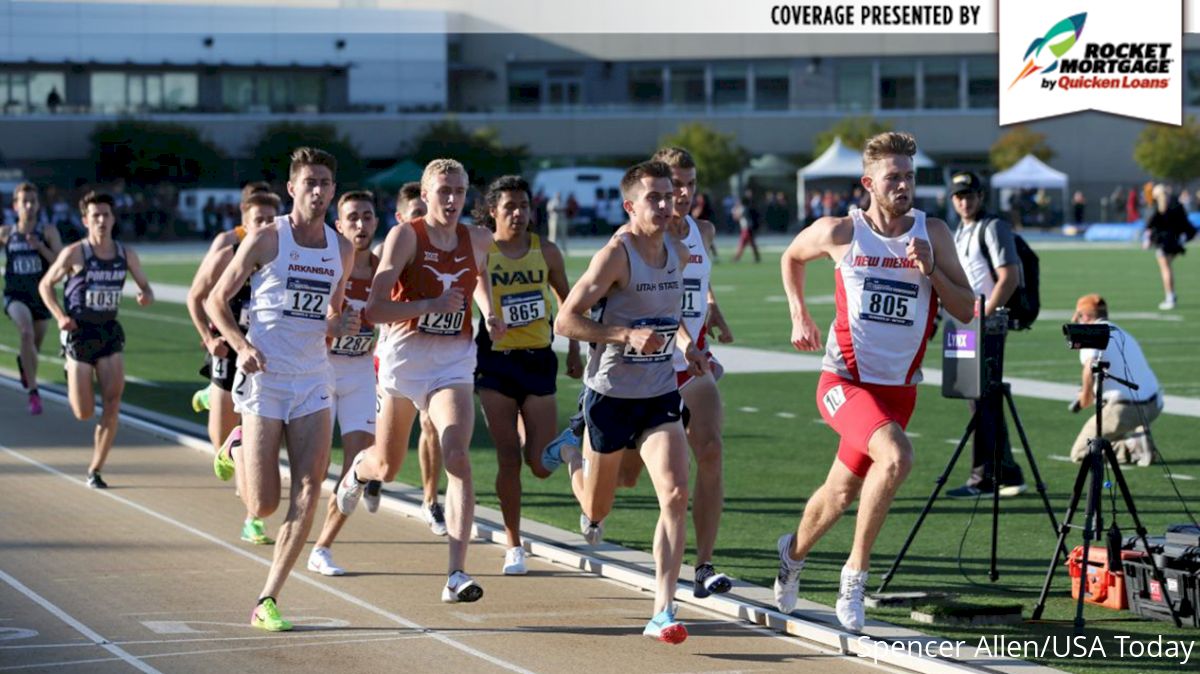 The NCAA Championships kick off next Wednesday evening in Eugene, Oregon. We've already laid out the stakes in the women's sprints and distance events. Next, we take a look at the men's distance races.
Men's 800m: Another Round Of Saruni V. Harris
Semi-Final: Wednesday, 6:14 PM PT
Final: Friday, 6:44 PM PT
Key Athletes: Michael Saruni, Isaiah Harris, Devin Dixon, Marco Arop, Jonah Koech, Robert Heppenstall
Four of the eight finalists from last year return in Saruni, Harris, Dixon and Heppenstall, but the focus will rest squarely on Saruni and Harris. Harris has finished runner-up in the last two NCAA Championships. Most recently, he was second when Saruni ran to the NCAA title indoors in early March.
The two stand in stark contrast. Harris' performances are steady, methodical and always on schedule. You can almost pencil in a 1:44 for the Penn State junior at these championships. Saruni is mercurial. Yes, he ran 1:43.25 to break the collegiate record in April, but he also lost his conference meet. Yes, he won the indoor title, but he almost didn't make it out of the prelims. On season bests alone this should be a route for Saruni in the same manner that David Rudisha dominated the event on the international level from 2010-2012. If not for a fall at last year's meet, this could be the third title in a row for Saruni.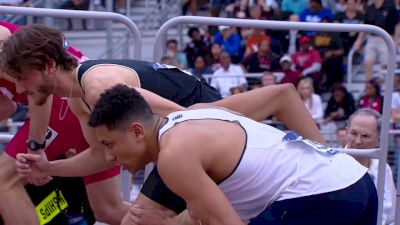 There is, however, a magnetic property in the 800m, particularly in championship settings that ensures that one person isn't able to easily escape from the pack. It's why at the indoor championship, despite a seed time that was more than two seconds better than the next fastest man in the field, Saruni had to fight with Harris on the backstretch to break free.
And it's also why even though Saruni once again comes in with a seed time that is far better than his competition, it will be a close race.
The dependability of Harris makes him a good candidate to pull the upset, but Dixon, Arop, Koech and Heppenstall are all capable. As always with championship 800-meter races, getting out of the semifinal will be a challenge.
Men's 1500m: Josh Kerr Goes For History
Semi-Final: Wednesday, 4:46 PM PT
Final: Friday, 5:42 PM PT
Key Athletes: Josh Kerr, Sam Prakel, Justine Kiprotich, Ben Malone, Robert Domanic, Oliver Hoare, Sam Worley, Vincent Ciatti
Josh Kerr has reached a point in his career where quantifying his greatness demands a deeper dive into history. After winning the last three national championships and breaking the collegiate record in the 1500m, Kerr will attempt to be the first man to sweep the indoor and outdoor 1500/mile races in consecutive years. With the way the New Mexico junior has been running the past couple months, he is on the likely path to extend his dominance in Eugene. In total, Kerr hasn't lost a 1500/mile to a collegiate competitor since the 2016 NCAA Outdoor Championships.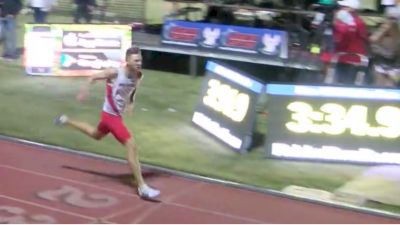 Unlock this video, live events, and more with a subscription!
Get Started
Already a subscriber? Log In
In April, Kerr set the collegiate record in the 1500m, running 3:35.01 at the Bryan Clay Invitational. But with Kerr, his tactical skills in a championship race are just as potent as his ability to run fast from the gun.
Despite a system that offers little room for error, virtually all of the other top 1500m men from this season all qualified out of the prelims. Robert Domanic of Mississippi and Sam Prakel of Oregon (the two men who finished third and fourth in Kerr's record race) advanced to the championship and look to give Kerr his biggest challenge.
Michigan State's Justine Kiprotich finished a surprise second-place to Kerr last year and returns as a known quantity for this meet. Virginia Tech's Ciatti is the next best returner after his ninth place finish in 2017. He also finished runner-up to Kerr indoors.
Men's 3000m Steeplechase: A True Toss-Up
Semi-Final: Wednesday, 5:02 PM PT
Final: Friday, 5:54 PM PT
Key Athletes: Obsa Ali, Brian Barraza, Emmanuel Rotich, Matt Owens, Clayson Shumway, Andrew Gardner, Steven Fahy
With no clear favorite, this looks to be an entertaining free-for-all. The top eight from last year's race are not entered this year and the owner of the nation's leading time entering prelims, Yusuke Uchikoshi, didn't finish in the top 12 in Sacramento. Forecasting this race varies greatly on what you value. Let's break it down:
If you value the best PR…….Brian Barraza
Houston's Barraza ran 8:32 last year (in a race he won by 25 seconds) when he was competing unattached, making him the pre-season man to beat. He's run well this year, but is now part of an increasingly crowded group of steeplers who can run in the low 8:30s
If you value an ascendant talent…….Matt Owens
The freshman from BYU ran 8:36 at the West Preliminary to set a personal best. The Cougars have a second underclassman in the field in, Clayson Shumway who ran an 8:36, finishing with Owens and also setting a lifetime best.
Past championship experience…….Emmanuel Rotich
The junior from Tulane won the East Prelim and is the top returner (ninth) from the 2017 edition of the meet. This year, he won his section of the Payton Jordan Invitational, beating Shumway in the process. He also has a quick personal best, a run of 8:36 from last season. Jamaine Coleman also qualified comfortably in Tampa. The Eastern Kentucky senior has a lifetime best of 8:34 and made an appearance at last year's NCAA Championships.
Trending in the right direction…..Obsa Ali, Steven Fahy, Andrew Gardner
All three ran personal bests at the West Preliminary meet. Ali is on quite the roll, setting personal bests in two consecutive meets, the latter by eight seconds. Gardner and Fahy both refreshed their lifetime bests, both set in 2016. Gardner knocked six seconds off his, while Fahy improved by nine seconds.
Men's 5000m: A Collision Of The NCAA Champions
Final: 7:25 PM PT
Key Athletes: Justyn Knight, Grant Fisher, Andy Trouard, Sean McGorty, Dillon Maggard, Cole Rockhold, Amon Kemboi, Vincent Kiprop, Alfred Chelanga, Lawrence Kipkoech, Gilbert Kigen, Zach Perrin
The defending champion, the indoor 5000m champion and the indoor 3000m champion are all entered in this race and strong arguments can be made for each to be labeled as the favorite.
Fisher kicked hard to win a tactical race over Knight and Jack Bruce at 2017 outdoor championships. It was Fisher's first NCAA title and the high point of a career that has seen him finish in the top six at five different NCAA Championships. Though he doesn't have the quickest season best of the group, he looked good in Sacramento last weekend, closing with a 57 second last lap to win a competitive heat ahead of NAU's Andy Trouard.
Trouard, who upset Knight to take the NCAA indoor 3000m title, has the second fastest time of the season, a 13:21 at the Payton Jordan Invitational. That time placed him sixth in a field filled with professionals and top collegians. His objective in the West Prelims was solely to qualify so there's no doubt he is still capable of matching the finishing speed of Knight and Fisher when it comes time for a big race.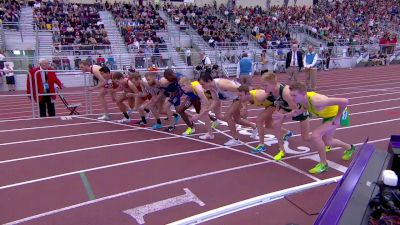 Justyn Knight's senior season has been an overwhelming success. His second-place finish to Trouard is his only championship loss and he's locked up personal bests in the 1500m, mile and 3000m.
He doubled indoors, which put him at a slight disadvantage against Trouard in the 3000m. For this meet, he will be fresh. If the pace lags, he will be more than content to use his 3:36 1500m speed to close hard. And if the pace goes out quickly, he's capable of latching on to a fast pace. In short, there are not many ways to beat Justyn Knight. In a field that was just a step below in quality from the one he will see on Friday he would be a safe bet.
Beyond those three, the 5000m also features BYU's McMillan, Young and Linkletter who will be doubling back from the 10,000m. Alabama's Kiprop, Kigen and Chelanga will also run both distance races. Stanford veteran Sean McGorty looked good at the West Prelim and could play a role in his final college race, ditto with Colby Gilbert and Zach Perrin.
Men's 10,000m: Cross Country On The Track
Final: Wednesday, 7:08 PM PT
Key Athletes: Matthew Baxter, Tyler Day, Rory Linkletter, Connor McMillan, Clayton Young, Conner Mantz, Vincent Kiprop, Alfred Chelanga, Gilbert Kigen, Mike Tate, Dillon Maggard, Arsene Guillorel
The heavy team presence, and the distance, makes this 10,000m resemble a fall race on the grass as much as it does an outdoor track championship. BYU, Alabama and NAU are all well represented--Alabama and BYU each have three entrants while NAU has two (Portland and Georgetown also have two).
With this team dynamic, there's added intrigue and an increased likelihood that the race will feature multiple moves and competing strategies. Common sense dictates that there's a greater chance of an aggressive pace if a teammate knowns there's someone to share the lead with. This is what NAU's Day and Baxter did to great effect on the cross country course last fall. It's a bit different on the track, but those two have posted the first and third fastest times of the year so an honest pace would serve to benefit them.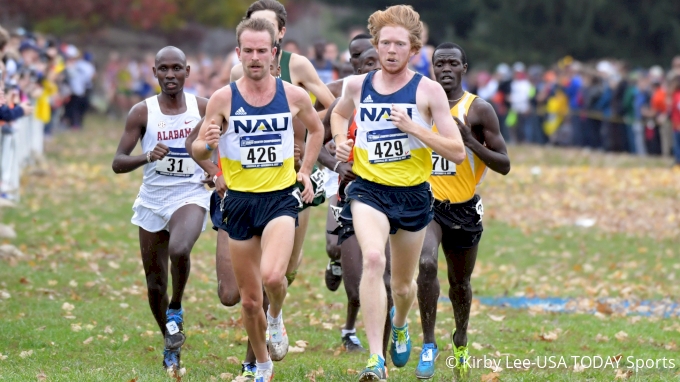 Kirby Lee/USA Today
BYU's trio of McMillan, Young and Linkletter have put up the second, sixth and eleventh fastest times this year. While the season-best marks provide confidence there's a good chance that Wednesday's final will be a drastically different type of race than the early season time trials. Neither NAU nor BYU showed their cards at the West Prelim, opting instead to stay part of the pack and kick hard with the rest of the group in the final 800 meters to grab a top ten spot.
Alabama's Kiprop, Chelanga and Kigen cruised through the East Preliminary Round and should mix themselves into the top group. Aresene Guillorel of Samford finished six seconds behind the East Prelim winner Kiprop last week, but took fourth at the NCAA Championships last year. Other than Linkletter (second) and Baxter (seventh), he's the only returning member of the top ten in 2017.
Since this field doesn't have one clear favorite, expect others to get involved. Mike Tate of Southern Utah and Dillon Maggard of Utah State were both All-Americans indoors, while Lawrence Kipkoech of Campbell took ninth at the NCAA Cross Country Championships.