2018 DI NCAA Outdoor Championships
How Karissa Schweizer Rallied To Win Her Sixth And Final NCAA Title
How Karissa Schweizer Rallied To Win Her Sixth And Final NCAA Title
Karissa Schweizer had 48 hours to get over a tough loss in the 10K to win her sixth national title in the 5K at her final NCAA Outdoor Championships.
Jun 14, 2018
by Johanna Gretschel
The University of Missouri's Karissa Schweizer has developed into the premier women's distance runner in the collegiate system over the past calendar year, and when she boldly declared intent to double in the 10K and 5K at her final NCAA Outdoor Championships, her goal was to become the fifth woman in history to sweep both races.
So when Kansas senior Sharon Lokedi put the burners on Schweizer over the final lap of last Thursday's 10K final—splitting 68 over the final quarter to win her first national title in 32:09—a gasp of collective shock went out around Hayward Field, both for Lokedi, who broke a 30-year-old NCAA meet record by 19 seconds, and for Schweizer, who, in finishing third behind Lokedi and Louisville freshman Dorcas Wasike, now appeared vulnerable in her mission to win a fourth NCAA 5K title.
Sharon Lokedi crushes the #ncaatf 10K meet record in 32:09!pic.twitter.com/hiYOnBNIEM

— FloTrack (@FloTrack) June 8, 2018
"Some days you don't feel right and I felt a little off," Schweizer said of the 10K. "I got pushed to the lead and never really felt comfortable. It was my third time racing a 10K and I wasn't quite ready for a tactical 10K.
"Definitely props to Sharon for winning it the way she did. That was an impressive race on her part. For me, it was just mentally hard and I went a little too early and that really caught up to me."
Missouri distance coach Marc Burns had a little less than 48 hours to help his star athlete get back to equilibrium.
"All we talked about all [Saturday] was, 'save another gear for the last 50 meters,' because you never know what you're gonna need down that homestretch," Burns said of their conversation before Saturday's 5K final. "We talked about the men's 10K and [Ben] Flanagan from Michigan and his last 50 meters. We watched it over again and I said, 'Look at him. He had one more change of gears in his hip pocket, and that's what won him the race.'"
Indeed, Flanagan's win over a loaded field in the men's 10K was an even bigger shock than five-time NCAA champion Schweizer's loss in the women's race.
The redshirt senior, who missed most of the 2017 track season with injury, was on no one's radar for the win as his previous best finish at an NCAA Championship was 14th in the 10K. But the Canadian positioned himself perfectly and split 56.95 in the final quarter to get by Alabama's Vincent Kiprop in the final meters to win the national title.
BEN FLANAGAN WITH THE CRAZY KICK FTW & #ncaaTF 10K ?! pic.twitter.com/agTOqynodF

— NCAA Track & Field (@NCAATrackField) June 7, 2018
As fate would have it, Schweizer and Burns bumped into Flanagan at a coffee shop on their way to Hayward Field before the 5K final.
"He came up and wished her luck and I said, 'That's it—just remember his finish in the last 50 meters and save yourself one in the hip pocket,'" Burns said.
Schweizer shook off her 10K woes by focusing on the positives.
No one besides Lokedi and Wasike passed her in the last lap. She still placed third, made the podium, scored points as an All-American. She ran 32:14, the third-fastest time in the history of the NCAA meet, and 14 seconds faster than the old meet record.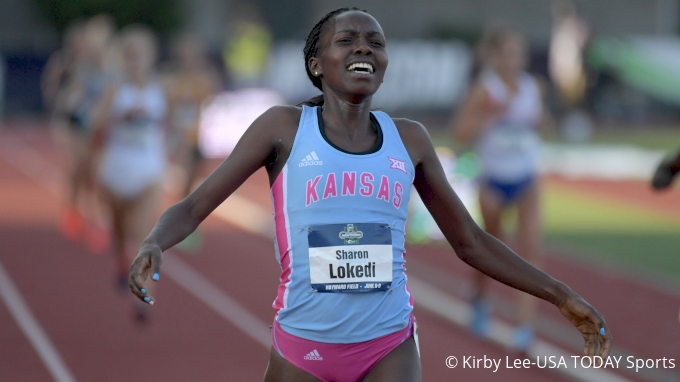 Sharon Lokedi wins the 10K at the 2018 NCAA Outdoor Championships in 32:14. © Kirby Lee-USA TODAY Sports.
"I never gave up in that race," she said. "I took that and went on to the next day [and thought], it's a new day and I have a new way to have a new ending to the story."
And while she's still fairly new to the 10K—she's only raced the event three times—she is the undisputed collegiate queen of the 5K, and hasn't lost an NCAA final in that event since 2016.
"We talked a lot about how [the 5K] is different and this is my race," Schweizer said of conversations with Coach Burns in between her two races. "I really enjoy the 5K and he told me, 'go out there and have fun, I don't care what place you get.'
"So I went in there with no pressure, knowing we would celebrate if I got last or if I got first. I was just excited to compete."
Late Saturday afternoon in Eugene yielded temperatures in the low 50s, incessant rain and even hail; the precipitation made it nearly impossible for competitors to even see the track during some races.
"I loved the weather," Schweizer said later. "It was hailing and raining and I thought, 'This is perfect; I love the bad conditions.' Being a Midwesterner, you're excited for that weather."
New Mexico's Ednah Kurgat, the reigning NCAA XC champion, and Weini Kelati set the pace for much of the race at 77 to 78 seconds per lap—about 16-minute pace. Schweizer simply stayed patient at the front.
"I knew she felt good," Burns said of Schweizer during the early stages of the 5K. "Thursday night, she didn't look over at [Coach Smith and I] once, and I'm like, 'Coach, that's not a good sign, she always looks over at us.' [In the 5K], we knew she felt good because she kept looking over at us.
"But you just never know—there's a lot of great kickers in that field there, and we knew it was gonna take a heckuva finish to get there in front of all those girls."
Schweizer waited until 600m to make her move for the lead—though it wouldn't be for long, as Stanford's Vanessa Fraser surged to the front at the bell lap.
Fraser, Schweizer and a hard-closing Lilli Burdon of Oregon were all running flat-out. Whoever had the best leg speed after 4800 meters would win this thing.
With 200m to go, Schweizer retook the lead and maintained her advantage over Fraser and Burdon, both of whom would be passed at the end by another tough closer, Allie Buchalski of Furman.
But Schweizer was too far ahead for Buchalski to touch.
With a 66.19 closing lap, the Missouri Tiger ran 15:41.58 for her sixth NCAA title.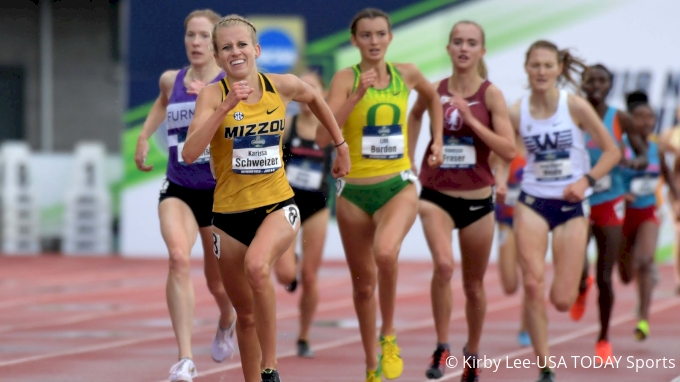 Karissa Schweizer wins the 5K at the 2018 NCAA Outdoor Championship in 15:41.58. © Kirby Lee-USA TODAY Sports.
"Coming down that final stretch felt surreal," Schweizer said after the race. "Going into the race, my coach told me, 'You're gonna have to kick, but just know that you're gonna have another gear in you and no matter what, no matter how tired you are, you're gonna have that extra gear.' I just dug really deep and I knew I had it in me."
As he watched the final lap of the race, Burns kept thinking "save a gear, save a gear, save a gear, save a gear."
"And she did. Her form stayed together and she fought hard down the stretch and she got there. Unbelievable. Best [title] yet, without a doubt, because everyone had thrown her out, everyone had left her for dead after Thursday, and for her to fight back and show her determination and ability to persevere some ups and downs... unbelievable."
Coach Marc Burns of Missouri reflects on Karissa Schweizer's 10K/5K double at the NCAA Championships: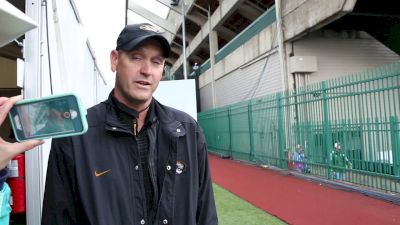 After the race, Burns said the distance double was an idea that he and Schweizer had been kicking around since last year. She's doubled twice at the NCAA Indoor Championships in the 3K and 5K, but 2018 marked the first time she attempted to double outdoors.
Both coach and athlete have no regrets about going for it—and giving track fans something challenging to root for.
"She actually was okay with the result because she knew the historical meaning of what happened out there and how fast they ran. I think her biggest piece of disappointment was feeling that she disappointed people. We said, 'Hey, come on, it's never been about that. This is about you; you did awesome, that was your very best today and that's all we can ask of you.'
"As much as we try to deflect it, she's going to be turning pro this week, and she [was] carrying the burden of being the favorite and anything less than a win is a major disappointment. She ran a great race. You've got to give credit to the two girls who beat her on Thursday night. They ran amazing races—fastest we've seen in 30 years. In the end, she's a great competitor, but she respects her competition. They ran a great race and she did the same on Saturday."