2018 USATF Outdoor Championships
Shock 5th-Place Finisher In Steeple Jordan Mann Digs Anime, Chicken
Shock 5th-Place Finisher In Steeple Jordan Mann Digs Anime, Chicken
Jordan Mann entered the meet as an unknown quantity in the steeplechase. After a fifth-place finish and an incredible interview, he's anonymous no more.
Jun 29, 2018
by Kevin Sully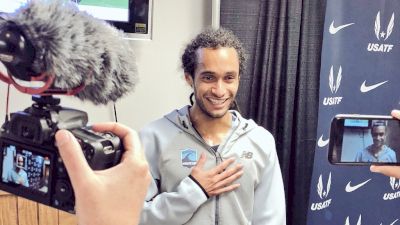 Seven minutes into the interview with Jordan Mann, the media gathered around him still wasn't quite getting it.
On the final day of the USATF Championships in Des Moines, Iowa, Mann—an unknown name in the distance running world—had just finished fifth in the men's 3000m steeplechase. Now he was trying to quantify his accomplishment to the half a dozen reporters in front of him.
"I was never fifth in the NCAAs," he said. "I don't think I was ever fifth individually in high school in the state meet in class three, not even the biggest class. So to be fifth in this . . . are you kidding me?"
His interview went viral in the track world where he explained his love for anime, his part-time job at Brown's Center For Jewish Life (he started a group for fellow Jews of color called "Hillelin' with Melanin"), and punctuated sentences with "let's go!"
Mann attracted attention after the first round on Friday. He raced in a distinctive blue striped jersey of the Ocean State Athletic Club and with dreadlocks that extended to the middle of his back.
After finishing in the top five and securing his spot in the final, Mann yelled "we eating chicken tonight" as he celebrated with a friend in the stands. The phrase became Mann's battle cry throughout the weekend.
That phrase, and the accompanying enthusiasm, isn't something you hear after a prelim heat and particularly one in a non-championship year. The non-championship, also called a "dead year," where there is no Olympics or World Championships, was the reason given for why many of sport's biggest names didn't compete in the meet.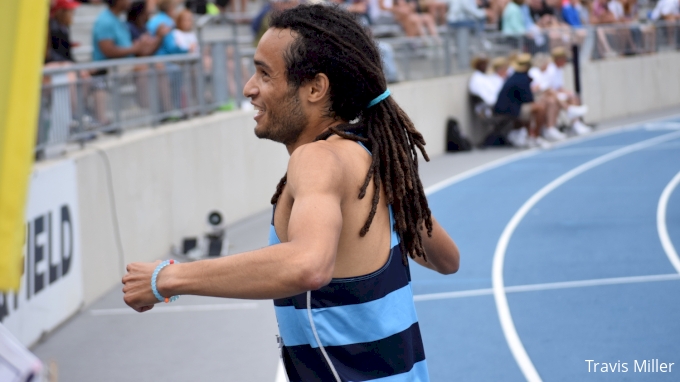 Mann celebrates after his opening heat. He called his hair "Shikamaru hair" after the anime character.
It also explained the mostly toned-down four days of competition. The tension is less palpable, the tears are less frequent, and the celebrations aren't as triumphant.
Except for Mann.
"I've never made a final in my life. I've got a chip on my shoulder from being a 9:34 two-miler in high school," he said. "I'm ecstatic. I guarantee nobody here is as excited as me."
In the final Mann moved from 10th to fifth in the second half of the race to set a personal best, his second of the weekend, of 8:28.55.
By the time he finished the race, the only men in front of him were Evan Jager, Andy Bayer, Hillary Bor, and Stanley Kebenei. All have deep international experience. Jager, Bayer, and Kebenei are sponsored by Nike while Bor is part of the successful World Class Athletes Program.
"At the end of April, Evan Jager was probably sitting around at altitude with some pro group all paid for and I was walking around a convention center in Boston dressed up like an androgynous anime character wearing mostly women's clothing."
Mann doesn't have a Nike sponsorship. Including the $2,000 he won on Sunday, he estimates he's earned $5,000 from his two years of post-collegiate running.
But more than the prize money, Mann was thrilled that his fifth-place finish would put him on the NACAC team this summer.
Haven't heard of it? Neither have most of the athletes. And even fewer were excited about the prospect of competing in the North American, Central American, and Caribbean Games.
Instead of a World Championship of Olympics to compete for, this was the big prize awaiting the top three from the U.S Championships. Mann assumed, correctly, that due to withdrawals of the bigger names, a top-five placing would be good enough to still earn a spot on the team.
"I definitely wanted to get that NACAC vest," he said. "All those big boys were like, 'Oh it's a down year, no world championships like no Olympics,' I was like, 'NACAC kit, let's go.' Time for me to get a U.S. kit. I was definitely hoping to be the beneficiary of those guys . . . passing on the vests and leaving it for the plebes like me."
If NACAC was his Olympics then this meet, the U.S. Championships, was his Olympic Trials. Mann brought his U.S. passport to the final on Sunday to make sure there were no issues with processing should he make the team.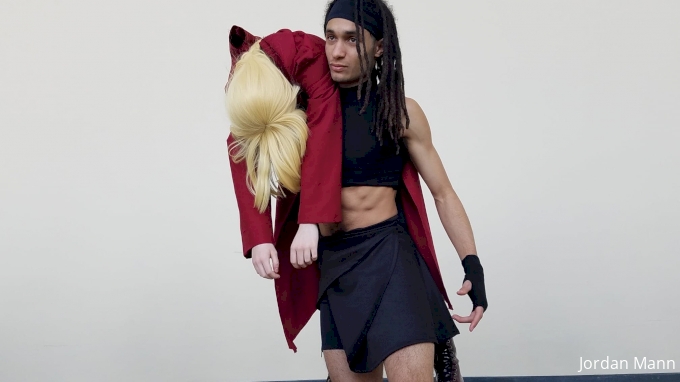 Mann dressed as the character, Envy, at an anime convention in April.
Before Sunday, Mann had never made a U.S. or NCAA final. He had an unremarkable high school career in St. Louis (his highest finish at the Missouri state meet was, in fact, fifth) and then ran collegiately at Brown.
His notable moments from Brown include a fluky race at the indoor Heps (the Ivy League's championship meet) where he managed to place second despite running in the slow section, and a last-place finish at the cross country championships in 2013.
After graduating from Brown in 2015, he used his final year of eligibility at Providence College. There, he was coached by Ray Treacy, who helped Mann drop his steeplechase personal best down to 8:38.28 and qualify for the NCAA meet.
The next year, Mann stuck around Providence and took the part-time job at Brown. Treacy still coached him even though Mann wasn't able to pay him. Instead, Mann wrote him a thank-you note last year and gave him a gift card to Chez Pascal, a French restaurant on Hope Street in Providence.
"This year I'll have to figure out a way to make the note even nicer and even more thankful cause I've done even better this year."
Two days after his performance in Des Moines, Mann was still on a high.
"I'm all about smelling the roses," he said. "My head is so far in the roses right now you can't see my shoulders."
He confirmed that he would be competing in the NACAC Games and that yes, he did, in fact, eat chicken after his race on Sunday.
Mann was excited about the fact that Kara Goucher retweeted his interview. His friends called it the most "J-Mann thing ever." A group text that includes other middling professional runners that is affectionately title, "B-Circuit Bros" told him after the race that he has now been upgraded to A-Circuit, or at least B-Plus.
"If I would have gone maybe 50 meters earlier I would have passed Stanley Kebenei . . . like, what? Are you kidding me? It doesn't make any sense. If it didn't go that much longer I would have been right there. I do belong."
But his experience at the back of the pack tells him that that Sunday's race could have just as easily gone the other way. If he ran it again, maybe he takes 10th instead of fifth. Then there's no post-race interview, no NACAC Games, and no U.S. vest.
"The vest as a whole is a validation of all the effort, but also it's important for me to keep the perspective that it's about being the best version of myself," Mann said. "There's nothing more noble about myself than a guy who is trying to run under 30 minutes in the 10K. There's nothing more noble about it just because I get a vest; it just helps me get me a lot more likes on Facebook."
This summer he will head to Europe to do some races and then return to North American to compete in NACAC Games in Toronto on August 10. He doesn't anticipate his breakthrough will translate into a significant amount of money, but even if it did, Mann says he would still keep his job on the side.
"I'm very much just a dude in the whole thing. But if I can be just a dude who can compete at the highest level, let's freaking go, right?"