Create a free account to unlock this article!
Get Started
Already a subscriber? Log In
It was a busy week in track and field with one meet producing a summer's worth of storylines. From the boundless momentum of Shelby Houlihan, a dream matchup between Michael Norman and Noah Lyles in the 200m, and a fight between distance runners, the Lausanne Diamond League meet had it all.
With no World Championship or Olympics this year, it's safe to say that we are reaching the apex of the season. Sure, the Diamond League finals have the word "finals" attached to them, but it's evident that athletes are pouring everything they have into the season this month.
Here are seven takeaways from Lausanne and beyond:
1) Shelby Houlihan Has The Answer To All Your Questions
Luckily, we live in an era where timing technology allows us to quantify the force that is Shelby Houlihan's kick.
Splits from the final 100m of the top eight finishers in the women's 1500m tonight in Lausanne:

14.34 @shelbo800
15.58 @lauramuiruns
15.49 @SifanHassan
15.87 Tsegay
15.55 Arafi
16.44 @caster800m
15.86 @LauraWeightman
15.88 @EilishMccolgan

— Jon Mulkeen (@Statman_Jon) July 5, 2018
That's a 14-second close in a race that she won in 3:57.34, a second faster than anyone else in the top eight. This was not a sit-and-kick. It was, for Houlihan, a run-really-fast-and-still-kick, or even shorter, a kick-and-kick.
In winning this race in Lausanne, she took down Laura Muir (for the second time this season), Sifan Hassan and Caster Semenya, put up a world-leading time, moved to No. 4 on the U.S. all-time list and eliminated any doubt that if there were a World Championship this year, it would be Houlihan's to lose.
The only woman Houlihan hasn't beaten this year who is actively competing is Genzebe Dibaba. But I don't think the world record holder would matchup well with Houlihan in a championship setting. Not in 2018. Houlihan has proven she can win in any style of race.
By next summer, things might be different. Perhaps, 2019 Houlihan isn't as sharp or Hassan gets back into the 3:56s or Faith Kipyegon returns in top form. All of those scenarios are possible. But for right now, this summer, the 1500m is Shelby Houlihan and then everyone else.
2) Distance Runners Shouldn't Get Into Fights
I mean, nobody in a track meet should be getting into a fight. But Yomif Kejelcha vs Selemon Barega (aka The Bell Lap Brouhaha/The Swiss Skirmish/The T(5)KO) was the least flattering display of distance runners coordination since Mahiedine Mekhissi Benabbad failed to connect on four consecutive punches thrown at Mehdi Baala after a Diamond League 1500.
You've seen it by now. Kejelcha thinks Barega clips him, Kejelcha responds by grabbing Barega's shorts (who wouldn't?), Barega shakes off Kejelcha and keeps running to finish second, Kejelcha finishes last and gets DQ'd.
After the race Kejelcha made a statement on Instagram stating that the grab was not intentional and, in the process, posted the least flattering picture anyone has ever put up of themselves on Instagram.
Meanwhile, Birhanu Balew was handed one of sports greatest gifts.
In competition, there are self-inflicted wounds—missed layups, own goals, and unprovoked crashes.
But there has never been anyone as fortuitous as Balew who won a Diamond League 5000m because the runner in second ended up attempting a failed pantsing on the guy in first with 150 meters remaining.
3) We Should Be Paying More Attention To Jessica Beard
Allyson Felix, Phyllis Francis, Kendall Ellis, Shakima Wimbley, Lynna Irby, Sydney McLaughlin—the U.S. women have crazy depth at the 400m. This isn't a new phenomenon, but the mixture of youth and veterans (as well as the accompanying questions of whether McLaughlin will run the event next year) make the event a fascinating puzzle to piece together for the 2019 season.
Lost in all of that is the reemergence of Jessica Beard. The 2011 NCAA champion hadn't set a personal best since 2009. This year she's put up the four fastest times of her career, including a 50.08 at the U.S. Championships that was good enough for second place. She finished second at the last two Diamond Leagues (a 50.39 in Paris and 50.40 in Lausanne), her second and third best times.
It's easy to lose track of Beard in these races because of the aforementioned big-name Americans and the top international runners (Shaunae Miller and Salwa Eid Naser) make it difficult to win a Diamond League. But she deserves to be on the short list for next season of women who can make the World Championship team.
For Beard, it would be the first time she makes a global team in the individual 400m. She's been a mainstay on the 4x400m with three gold medals and one silver from the relay, but she's never been able to take top three in a championship year.
4) Lyles vs Norman Needs To Happen Every Year (Multiple Times)
The result was probably what everyone expected, but there were some surprises in the race.
-Who would have thought Lyles would be behind at the 100m mark?
-Who would have thought Lyles would extend his lead over the final 30 meters?
-And who would have thought Norman and his USC teammate Rai Benjamin would achieve singularity before the race?
Mesmerizing to watch... @USC_Track_Field's @Mike_Norman22 and @_Kingben_ always in sync... pic.twitter.com/uIN44TADX6

— FloTrack (@FloTrack) July 5, 2018
After the race, Norman said he was calling it a season. There's a good chance that he ends the year with the fastest time in the world in the 400m. He also has two 200m runs in the 19.8s from this past month. And, most importantly, he's shown he is willing to race Lyles at Lyles' preferred distance.
More of that in 2019, please.
5) The Hurdle World Record That Looked The Safest Entering 2018 Might Be The One That Falls
If you were handicapping the likelihood of a world record in the four men's and women's hurdle races this year, your projections are probably all over the map.
In the winter and early spring, the best odds were with the women's 100m hurdles. Keni Harrison, the current world record holder, is still in her prime and the quick times in the indoor season foreshadowed something big outdoors
Then, in mid-May, Sydney McLaughlin popped a 52.75 and suddenly the women's 400m hurdles mark of 52.34 was on borrowed time.
In May, June, and early July, Abderrahman Samba of Qatar reeled of five Diamond League wins in a row, each under 48 seconds. His most impressive was a 46.98 win in Paris that put him within 0.20 of Kevin Young's world record.
Now, none of those three world records look likely to be broken this year. The women's 100m hurdles has been a deeply competitive event this year, but it hasn't yielded a time quicker than 12.38 (and that was from early June). It's still possible, but less promising than it once was.
Any chance of the women's 400m hurdle mark being rewritten in 2018 ended when McLaughlin decided to close out her season.
And Samba, for all his brilliance, has to be gassed. The Diamond League 400m hurdles for the men was front-loaded. The next time the event is contested is in Zurich on August 30. The 400m hurdles is also on the program for the London meet; however, it is not a Diamond League event. If Samba gets in a race before Zurich, he has an opportunity, but it's awfully tough to expect him to run a 0.2 personal best after such a long break.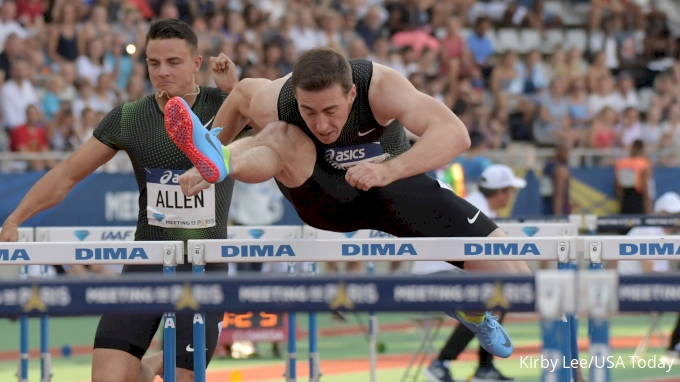 That leaves the men's 110m hurdles. Before the season, it was the least likely of the four to have a world record in 2018.
Aries Merritt's 12.80 from 2012 hasn't been approached in the past six years. Since the end of 2015, only Omar McLeod had broken 13 seconds. That changed on June 19 when Sergey Shubenkov put up a 12.99. Two weeks later, he ran 12.92—a lifetime best. In Lausanne last week he was again under 13 seconds, this time a 12.95 and a gigantic margin of victory (0.34).
There's still a long way from 12.92 to 12.80, but Shubenkov is gathering steam. Big drops in time at this pace aren't uncommon either. Merritt's fastest time before he ran 12.80? A 12.92. The world record holder before Merritt, Dayron Robles, dropped his time from 12.92 to 12.87 to set his world record.
6) Andre De Grasse Needs More Time
Ever since a training camp injury forced his withdrawal from the 2017 World Championships, De Grasse has struggled to get back to the form that took him to Olympic silver and bronze medals in 2016. This year, he hasn't broken 10.15 in the 100m and his best 200m mark is a 20.46.
But even with those times, there was still reason to be hopeful about De Grasse. His calling card hasn't been fast times (his wind-legal PRs are a 9.91 and 19.80, modest for someone with his medal haul), but his ability to win races and land on the podium. This year, however, has looked different. At last week's Canadian championships he took third in 10.15. Then, in the 200m semifinals, he pulled up and didn't finish the race. The culprit? The same right hamstring that spoiled the end of his 2017 season.
After the meet, De Grasse looked for silver linings.
"It's an off-season fortunately for me, now I have a lot of time to get ready for the world championships (in Doha in October of 2019), so that's fortunate for me, I can get myself back into shape and get ready for the world championships," he said.
The pecking order for the men's sprints in shaping up now for the 2019/2020 cycle. The U.S. alone has a potent group with Christian Coleman, Noah Lyles, Ronnie Baker, Justin Gatlin, etc. That's to say nothing of the runners outside of the U.S. are capable of running lows 9.9s in the 100m and under 20 seconds in the 200m. With that depth, it's hard to see where De Grasse fits in. He's still young (23) and, as he mentioned, this was the best year for this to happen. Nobody will remember the 2018 struggles if his 2019 is strong. Hamstring injuries are persistent enough that it might take that long for him to get back to where he was in the run-up to the World Championships.
7) The World Relays Are Up In The Air
One of the most fun meets on the calendar is going through rough times. The Bahamian government has pulled out as host of the 2019 World Relays. The Bahamas hosted the meet in 2014, 2015 and 2017.
Costs were cited for the government's decision to no longer stage the meet. The Jamaica Gleaner reported the government spent $15 million to put on the meet in 2014 and $21 million in 2017. Not cheap.
The Jamaican federation has already said that they are interested in putting on the meet next year.
Staging the meet in a region that has produced so many of the world's best athletes (and was without a major meet) also seemed like a good fit. But what is fun to watch doesn't always equate to what makes sense financially. After the 2015 edition, the meet was switched to every two years instead of annually as was originally planned.
Multi-million dollar costs aside, the meet was a good fit for the calendar. It attracted many A-list athletes and was an interesting break from the standard meet structure that can get a bit stale.