Gwen Jorgensen Trusting The Process In Marathon Build-Up
Gwen Jorgensen Trusting The Process In Marathon Build-Up
Gwen Jorgensen of the Bowerman Track Club assesses her transition from the triathlon to the marathon and what lies ahead.
Jul 9, 2018
by Joe Battaglia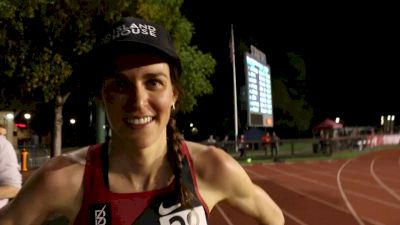 With her spring track and summer racing in the books we caught up with Gwen Jorgensen of the Bowerman Track Club to get her assessment of her transition from the triathlon and what lies ahead in her pursuit of gold in the 2020 Tokyo Olympic marathon.
After the US Half Marathon Champs in May you said you felt like you weren't yet in it to win it at the longer distance. Do you feel like you are getting there yet or do you feel like you still need miles under your belt?
I think it's going to take some time for sure. It's not going to happen overnight. I'm racing against women who have been doing high mileage for years and years and years. It's a slow process to build up. I feel like I'm starting to see some improvements in training. I think that'll pay off in the long term.
Is that because what you're racing right now is still shorter distance for the most part?
It's more the body adjusting to trying to run the higher mileage. It takes a while for that body to adjust before you can start to see the benefits from it. I had the same thing when I was in triathlon. I remember having success in training and going to races and being frustrated because it wasn't correlating. I just think it takes some time to really get those benefits and it takes time as well to build those. I've had maybe a month and a half of good training maybe max. I think to expect the results to be there right now only a month and a half would be crazy.
Where is your mileage at?
It's about 100-ish, so I've been able to get it about there. It still needs to be higher and I'm still working on that. I'm hoping to get up to 120 this fall.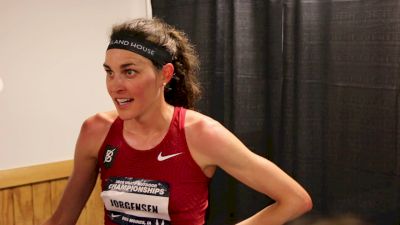 Did you enjoy getting back on the track and racing this spring or was it a struggle?
I didn't think I was going to enjoy it, but I actually really enjoyed racing on the track. When I raced the U.S. Championship (10K) race on the track, that was the first race I did that was like a championship-style race. That was completely different. It just kind of shocked and made me want to do another one actually just because I felt like I learned so much.
Were you pleased with your performance in the 10K USA's?
No, I wasn't. I went to altitude camp and I felt like I was able to increase my mileage. The last week before I left I had two good workouts. I was like, 'Oh my gosh, I'm finally starting to have good workouts.' Then I went there and I was like, 'Whoa. This is not where I thought I would perform.' It was a championship-style race, something that I hadn't done before. I wasn't used to it. It's a learning curve and I know that it's not going to be linear.
While you were at USA's what did you make of all the attention you got for your spikes?
I don't really have any thoughts on it, to be honest. I believe I surrounded myself with sponsors who can help me get things that I need to perform well. When I was at triathlon, I had Roku create me suits that would help me keep me warm when it was cold weather because I know that in cold weather I perform really poorly. So, we created this suit that had an internal lining that helped kept my core temperature an extra degree to a degree and a half warmer than if it didn't have that lining.
I like to align myself with partners who are willing to do the things that help me succeed and be innovative. Right now, my Achilles are just on edge. They're manageable, but I don't want to push it and put on really aggressive spikes when I know that's not the goal long term. I asked what can I do to have a spike that's something that I can grip the track, but also protect my Achilles. That was the solution Chris Cook at Nike came up with and I really liked it.
Where does the track racing fit into your overall plan to get prepared to contend in the marathon?
Doing the track races was a Jerry (Schumacher) decision. He knows that you can do fast racing on tired legs, so if you can go on a decent 10K when you're doing a lot of miles, it's like you're running the last 10K of a marathon. Hopefully, that's similar to what you'll be feeling in a marathon at the end of it.
How has training with the Bowerman Track Club help you to this point? Can you signal out a particular benefit that you've gotten so far?
There's way more than one benefit. I think training with the team I'm training with the world's best. I'm able to see this is what it takes to be successful on the world level. Right now there's Shelby Houlihan who I remember actually last year she wasn't performing as well as she wanted to. She was putting in her work and putting in higher mileage and it took her probably a year to really be able to feed off of the extra strength that she got and you should see her now performing on just another level and it's amazing. It's fun to see somebody like that and have encouragement.
Just being able to train with Shalane Flanagan and Amy Cragg, people who are world caliber marathoners. Just being able to learn from them and say OK, this is how many miles they're doing and this is the type of strength workout they're doing and the paces they're doing and this is how they rest in between workouts. Having that and then as well as just having them there on a daily basis to also push me when I'm fatigued and my body is trying to adapt and I'm tired and to having people to run with and help push the pace to gain fitness is something that is really beneficial.
After you raced USA's, how did it feel going from the track back on to the roads for the AJC Peachtree 10K?
It was fun to go on the road. I prefer road racing. I really enjoy it. It was super fun. It was hot. It was hilly. Just completely different, but road racing is usually less tactical and more just racing hard. I finished that and I felt like, 'Oh, I've got a good effort out of that.' That was something I enjoyed whereas I finished the 10K on the track and I didn't even feel like I really got a good effort out of it.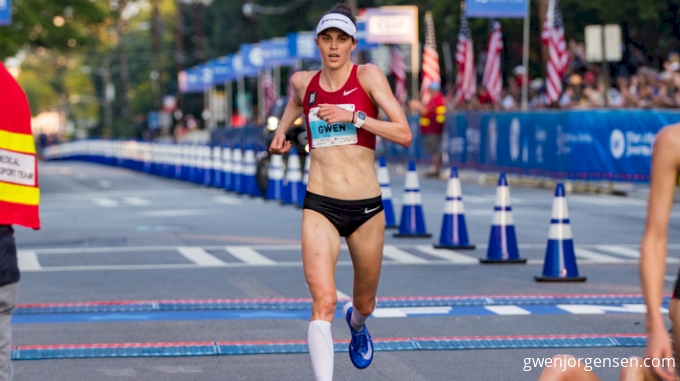 What was your goal going into the Peachtree race?
Going in I think I said this I just really wanted to get, feel like I finished that race depleted and gave it everything. I went out with the leaders and probably went out a little too hot for the course. It was pretty hilly. I ended up just really, really fading. I wouldn't say totally blue, but going in I just wanted to feel like I gave everything going into the race.
Were you pleased with the time and the finish?
No. Obviously, I never go into a race wanting to finish fifth. But there were some technique goals that I feel I accomplished. I've been having a slow cadence lately, and I was able to have a little bit higher cadence than into my previous races. I wanted to really assert myself and go for it. I felt like I went with that front pack. There was a break at about a mile, two or three that I was able to say in and then got dropped a little bit later but I focused on as well as just being in the moment in the race. Always just focusing on OK, two more steps. Just do two more steps. Focus on just being in that moment and presence. Those are some of the things that I was able to do successfully.
Where do you go from here for the rest of the summer in terms of your training and racing?
I'm probably going to be doing a fall marathon. I'll probably have to start building the miles right now and getting that fatigue in the legs and go up the altitude to prepare for fall marathon. Maybe do a race on the road but just train through that.
What would be the ultimate goal for you as you approach a full marathon?
I probably wouldn't be ready to have an incredible time. I think a full marathon would be completing it at a decent time and being able to close the last 10K solid at least.. Being able to maybe finish feeling like, 'Oh man, I had a little more in the tank' and have a good result. I think going into it healthy, being able to compete it mentally. The marathon is a mental beast, so being able to conquer that eventually and then being able to close it hard while my legs are tired and have 20 miles in them would be what I would be looking to do.
Is there anything that you can take away from your experience running the New York City Marathon in 2016?
I went out way too hot. I was like, 'Oh I'm just going to go for it,' and just blew up. I think respecting the marathon distance is something that I really learned from that race. Knowing that it's not something that you can just go hard from the gun and then recover from during the race. That's impossible.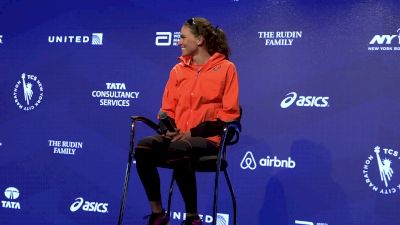 If you had to look at where you are at this point in your transition from the triathlon to the marathon, how would you grade yourself?
I don't want to grade myself yet. I've only had five months of training and before that with being pregnant and having my son I took basically a year and a half of no hard effort. I want to give myself a year. I don't think it'd be fair to give myself a grade right now. I'm still learning. I'm still adapting.
What has it been like going through this transition and juggling with motherhood and giving birth to Stanley?
Coming back was more difficult than I thought it would be. I had a complicated delivery. Being able to be a mom and run and be an athlete is difficult, it's tiring. But I have a great husband who helps me out a ton. Just coming home when workouts aren't perfect and seeing my son smile is something that's a huge blessing. The hardest part has been trying to get my body back. A lot of my core muscles shut down, so just learning to refire those and making those come awake again so that it can have good form.
What would you say is the area right now where you need the greatest amount of work?
I need it in a lot of areas. I need to increase my miles. I need to have experience. I've raced a lot this year for a Jerry marathoner and I think that's because we're trying to get that experience, we're trying to cram that in. I don't have a lot of time, but at the same time we're building miles and my body probably hasn't adapted yet. We're trying to do everything at once just because we are on a timeline.
What has been the biggest adjustment that you've needed to make?
Just expectation versus reality. I came in with big goals and I was like, 'I'm going to be successful immediately.' I'm not. I look at it and I think of my results and I think it can be discouraging, but then I think back to triathlon. I think about how long it took me to really hone in on that sport. I haven't been running forever. I don't have the miles in me. I don't have the experience. I think just scaling back maybe my timeline and knowing that if I trust the process and keep putting in the work, that that's the right avenue.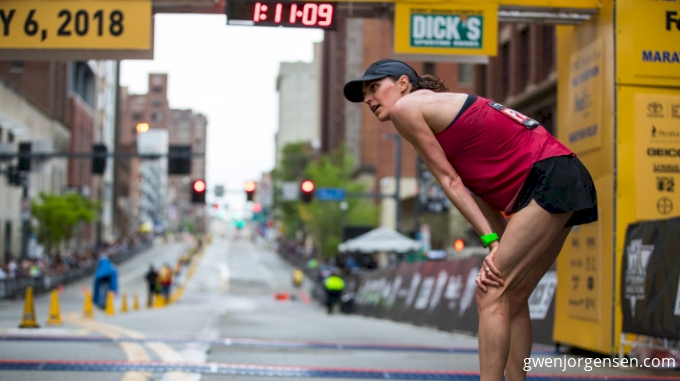 When you made your announcement to switch to the marathon, why did you go at it with that all or nothing proclamation?
I was very vocal about my goals in triathlon as well and wanting to win gold in Rio. That's something that not only held me accountable, it told everyone I was working with what my goals were and what I wanted to achieve. Sometimes athletes don't want to say a big goal because they may think it sounds like you're being over confident or maybe putting down others, but for me it's something that allows me to hold myself accountable and really helps me every day get up and have that motivation to hopefully accomplish that challenge.
Is it a pressure-packed feeling having this bold goal and knowing that the clock is ticking to get yourself in position to try to contend for that?
For me, it's really motivating. I get up every day and I know that I have to put the work in. I have to be consistent. I have to do everything I can correctly so that I can hopefully achieve that goal.
Do you feel like you need to take some risks in your training in racing?
For sure, but I also need to stay healthy. If I get injured, it's a huge step back. We have to take risks. We have to push the boundaries and try to get higher miles that maybe some of my competitors are running just because they've had years and years of miles where I'm trying to cram it in.
Do you feel like you have adequate time to get where you need to be?
I'll tell you in a year and a half.