IAAF World U20 Championships Tampere 2018
U20s Day 2 Recap: Shock, Awe And Did That Really Happen?
U20s Day 2 Recap: Shock, Awe And Did That Really Happen?
Lalu Muhammad Zohri's surprise win in the men's 100m was the story of the second day at the IAAF U20 Championships.
Jul 12, 2018
by Cory Mull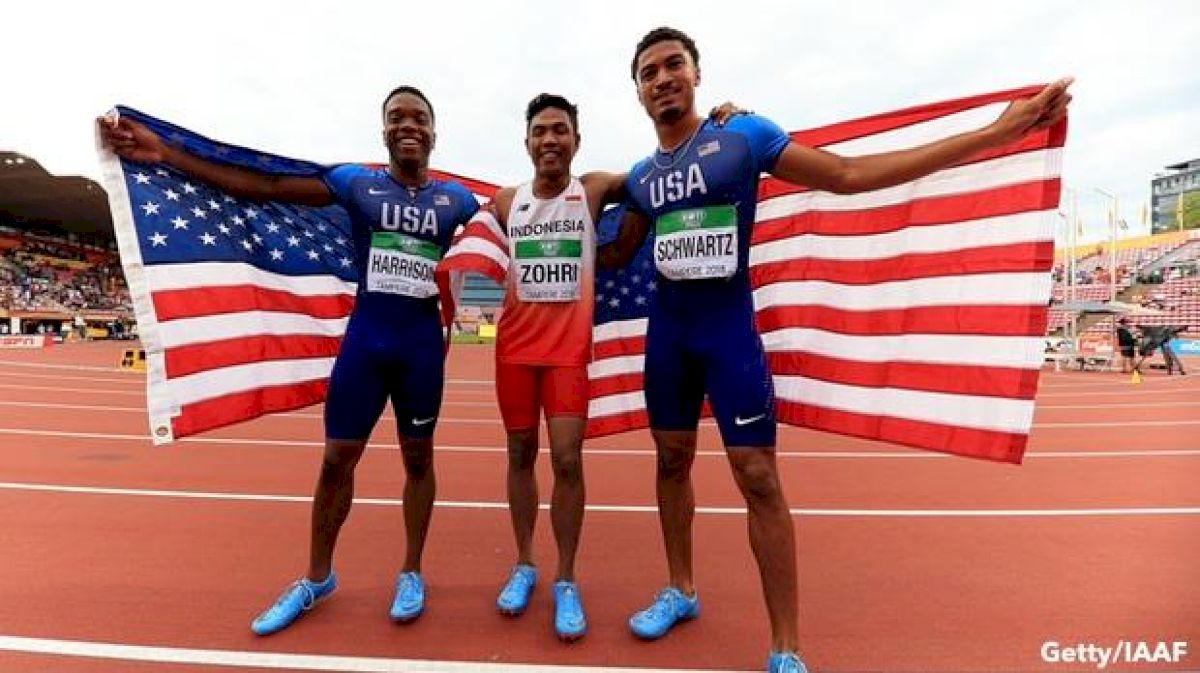 Lalu Muhammad Zohri made sure the 100 meter finale at the World U20 Championships was a historic race to remember on Wednesday in Tampere, Finland.
The Indonesian athlete, who turned 18 in July, won the country's first global title ever, according to a southeast Asian outlet covering track and field news, beating heavily favored American prep and U20 world leader Anthony Schwartz, who hadn't lost a single race at the distance in 2018 and held the world U20 lead.
Operating out of Lane 8, Zohri had a stirring start out of his blocks, worked through his progressions and only got stronger in the final stretches, leaning through to the line--in a remarkable close race--in a new personal record of 10.18 (+1.2) seconds, which also matched a new national junior record for the country and a U20 best in southeast Asia. It also marked the first time a southeast Asian athlete has won the 100 meter dash at the World Junior Championships.
What a historical moment!

Lalu Muhammad Zohri becomes the first Indonesian ever to win any medal of any kind at these championships#IAAFworlds pic.twitter.com/Gc5aMf5yN4

— IAAF (@iaaforg) July 11, 2018
Schwartz was second in 10.19 seconds, while Ohio State's Eric Harrison was third.
The win was so surprising that Zohri and his representatives didn't even have a flag ready for him following a historic win. Schwartz and Harrison both took pictures with him with the American flag draped over their shoulders.
Zohri's run through to the finals may have offered a glimpse of his weekend. He looked confident in the preliminaries, winning his section on Tuesday in 10.30 seconds, then was second to Schwartz in the semi-finals on Wednesday, racing to a time of 10.24 seconds.
His time on Wednesday is only .01 seconds off of Indonesia's national record. While not signed just yet according to southeast Asian media, Zohri could potentially run collegiately in the US.
Lalu Muhammad Zohri proved once again that you should never underestimate the dark horse. The 18-year-old offered ? as the first EVER medal to Indonesia ?? at the U20 #IAAFworlds.

Full report of the men's 100m final ➡️ https://t.co/pavrLjwshC pic.twitter.com/Qyy0jbryJg

— IAAF (@iaaforg) July 11, 2018
Morning Session
Men's 400m: Both Americans made their way through to the next round. In Heat 5, Baylor freshman Howard Fields cruised through the finish second overall in 47.08 seconds, while Arizona freshman Umajesty Williams was second in Heat 7 in 47.16. The fastest overall time through the preliminary round was Barbados' Jonathan Jones, who went 46.05. University of Florida freshman Chantz Sawyers ran well for Jamaica, winning Heat 6 in 46.`4 seconds.
? BOOM!

Cory Poole of the USA ?? (@usatf) takes it on with a time of 13.68! He's advancing to the FINAL along with ??'s (@AthleticsCanada) Eliopoulos. #IAAFworlds pic.twitter.com/R2DiIs2D9E

— IAAF (@iaaforg) July 11, 2018
Mens' 110m Hurdles: The favorite in the 110m hurdles, Jamaica's Damion Thomas, proved that early praise right by claiming Heat 1 in the fastest overall time. The LSU freshman and former Florida prep went 13.41 seconds. Americans Joseph Anderson (Oregon) and Cory Poole (Florida) also qualified through, with Poole posting a time of 13.60 and Anderson submitting a 13.64 second effort.
Women's Shot put: UCLA freshman Alyssa Wilson dominated in the opening round of her best event, posting a mark of 17.02 meters to qualify through to the next round. Wilson's mark was a little over a meter farther (1.01) than the next closest competitor. Wilson's teammate, Lindsay Baker, also qualified to the next round with a mark of 15.78 meters.
Women's 400mH: Wausau West (WI) High School junior Brooke Jaworski won Heat 1 of the 400mH preliminaries in 58.42 seconds. LSU's Jurnee Woodward, meanwhile, was second in Heat 6 in 58.91, making it through to the next round.
Women's 100m: The event favorite from USC, Twanisha Terry, cruised in Heat 2 to a time of 11.37 seconds, while Jamaica's Briana Williams, a sophomore at Northeast (FL) High School, ran the fastest overall time in 11.28 seconds. Alabama's Daija Lampkin also won her section, gliding to the line in Heat 5 in 11.44 seconds.
Men's Hammer: It wasn't the best series for the Feldman brothers. The American pair, freshmen at the University of Pennsylvania, both failed to get out of qualifying. Steven posted a best overall mark of 58.89 meters, while Michael went 64.01 meters.
- - -
Afternoon Session
Wednesday turned into a day full of shocks.
Not only did the men's 100 meter turn into a wildly memorable race, but the women's 800 meter might go down as one of the more disappointing turns from the Americans.
Considered two of the front-runners for a title at the distance, Texas A & M freshman Sammy Watson and Bolles School graduate Caitlin Collier both failed to advance to the final after coming up just short in their heats.
Watson was fourth overall in Heat 1, getting beat to the line by Kenya's Jackline Wambui in 2:03.44. Watson was just five tenths behind in 2:03.95 and was the first qualifier out.
Collier, meanwhile, was fourth in Heat 3, finishing in 2:03.95, which was six-tenths behind Japan's Ayaka Kawata. Collier had the fastest overall time heading into the U20 Championships, while Watson was a proven winter on the international stage and was coming off an NCAA Championship at the distance.
Men's Decathlon: Australia's Ashley Moloney finished off his remarkable display in the decathlon, finishing third overall in the 1500m to secure 8,190 points and an U20 championship. University of Georgia recruit Kyle Garland struggled in the 1500m and was surpassed in points by two other athletes in the final event as he finished seventh overall in the competition with 7,451 points. And then there Puerto Rico athlete Ayden Owens. Had he not been disqualified in the 400m, the North Allegheny (PA) graduate was looking at a possible podium finish with an impeccable finish. But while Owens had a good series of events throughout his competition, he finished 12th with 6,744 points.
Women's Shot Put: In another shocking turn Wednesday, Wilson scratched on all three of her throws, failing to qualify for the finals or even medal in her strongest event. The UCLA freshman was overwhelmingly dominant in the qualifying rounds earlier in the day. Wilson's teammate, Lindsay Baker, was sixth overall with a mark of 15.67, while the winning mark came by virtue of New Zealand's Madison-Lee Wesche, who popped a mark of 17.09.
Men's 110mH Semis: Things got tighter as the men fought for a spot in the final. Great Britain's Jason Nicholson came through with the fastest overall time, beating Jamaica's Damion Thomas by a few hundredths of a second in 13.32 seconds in Heat 3, though Thomas was the second automatic qualifier out of the section. Meanwhile, American Cory Poole managed his way to the finals after winning Heat 1 in 13.68 seconds. Oregon's Joseph Anderson, however, didn't fare as well, finishing fifth in Heat 2 and out of the final after his time of 13.68 seconds.
Job done for @mondohoss600 in Tampere

Looking forward to being fresh and snappy for the final#IAAFworlds pic.twitter.com/7LunoDoVnP

— IAAF (@iaaforg) July 11, 2018
Men's Pole Vault: It was an easy qualifier for Sweden's Mondo Duplantis, who needed just one attempt to get over 5.30 meters (17-4.5), while Illinois native Zach Bradford was the second qualifier over the 5.20 meter bar (17-0.75). Norway's Sondre Guttormsen, who recently finished a year at Davis Senior High School (CA), was first in Heat 2 with a mark of 5.20 meters. Arizona State's Cole Riddle also qualified to the next round with a mark of 5.20.
Men's Long Jump: Japan's Yuki Hashioka claimed the U20 title with a mark of 8.03 meters (26-4.25), while Americans JuVaughn Blake (LSU) and Rayvon Allen (Wichita State) struggled in their first series. Blake was ninth overall with a mark of 7.63 meters, while Allen was 10th overall.
Women's 400m Semi-Final: Florida's Taylor Manson is still in contention for a podium finish after winning Heat 2 in 53 seconds.
WATCH - How Nozomi Tanaka took gold in the women's 3000m final.

A historical result for Japan#IAAFworlds pic.twitter.com/5u4Eeyy2Va

— IAAF (@iaaforg) July 11, 2018
Women's 3K: In a tactical race that featured a pace-setting game plan that challenged any potential contenders in the first 1K--nonetheless by two Japanese runners--it only got more thrilling as the race wore on.
In the final 600m meters, it was an all-out sprint to catch up to the leaders by two Ethiopians, and it produced one of the best races of Wednesday. Japan's Nozomi Tanaka held on despite the best efforts of Meselu Berhe and Tsige Gebreselama, winning in 8:54.01 and securing one of Japan's finest athletic performances at the junior level all-time. Berhe was second in 8:56.39--as she and Gebreselama started to separate from the chase pack with four laps to go--and her teammate was third in 8:59.20. Japan's Yuna Wada, who set an early front-running pace, staggered to fourth in 9:00.50.
.@CycloneTrackXC teammates @a_vestri and Cailie Logue hit the track in the #IAAFworlds 3000m final LIVE on the @olympicchannel! #TeamUSATF pic.twitter.com/AHaMZ5BrgX

— USATF (@usatf) July 11, 2018
The Americans, meanwhile, tried to stick with chase packs throughout the race. Iowa State's Cailie Logue was 12th overall in a personal best 9:16.78, while her Iowa State teammate Amanda Vestri was 14th in 9:21.95--both logged big personal bests. Canadian Taryn O'Neill, who won the Brooks 2-mile a month ago in Seattle, was 10th in 9:15.03.